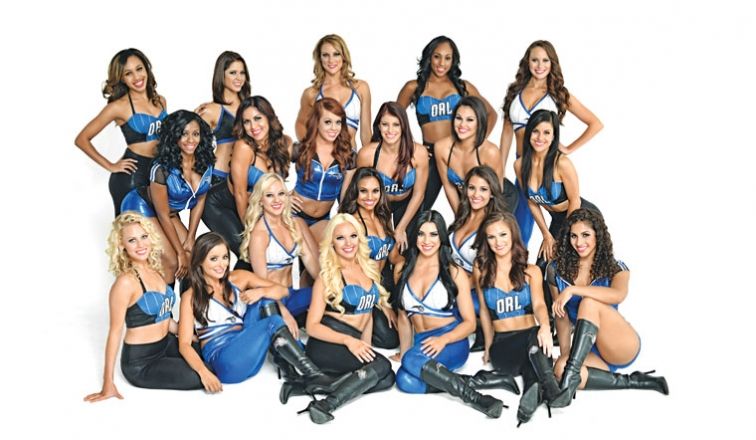 Prepare to be taken behind the scenes into the joys and challenges of being the rhythm and movement of Orlando Magic basketball. On Friday, Dec. 19 at 10:00 p.m., FOX Sports Florida, the regional television home of the Magic, will premiere a brand new episode of "Inside the Magic" upon conclusion of the Magic vs. Utah Jazz game. Titled "Hard Court Dancers," this episode is an upbeat step into the world of the Orlando Magic Dancers.
From dance rehearsals and public appearances at community events, to dancing front and center for fans on game nights, the Magic Dancers give their full commitment, as they follow their passion of uplifting the Orlando community through dance. What most people don't know is that the Dancers also have full-time jobs or are full-time students. "Inside the Magic: Hard Court Dancers" will take a look at the careers of four dancers: One is a third grade teacher, one works for an Orlando radio station, another is a physical therapist and one is a student at UCF.
The Dancers rehearse three times a week for approximately three hours, in addition to game night. "Hard Court Dancers" follows the group on game night, starting with rehearsal, followed by meeting-and-greeting fans, taking pictures and signing autographs. On this special night, all 20 Dancers come together for a special halftime act, where the team is officially introduced to the fans.
Re-Air Schedule:
Sun 12/21/2014 5:00 p.m.
Fri 12/26/2014 10:00 p.m.
Mon 12/29/2014 10:30 p.m.
Tue 12/30/2014 10:00 p.m.
Sat 1/3/2014 10:30 a.m.
Wed 1/7/2014 8:00 p.m.
Thu 1/8/2014 11:30 a.m.
Sat 1/10/2014 10:00 a.m.
Sat 1/10/2014 9:00 p.m.
Mon 1/12/2014 7:00 p.m.
Wed 1/14/2014 10:30 p.m.
Thu 1/15/2014 11:00 a.m.
Fri 1/16/2014 5:00 p.m.