ProMotion Dance is a different breed, a dance company that takes a new age approach to dance and cheer auditions, and they may be exactly what you need to promote your dance to the next level. At ProMotion Dance, we believe in the power of movement and dance. We live for those goose bump moments when something bigger than you comes alive on stage. We are energized by the roar of the crowd.
We want to create those moments again and again. Whether you dream of becoming a dancer for a high school, college, or professional dance team, we believe you have the power to light the dance world on fire.
Just reading this, you are already ahead of many, many people who wouldn't make this effort to creating an incredible, satisfying life doing what they love.
We know you live in a digital world, and you don't always have direct access to the best of the show business in your hometown. That's why we have taken everything we do in person and transformed it to be able to access online from any place at any moment. Our digital Audition Blueprint is in short designed to help you make the team.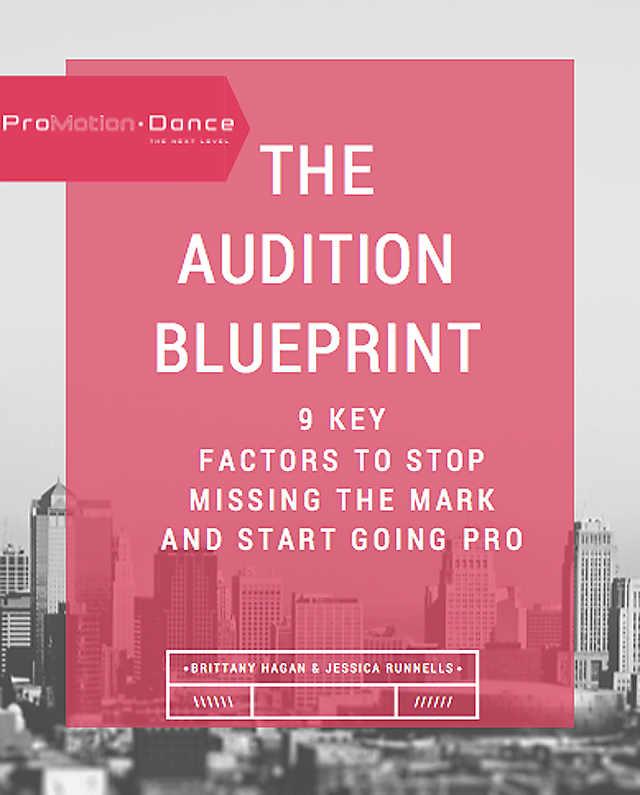 We created this training because we have been there and done that over the last 25 years combined. Through years of trial and error, we have made all of the mistakes, done tons of research, and figured out how to do it RIGHT. It a was a crazy, giant leap to make from high school to auditioning for a college team and an even bigger leap from college to dancing for pro teams.
We found ourselves tapping into hundreds of different resources to get all of the information we needed from interview training, to makeup & hair, to dance choreography know-how. Sometimes these resources would even be conflicting and incredibly frustrating!
What you can expect from our e-book and digital training are strategies and tangible action items that you can use all throughout your preparation for auditions, no matter where you're at in the process.
We don't want you to have to experience these frustrating years in between. Your time here is limited, and we recognize that. You should be able to start living the life you want now. We've spent a lot of time and energy cutting the clutter for you so you can get right down to business and make this happen.
If you are serious about making the team, we are happy to personally coach you through the audition process. We can schedule personal training sessions with you, one on one, to learn your strengths and areas of opportunities to really help you shine on that big day! This can be in anything from fitness, dance abilities, to interview skills- we can do it all (and so can you,you just don't know it yet)!
If you're already on a team, we love to choreograph for game day, performance routines, and even custom production numbers for coaches and dancers that need inspiration and material for their season.
Stay in touch on social media to see when we offer in person workshops and choreography sessions as well!
Instagram: @promotion_dance
Facebook: ProMotion Dance
YouTube: ProMotion Dance
Get your first audition tips from the pros below:
About the Authors:
Brittany Hagan brings a high level of professionalism in show business and a diverse dance background to the ProMotion team. From the age of three she trained in every kind of dance from the classic tap, ballet, jazz all the way to ballroom, street hip hop, and Irish dance. She started in a studio competition setting, moved onto the state championship winning varsity dance team in high school, went on to dance for Indiana University on two different companies and graduated with a BS in Entrepreneurship/Corporate Innovation and a minor in Dance Performance and Choreography. Her education continued at the University of Tampa where she earned an MBA in Marketing. While in Tampa she danced for the professional company VYB dance. Much of her education was paid for through the Miss America Organization where she placed first runner up Miss Indiana and placed top ten at the Miss Florida pageant winning awards for interview, congeniality, service, and swimsuit. Brittany also spent two years dancing for the NBA as an Indiana Pacemate. Brittany danced for the Indianapolis Colts for 2 years traveling to Hong Kong to dance in the Chinese New Year's Parade as well as London with a select group of 6 women for the Wembley Stadium game 2017. She now works as a digital marketing consultant for Salesforce, owns a socially responsible online boutique, and is a trainer for Lagree Pilates.
Organizations and artists she has worked with:
Verizon
Latin Grammys
Ying Yang twins
IU Dance Team
InMotion Dance Company
VYB Dance Company
Indiana Pacemates
Miss Indiana
Miss Florida
Miss America Organization
Professional Football League
Jessica is the co-founder of ProMotion Dance. Having danced since she was 3 years old, growing up in her mom's studio in Richmond, IN, Jessica has always dreamed of starting a dance company of her own. Taking every opportunity she could to perfect her craft and share with others what she loves most, Jessica has participated in several dance outlets over the years; teaching, performing, choreographing, and competing. From the age of 3 to 18, Jessica danced at her mom's studio with a focus in Tap, Jazz and Ballet. Taking on a teaching role once she was old enough. While in high school, she was a member of the Richmond High School Devilettes and an officer for two years. Jessica attended Indiana University in Bloomington where she majored in Sport Marketing and Management and minored in Dance. During her four years in Bloomington she was a member of a student run organization, InMotion Dance Company. She was also a one-year member of the Indiana Pom Squad and competed nationally in both Jazz and Hip-Hop with the team. Upon graduating, Jessica knew her dance career wasn't over.
She auditioned for the NBA team the Indiana Pacers dance team, the Indiana Pacemates and has been dancing for them for the past 8 years, serving as captain for 4 of those years. She's had the opportunity to represent the Pacers in Taiwan, the Philippines, China, Seattle and Las Vegas performing and doing appearances for Pacers/NBA fans. Dancing in front of thousands of fans doing what you love is something Jessica will cherish forever. Jessica is now a member and captain of the Indianapolis Colts Cheerleaders and was just chosen as the squad's 2018 Pro Bowl Cheerleader. Jessica continues to teach and choreograph working with several high schools and colleges. For the past twelve years Jessica has been busy choreographing for the Richmond High School Devilettes State Fair Band Day Competition, basketball season and their annual showcase, focusing on jazz, contemporary, pom & hip-hop. Through ProMotion Dance, Jessica hopes to inspire and influence other dancers to do what they love while continually challenging themselves to reach the next level.