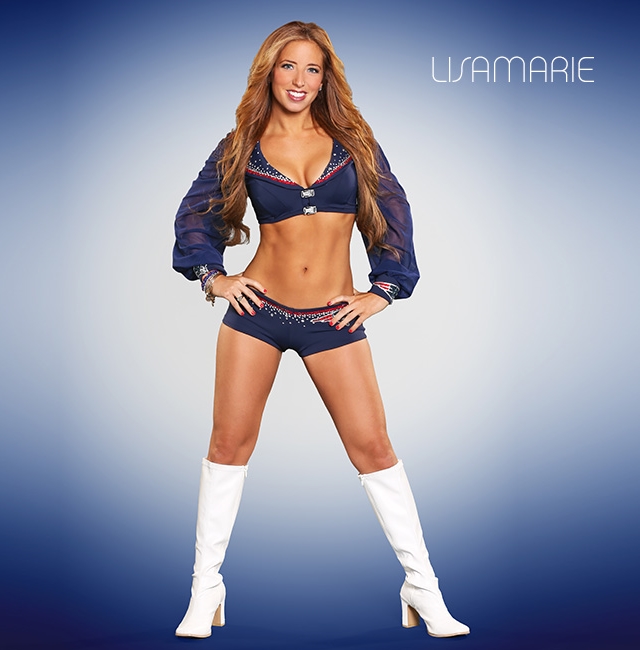 Need some hints for hosting a super-terrific Super Bowl bash? Let us assist you, by asking LisaMarie, a perfect combination of football/culinary expertise, as both a pastry chef and New England Patriots Cheerleader. If she were hosting a Super Bowl party, what would she whip up for guests to be the perfect Super Bowl game cuisine? "Miniature dishes are key!" LisaMarie responds. "Who doesn't like to be able to pick up a little bite of something and not need a plate? Deviled eggs are a huge hit. You can make them spicy, sweet or spike them with an outrageous ingredient like smoked salmon!"
But this Super Bowl, LisaMarie will not be hosting a party, as she will be at the biggest party of all, cheering and dancing at the game itself! What is it like to be part of a Super Bowl team? LisaMarie answers, "Surreal. Pinch me! This season has been absolutely incredible. I feel very lucky to be able to share this special game with my teammates and cheer on my favorite team at the Super Bowl."
LisaMarie shared with UltimateCheerleaders some surprising challenges of being a pastry chef, why her sister is on her Mount Rushmore of favorite musicians, and how her ultimate culinary goal combines food and football.
LisaMarie's life's journey took her from New York to New Jersey to New England. "My mother is originally from Long Island, New York, and my father is from Brooklyn, New York," LisaMarie explains. "They met at SUNY Buffalo in college and after finishing their studies they were married and started a family together. My older sister, Chevonne, and I were born in New York City and were raised in Bergen County, New Jersey."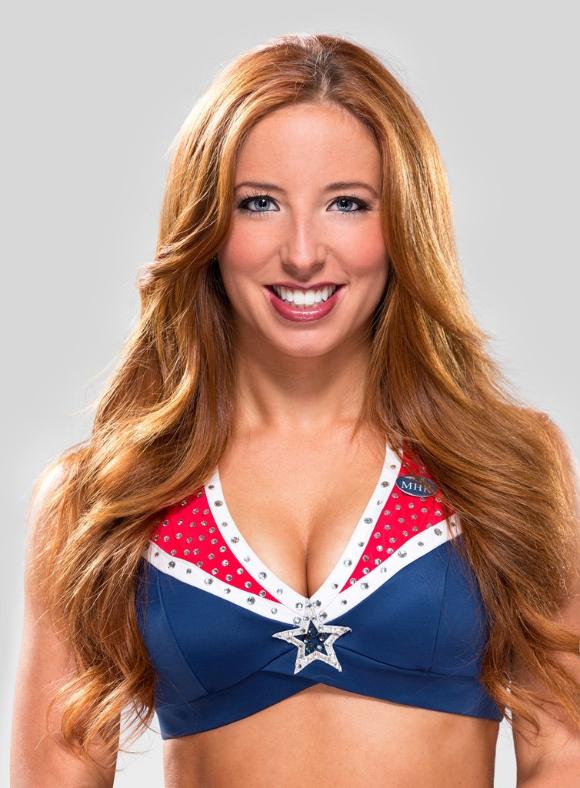 Having an older sister added to LisaMarie's own drive to excellence. "Growing up, Chevonne and I were very competitive," LisaMarie says. "Not only did she excel in the classroom but she was an extremely talented singer, performer, and competitive dancer. Naturally I looked up to her and wanted to be just like my older sister."
Today, LisaMarie is involved with so many things, from a busy vocation to several avocations, including scuba. Was she always a high energy youngster? "Since I was such a high-energy child, I was involved in an immense amount of activities," reports LisaMarie. "I started playing the classical violin at age four, as well as the piano. I went to tennis lessons, gymnastics, soccer, basketball, softball, and dance classes. Eventually as I became older, it was evident that I needed to make choices on what I wanted to focus my time on. I was a great soccer player but I chose to focus on competitive dancing since my sister was so into it. It was definitely the right choice!"
Dance has been part of LisaMarie's life for about as long as she can remember. "I started dancing at age two-and-a-half," shares LisaMarie. "Chevonne was four years older than me, and already performing in dance recitals. I wanted so badly to be dancing in them as well! Besides taking classes in ballet, tap, jazz and hip-hop, I was always creating routines with my sister and singing made up songs throughout the house. It was always one giant performance."
And leading up to the Patriots, LisaMarie was part of numerous dance teams. "I competed with the traveling competition team at 'In the Spotlight Dance Studio' in Waldwick, New Jersey, from age eight until high school," LisaMarie says. "I went to Muhlenberg College to study Theater and I tried out for their performance team 'Mint*'. I danced on the squad for all four years of college as well as served as captain for the final two. I couldn't get enough of dancing while I was at college so I also auditioned for the Philadelphia Kixx and danced with them before their season sadly ended in 2010. My senior year at Muhlenberg I danced with the Lehigh Valley Steel Hawks 'Precious Metals' in its first season as an organization."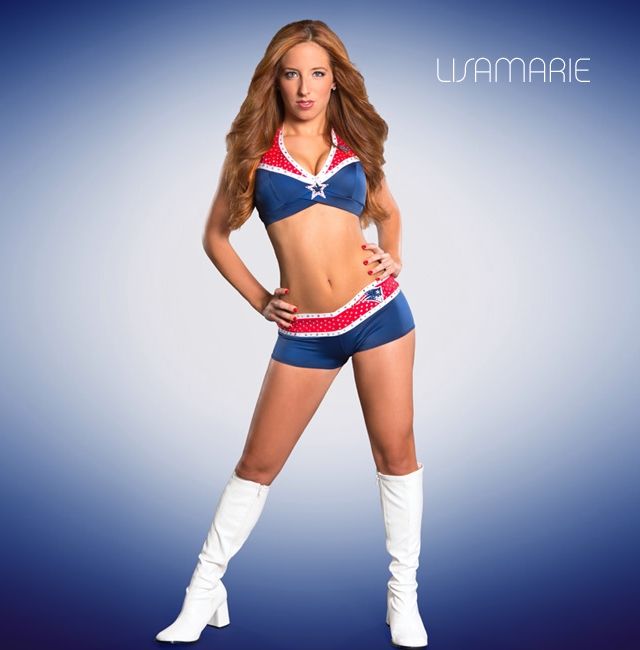 Plays played a big part of her youth, too, and LisaMarie studied Theatre at Allentown, Pennsylvania's Muhlenberg College. "I have been performing in theatre productions since the third grade," LisaMarie says. "My first role was playing Grace Farrell in Annie. My favorite role had to be when I played 'Lola' in Damn Yankees as a junior in high school. I was nominated for 'Best Vocal Performance' in the State of New Jersey."
Yet with a life of performance, the call of the kitchen was always there for LisaMarie. "I have always been interested in cooking and baking!" explains LisaMarie. "Whenever I was home from dancing, singing or acting, I was making a complete mess in the kitchen. My first cookbook was Semi-Homemade with Sandra Lee. I attempted to create desserts and dishes like Sandra created in her book, however, they never really came out the same. My absolute favorite thing to do over the weekend was to open up a page in the book and just try to re-create one of the recipes from it. I had always wanted to go to culinary school yet I had spent so much time focusing on singing, dancing and acting that my skills in the kitchen weren't so great. I figured if it was meant to be it would work out eventually."
And it did! LisaMarie attends Johnson & Wales University studying in Culinary Arts/Chef Training. What are some of the unexpected challenges for a pastry chef in training? "Some people may not realize just how hard it is to keep your chef whites, WHITE," explains LisaMarie. "As a chef, you are required to keep your uniform clean, crisp and extremely white yet you are performing tasks that are very messy and stain easily! Not only do you need to be able to cook or bake delicious and beautifully presented items, you must be polished and presentable yourself."
"Also, now that I am a Chef, it is challenging to go out to eat," LisaMarie continues. "I find myself picking out short cuts that places may have taken when creating something or mumbling over high prices that I could make myself from scratch less expensively."
But this week, LisaMarie's focus is travelling to Arizona to perform during the Super Bowl. A third year Patriots Cheerleader, LisaMarie explains she first thought about pro cheer during, "My sophomore year at Muhlenberg College I became introduced to the world of cheerleading for the NFL. My father had mentioned off-hand that I should try out for a squad as he was watching a football game on television. I remember thinking to myself, 'Why haven't I thought of that yet?' as I was always setting high goals for myself. I researched, practiced and made it my mission to dance for the best team in the NFL; the New England Patriots! I loved the organization and was extremely impressed by the ladies on the cheerleading team. Not only were they skilled dancers, but they were impressively smart, charming and poised!"
"I auditioned in 2012 and made the squad!" LisaMarie exclaims. "I actually found out as I was driving home to New Jersey. I pulled over, quickly checked my email, saw that I had made the team and started to cry! I went to call my family but my phone had then shut off and died. I drove the rest of the way home bursting at the seams to tell everyone! When I finally arrived home I ran inside and screamed that I had made the team. My family was so proud and excited for me to perform on the field!"
Reflecting on making the squad, LisaMarie's theatre training and performance history served her well to fulfill her NFL dreams. "Having such a strong theatre background has definitely helped my performance and confidence on the sidelines as a Patriots Cheerleader," LisaMarie says. "I have been through many stressful theater and singing auditions and have developed my performance skills with those experiences. I auditioned for and sang with the All-County and the All-State New Jersey Choirs as a freshman in high school. It was so nerve wrecking to wait and see if my vocal scores were high enough to be selected to those ensembles and to wait and see if I was chosen for the lead role in the school play. In the beginning, I would hold my breath as the list was posted to the wall and scan the paper for my name. I was always auditioning for a new vocal group, dance group or show, and eventually I became calm and collected under the pressure of performing. These performance skills I developed were definitely utilized when I auditioned for the Patriots."
Asked what her favorite parts of being on the NEPC and what keeps her coming back, LisaMarie responds, "There are so many things that keep me coming back year after year. I love all of the events I am able to participate in involving my community. I love to meet new people and help others, especially throughout the holiday seasons when many need an extra hand. Some of my favorite NEPC memories include being able to help out with coat drives, donating blood, holiday caroling with our Junior Cheerleaders, and decorating gingerbread houses with children. Those are memories I will never forget. Those moments make me feel even more grateful for my time spent on the sidelines, being able to cheer on my favorite team well into the post-season!"
Being part of the Patriots has involved international travel, and does LisaMarie try the local cuisine for culinary ideas? "Traveling to London my rookie year on the squad was also a very special trip," LisaMarie recalls. "Alex, Amber, Stephanie, and I had so many laughs and were able to see a great portion of the city. In my travels I am always looking to discover local cuisine and try new flavor profiles. I hope to taste some delicious Tex-Mex while I am in Arizona for the Super Bowl!"
Of the three seasons on the sidelines, one of LisaMarie's most memorable games was just a few weeks ago. "Recently when the Patriots played the Ravens in the Divisional Round Playoffs, I was captured on the sidelines jumping sky high in excitement as wide receiver Danny Amendola scored a touchdown," LisaMarie says.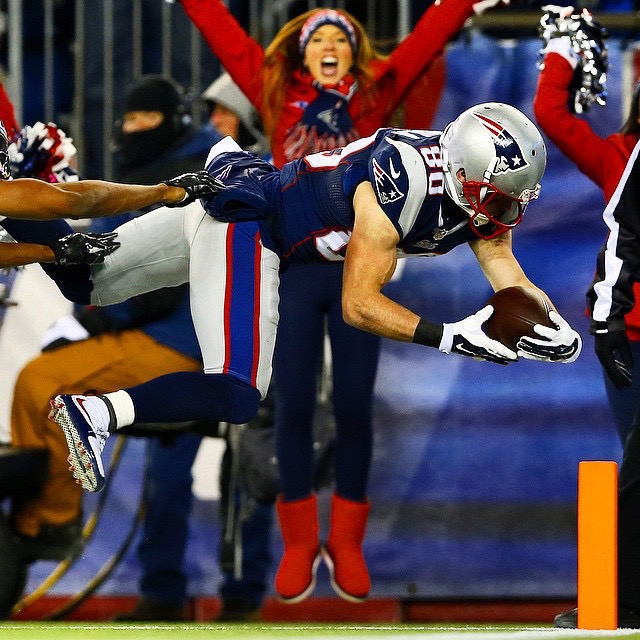 Of course, northeast weather provides a lot of meteorological variety for the Patriots Cheerleaders. "As New Englanders, the weather can sometimes prove to be challenging as well!" LisaMarie describes. "I have cheered through snow games, rainy games, and extremely strong winds that nearly knock you over! Hot chocolate after the game in the locker room always warms us up."
LisaMarie still finds time for fun hobbies like scuba. Asked about future places she would like to dive, LisaMarie says, "I would love to scuba dive in Hawaii or Australia. Hawaii used to be considered the largest marine reserve in the world and now Australia holds the title."
LisaMarie continues, "It is incredible to see all of the different kinds of tropical fish and sea turtles underwater, especially when you dive at night. It is pitch black under the water and you have a little flashlight that you're holding. Marine animals swim right in front of you out of nowhere. I also dove in the middle of thousands of moon jellyfish. They are much smaller than regular jellyfish are and do not sting. I had to push through thousands of them to make it out to a clear spot to swim. It was like I was swimming in a bowl of Jell-O."
LisaMarie has accomplished and experienced so much, and some of it certainly driven by her early competitive nature with her sister. But LisaMarie's everlasting respect for sister Chevonne is clear when she names her Mount Rushmore of personal musical icons. "Brett Michaels, Keith Urban, Kenny Chesney, AC/DC, Van Halen, Chevonne and the Fuzz," LisaMarie lists. "I LOVE classic rock and country! Chevonne and the Fuzz is my sister's band and they rock harder than anyone I know!"
So, Super Bowl Sunday will be filled with parties, football, and food. And this combo is part of LisaMarie's next culinary venture. "I am currently working with my culinary partner on a Home-gating web series! We hope to have our very own following and show one day to bring you game day dishes every week."
So we look forward to seeing LisaMarie on the sidelines Sunday, and in the future as her culinary career fortunes rise! So far, LisaMarie's ingredients combining football and food has certainly been a recipe for success.
Thanks so much to LisaMarie for taking time out during this Super Busy time, and also to Tracy Sormanti, Patriots Cheerleader Director.