Adam Troxtell
Chickasha News
August 13, 2015
When the lights go up at Chesapeake Energy Arena in October and the Oklahoma City Thunder take the court, Chickasha will be represented.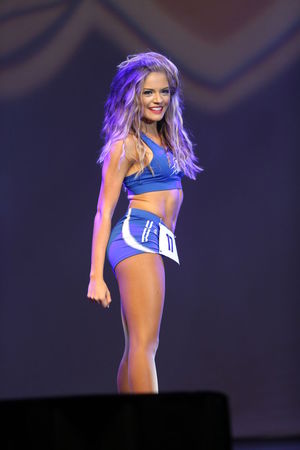 There on the side of the court, and on it between quarters and timeouts, Kalyssa Singleton will be fulfilling a dream she's had since about a year in to her Chickasha High School dance and pom journey. The newest member of the Thunder Girls is still adjusting to the thought that her ultimate goal is now a reality just months after graduating.
"I'm still trying to make sure, for myself, I'm still on the Thunder Girls," Singleton said. "I wake up and have to remind myself that this is happening. Honestly, whenever they called my name, I had no words. I was overwhelmed with nerves and excitement.
"I've been working for it since I was a sophomore in high school, so I was really excited to know all of my hard work paid off."
Months of bootcamps, Thunder Girls clinics and training on her own culminated in Singleton's selection for the 2015-16 squad that will take to the court every home game this season. On top of her talent, it was Singleton's dedication that Thunder Girls selectors said made her a clear choice.
"Kalyssa stood out from the beginning by attending optional boot camps and prep classes to prepare for the Thunder Girls audition," Paige Carter, dance team manager and choreographer for the Thunder, said. "As a coach, this shows me that she is willing to go the extra mile to try to make this team and be successful. Kalyssa struck me as being a very well-spoken young lady, which is important because our Thunder Girls engage with so many fans at the arena and in the community throughout the season."
It's been a somewhat quick rise for Singleton, who only became involved in dance when she was a freshman. She said her cousin encouraged her to come along to a few classes.
"I fell in love with it," Singleton said. "I think just expressing yourself. There's a whole other side of dance that people don't see outside of dance. It brought out a whole other side of me that I don't show a whole lot."
Singleton spent two years at Love to Dance in Chickasha, and she joined the CHS pom squad, performing at varsity level for all four years. For her junior and senior years, she attended Top Hat Talent in Moore.
"I've been in dance for about four years, but I think I'm just really blessed that I could catch up in a short amount of time and eventually make the team," Singleton said.
In many ways, Chickasha pom was preparation for the Thunder Girls, Singleton said. There is an important team aspect to dance that she would have struggled to find anywhere else.
"Being a part of that team [pom] made me understand the togetherness," she said. "You need to have a good relationship with the girls to perform better on the court or on the stage. Chickasha pom was a little glimpse of joining the Thunder. It made me develop a way of communicating better, and I think that's going to help me now and for the rest of my life."
When the time for auditions came, everything she had learned was thrown at participants at once. It was a fast paced environment, with dancers gathered from across the country required to learn routines and perform them perfectly in a matter of hours. All the while, elimination hung around the corner.
"It was tough to keep focused on what I was doing," Singleton said. "It was kind of overwhelming, but we all helped each other. There were three rounds in a full day, and each round was a different style of dance. Also, in each round, people got cut. We would learn a dance right before we would perform in groups of three in front of five or six judges."
Singleton made the group of 34 finalists on July 30, and by the end of the weekend was one of seven newcomers named to the group of 18 Thunder Girls. Now, after about a week of everything sinking in, more work begins for the squad to prepare for the season.
The first official practice was Tuesday.
"We had a mini-camp over the weekend, and that was more about the girls getting to know each other," Singleton said. "But the first preseason game for us is in October, so it's coming up pretty quick. I'm just excited for the whole process."
As for the future, Singleton said she plans to stay with the Thunder and the NBA as long as she can. Something she only really picked up four years ago looks to be taking her on a life-long journey.
"Maybe one day I'd like to become an instructor, or maybe even become a back-up dancer for someone famous," she said.