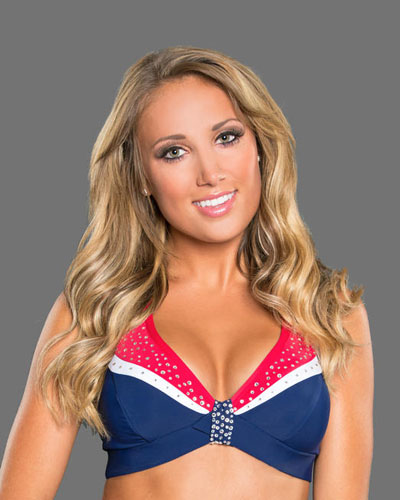 WCAX
September 10, 2015
FOXBORO, Mass. –
If you're at Gillette Stadium this year, keep your eye out for one particular cheerleader from the Green Mountains. Bridget Martin is a stowe native and former Ms. Vermont Teen. She's currently a UVM student and a rookie on the Patriots cheerleadering squad this season. She is a promotional cheerleader, meaning Bridget's role with the team includes charity events, modeling and even hitting the field at Gillette.
"Well, as a little girl it's always a fantasy watching football and seeing all the beautiful cheerleaders out there with their pom poms and uniforms so definitely never thought of myself as fulfilling this, but I'm so proud and I'm glad to represent Vermont as well," Martin says. "The fans have been incredible. I've never seen such great people with so much excitement and energy and it makes me more excited."
Martin still has two years left at UVM, so she has to balance cheerleading in Foxborough with maintaining a high GPA in Burlington.
"I'm a major in public communications," Martin says. "It's definitely difficult. I commute here every other week for games and then we list our availability for promotional appearances, so that allows me to balance my class schedule. Being a Patriot cheerleader only allows you a four year limit, so in four years I'll be off the team and hopefully just getting a job or possibly getting my masters."