TulsaWorld.com
January 28, 2016
GLENPOOL — In winning the title of Miss Oklahoma USA, Taylor Gorton earned a crown, a sash and a platform that allows her to reach many people — maybe even the Hanson brothers?
In 2010, when Gorton was a National American Miss Teen, she told an interviewer her favorite childhood memory was attending a Hanson concert in Tulsa. It was her first concert. Her mother, Starla, found a way to finagle tickets to a sold-out show.
"I literally thought my mom may have either worked for Santa or was a miracle worker of some sort," Gorton recalled.
Maybe Gorton's new title will give her the necessary clout to be introduced to the boys in the band.
Would she like to meet them? Absolutely.
"I'm pretty tone deaf," she said. "But if they did need like, a backup singer. … I mean, this is a shameless plug that I am doing right now, but if they need a backup singer, I could do some backup dancing. We could go on tour, and it would be a huge hit. I would wear my crown!"
Of course she would because she's a character.
Gorton ventured to a fire station in Glenpool (her father, Tom, works there) for a photo shoot, flexed her personality and seemed to immediately take command of a room where folks were hanging out between emergencies.
She briefly swapped her Miss Oklahoma USA crown for a fireman's hat. It's possible that the crown may have wound up on the heads of firemen.
She hung out with the fellows and took questions about things like when the 2016 Miss USA Pageant (won last year by Oklahoma's Olivia Jordan) will take place. Stay tuned.
She said her fiance got a little intimidated when he met all the huge-and-buff firemen who double as her "second" dads. Supposedly, they used to scare away boys who were interested in her.
She joked with the Glenpool firemen that she could sign them up for "The Bachelor" TV show, to which one responded, "My wife might be a little miffed about that one."
Growing up around all that testosterone paid dividends. Gorton is a former in-house reporter for the St. Louis Rams and the locker-room-full-of-guys environment was old hat. She's also a former St. Louis Rams cheerleader and a past and present lover of scavenger hunts.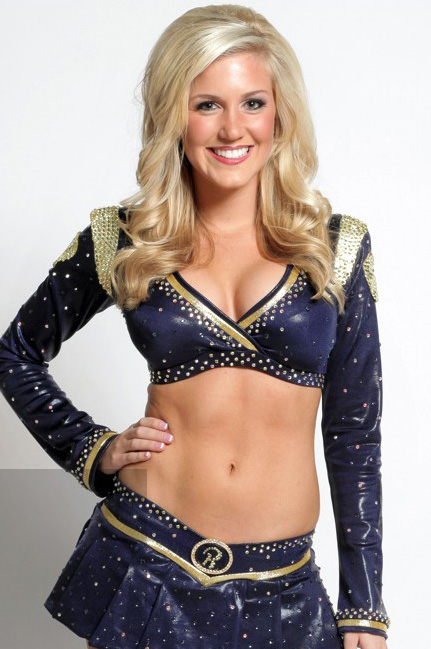 "I'm a firm believer in spontaneity and adventure," she said. "And you know what? When you live in Glenpool, Oklahoma, sometimes you have to make your own adventure, and scavenger hunts were one of those ways. I still hold true to my roots, and I still do those."
Sample scavenger hunt item: Go to Wal-Mart and find an employee with a "Dave" nametag. Take a picture with Dave, and you're good to go.
Gorton said she sent her fiance on a scavenger hunt during a trip to Los Angeles. If he had balked, that would have been a bad sign, right?
"It's funny that you asked that because my dad once said, 'I never thought we would meet somebody that is the male version of you,' and it happens to be my fiance. So we are very quirky, spontaneous, and we live in that world together, so I knew he would be just fine with the scavenger hunt."
Growing up in Glenpool
The new Miss Oklahoma USA claims she never had a chance to rebel while growing up in Glenpool.
If something happened at school (not that she would ever get in trouble for, you know, being too chatty), Mom probably knew about it before school was out because news circulates quickly in a small town. Plus, Mom co-owns a hair salon, which, true to stereotype, can be a communication center. Gorton said she loves her mom's "gossip squad." It's a term of endearment. Gorton said the females who worked at the salon were role models who showed her a thing or two about work ethic.
Gorton's footwork was good enough to make her a school record-holder in the 400 and an annual participant in the state high school track and field meet. She also was a cheerleader and a wrestling "mat maid," which she compared to being a manager.
"There weren't too many of those girls that wanted to be mat maids because here you are in a smelly room watching wrestlers for one hour a day, every day," Gorton said. "But I found it really great, and I think that's just sort of been embedded in me, sort of that sports mentality, competitive mentality."
Gorton said she was going to run in college, but she instead focused on academics at Lindenwood University in Saint Charles, Missouri.
Schoolwork came fairly easy. She got a little bored. So, what else could she do?
An NFL franchise was in the vicinity, so she tried out for the cheerleading squad. She was a Rams cheerleader during her sophomore and junior years at Lindenwood. Among perks: She flew to Hong Kong to participate in a parade, and she twice visited London. During an interview while in London, she talked about the many things she loved in England, but the only segment of the interview that aired was a clip in which she talked about how she couldn't get enough of the porridge.
More than meets the eye
A journalism major with an emphasis on sports broadcasting, Gorton is comfortable being the person who asks or answers the questions.
At one point in her life, Gorton wanted to be Katie Couric, Version 2.0. She took a year off from the Rams and moved to New York for six months to intern for a CBS vice president. While there, she said veteran journalist Bob Schieffer looked her dead in the eye and asked if she was ready to miss time with her kids to do this.
Gorton was only 22 at the time and she was thinking about a career, not a family. But his words opened her eyes to the sacrifices you have to make to be at that level. She said she's all about sacrifice. But she would prefer to make those sacrifices in sports journalism, where at least there are off seasons and you can perhaps take your kids to school and go to their soccer games.
Gorton returned from New York and became an in-house reporter for the Rams while also handling marketing and branding chores.
Now 24, she said there is more to her than meets the eye. For instance, on a second date with her fiance, she wanted to go fishing.
"And this was because I wanted to show off that, back in the day. … at church camp, I beat (guys) at fishing," she said. "I had 61 perch in one day."
Gorton said she likes to plop down and watch football. While in the presence of her future father-in-law, she was watching a game and called out man-to-man coverage. She said he gave her a look like, "Who is this alien in my living room?"
Pageant girl pride
Sometimes there's a stigma that comes with a "pageant girl" label. Gorton is a former National American Miss Junior Teen, a former Miss Oklahoma Teen and a former National American Miss Teen. She carries the "pageant girl" tag with pride.
"But at the same time, I want people to know that I'm not one-dimensional, and I'm not just a pageant girl who wants to be looked at as pretty. I think that you can have a beautiful mind and that makes you beautiful, rather than just a pretty face. I think, ultimately, I want to show that we are of substance."
Gorton, who feels it is important for females to encourage one another, described herself as a "girl power" female. If a recent publicity session is an accurate indicator, she enjoys powering up and generating buzz.

Gorton posed for photos at Glenpool Conference Center and tested her British accent on a British photographer. The shoot continued at a fire station, where she climbed into the cab of a fire truck. She rolled down a window, picked up the vehicle's communication device and, pretending to talk into it, said, "All right boys, I've got a breaker, breaker 1-9."

A bit later, she was told the photo shoot is over, unless she wants to ham it up.

"You guys don't get it," she said. "I'll ham it up. I love this job. What's not to like?"

Bonus Q-and-A with Miss Oklahoma USA Taylor Gorton of Glenpool

What did you learn about being an NFL cheerleader that you didn't know until you did it?

The word "cheerleader" as a whole is very misleading. It is such a dance team and it was really a Christmas miracle that I made it because I had no prior dance training. Also, I understand that a lot of people think that they are underpaid or that we were underpaid. To be honest, the pay isn't that of an NFL football player. However, I truly went into it expecting nothing and feeling entitled to nothing, and I came out with the most incredible experiences (including visiting foreign countries).

You can't buy that kind of exposure, right?

Whatever the pay was, nothing would have accumulated to the experiences that I actually gained. I think that's what people don't know is it allows you to have invaluable experiences, not just with a crop top and a mini skirt, but experiences which carry you through talking like this or anything that you are going to do in your life.

You created your own company?

It's called Pink Door productions. We don't have a website. It has been all word-of-mouth. I haven't had a chance to get a website up because I have 40 clients in six states now. It's female-oriented communications. Another thing I learned at CBS is females, because the VP I worked under was the first female VP, I worked specifically for her as her intern, and I can't begin to tell you how telling that was as far as corporate America and the perception of a powerful female and just the psychology behind that. I saw a huge need and necessity to kind of bridge that gap. … I'm going to start working with some of the NFL cheerleaders for on-camera purposes. … And then I'm also working with pageant girls because I think there is a huge stereotype there of maybe a lack of substance or whatever the case may be.

Is there anything about you that is uniquely Glenpool?

When I lived in New York, I was told, "Lose the Oklahoma." And I looked at the VP of CBS and I said, "I can't." It's so deeply embedded in me, and what's great about that is I am steadfast whether it be in wanting to find Dave at Wal-Mart (while scavenger hunting) or that interpersonal connection and that human-to-human contact, I think Glenpool is great at that. Glenpool is a small community that is invested in each other, and I think I'm very much invested in whoever is around me and I learned that from growing up here.

Do you respect your dad for being a fireman?

I think the thing that these men do and the selflessness — obviously it's a job and I understand that everyone has a career and needs one and that's just the way the world works, but not everyone could be a fireman and not everyone is equipped with the emotional strength and physical strength to be one. And the things they see … My dad doesn't talk about it because he doesn't want to bestow that burden of maybe a wreck or something that he has seen on us and let us carry that weight, so the weight that they carry and what they do for the community around them, the safety net they provide, is absolutely not only selfless, but also incredibly encouraging and comforting.

By JIMMIE TRAMEL