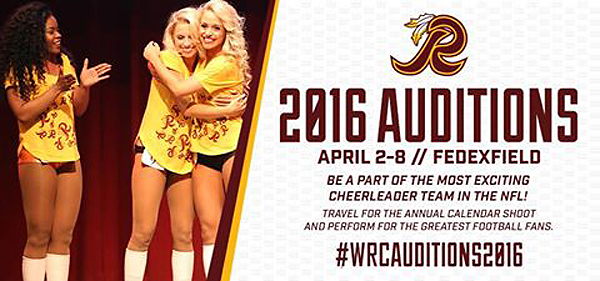 Be a Washington Redskins Cheerleader and be a part of the most exciting cheerleading team in the NFL! Travel to exotic locations on the annual calendar shoot. See the world as a member of the Redskins Cheerleaders Variety Show. Perform for one of the largest audiences in the NFL. Support hundreds of charity and community groups in the Washington, D.C. area.

Auditions Schedule
• Preliminary Auditions: Saturday, April 2 from 8:00 a.m.- 6:00 p.m. at FedExField
• Photo Shoot Round: Monday, April 4 at 6:30 p.m. at FedExField
• Final Auditions Show: Friday, April 8
For auditions FAQs, please click here.
Requirements
• All finalists must have a medical release statement from a doctor by April 1, 2016, stating you are in excellent physical condition and able to participate in strenuous activity at least four to five times a week.
• Applicants must be at least 18 years old, on or before April 1, 2016.
• Applicants must have a High School diploma or G.E.D by June 2016.
• If you become a Washington Redskins Cheerleader, you must have a full/part-time job, be a full-time college student or have a family.
• Washington Redskins Cheerleaders must have their own transportation.
For more information, click here.