The Chargers closed preseason against the San Francisco 49ers in their annual Salute to the Military game.  Special performances and appearances by current and former military personnel highlighted the festivities.  San Diego is a military town and the irony was not lost in that this game would be played against the 49ers, whose controversial quarterback, Colin Kaepernick would be heavily featured.
In a surprisingly high scoring affair for a week 4 preseason game, the Chargers took a 21 – 9  lead into the fourth quarter only to surrender three touchdowns to lose the game.
Final Score: Sourdough Sams – 31, Bolt Men – 21.
Okay, so 49er Christian Ponder was a star for a day while leading his team to victory, but in the whole scheme of things, none of this really mattered as anyone of significance, except for the aforementioned Colin Kaepernick, did not play.  What does this mean?   Not a whole lot.  Anyone who made a difference in this game is not likely to be on the team come the regular season and if they are and playing meaningful minutes…your team has big time trouble…including the aforementioned Colin Kaepernick.  This was a scrub city game, through and through.
For me, the highlight of the evening was seeing the Charger Girls in military themed uniforms.  Woo!  Hoo!
Now before we all get excited and everything, I want to take time to mention the lengths I had to go to get these shots.  Once again, the game management people, in all their wisdom (sarcasm) decided to place a HUGE stage with flood lights in front of my section, which virtually obliterated our view of not only the field, but the Charger Girls as well.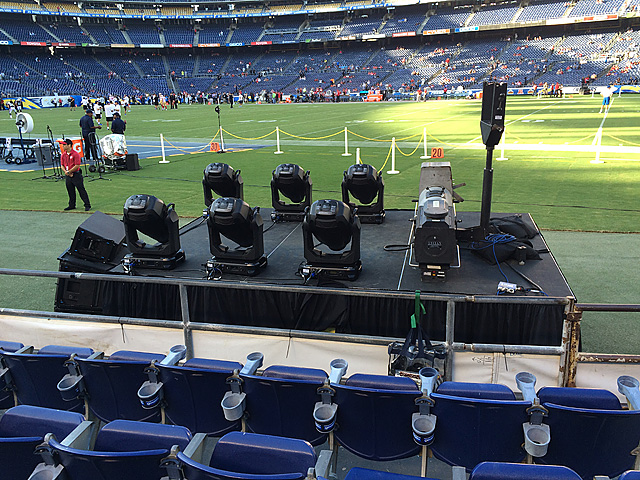 Yeah…that's my seat with the clear bag…and you can imagine the view at eye level.  (Click on the image above to see my field of view.)
This has become an ongoing issue over the years, but as long as they continue to obstruct the view of our section, I will mention this stupidity for all to read.   Good luck in getting my vote for the new billion dollar stadium ballot measure.  Of course my vote wouldn't matter, because I live in Los Angeles….LOS ANGELES.  Maybe it will someday…when they move up here and want another public subsidy.
Okay, I'm stepping off my soap box…until next time…which I hope is next season, but I fully expect it to be sometime later this season when all of this happens again.
So let's begin this week's coverage of the hottest dance team in the NFL with the Captains: Marissa, Delani, Bridget, and Teran.
This week's Charger Girl of the Day caught my eye with her youthful enthusiasm and her remarkable good looks…a fresh faced beauty, introducing rookie Charger Girl Madison.
Let's start off of regular coverage of the Absolutely Fabulous Charger Girls with Marissa's line, who were honoring the Navy: Tyler, Rebecca, Denise, Devin, Tina and Glory.
Up next, Delani's line which paid tribute to the Air Force: Sydni, Shelbi, Rose, Courtney, Shelby, and Lauryn.
We continue our parade of Charger Girls with Bridget's line, which was wearing green for the Army: Emily, Kayla N., Whitney, CGOTD Madison, Anna, and Angelica.
We conclude this week's coverage with Teran's Line, who wore uniforms that honored the Marine Corps: Karissa, Blake, Elaine, Melissa, Tawnie, and Kayla A.
And with that, preseason has come to a merciful end.  Four weeks is way too long and I don't think anyone likes the current length of preseason.  Certainly not the players…just ask Tony Romo or Teddy Bridgewater.  Not the fans, who if you are like me, pay full price to see a substandard quality of play.  Frankly, it's a rip off and the NFL should be ashamed for charging full price for these games.  But hey, they can still make a buck off of us and if the NFL is good at anything…it's monetizing every last penny of revenue.  If Roger Goodell could find a way to charge fans for oxygen, he would.
Rant over…we return you to your regularly scheduled programming.
For more cheerleader articles, please visit my personal blog: thehottestdanceteam.wordpress.com.