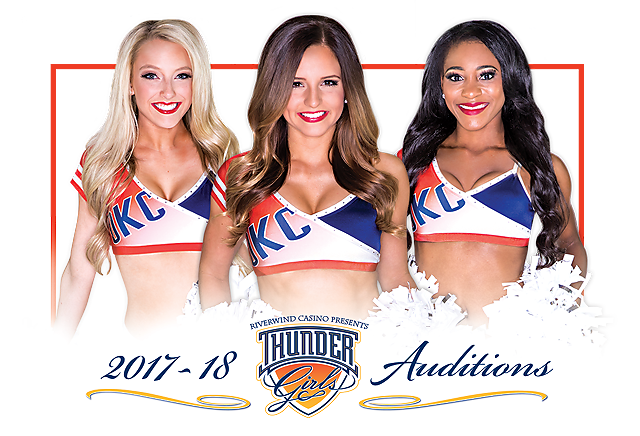 PRELIMINARY AUDITION
Saturday, June 24
Registration begins at 9 a.m.
The audition will begin at 10 a.m.
INTEGRIS Blue Development Center
14701 N. Lincoln Blvd.
Edmond, OK 73013
The June 24 audition is NOT open to the public for viewing.
$30 Pre-registration fee (CASH ONLY)

What do we look for in a Thunder Girl?
Technical, talented dancer and performer
Ability to pick up dance choreography quickly
Strong teamwork skills
A professional and well-spoken ambassador for the Thunder organiation
Consistent, positive attitude
Energetic and hard-working
Physically fit and uphold personal appearance
Must be at least 18 years old by July 1, 2017. No exceptions.
What should I bring to the audition?
$30 registration fee (CASH ONLY)
Water and snacks
Hair and makeup supplies, towel and a mirror
What should I wear to auditions?
Two-piece attire (half top with briefs and dance shorts or dance skirt)
Skin-colored nylons or tights
Non-marking shoes (jazz shoes, dance sneakers, athletic shoes)
Hair must be worn down; full hair and makeup
Tattoos must be completely covered with makeup or clothing
Stud earrings only; no other jewelry is allowed except for engagement/wedding rings
What is the Thunder Girls Final Audition process?
Saturday, June 24: Preliminary auditions. There will be three cuts made during this day. You will learn a pom combination, a hip-hop combination, a jazz dance combination and you will demonstrate across the floor techniques that will each be performed in front of a panel of judges. At the end of this audition, a group of finalists will be selected to continue to the finals.
Finalist mandatory dates: Finalists selected on June 24 must be available from June 25-29. No exceptions. Throughout Finals Week you will: learn choreography, attend a team workout, get fitted for cocktail attire, go through a business interview, attend dress rehearsal and a live final audition.
What should I do to prepare for auditions?
Thunder Girls prep classes are not mandatory, but they are highly recommended as an excellent way to touch up on your dance skills and learn what it takes to be a Thunder Girl!
Click on the image below for more information.