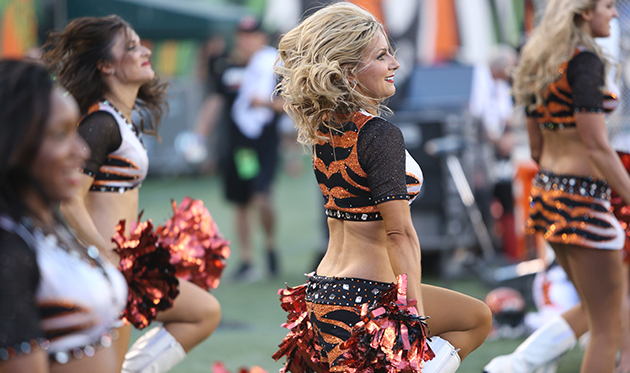 Audition Schedule, Preliminaries
Mandatory New Candidate Audition Dates:
April 15, 2018 all candidates required who were not on the 2017 roster
Time: 12:00 PM, doors open at 11:00 AM
*Bring state issued driver's license to tryouts!
Veterans, & Rookie Candidates Mandatory Rehearsals, and 2nd Cuts:
April 16, 17, 19, May 1, 2
Time: 7:00 PM, doors open at 6:00 PM
Interviews: April 24 & 25 During the day, TBD
These will be held during the business day! 9:00am-5:00pm, and subject to change.Mandatory Dress Rehearsal:
Date: May 3, Time: 3:00 PM
Time: 7:00 PM
Location: The Syndicate, Newport, KY
Finals Open to the Public, tickets available at
www.cincyticket.com
Date: May 6, Time: 3:00 PM
Location: The Syndicate, Newport, KY
*Candidates call time, 11:00 AM
Special prep classes are available to help the candidate improve dance/skill sets, and to enhance the audition experience. The classes are optional. However, additional training prior to tryouts is recommended through our classes, or private training on your own. You will work with our choreographers, coaches, and captains during our prep classes. You will be given tryout tips, and dance styles to expect for the 2018 season.
Cost: $25 per class/$120 for all classes, paid online at one time. Otherwise, $25 per class.
Workshop/Prep Dates:
Tuesday, March 6
Tuesday, March 13
Tuesday, March 20
Tuesday, March 27
Tuesday, April 3
Tuesday, April 10
Location: Paul Brown Stadium, Security Entrance off Mehring- Click here for directions
Time: 7:00 – 8:30 PM (All Classes)
Click Here To Register For Prep Classes
Click Here To Register For Auditions
Any questions or concerns please contact:
Charlotte Simons, 513-236-1643
Char1cheer@yahoo.com
Charlotte.Simons@Bengals.nfl.net