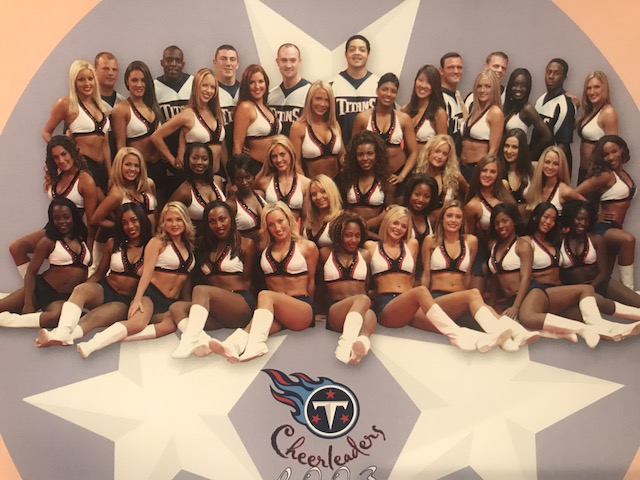 As a general rule, UltimateCheerleaders.com does not publish negative or controversial articles on professional cheerleading. We know the lengths that these teams and their directors have gone to create a positive image and to become a source of pride and goodwill for the billion dollar organizations that they represent. Recently, however, professional cheerleading has come under some scrutiny for some unflattering and negative publicity that threatens the existence of the endeavor, if some pundits get their wish. In light of these recent events, Lara Travis, a former professional cheerleader for the Tennessee Titans and guest commentator for web site Outkick The Coverage, posted a thoughtful treatise on the topic, entitled In Defense of Cheerleaders and Cheerleading.
Here are a few excepts:
"In a former life, before three children and a husband who requires the care of a toddler, I was an NFL Cheerleader. That's why recent attacks on cheerleading from many media outlets have struck me as particularly ill-suited; unlike the people writing the articles I've actually been on an NFL cheerleading squad and know exactly what the experience is like. And the truth is this, for the vast, vast majority of us, it's a tremendous way to pursue our interests in competitive dance, team camaraderie and community involvement all while getting a front row seat to the best football in the country."

"Over the past couple of weeks I have read several articles and watched the media cover stories about former NFL cheerleaders filing complaints against their former cheer organizations. I've thought a great deal about my own experiences, and talked with former teammates, both from college and the NFL…For whatever reason the mainstream media has decided to attack cheerleading and in so doing they are focusing on a small minority of girls who have had poor experiences and excluding the vast majority who loved every minute of being an NFL cheerleader."

"One of these consistent story angles focuses on how cheerleaders are expected to maintain a certain weight or not allowed to change their hair. Really, this surprises you? This is professional performance. Maybe this does not seem crazy to me because I am familiar with the dance and performance world, but when someone tries out for a dance gig, and makes the cut, she or he is expected to look the same way throughout the performance season that they did when they tried out. No one forces extreme diets or eating disorders on the participants. This goes for hair, gaining or losing weight, piercings and tattoos, the entire make up of someone's look goes in to a tryout selection – whether for dance, acting, modeling, singing, or any other type of performance role. This is not controversial, it is an integral part of the entertainment industry."

"One of the consistent story angles also deals with the low pay. "But they are only paid $50 (or insert amount) a game!" these critiques typically argue. Yep, and all the women knew that when they tried out. In my own experience and those of everyone I've known or talked to, the actual pay is made very clear when you try out. When you read or hear how much money you will make for games and appearances, if you don't like it, you don't have to try out."

"The attempt to compare cheerleader pay to the football player pay is ridiculous. There certainly is not a "gender pay gap" here. The two jobs are completely different and not even in the same stratosphere. One is a full time career, insanely dangerous and demanding, and drives the economics for a multi billion dollar industry. The other is football (ha ha. I couldn't resist.)"

"When someone from USA Today says she thinks dance team, cheerleading, and especially NFL cheerleading should cease to exist because it is just fluff and eye candy for men, I know it's an outdated and antiquated perspective rooted in dishonesty. First, because this seems to imply that the women who are part of these teams do not have the intelligence to think through their decision to be there. That they are being brainwashed by the wants and desires of men, and need to be saved from their own poor decision making to be cheerleaders, and the way to do this is to abolish the sport altogether. Furthermore that the revealing uniforms are demeaning to them, and there is no way a woman in her right mind would want to wear that. How insulting. And by the way, is there a problem with women looking good in skimpy clothes now? Is it 1950? If a woman feels good about how she looks can she not wear whatever she likes? Have you been to a beach lately? Women's equality is about all women making the choices they deem the best, it isn't about one woman telling another woman what she should be allowed to do."
I applaud Ms. Travis for sharing with us her perspective and personal experience of being a former professional cheerleader. To read the full article, please click here. And check out the comments section in the article for some additional perspectives from some former professional cheerleaders.

On a personal note, in my experiences covering professional cheerleading, I am constantly in awe at all the impressive women trying out for these positions and the amazing directors and their assistants, who make professional cheerleading a positive experience for all sports fans.