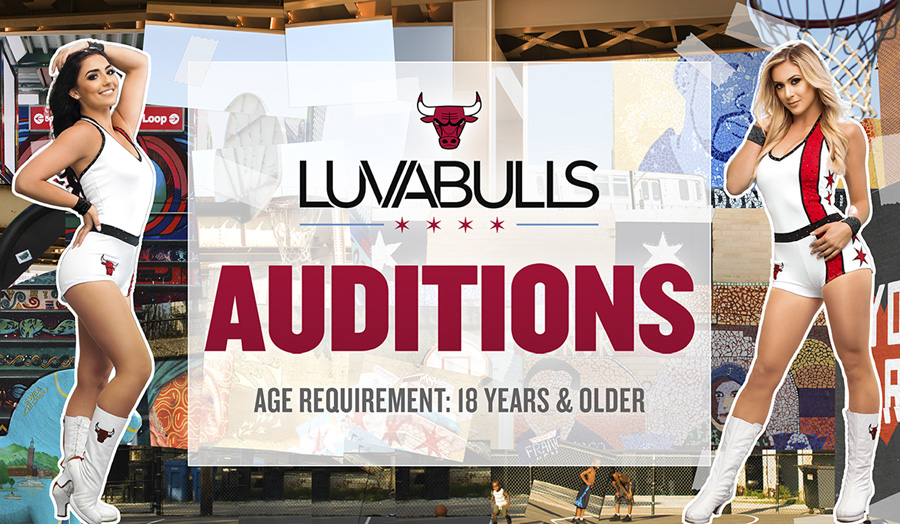 The Bulls are looking for Chicago's most talented and engaging dancers to represent the organization and this great city!
---
Open Auditions: Saturday, July 14th
Doors open at 9am for registration and close promptly at 9:30am
Wolcott Arts and Athletic Center – 1950 W. Hubbard St. Chicago, IL – Click here for directions
---
Requirements:
Must be at least 18 years of age as of July 14, 2018 – please bring ID
Must have training in jazz and hip-hop dance, with an emphasis on synchronized dance team choreography – tumbling skills, cheer stunts and pom experience are a plus
Must reside in the Chicago-land area and have a reliable means of transportation
There are no minimum or maximum height or weight requirements
Candidates must be able to attend a 3-day training camp on July 16th – 18th
Team photo shoot (August Date TBD)
Evening rehearsals during the work week will start on Tuesday, July 31st
Bulls home games until the end of the NBA season (includes Playoffs)
Things to know:
The Luvabulls are professional dancers, but the job is a part-time position
Luvabulls rehearse on Tuesdays and Thursdays. Some Sunday rehearsals will be required.
The Luvabulls appear at corporate and charity events around Chicago and have also appeared internationally in Europe, Asia and South America.
Please wear form-fitting dance or athletic attire and gym shoes
Hair and makeup should be glamorous and sophisticated
Bring kneepads, water and snacks each day
Auditions are closed to the public. Friends and family are not allowed to watch.
For more information on the current Luvabulls: Click Here