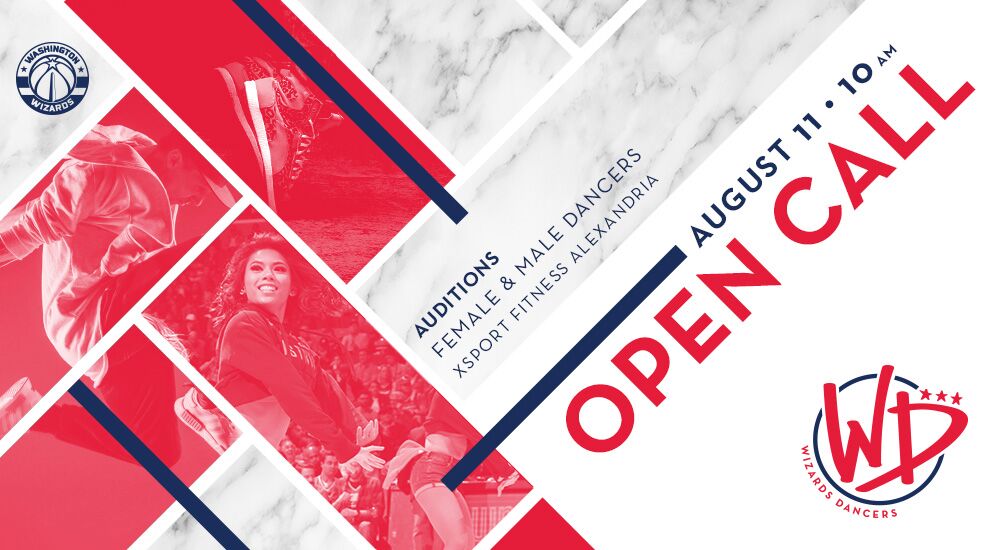 The Washington Wizards are seeking energetic and talented female and male dancers for the new Wizards Dancers squad! Open call auditions will be held on Saturday, August 11, 2018 at Xsport Fitness, 4300 King St, Alexandria, VA 22302. Registration begins at 10 a.m. Check out the audition details below and pre-register to secure your spot today! If you have any further questions please email wizardsdancers@monumentalsports.com
General Information
2018 Wizards Dancers Auditions
Saturday, August 11, 2018
Registration 10:00 A.M.
Xsport Fitness
4300 King St.
Alexandria, VA 22302
Fee: $20
Details
Open auditions are closed to the public. Preliminary auditions will consist of 3 rounds of choreography that will include hip-hop, jazz, and freestyle. Finalists will be chosen and announced at the conclusion of the day. Please bring food and drinks to keep you energized and hydrated between rounds. Also bring items to freshen up in between rounds. Candidates will be judged on appearance, style, technique, personality, energy and projection, completion of choreography, personality and attitude. Audition dates and location are subject to change throughout the audition process.
Requirements
Must be 18 years or older by August 11, 2018 (valid I.D. required on the day of audition)
Must be at least a part-time student or hold a part-time job
Completed waiver and professional/dance resume
Must provide a non-returnable headshot and full body shot
Must be available for 35 of 41 home games and be able to attend all evening rehearsals
Must be able attend a certain number of appearances and Wizards related events
If selected , a year contract and commitment are required
Walk ups day of auditions are welcome
Attire
Professional dance audition attire required
Sneakers or dance shoes/boots with non-marking soles
Training Camp
Mandatory Finalist Interviews
August 13-14 (by Appointment only)
Capital One Arena (4th Floor)
601 F Street NW, Washington DC 20004
Finalist Training Camp Rehearsals
August 13-16 (3-4 evening rehearsals)
*Final team will be selected at the end of the training camp