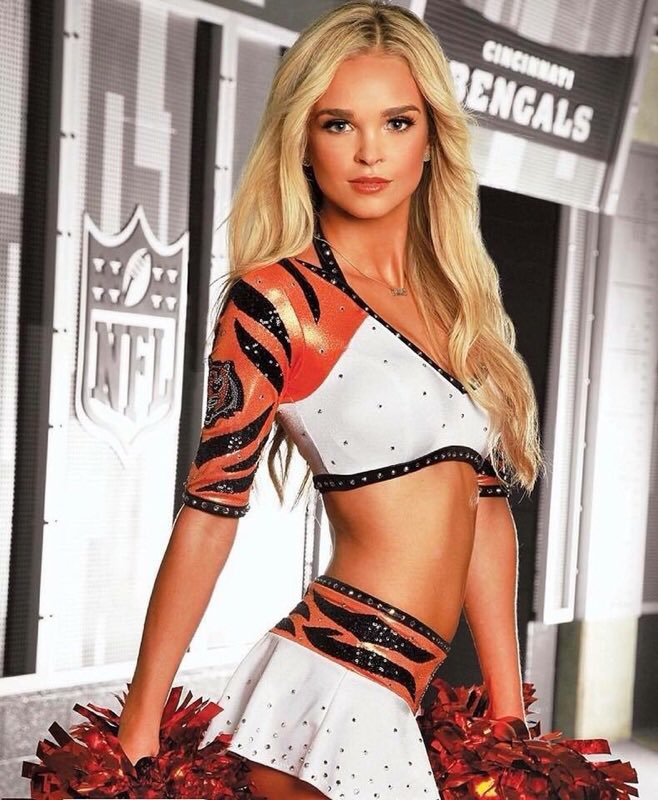 2019 Ben-Gals Cheerleader Auditions
The Cincinnati Ben-Gals have played a major role in the Bengals organization year after year since 1968. On the field, these ladies perform in front of more than 60,000 fans at Paul Brown Stadium.
The Ben-Gals have appeared at charity functions, conventions, grand openings, trade shows, and other charitable and civic causes each year. These ladies are young professionals who not only are involved in their own careers, but they are also involved in events throughout the community.
Become a part of the NFL Cincinnati Ben-Gal Sisterhood! Tryout for the 2019 Squad and be a part of the fun in the Jungle at Paul Brown Stadium!
---
Mandatory New Candidate Audition Dates
April 13, for all candidates not on the 2018 roster
April 14, mandatory for winners from April 13, and veterans on the 2018 roster.
Time: 12:00 p.m., doors open at 11:00 a.m.
*Bring state issued driver's license to tryouts! Veterans, & Rookie winners from April 13, 14, Mandatory dates:
Interviews
April 15, 16 – The interview times TBD, will be between 9 a.m. to 5 p.m.
Dance Rehearsal
April 18, 23, 30 – 7 p.m., doors open at 6:00 PM
Dress Rehearsal
Thursday, May 3, 6 p.m.
Location: The Syndicate, Newport, KY
Finals
Open to the Public, tickets available at cincyticket.com
Date: May 5, Time: 3 p.m.
Location: The Syndicate, Newport, Ky.
Candidates call time, 10 a.m.
To register for auditions, click here.
---
Ben-Gals Frequently Asked Questions
1. If I make the squad, what is the commitment?
Ben-Gal cheerleaders appear at every home game. Tentatively, we will practice every Tuesday and Thursday night for 3 hours, and select Saturdays for rookies. During the months of July/August you are mandated to attend an additional Wednesday practice along with the Tuesday/Thursday schedule. Various weeks off depending on schedule.
2. What are the age requirements?
You must turn 20 by Sept 1, 2019. There is no maximum age requirement.
3. Are there any height and weight requirements?
No, height requirements, but fitness is very important. You must be in good physical condition and proportioned for your height. We recommend that you maintain a regular exercise program and a healthy diet.
4. What should I wear / bring to auditions?
You should wear dance spandex shorts and a cropped spandex bra type top. No other attire accepted. You will also need dance shoes such as dance sneakers or tennis shoes. You may also bring water and a light snack, if needed. TRYOUTS ARE CLOSED TO THE PUBLIC, EXCEPT FOR FINALS.
5. What will the judges are looking for during scoring?
The judges will be looking at fitness, dance skills, showmanship, personality, and interview technique.
6. Is being a Ben-Gal cheerleader a full-time job? Is it a paid position?
No, being a Ben-Gals is not full time. Ben-Gal cheerleaders either work a full-time/part time job, or are students, or both. You will be compensated for all practices, games, and events.
7. Do current squad members have to re-audition?
Yes. Everyone must go through the audition process each season and no one is guaranteed a place on the squad. Veterans are exempt from the first round cuts, but will be present for the remaining dates.
8. What should I expect during the audition process?
You will learn dance routines, technique, (skill sets) and be expected to perform them in front of coaches/judges. Cuts will be made narrowing the group that will go to the finals on May 5th.
We encourage you to work on dance skills prior to tryouts on your own or through our prep classes and master workshop. Prep classes are March 12, 19, 26, April 2 & April 9.
10. What will the extra Prep Classes do for me?
They will teach you the dance and skill set levels that the team incorporates during their performances. While building confidence for your tryouts, the classes will teach you the style, and showmanship expected. They will further your knowledge on the program, while being hosted by the Ben-Gals, themselves.