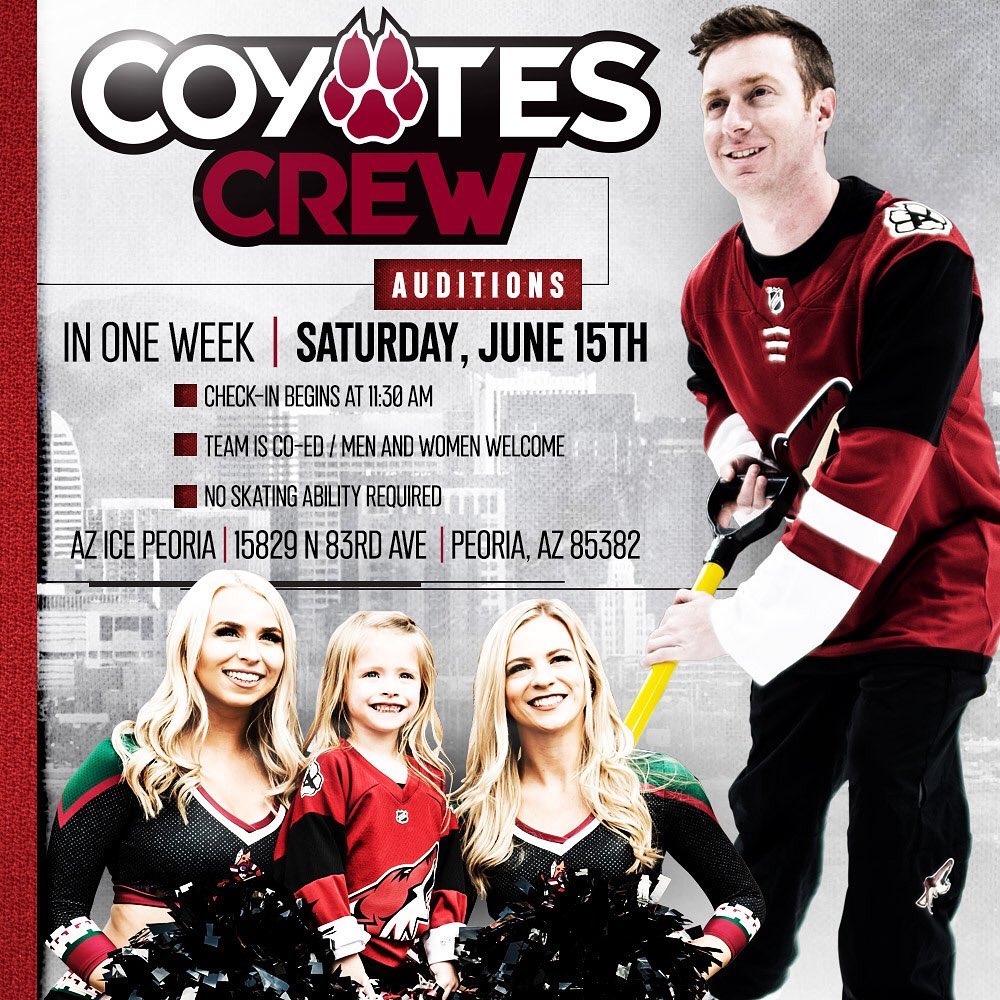 2019-2020 Auditions
Auditions for the 2019-2020 Arizona Coyotes Crew will be on Saturday, June 15th at AZ Ice Peoria & The Renaissance Glendale at 12:30 PM.
Specific Requirements:
Must be at least 18 years of age or older by 07/01/19.
Must have a high school diploma or GED equivalent.
Must be able to lift 20 pounds and perform various strenuous activities.
Must be comfortable wearing various athletic style uniforms (females –can include any of the following: midriff baring top, skirt, dress, tight fitting pants, tight fitting athletic top, etc).
Must be comfortable in front of large crowds.If selected, must reside in the greater Phoenix area with a reliable source of transportation.
Must have a flexible schedule, including availability during late nights, weekends, and holidays.
Must be passionate about hockey as well as the Coyotes.
Personal Qualities:
Positive attitude
Dependable, reliable
Energetic, friendly personality
Excellent communication skills, ability to collaborate in groups
Knowledgeable about the game of hockey, specifically knowledge of the Arizona Coyotes
Responsibilities:
Interact with fans at each home game
Skaters only -Skate during TV timeouts to scrape and remove snow from playing surface
Take photos with andsign autographs for fans
Perform in front of 17,125+ crowd
Assist with in-game promotions, activities, and on-ice games
Work internal Coyotesevents for departments such as Community Relations, Marketing, Coyotes Foundation, Hockey Development, Ticket Sales, and Corporate Partnerships
Represent the Coyotes at charity / nonprofit events throughout Arizona
Participate in Coyotes and Coyotes Crew volunteer events
Additional questions? Email coyotes.crew@arizonacoyotes.com.
Click here to register for auditions.