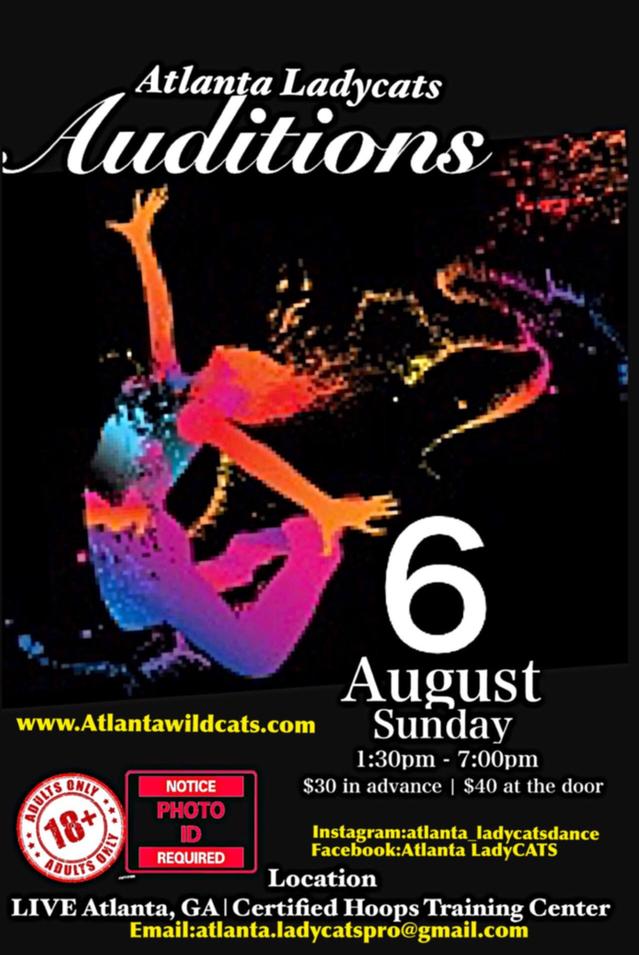 WE ARE LOOKING FOR YOU, IF YOU ARE YOU THAT HIGH ENERGY WOMEN WITH A DANCE/CHEER BACKGROUND, WHO ALSO POSESSES A POSITIVE ATTITUDE, AMAZING ENERGY, HAS THE ABILIITY TO WORK WELL WITH OTHERS AND DEDICATION.
Sunday, August 6,2017
Registration: 1:30 p.m., Auditions :2:00 p.m.
Location: 1249 Metropolitan Parkway Ga.30310
Early Registration
$30 Registration Fee
Requirements
Must be at least 18 years of age by November 1,2017
Must have a part-time, or full-time job or be a college or professional student.
Must be able to attend rehearsals at least 2 days a week.
What to wear to Open Call:
​
Hair and make-up should be done.
A two-piece outfit (crop top/sports bra, shorts/briefs) with flesh-colored tights/nylons. Please no lingerie.
Any shoe you are comfortable dancing in (no bare feet).
Must have the following on day of Auditions :
– Photo
– $40 Registration Fee (cash only) at the door
– Application & Waiver – Download & Print
– Copy of Driver's License
– Resume
– Makeup/hair products for touch-up
What We Are Looking For:
• Showmanship, energy and personality
• Professionalism and maturity
• Dance technique and style
• Commitment to the job
• Physical fitness and personal appearance
• Positive attitude and teamwork skills