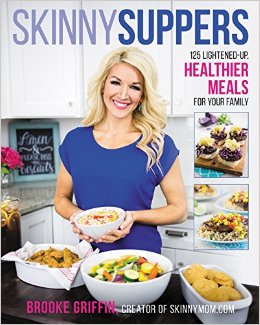 Creating healthy family meals as a parent on the go
Fox2now (St. Louis)
March 24, 2016
ST. LOUIS, MO. (KTVI)- A former NFL cheerleader and Fitness Universe champion has developed a book for light and healthy meals for families and those constantly on the move.
Brooke Griffin has written the book "Skinny Suppers: 125 lightened up, healthier meals for your family" in the hopes of creating simple recipes that are also waist-friendly and tasty. Most of the meals in the book are under 350 calories per serving.
Griffin's website, SkinnyMom.com features pages of healthy recipes and articles for healthier living. During her time in the NFL, Griffin was a cheerleader for the Cincinnati Bengals.
All recipes in the book feature ingredients that are quick to prepare, making it easier for busy parents to create healthy dishes for their families.
Sample of dishes appearing in the book:
Blackened fish la torta
Cajun fresco chicken pasta
Skinny broccoli salad with Sargento cheese
Spicy cashew pork stir-fry over Uncle Ben's Rice
---
Sasha sidebar: The book is also available on Amazon. Brooke was a Ben-Gal 2006-09, and won Miss Fitness Universe in 2009.