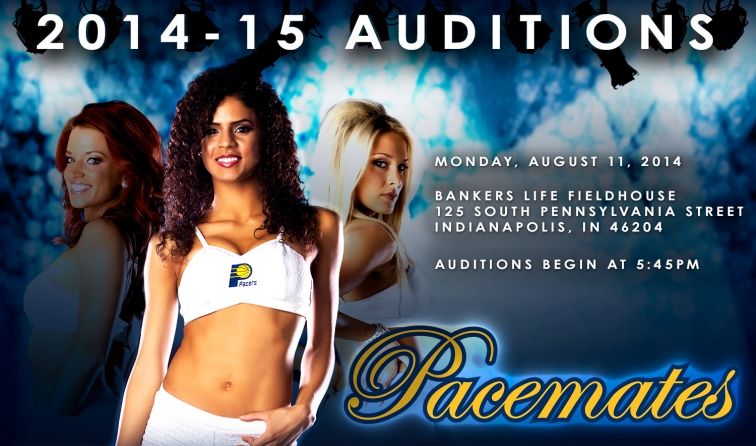 Date: Monday, August 11th, 2014
Location:
Bankers Life Fieldhouse (BLF)
125 S. Pennsylvania St.
Indianapolis, IN 46204
*There are many parking garages/lots around BLF.
Registration:
Online: Register online until August 8 at 5PM ET (Coming Soon).
In-person: 5:00pm on day of Auditions

Auditions: Begin at 5:45pm
Auditions on August 11th are open to the public.
All candidates that are selected as finalists should be prepared to stay as late as needed (no exceptions).
All choreography is taught at the audition (you do not need to prepare a routine in advance).
The first round will consist of 2-3 eliminations that may include freestyle, jazz technique and hip-hop choreography.
Recommended items: Snacks, water bottle, towel, items to freshen up between rounds
If selected as a finalist, a photo shoot will take place after auditions.
Note: The Audition Showcase will be held on Wednesday, August 20, 2014 at Bankers Life Fieldhouse and is open to the public.
Leading up to the final showcase, all dancers that advance as a finalist must be available for the following rehearsals/events:
Interviews: Each candidate will be asked to participate in a 30-minute panel interview on one either August 13 or 14 following dates between the hours of 8:30am-4:30pm. Times will be set on 8/11 after the finalists are chosen.
(We may or may not use both days for interviews- depending on the availability of the finalists)
Wednesday, August 13 – Rehearsal @ BLF- 6:00-10:00pm
Friday, August 15 – Possible rehearsal @ BLF- 6:00-10:00pm
As a finalist, you will be asked to participate in one of the following appearances (One hour time slots TBD for each date).
Friday, August 15
Saturday, August 16
Sunday, August 17
Monday, August 18 – Rehearsal @ BLF – 6:00-10:00pm
Tuesday, August 19 – Tech Rehearsal @ BLF – 6:00-10:00pm
Wednesday, August 20 – Audition Showcase – 7:00pm (Call Time- TBD) The 2014-15 Indiana Pacemates will be announced! (Remember, this event is open to the public!)
If you are chosen as a member of the team, you will need to be available on Saturday, August 23rd for Hair appointments/make-over day at Salon 01, the official salon of the Indiana Pacemates!
Minimum requirements
Must be 18 years of age
High school diploma or GED
Dancers must be able to attend rehearsals twice a week.
If selected, dancers must have transportation to rehearsals and games.
Must be available for all phases of the audition process and be prepared to stay as long as necessary (no exceptions)
Must provide one non-returnable full-length photo (5×7 or larger preferred) or upload one via the registration page. Photos are used for identification purposes. Professional photos are not mandatory. Photos should be a current representation of what you will look like at auditions
Must provide references on the registration form
Must of good moral character
Must have a flexible schedule and be able to commit to the Indiana Pacemates' schedule, which includes but is not limited to all rehearsals, designated home games, community, charitable and corporate appearances for the entire contracted year.