by Chris Oberholtz
KCTV 5
August 17, 2015
KANSAS CITY, MO (KCTV) –
The Kansas City Chiefs cheerleaders have been working hard for months, gearing up for the first home preseason game.
And after practicing for hours, multiple days a week, they're ready to take the field Friday at Arrowhead Stadium.
"We cheer really long games, it is multiple hours," cheerleading coach Stephanie Judah said. "So, to be able to physically do it, they have to train like an athlete."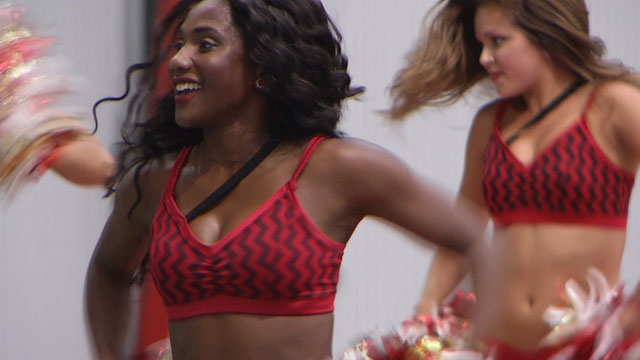 The 33 women who make up the Chiefs cheerleading squad have been training like athletes every week since auditioning back in March.
"We have practice for 4 hours, twice a week and games on Sunday," said Chiefs cheerleader, Hannah. "Outside of that, we have personal trainers. So they've given us our own individualized plans we follow on our off days."
Outside of the training and practices, these women also have full-time careers.
"I have nurses, I have teachers, we've had lawyers before," Judah said. "When you have a job, when you have a full-time student schedule on top of practices and appearances, you have to learn to be organized, learn how to be responsible, but also, learn to be the best you can."
It is a balancing act for most of the women, who say the hectic lifestyle pays off when their boots hit the turf on game days.
"My favorite thing is interacting with the fans on Sunday their energy is so high it feels like a family, you feel like you're home and it's so cool to be a part of something so major in this city," Hannah said.
For these women, it is not just about connecting with fans on the field but creating a lasting impression in the community.
"The main role of being a cheerleader is being a role model for young girls, women of all ages," Hannah said.
You can see the Chiefs' cheerleaders in action on Friday when the Chiefs take on the Seattle Seahawks at Arrowhead Stadium. Kickoff is set for 7 p.m. You can also watch the game on KCTV5.