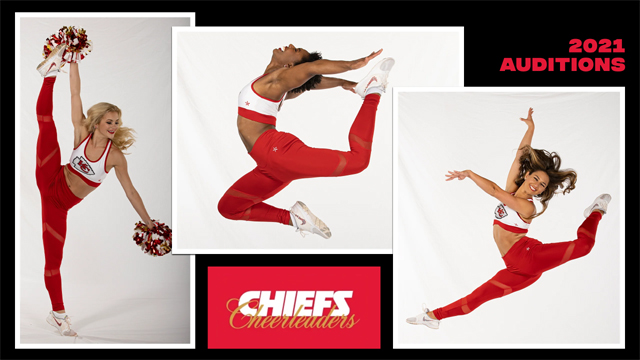 2021 Audition Training Workshops
"Virtual" Prep Classes will be offered in the month of March. Classes will be taught via a Zoom Class by members of the 2020 Chiefs Cheerleaders, the Director of Chiefs Cheer and our Alumni Chiefs Cheer. These classes are a great way to help candidates better prepare for our 2021 Chiefs Cheer Auditions. Each workshop will include learning different choreography as well as focusing on areas to prepare you for the 2021 Auditions. Take 1 or take all 3, we would love to have you join us!
Saturday, March 6th – 1:00 – 4:00pm
Saturday, March 13th – 1:00 – 4:00pm
Sunday, March 21st – 1:00 – 4:00pm
An informational email will be sent to those registered the day before each workshop with details on attire, zoom links, etc.
Note: All registrations are final. No refunds will be issued.
Please click on the link below to register for the workshops:
2021 Auditions (3 phases)
Preliminaries & Semifinals
In order to audition for the 2021 Chiefs Cheerleaders, you must register to audition per the link below:
Preliminaries and Semifinals will be "virtual" this year which will include video submissions from each candidate. Details will be sent to those candidates who have registered for the 2021 Auditions. Auditions will include learning & performing choreography via a video submission as well as submitting a 1-minute dance solo of the candidate's choice.
Audition Material will be sent out on Friday, March 26th to those candidates that have registered for the 2021 Auditions.
Note: All paperwork must be completed in order to receive your audition material.
Keep in mind that material and details will be sent once registrations are received starting on March 26th. So the later you register, the less time you will have to learn the choreography and submit your video submissions.
All preliminary submissions will be due no later than Friday, April 9th, 6:00pm CST.
Absolutely no late videos will be allowed.
All candidates must be 18 years or older by April 9th, 2021.
Semifinalists will be announced the week of April 12th.
Finalists will be announced the week of April 19th.
Finals
Finals will be in-person, pending City & State COVID guidelines & protocols on Saturday, April 24th & Sunday, April 25th.
Finalists will arrive in small groups during an assigned time to complete all of their Finalist Material and then will be dismissed.
Finalist's times will be assigned immediately following the Finalist Announcement the week of April 19th.
Finalists will only come for one assigned time slot either Saturday, April 24th or Sunday, April 25th.
The 2021 Team will be announced the week of April 26th.