Brother-sister team hopes taping of pilot episode at Sutra Lounge for new cheerleading competition show will be a breakout for all.
By Jeremiah Dobruck
Daily Pilot
Friday, July 3, 2009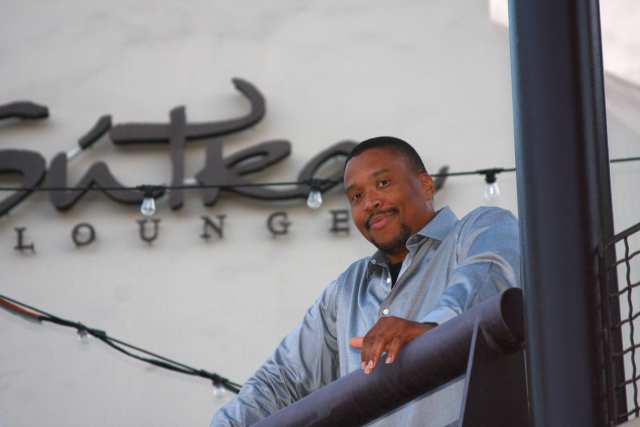 At Sutra Lounge in Costa Mesa tonight, Derick Alexander isn't going to be working the door as a bouncer like he has many Fridays. Instead he'll be directing cheerleaders, overseeing a fashion show and monitoring every piece of production while he's filming the pilot for a reality TV show created by his sister Roxanne Alexander-Pringle.
"Pro Cheer Danz" is a potential competition reality show that focuses on seven cheerleaders graded for 13 weeks by their acting, dancing, modeling and cheering ability as producers search for a breakout star.
Alexander, a Costa Mesa resident, is producing and directing the pilot with the sponsorships of local businesses but mostly on his own cash, much of which was earned working the door at Sutra.
Tonight, the cheerleaders will strut down the runway at Sutra as Alexander films the high-fashion segment of the pilot, hosted by his sister.
"The whole idea is it's a professional fashion show," Alexander said of the show, which will feature pieces from Orange County designers and stores.
Alexander is shopping out the pilot, looking for a network to pick up the show so he can produce the entire series in what he calls "a can't-miss situation."
"I'm glad to do the show here because I feel like I have roots here now," Alexander said, who followed a roundabout route to living and working in Costa Mesa.
Alexander's career path might seem a little backward. He's had small parts in major movies like "Castaway" and "Dreamgirls," but seven years ago when he married his wife, Sheryll Alexander, he moved from Los Angeles to Costa Mesa and later began attending OCC.
"I decided I want to do a whole lot more in terms of acting, producing and directing, so that's when I got the film school bug," Alexander said.
After graduating from OCC, he moved on to Chapman University where he graduated from its film school.
"That's a big deal for me because there was a point when I thought I would never finish college. I had started and stopped and dropped out of more colleges than I have fingers," Alexander said.
All the time, he and his wife were supporting their two daughters with Sheryll Alexander's freelance writing and Derick Alexander bouncing at Sutra so he could fund the career path he yearned for.
"Our challenge together has been to truly be artists together and make money at what we're passionate about," Sheryll Alexander said.
That challenge revved up in the spring. When Derick Alexander was graduating from Chapman, his sister approached him with the idea of a show looking for breakout cheerleading stars who could hold their own in modeling, acting and dancing.
"If someone were to watch the show, they're going to see a variety of different talents," Derick Alexander said.
Alexander has cut his teeth in both acting and directing, and Alexander-Pringle, with a background in professional cheerleading, including four years as a Raiderette, brings the dance and cheer experience to the production.
"I've had over 20 years of cheerleading and dance. It has been my passion all of my life," Alexander-Pringle said. "Now that I've had my hurrah on the sidelines, I want to take it up to the next executive level."
Alexander-Pringle, who lives in the Bay Area, said Orange County is a perfect place to film the pilot, noting there is an abundance of talent in fields like dance.
"They're coming out of Orange County like crazy," she said.
Alexander hopes he too can be a break-out talent from his newfound hometown.
"It's important to me that the show do well, that I represent Chapman well, represent OCC well and represent Sutra well," Alexander said.