Jessica Andrews
The Examiner
July 25, 2009
When it comes to entertaining our Armed Forces, the Redskins Cheerleaders are tops. Their smiling faces are not just seen about town, visiting the troops at Walter Reed and Bethesda naval hospital, but they are all over the world, having performed over 30 Military Appreciation Tours since 1999. They've also been a regular staple at Fleet Week New York City since 2003.
Last week the USS Harry S. Truman (CVN 75) in Norfolk Virginia, had a family day cruise. They are deploying soon and this is a way they give back to the sailors and their families. The cheerleaders were invited for the weekend, performing several dances and signing photos for the sailors and their families.
Melanie Coburn, Director of Marketing for the Washington Redskins Cheerleaders says "We are so grateful for our service men and women and are honored to be able to give back to them throughout the year."
They book about one or two overseas visits a year for the troops and have a special variety show, dancing to the always popular "Proud to be an American," and wearing patriotic costumes.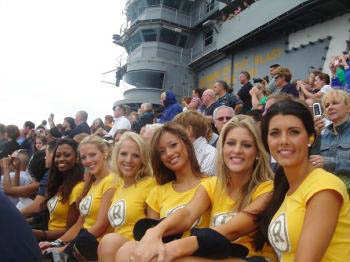 (Photo courtesy of cheerleader Sabrina: left to right – Talmesha, Sabrina, Christi, Melanie, Chelsea, and Dawn enjoy watching the planes take off from the flight deck.)
Don't miss their calendar release party this Thursday, at Public Bar in Washington D.C.