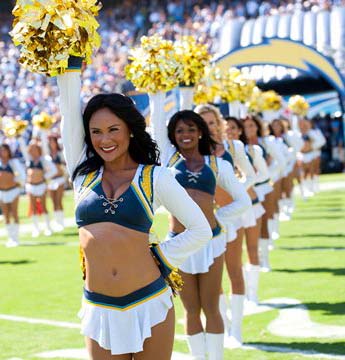 By Michael Stetz
San Diego Tribune
March 2, 2011
It's not just the players and coaches and front office people who could be impacted by the NFL labor unrest, so could the Charger Girls.
If a lockout occurs and games are ultimately lost, the cheerleaders stand to lose $75 per home game. (Suggestion: Um, maybe they should organize.)
They also receive two free tickets to each game and one parking pass. In addition, they get to see the game up close and personal, including really bad special teams play.
The good news? It appears that the Charger Girls off-season plans will not be interrupted by the labor mess. The NFL's collective bargaining agreement remains on shaky ground even after the owners and players agreed to a 24-hour extension on Thursday. It's now set to expire Friday night, which could result in a player lockout.
Some front-office people and coaches would see salary cuts.
But it appears doubtful that the Charger Girls will be disbanded or told to turn in their uniforms and pom poms.
They have scheduled a pre-audition workout for hopeful new dance members for March 13 at the Jenny Craig Pavilion at the University of San Diego. Auditions are scheduled for April 3-7 there as well.
Both events are still apparently scheduled to be held. They are still present on the Chargers website, which can be found here.
The Chargers confirmed that all things are a go.
"We're moving forward with our annual preparations for the upcoming season – preparing for the draft, evaluating potential free agents, studying other teams, preparing practice schedules, etc – and that includes the Charger Girls," said Bill Johnston, a team spokesman.
So it appears that the annual swimsuit calendar will still be shot, too.
FYI: This year's calendar is still available and has been discounted to $10. It's available here.
Last year's audition attracted more than 400 women. The squad numbers only 28. The competition is intense because there is no other NFL team in Southern California, so women from throughout the region, including Los Angeles, try-out.
The Charger Girls don't just dance and cheer at games. They appear at many charitable events throughout the year. Sport Magazine once rated them as the NFL's best cheerleaders.