For me, one of the highlights of the year is the Arizona Cardinals Cheerleader auditions. It is an event that I look forward to not only because I get to photograph some of the most beautiful girls in Arizona, but I enjoy the whole vibe that Phoenix has to offer. It's youthful, hip and a heck of a lot more friendly than my hometown, Los Angeles. And Director Heather Karberg and her staff of Cardinals Cheerleaders always make me feel welcome, so you can say their annual auditions are something that I eagerly anticipate.
And this year, it was worth the wait.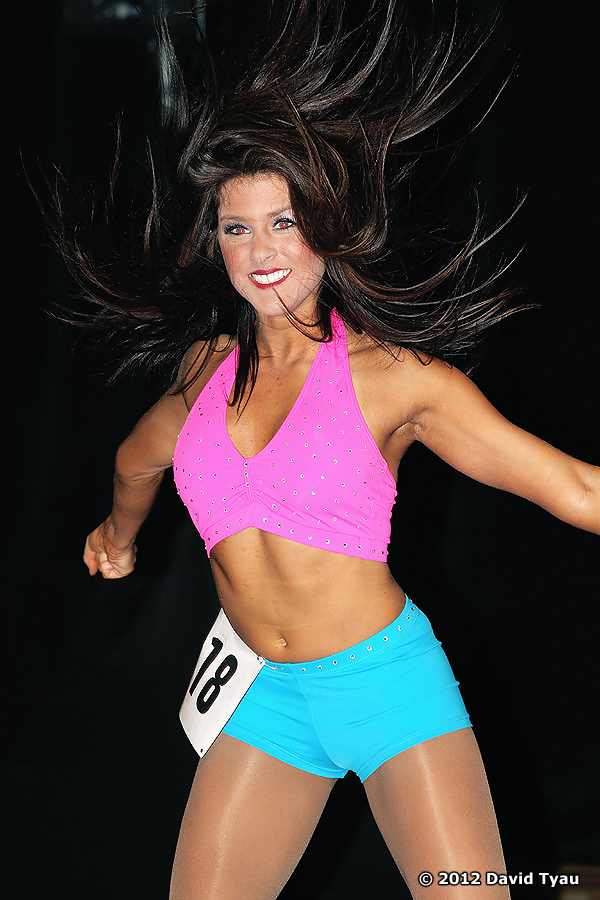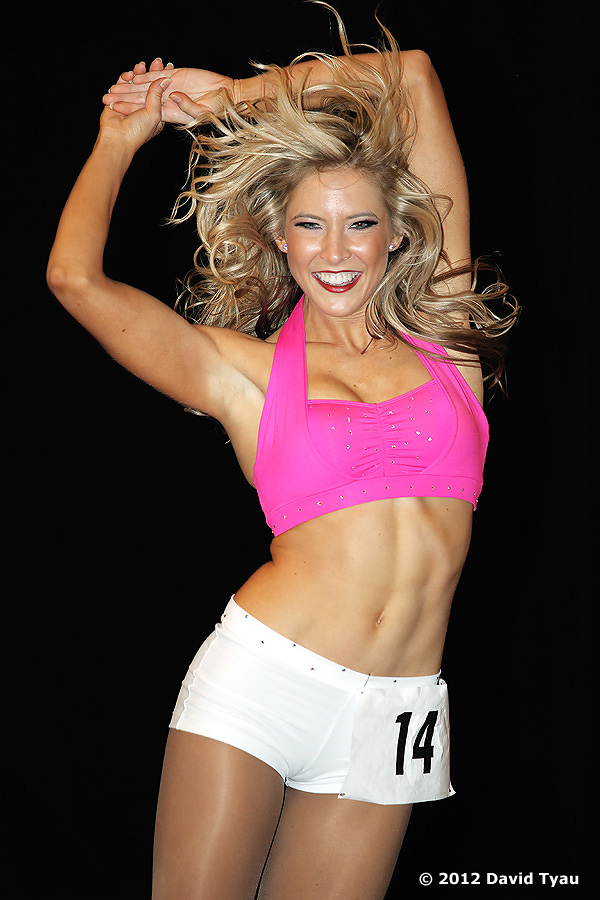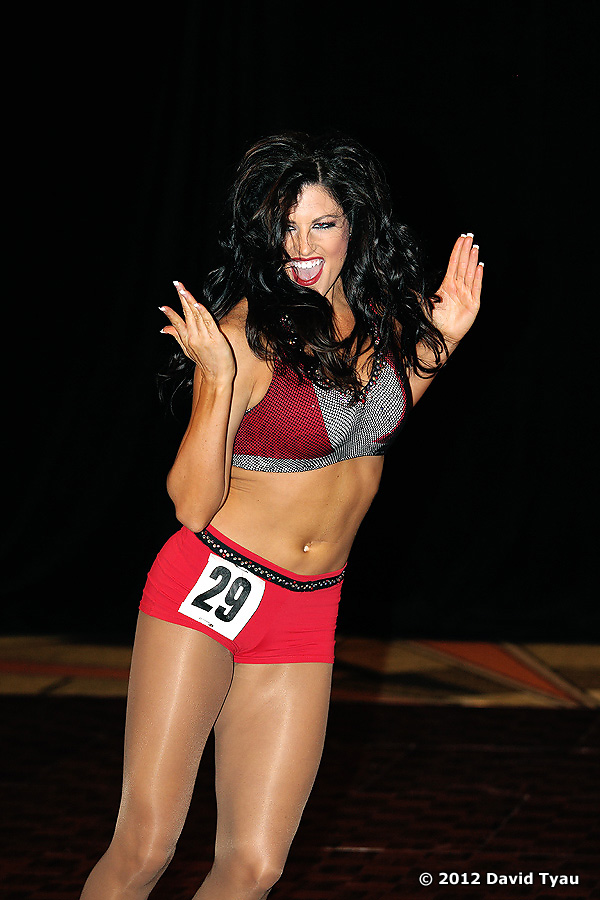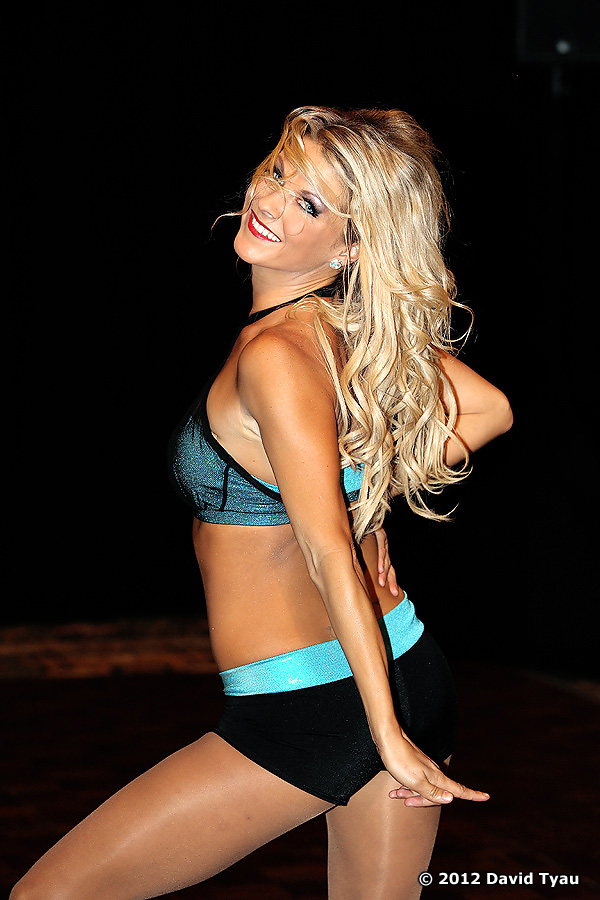 The ACC preliminary auditions were held on March 24th and 25th at the historic Arizona Biltmore Hotel.  I arrived about a half hour early to check out the facilities and test out the lighting in the McArthur Ballroom, coincidentally named after the architect who designed the hotel.  Heather and her staff were setting up the registration area.
In all honesty, I was amazed to see Heather because just three weeks prior, she had given birth to a beautiful new baby girl.  She was still on maternity leave and left the lion's share of work to her able staff.  We chatted for a bit and she told me that one of the things she would miss this year would be performing the final audition routine in front of the candidates.  This is a tradition that Heather started over the years as a way for her to stay connected to dance and her cheerleaders.  And it is something that I look forward to photographing, but under the circumstances I can understand why that would not happen.
This year, there were seven veteran ACCs who would be serving as instructors: Allie, Erin, Brianna, Emily J., Michelle M., Taryn and Kristi.  That's a lot of leadership and talent that is going to be retiring and I was shocked that so many veterans were not returning.  In fact, only 15 veterans would be trying out this year.  Of course, Allie as the 2011 Pro Bowl representative receives an automatic spot on the 2012 squad should she want it.  But this meant that there would be several openings for a team that could number anywhere between 28 and 40 girls.
At noon, the girls began to queue up at the registration table to submit their paperwork and pay their audition fees.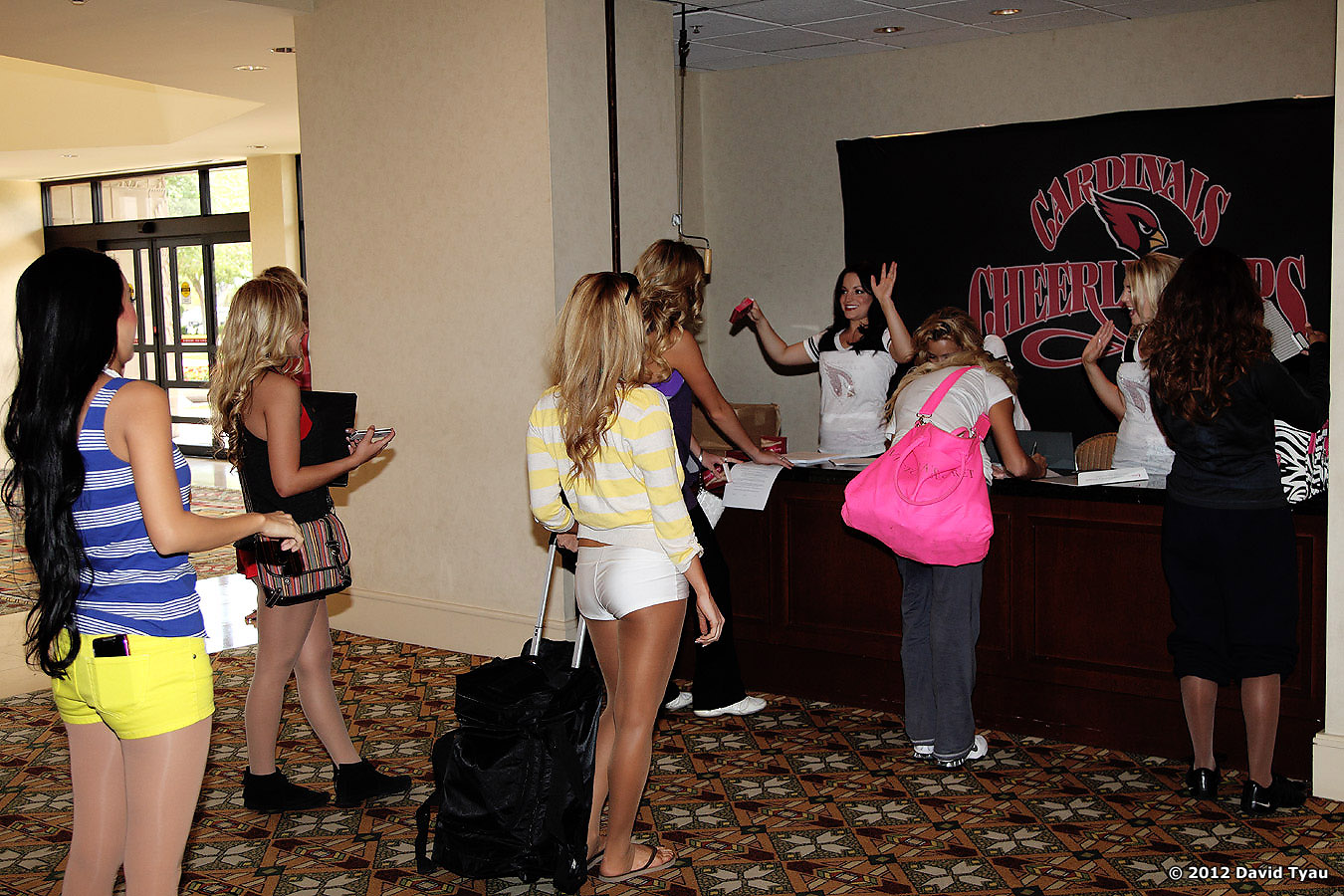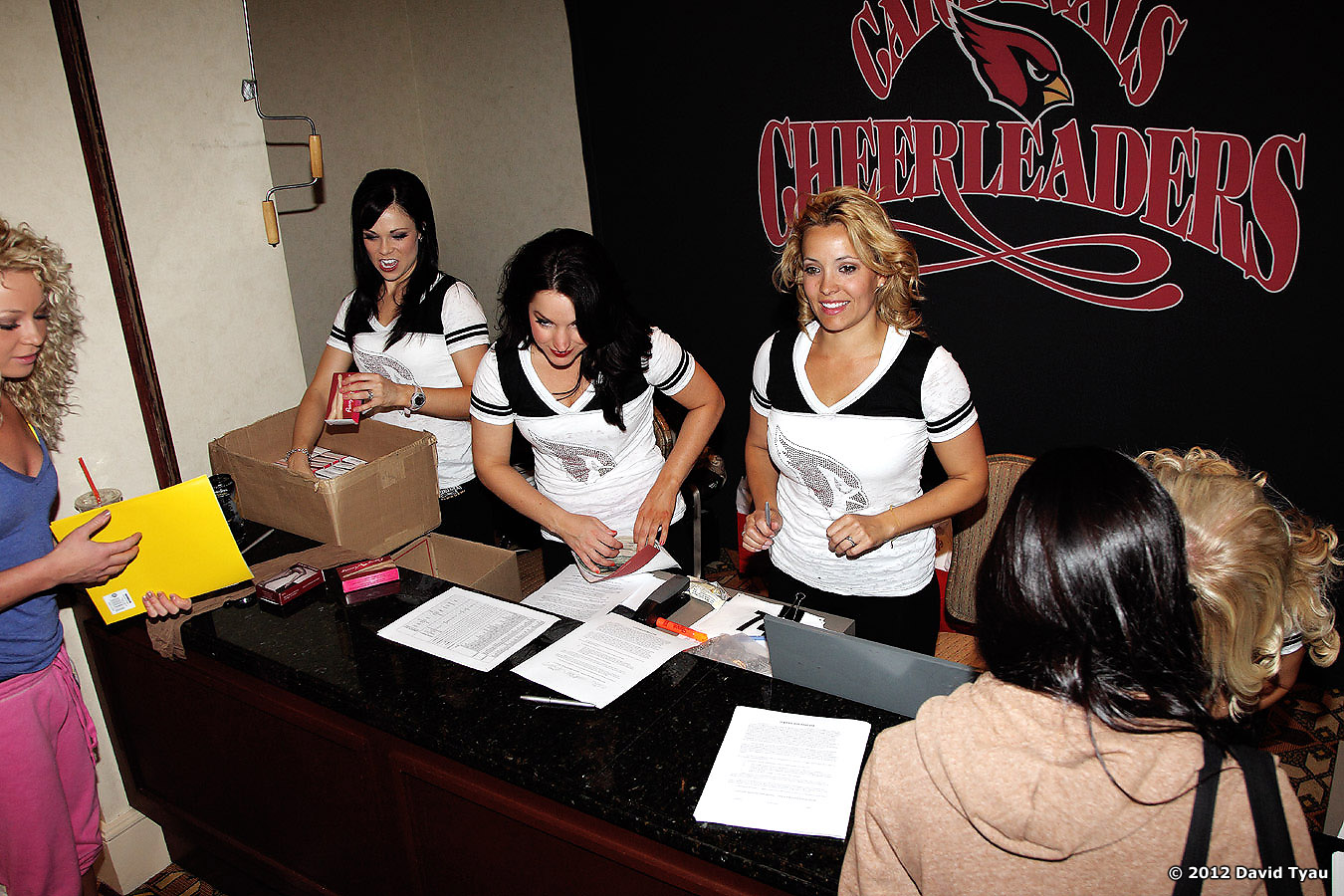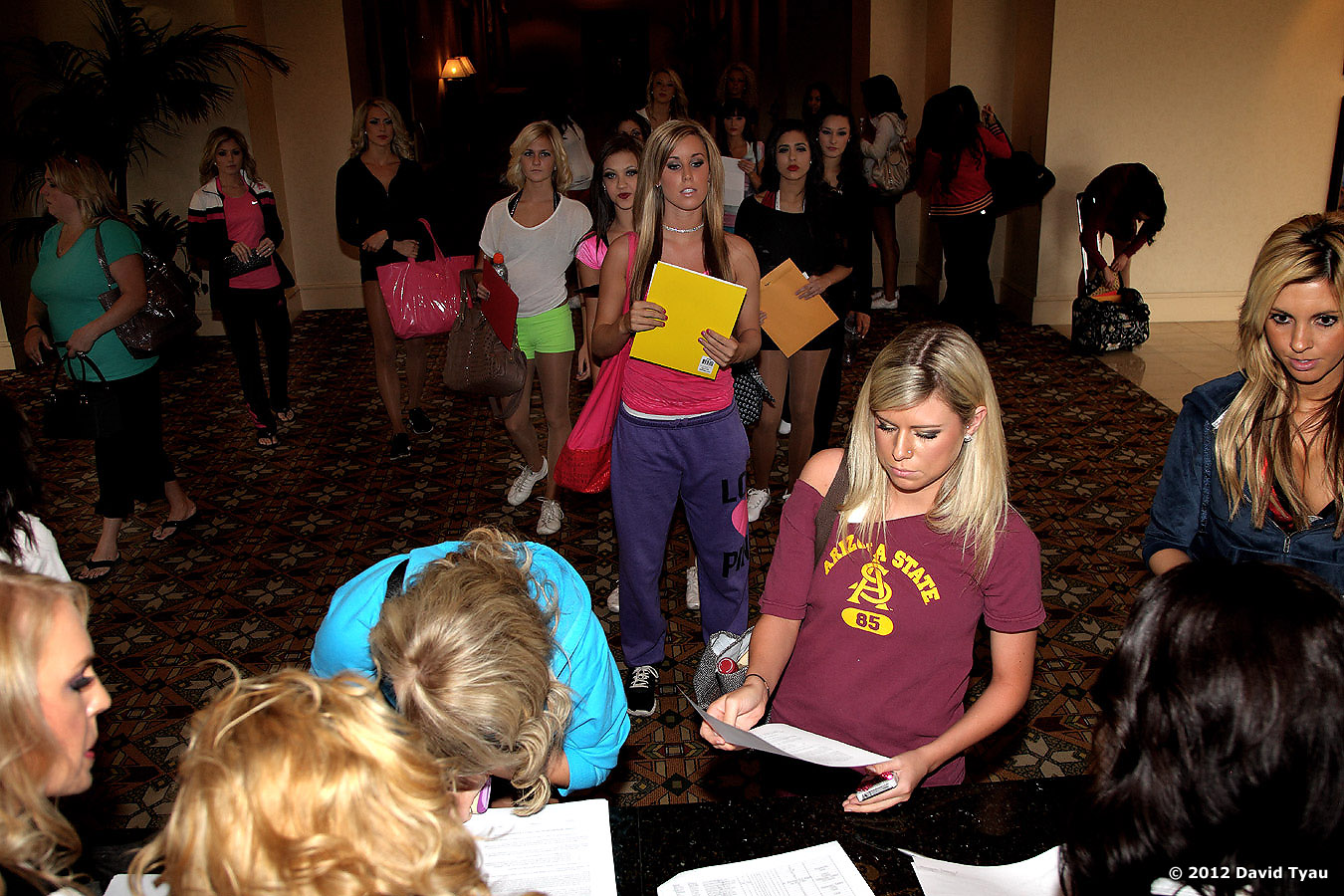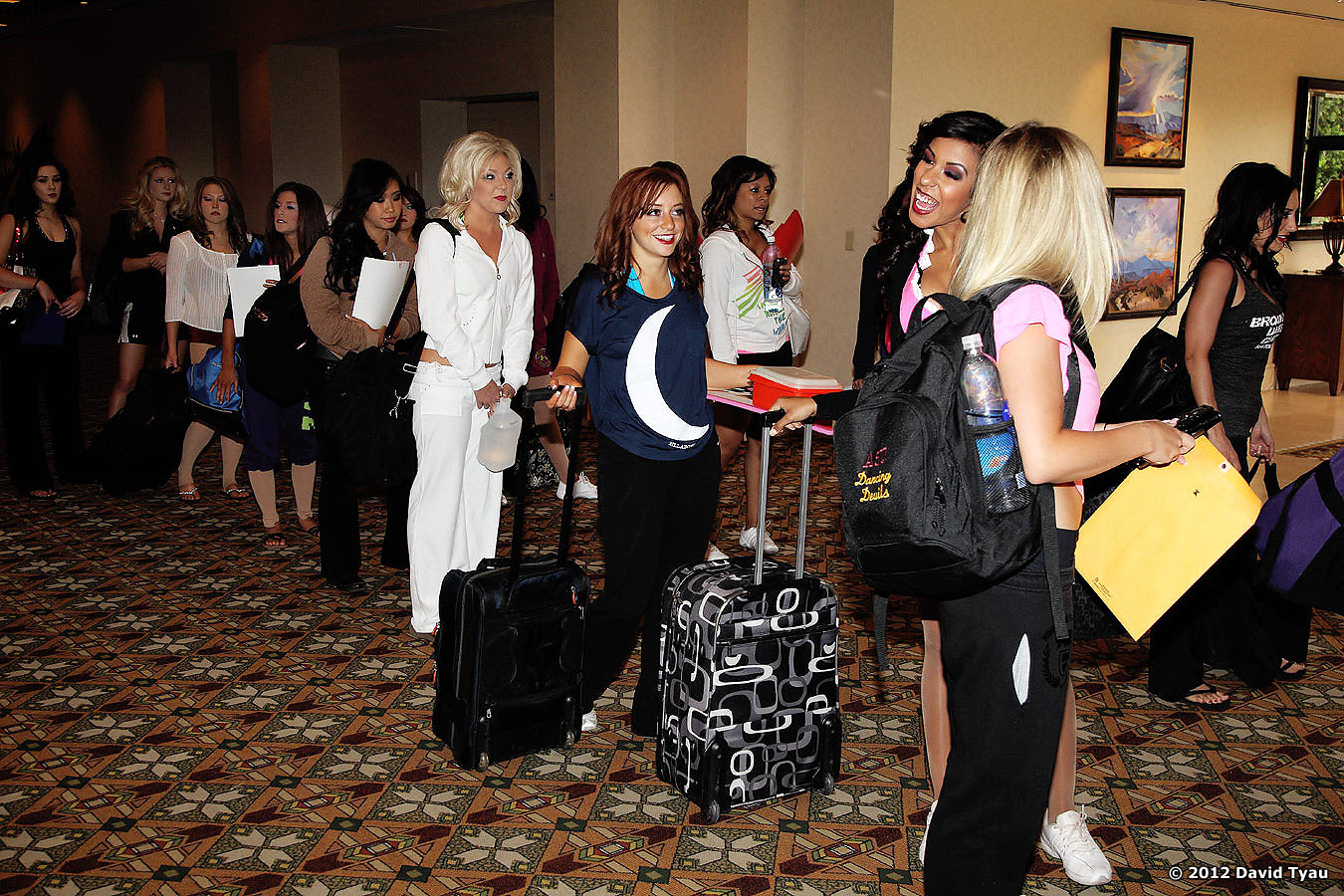 I have been covering these auditions since 2009 and each year the caliber of candidate rises.  A cursory review of the girls waiting to register left the impression that physical fitness and beauty were not lacking in this year's group.  In a word, they were "hot".  Now if they could only dance, but that question would be answered later.  Indeed, there has been a noticeable rise.  So I asked a couple of the veterans about this and they said that they thought it was the result of Heather's efforts to cultivate a larger pool of qualified candidates through their pre-audition workshops and something called the training group.
The training group is an invitation only squad of girls who have the potential to make the ACC, but were lacking in one or more aspects.  They are high potential candidates that meet with veterans on a regular basis to hone their skills and work on those areas that may need some refining.  I think of this group as kind of the minor leagues, where players with potential are sent to work on those little issues before being called up to the big leagues.  Its a smart move, in my opinion, judging from the training group participants…girls that I remembered from auditions past and that have stood out.
There were about 150 girls who pre-registered and with a number of walk in candidates, the McArthur Ballroom would be packed.  At 1:00 pm, Heather introduced herself and her staff and discussed the day's audition process.  There would be three phases this day.  In the first phase, the candidates would warm up and then be taught an across the floor routine consisting of a jazz walk portion, a series of spins and high kicks.  Phase two would consist of a freestyle and choreographed routine that would focus on dance technique, performance skills, and overall appearance.  And in the final phase, the remaining candidates would be taught a one minute routine that focused on kicks, turns, and leaps.  This routine would be performed on Sunday in front of a panel of judges that consisted of sponsors and NFL partners.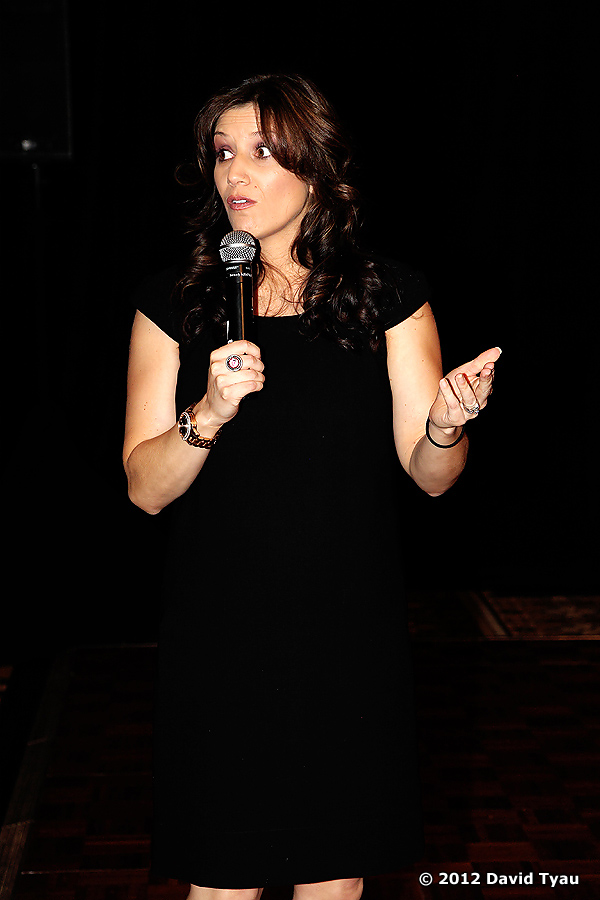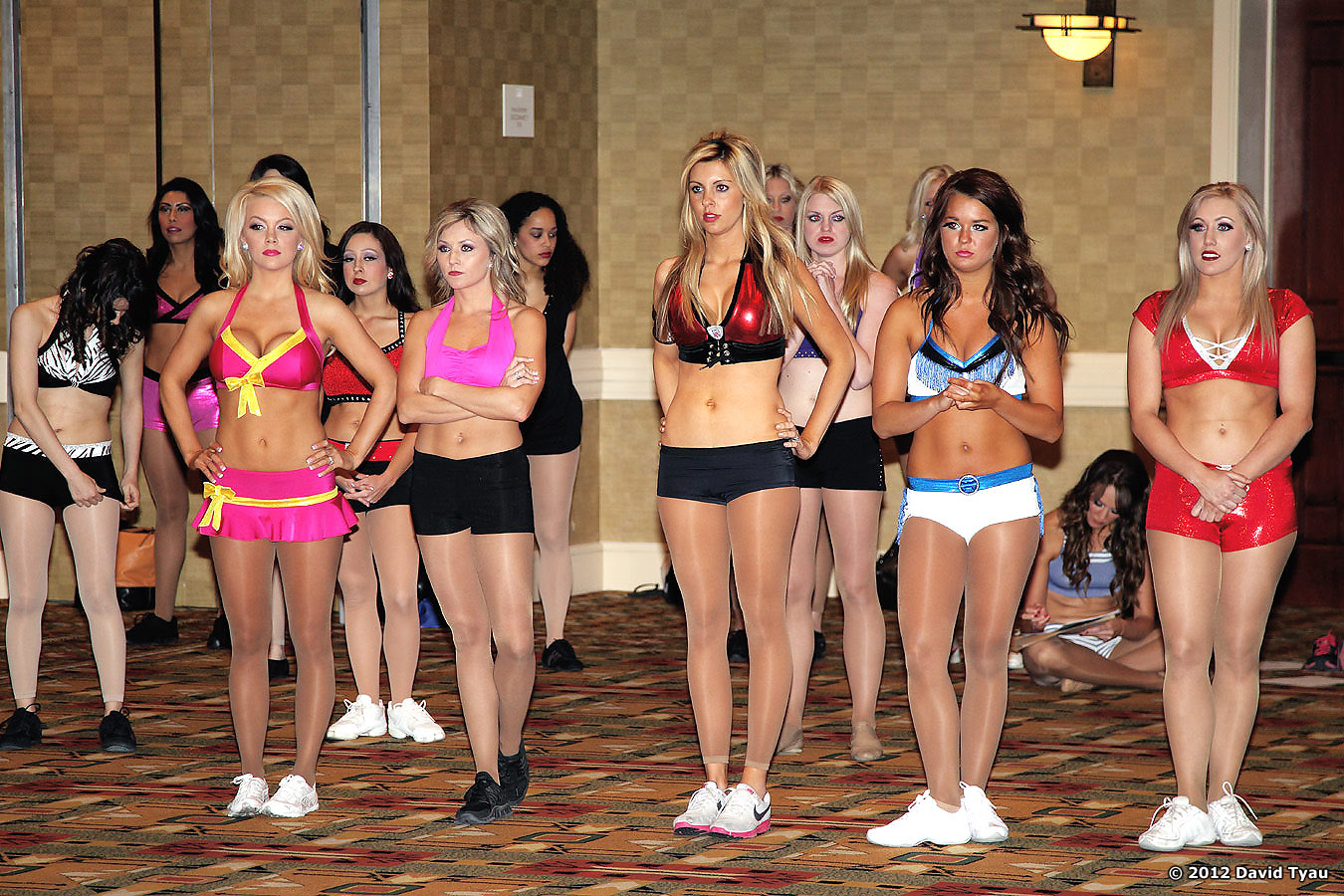 With that Heather turned over responsibilities to Allie and her cohorts to lead the candidates through the warm up and stretching portion of phase one.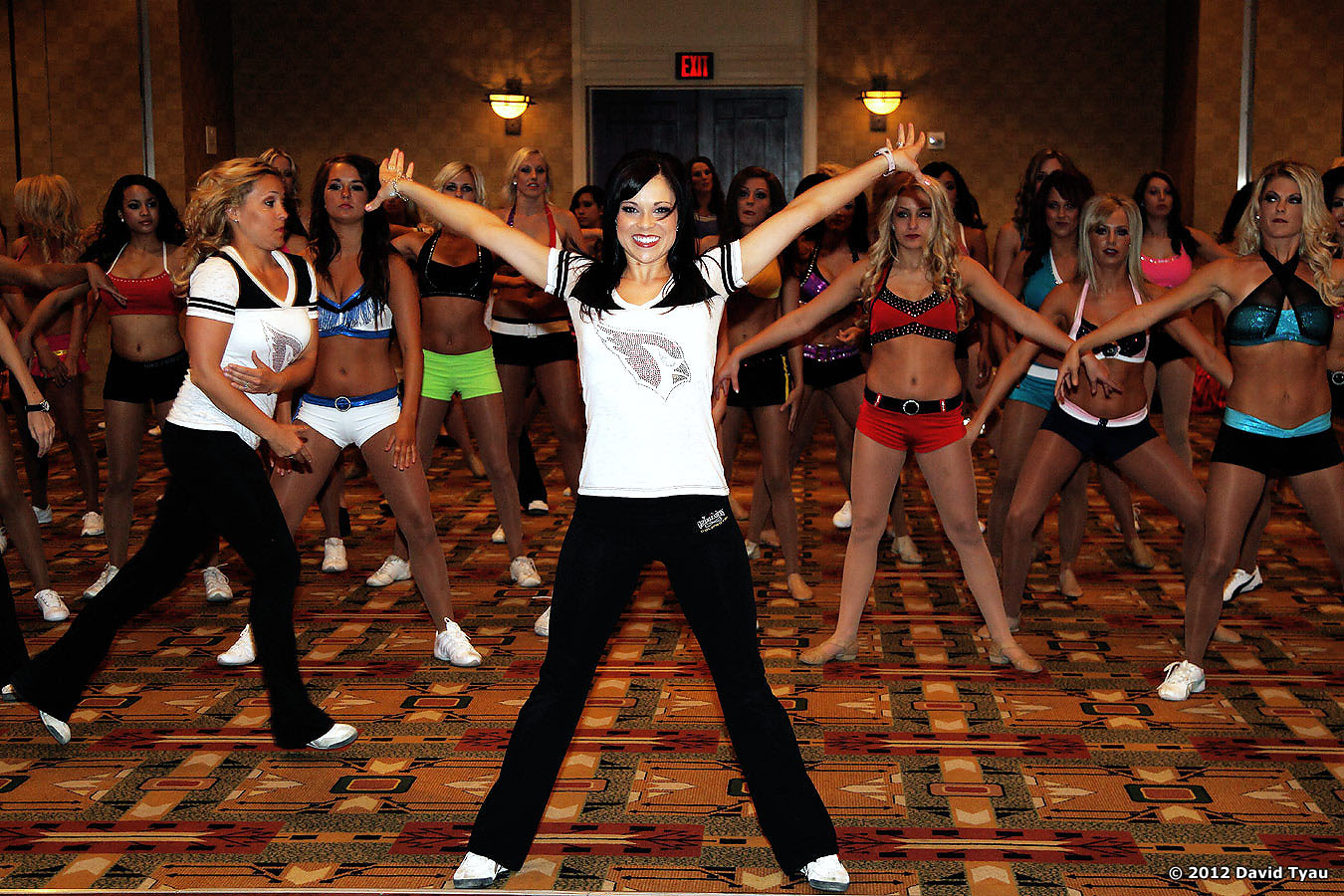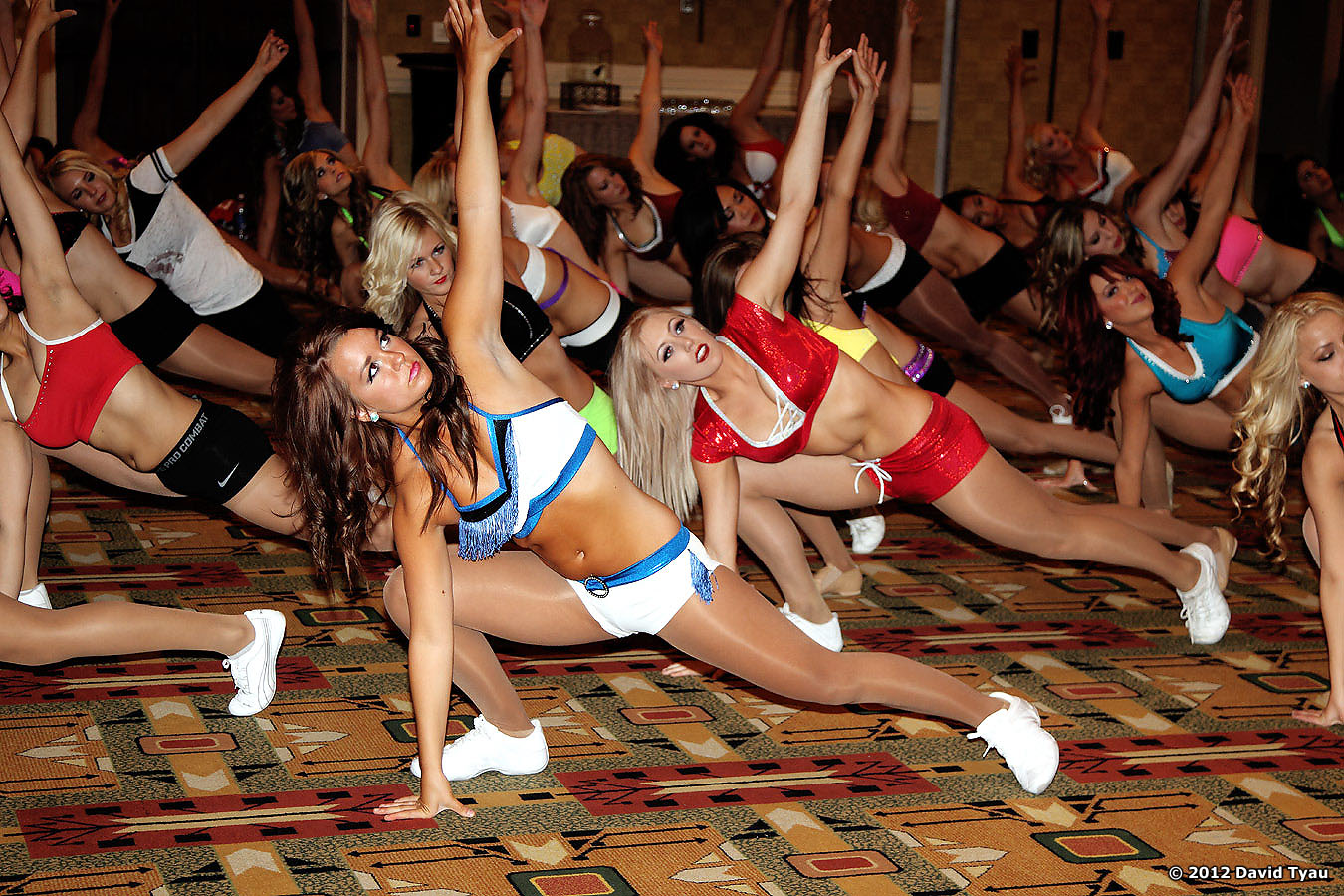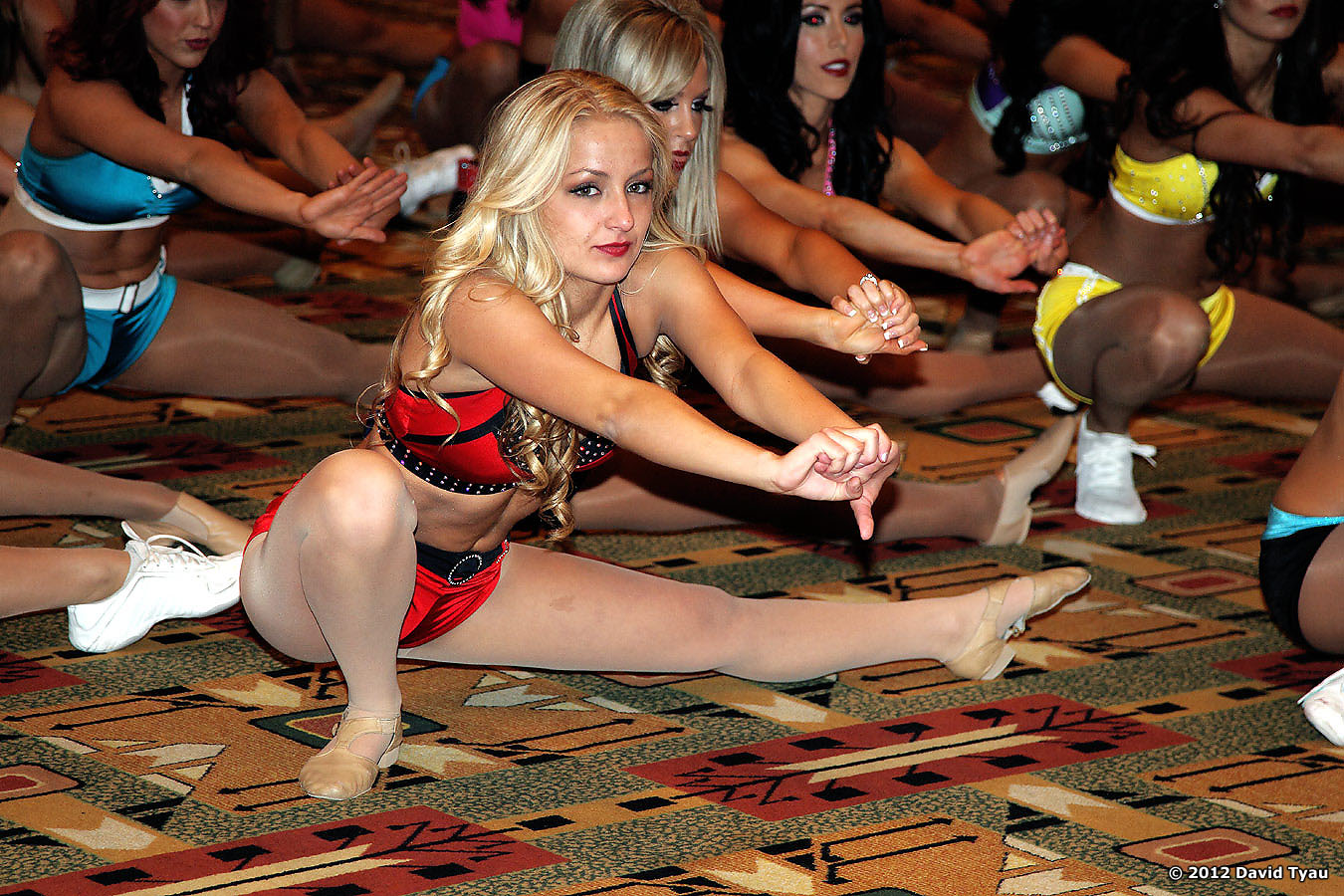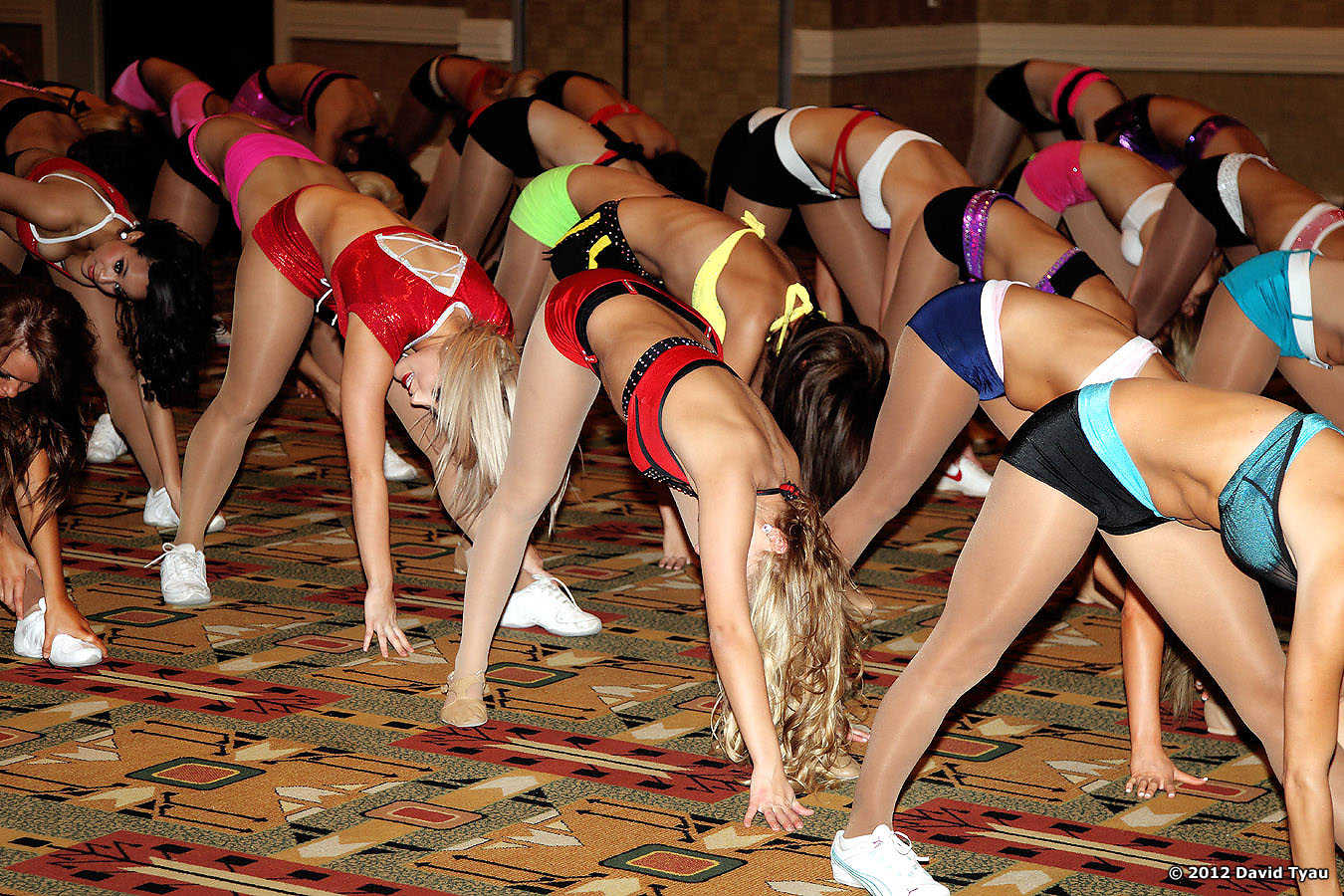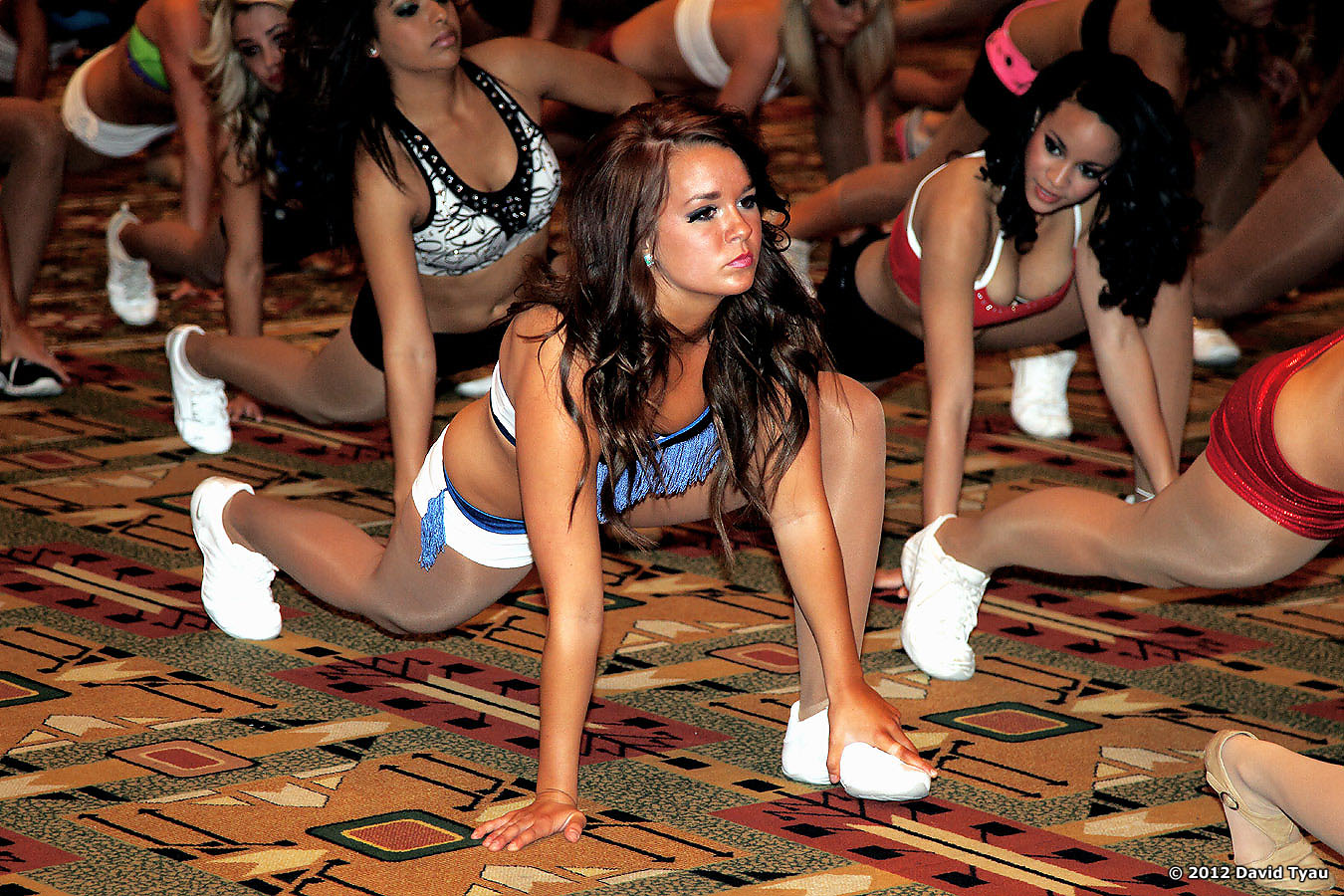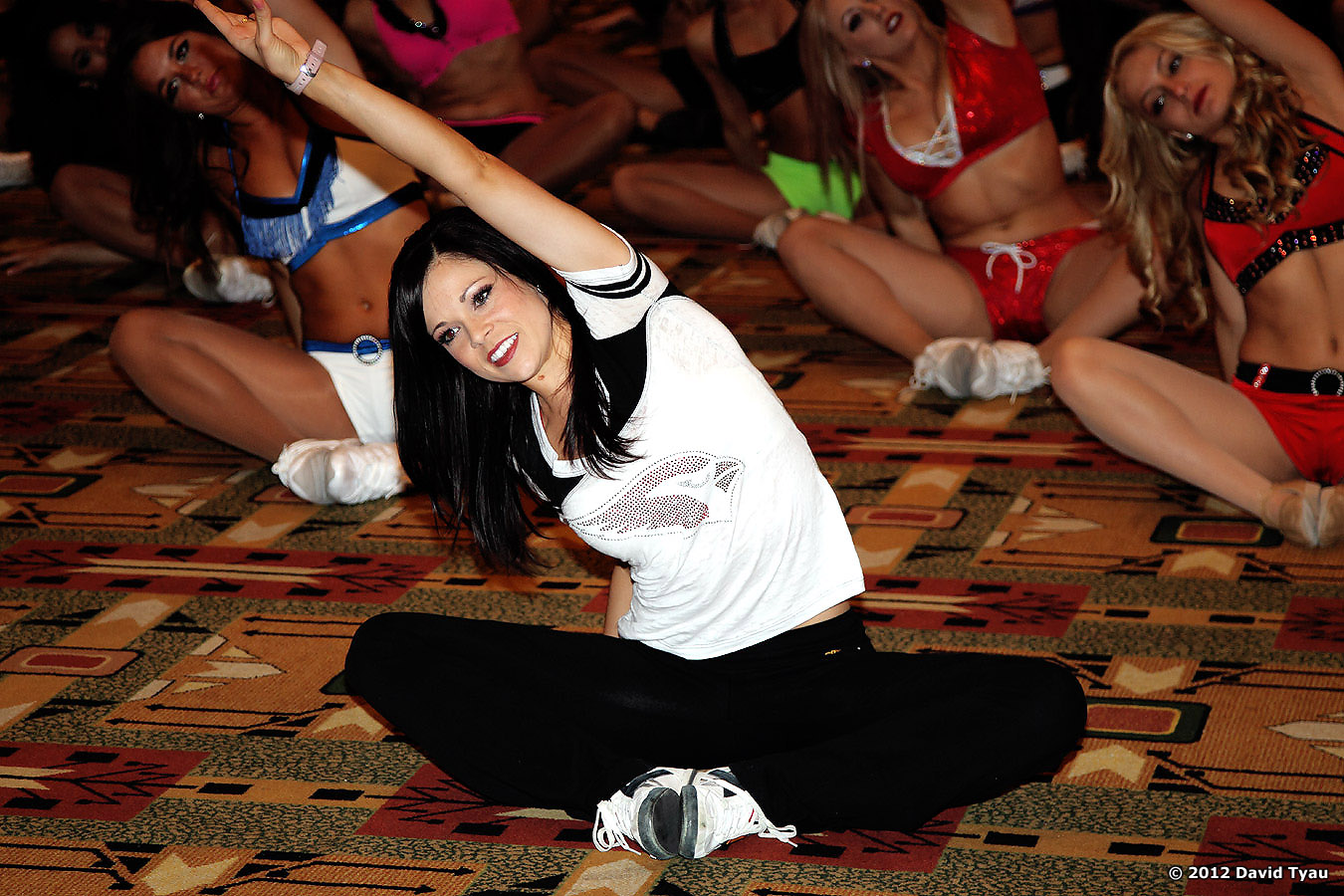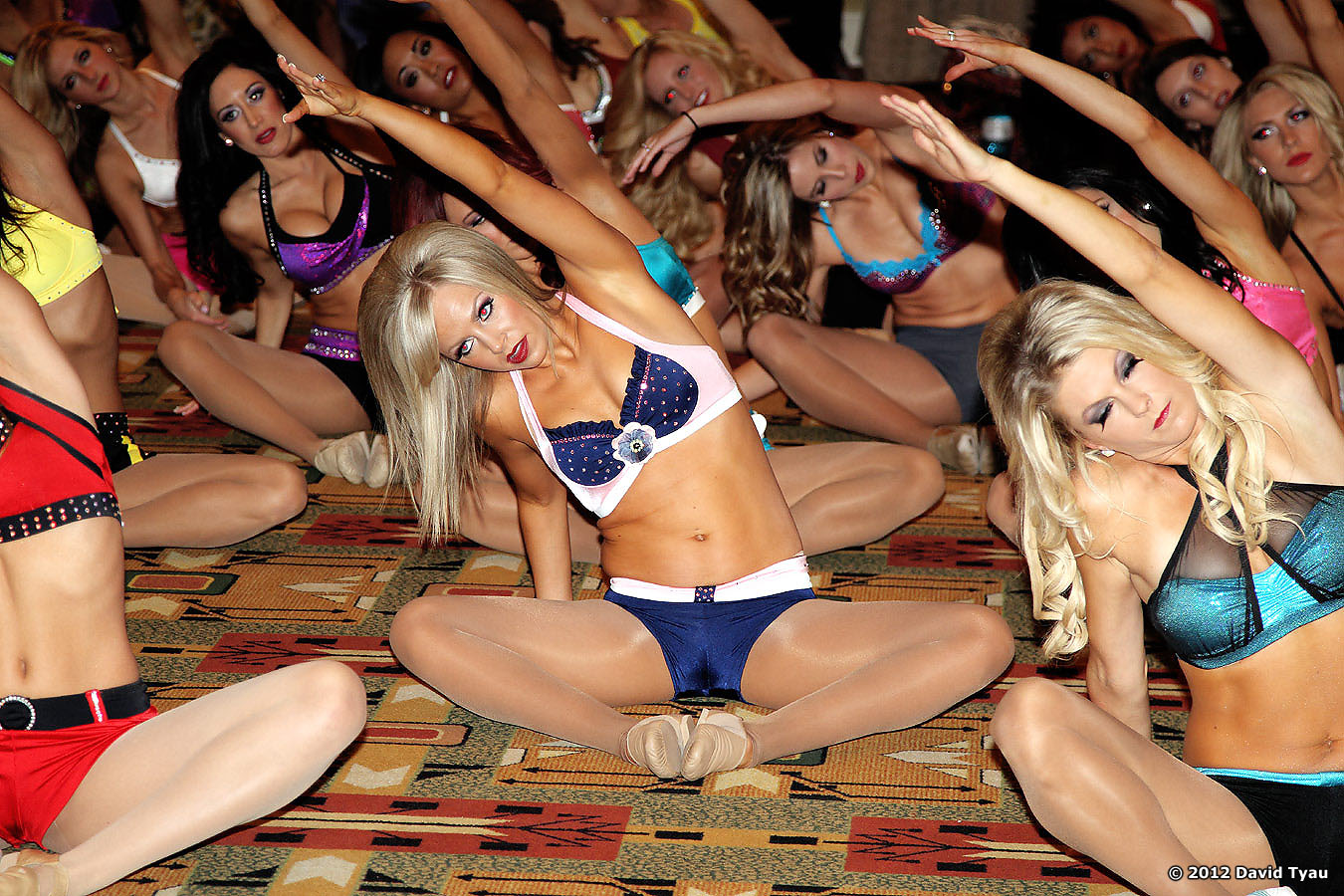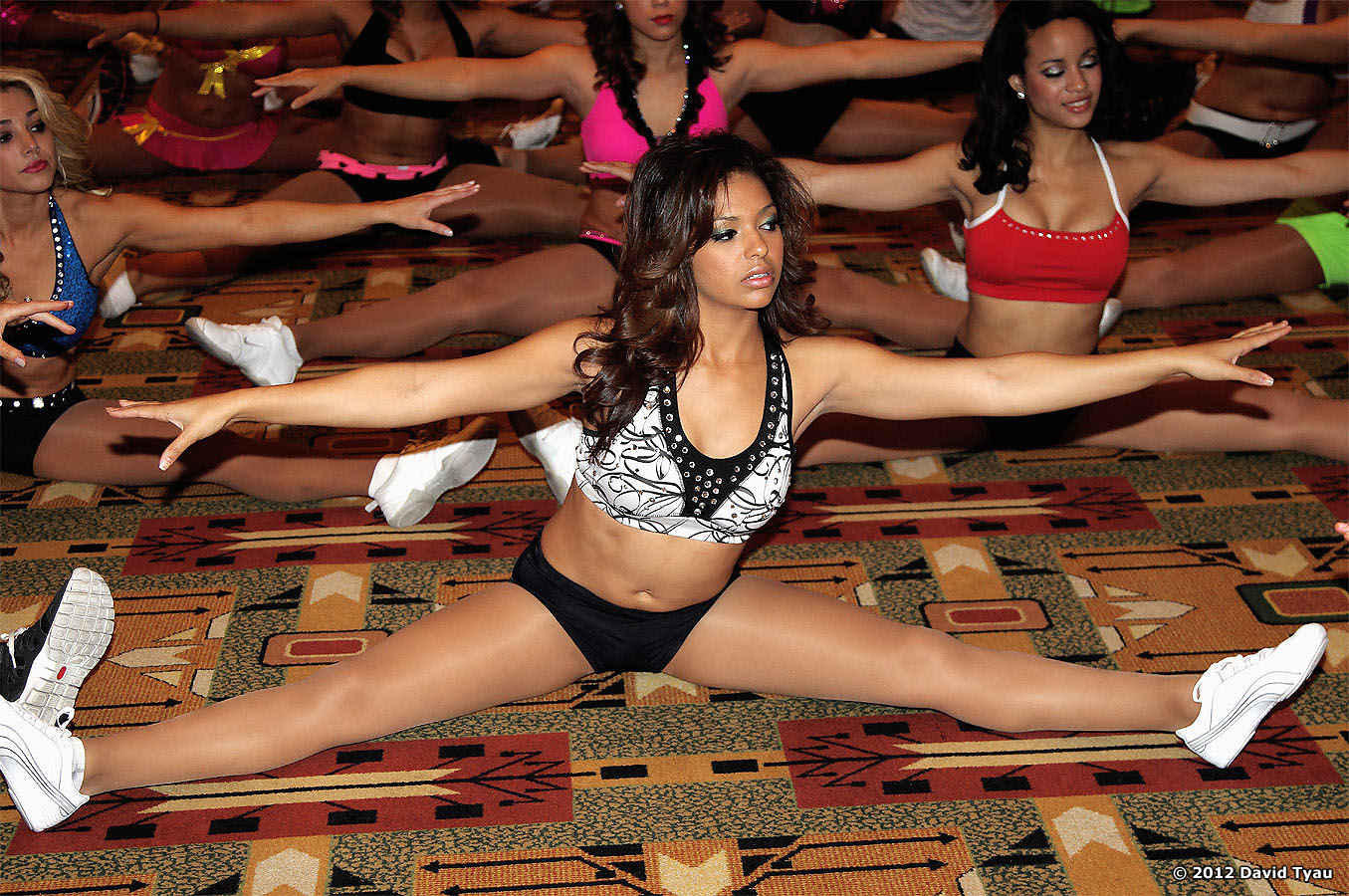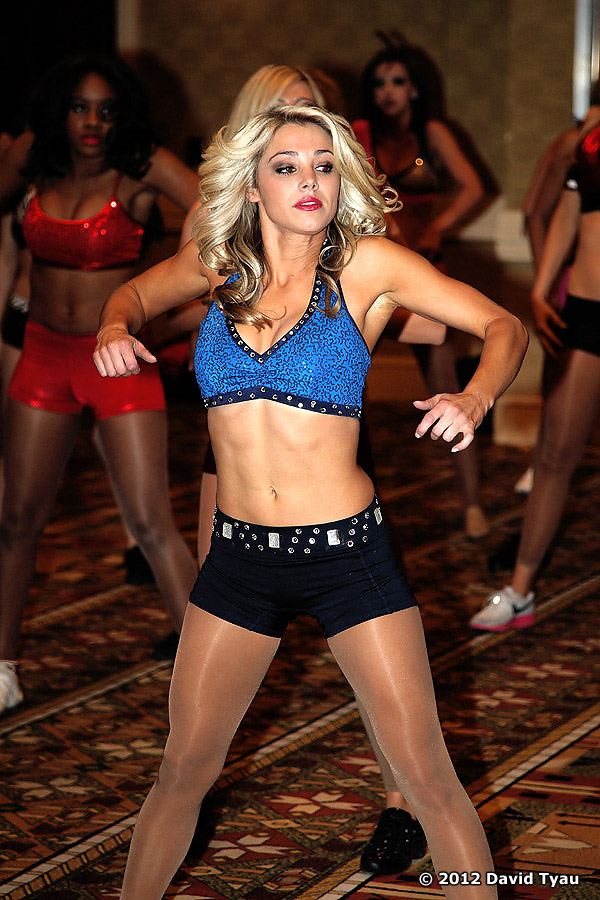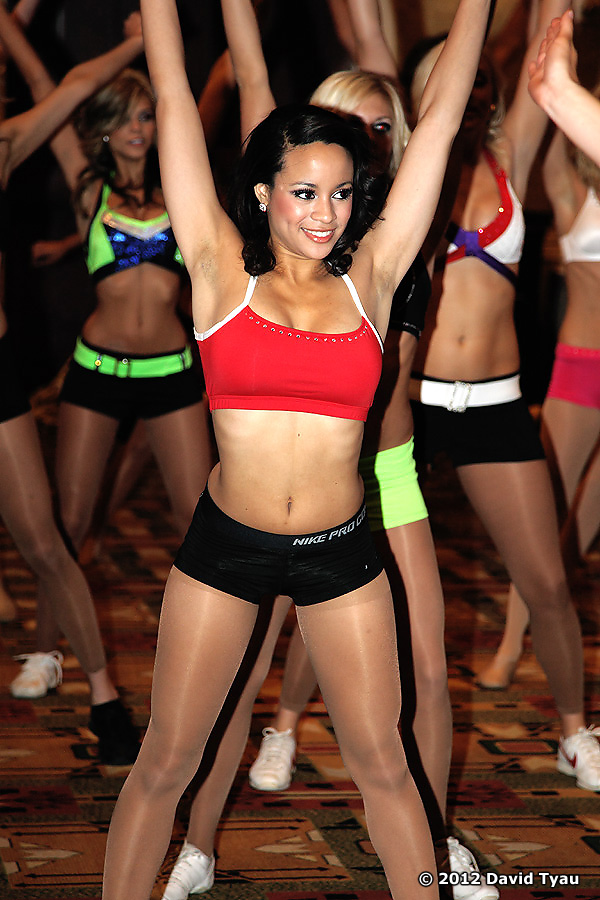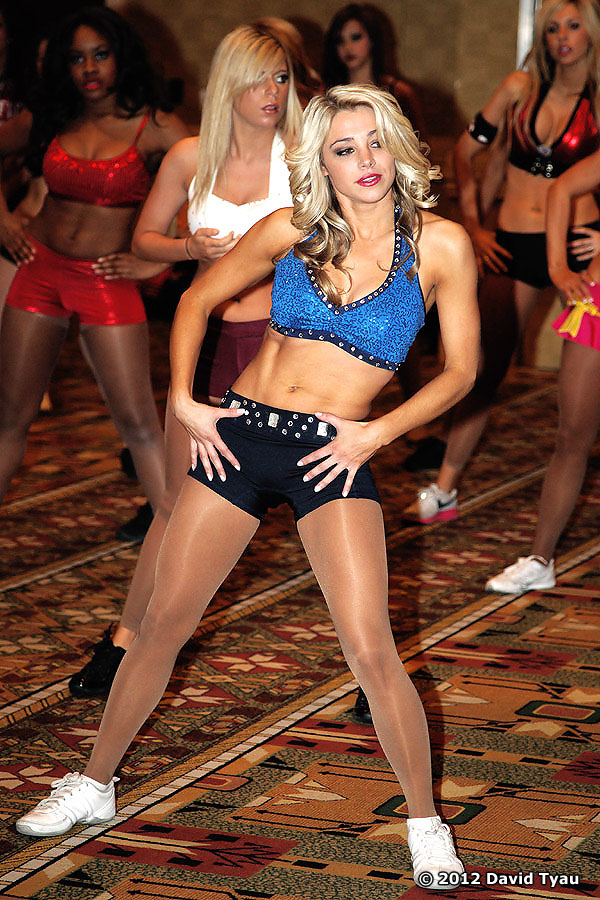 After the warm up session, the instructors demonstrated the across the floor routine to the applicants.  It is a dance routine used to demonstrate basic dance skills and consists of a jazz walk portion, a series of spins, and a few high kicks.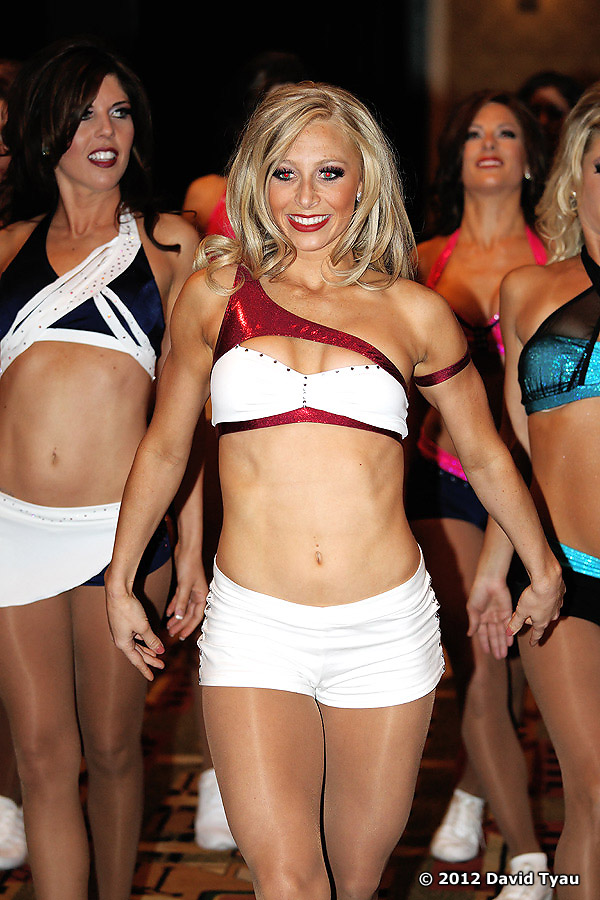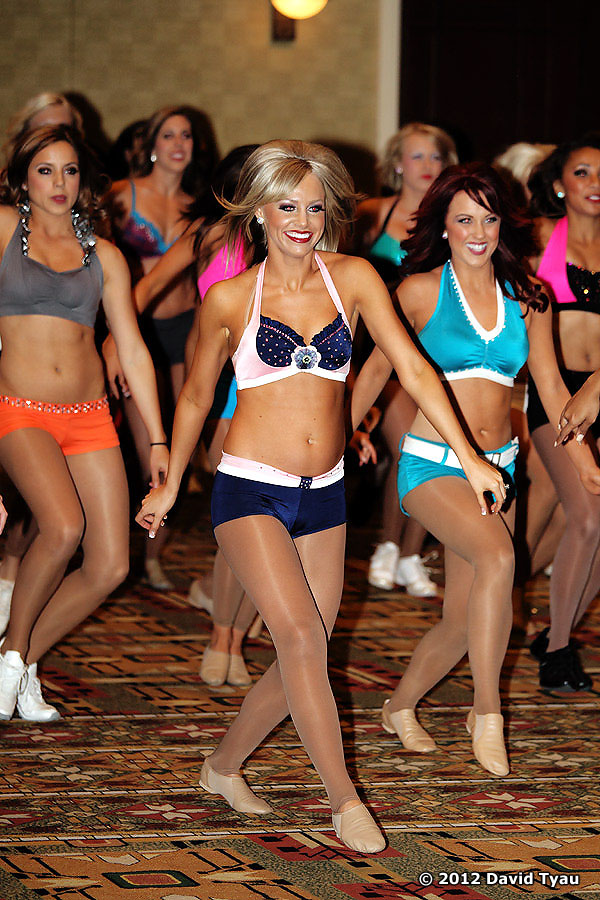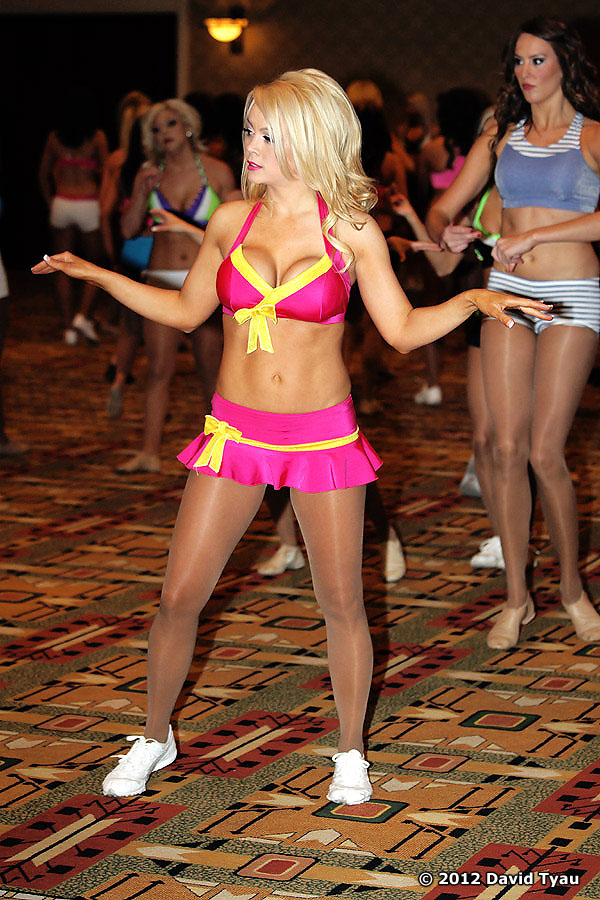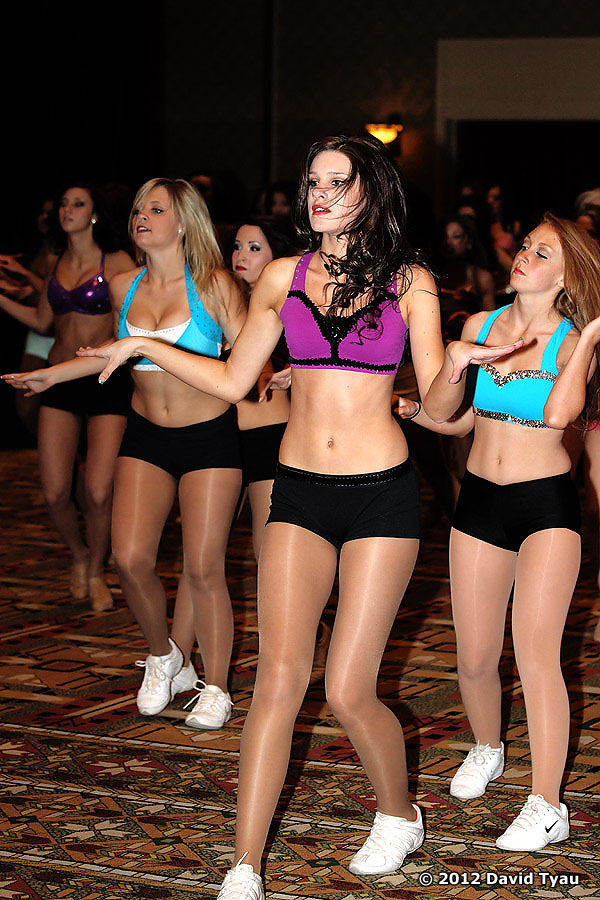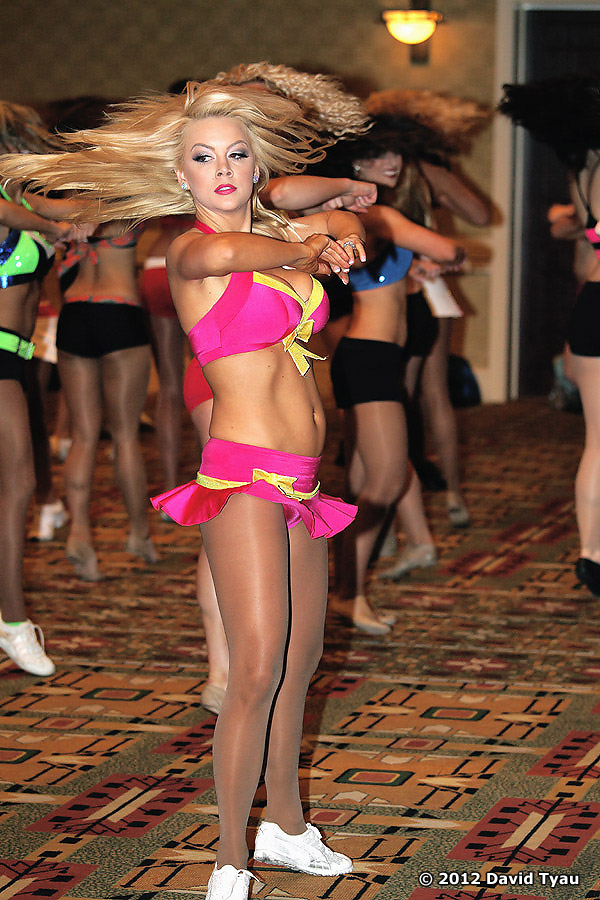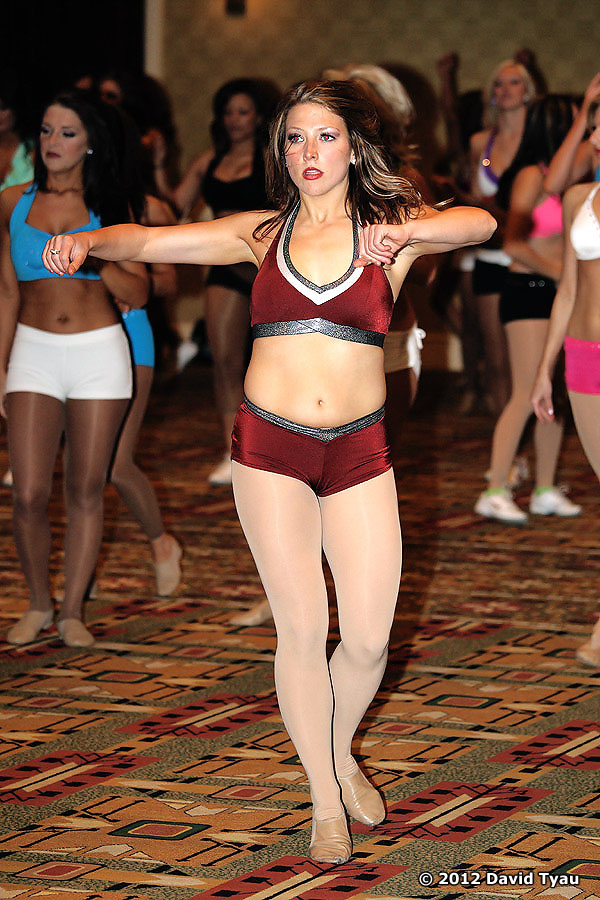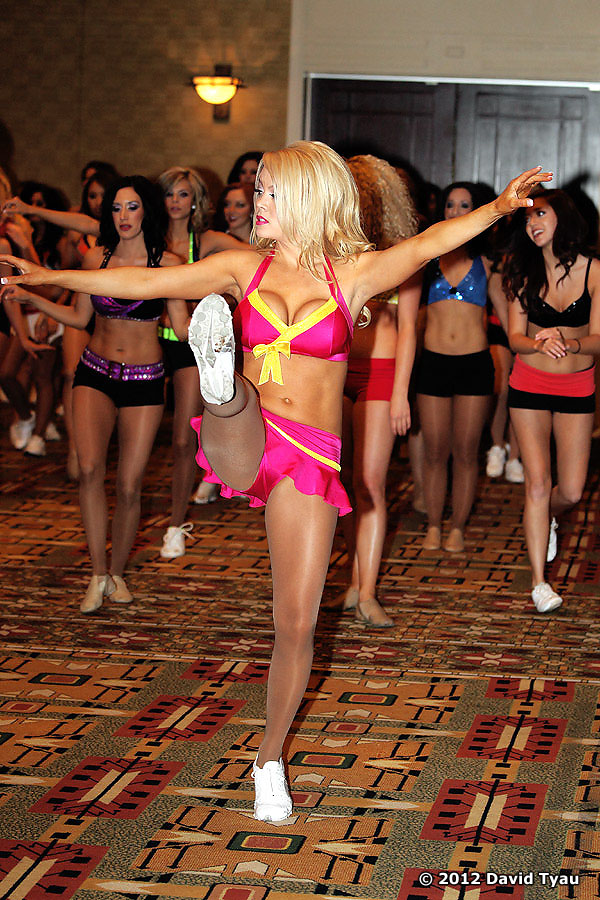 The across the floor routine is very basic and the candidates pretty much picked it up quickly.  They had several opportunities to perform the routine before they were called in front a panel of judges who made a quick assessment of their dance skills and physical fitness.  Candidates were separated into four lines and proceeded to perform the across the floor routine.  If a candidate passed, they were given a ticket to go onto the next round.  If they did not, their day was at an end.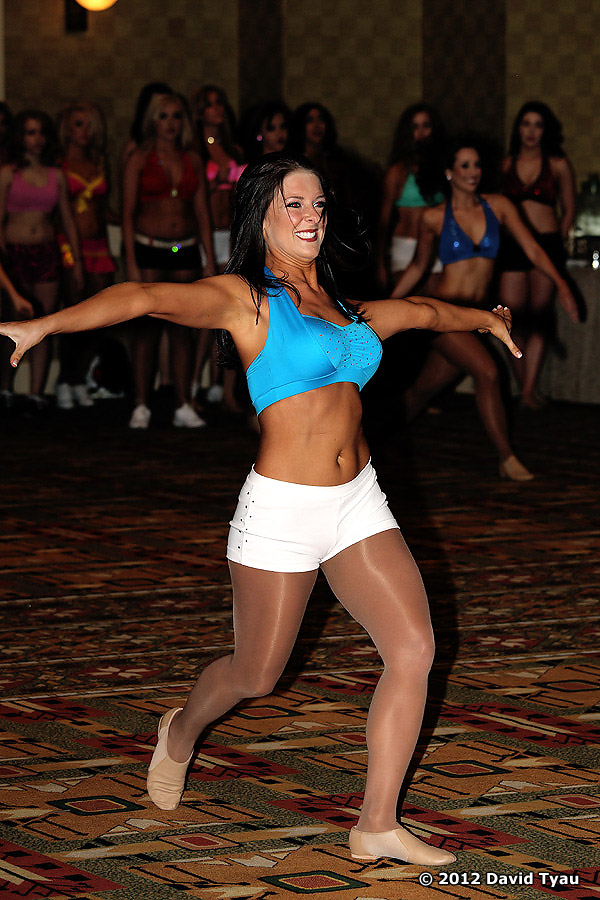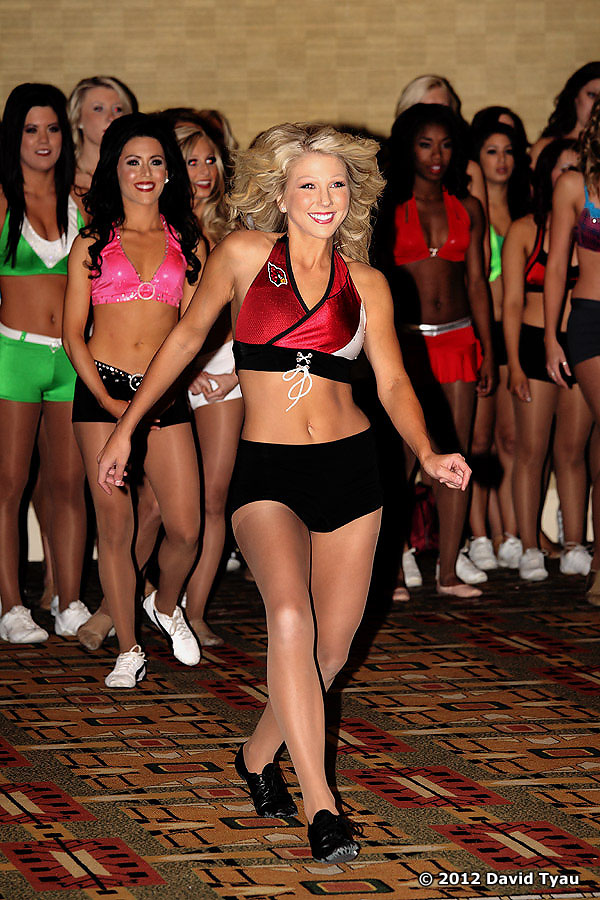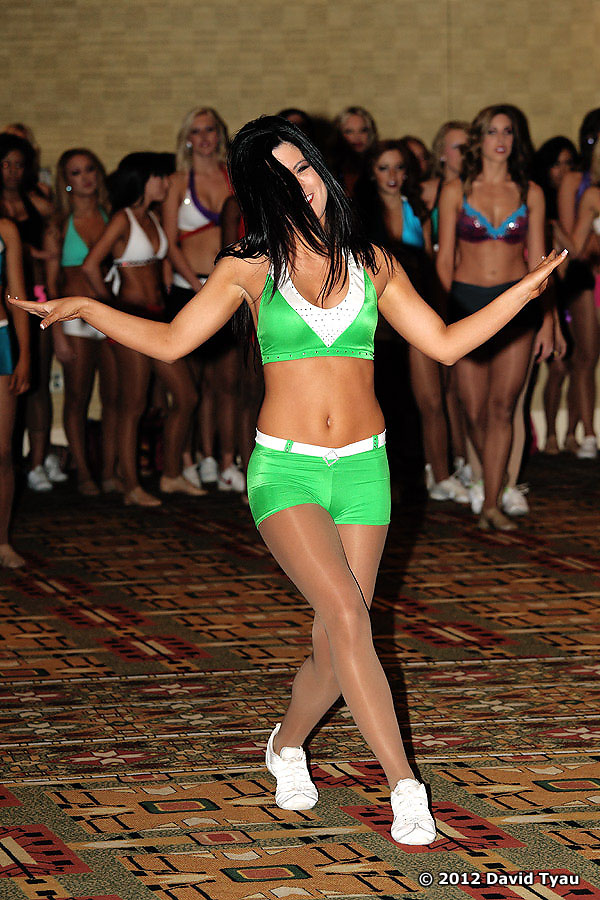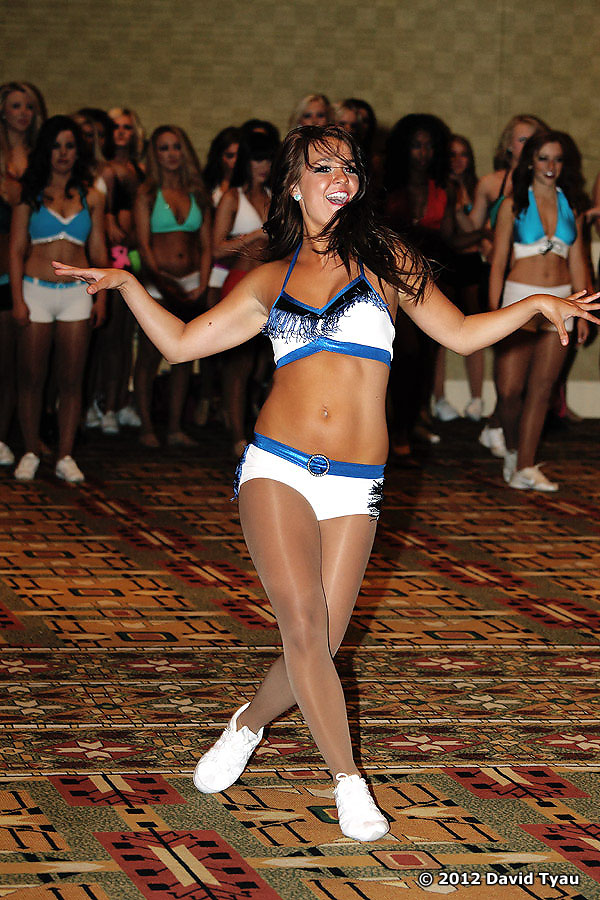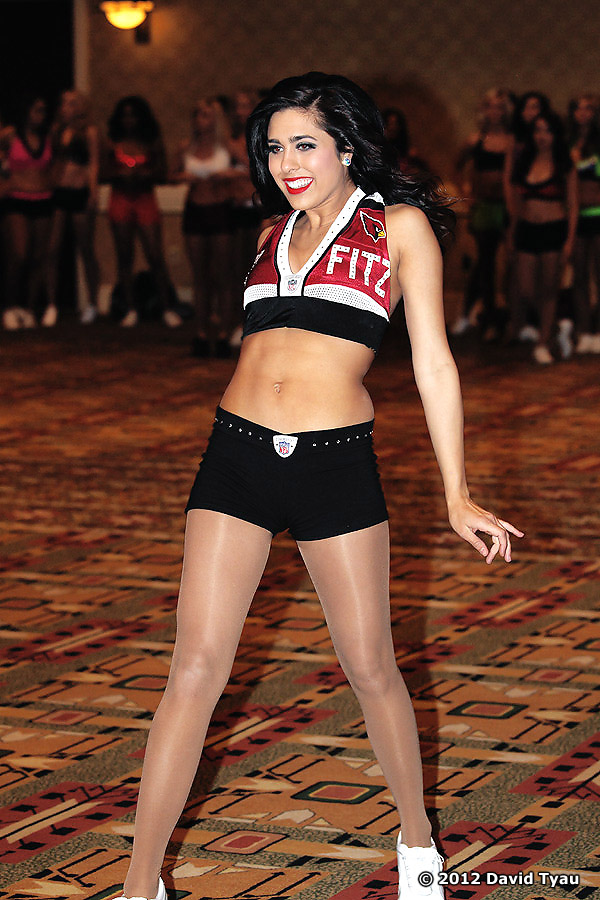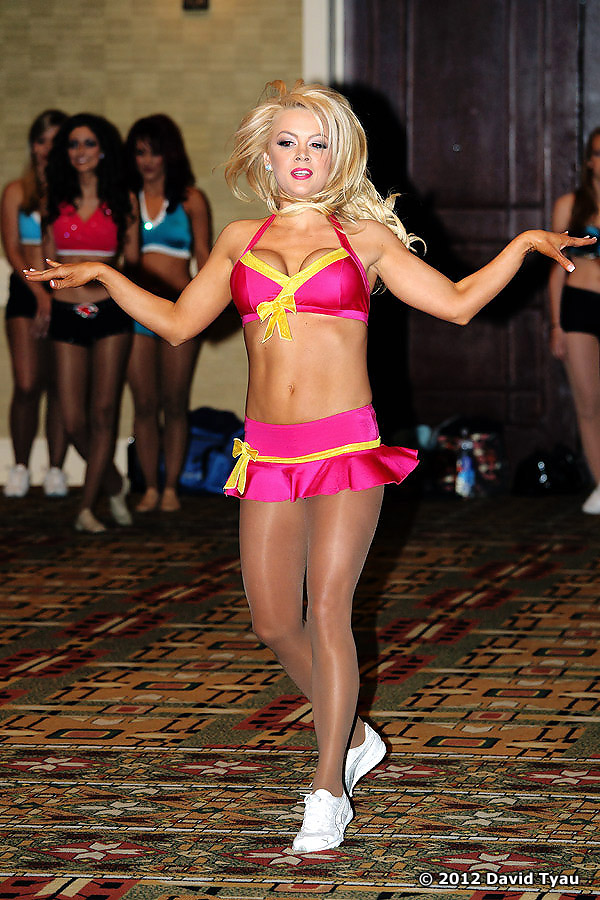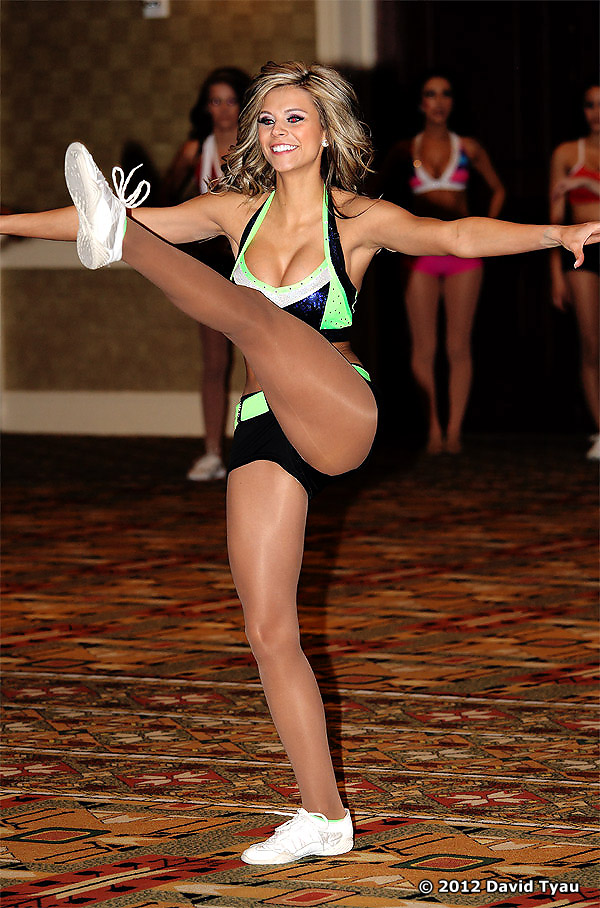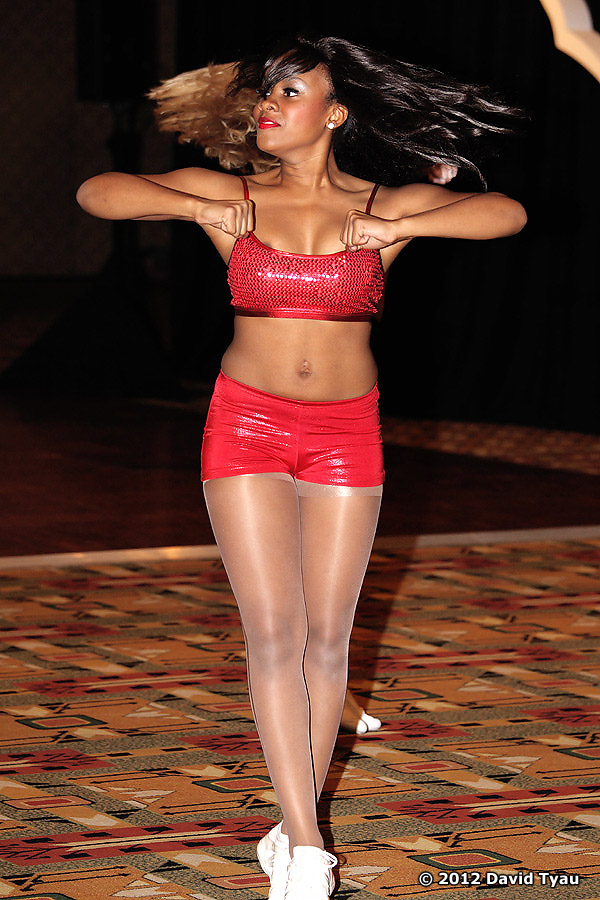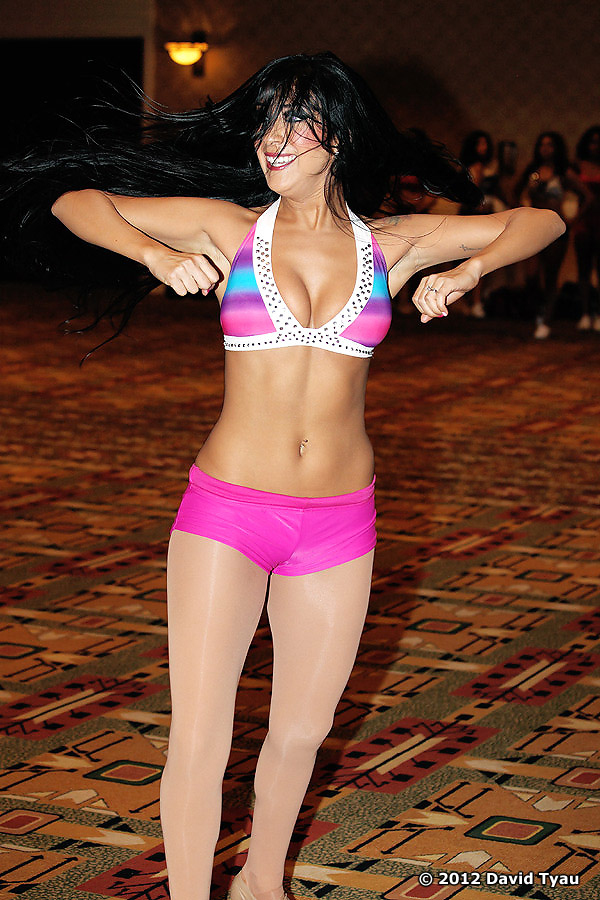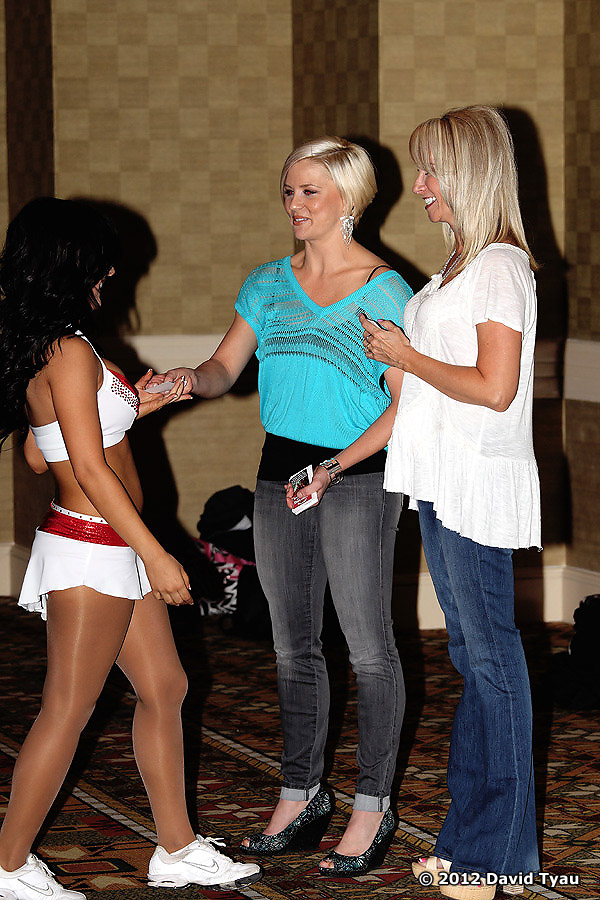 The girls who were given tickets to the next round were asked to go back to the registration table to complete revised waiver forms and to receive their audition numbers.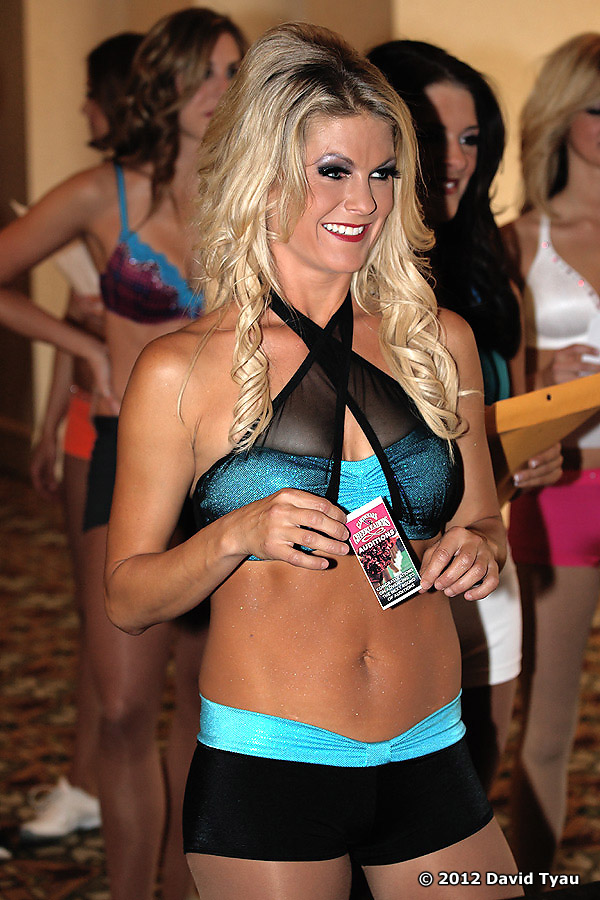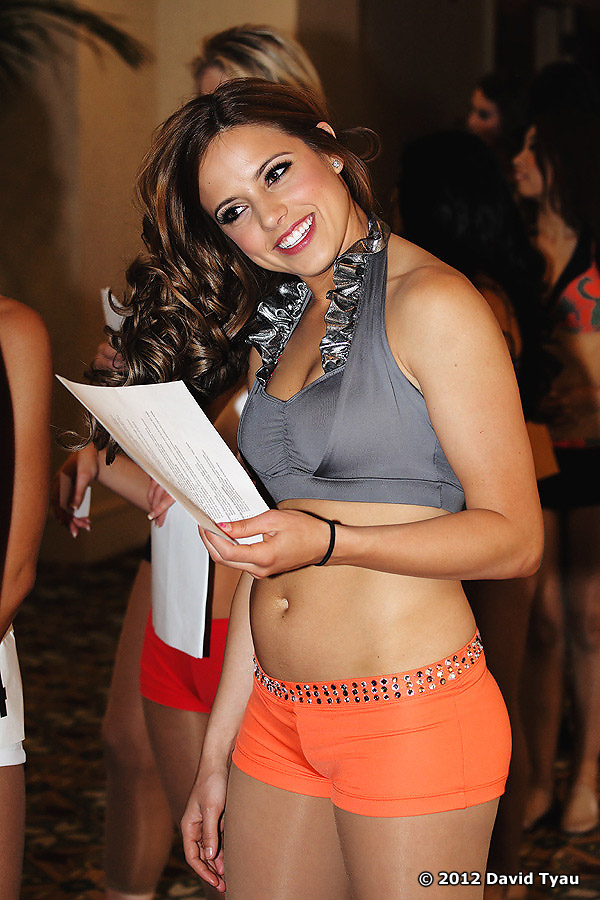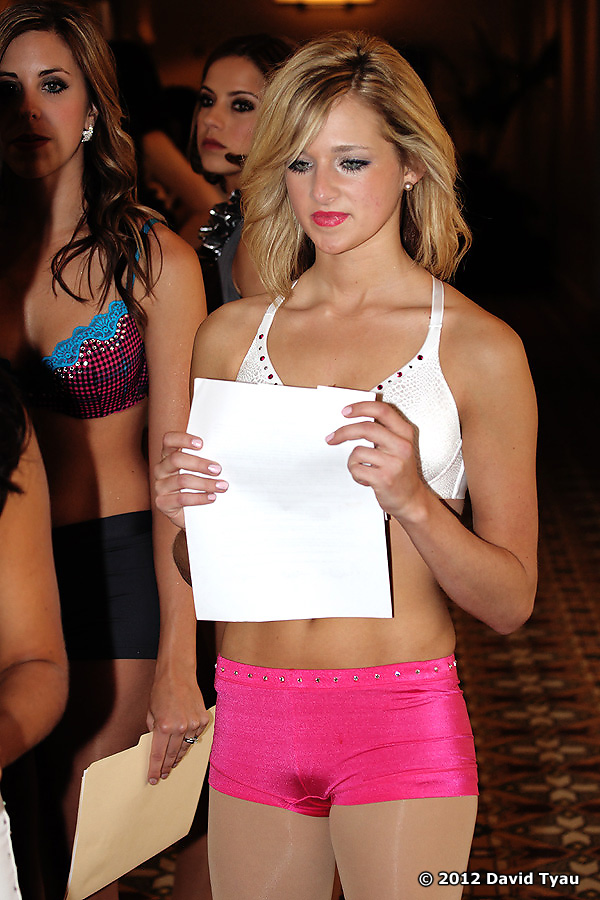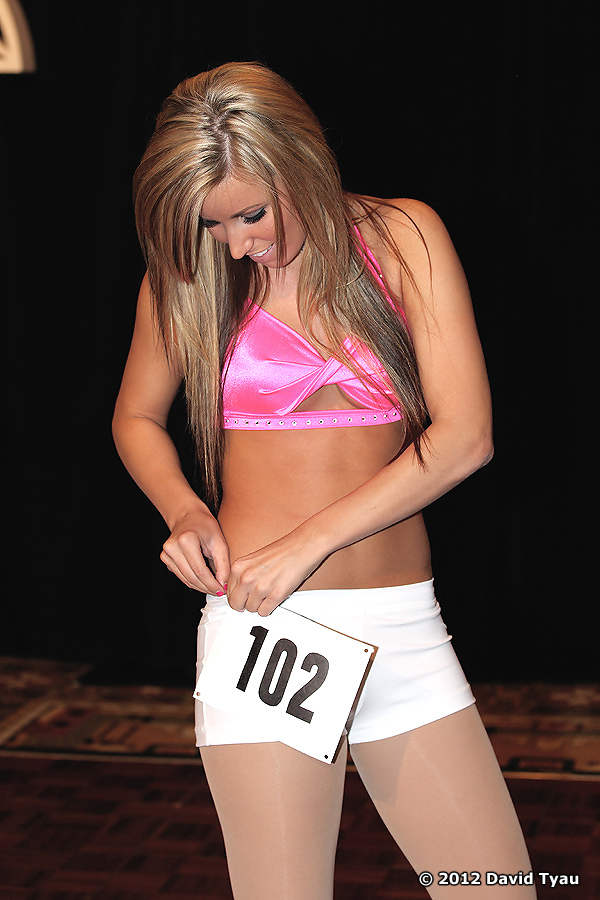 Of the 150 girls that started the day, 100 of them would continue to the second round.  At 1:45 pm, the candidates reconvened in the McArthur Ballroom and were taught a choreographed routine that consisted of one 8-count of holding position, two 8-counts of freestyle dance, four 8-counts of choreographed movements that were repeated one time.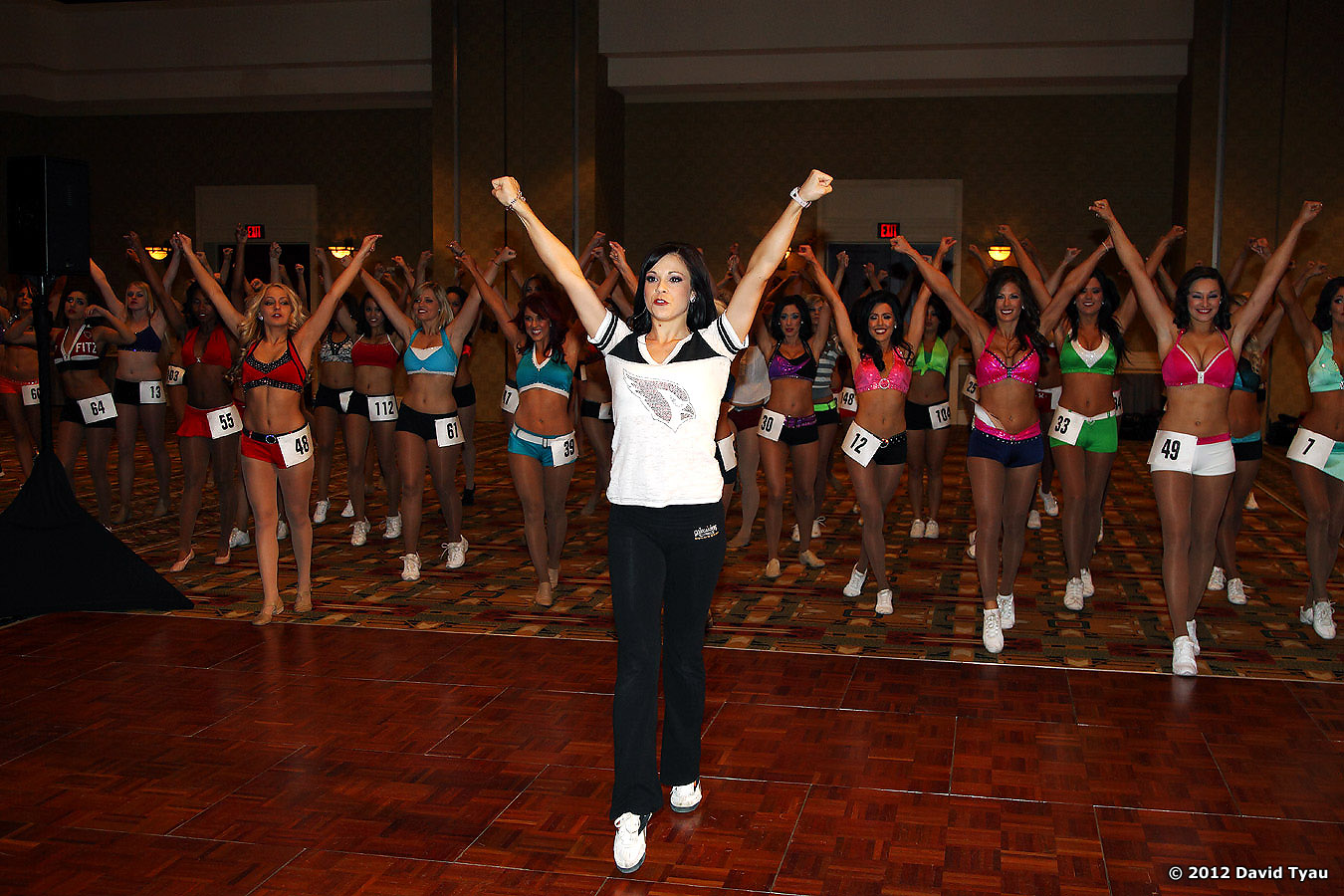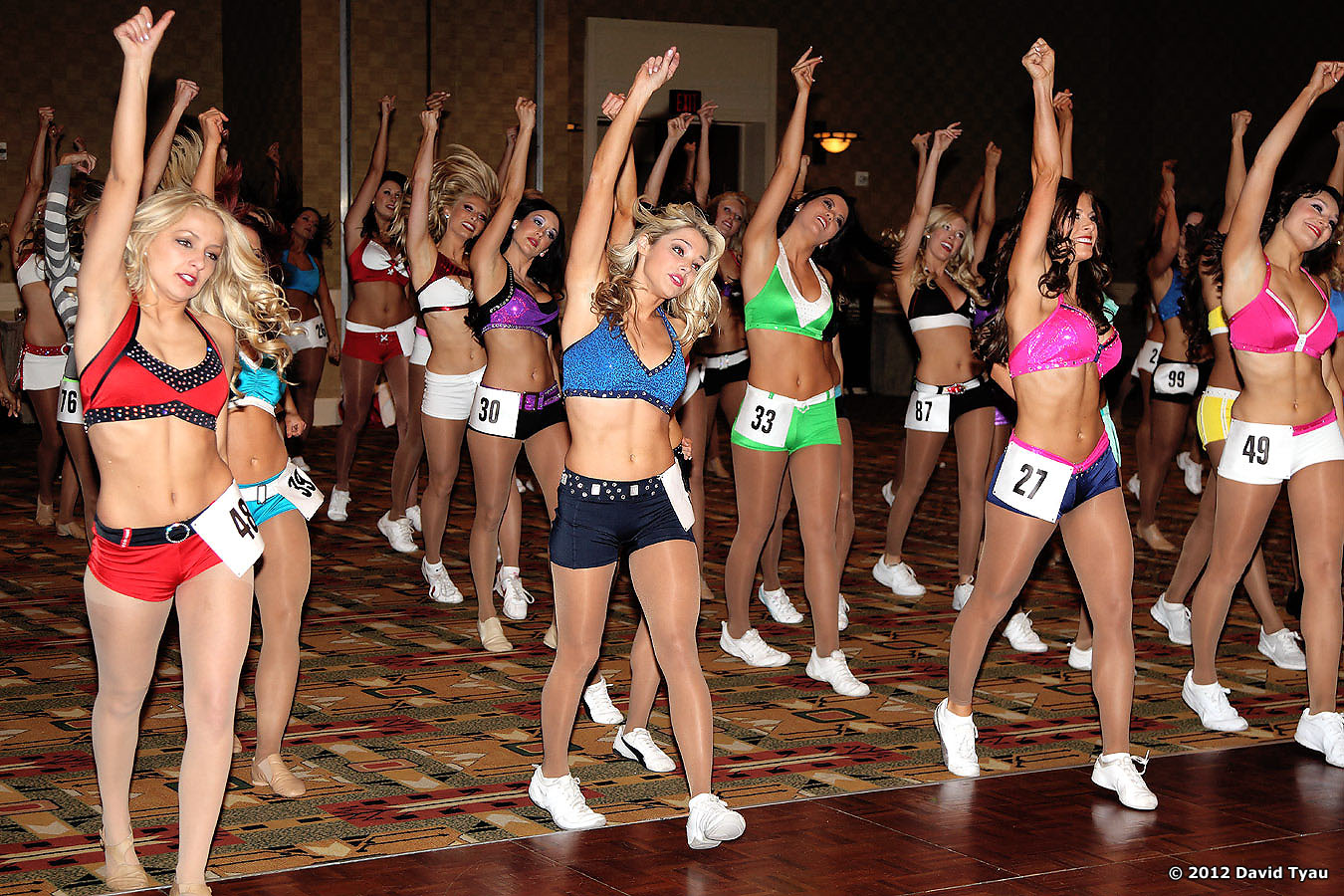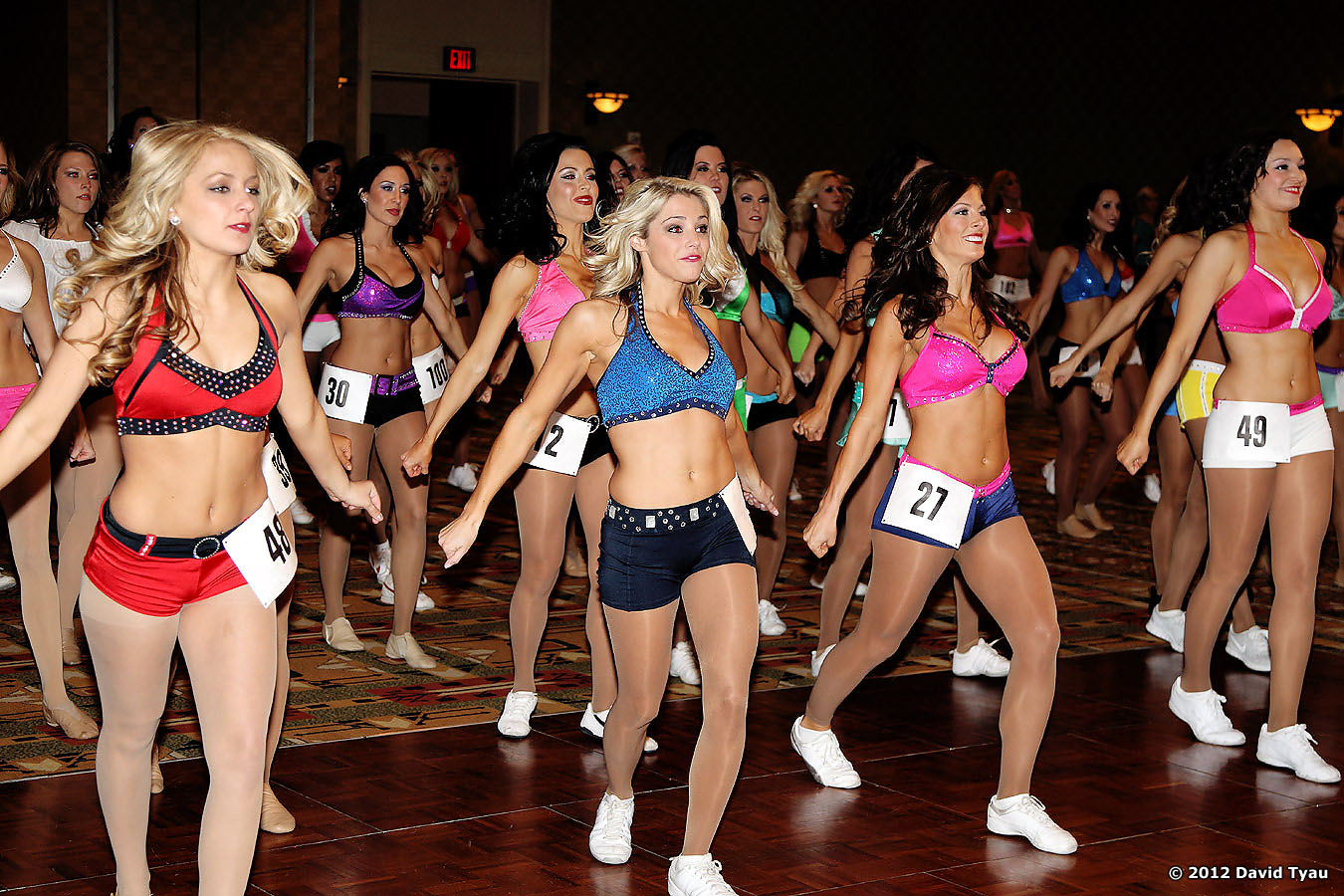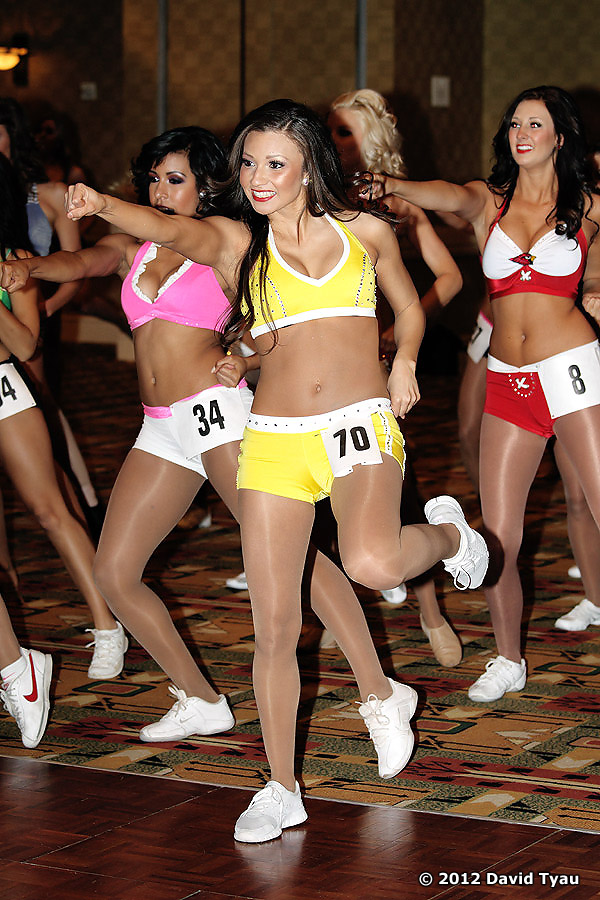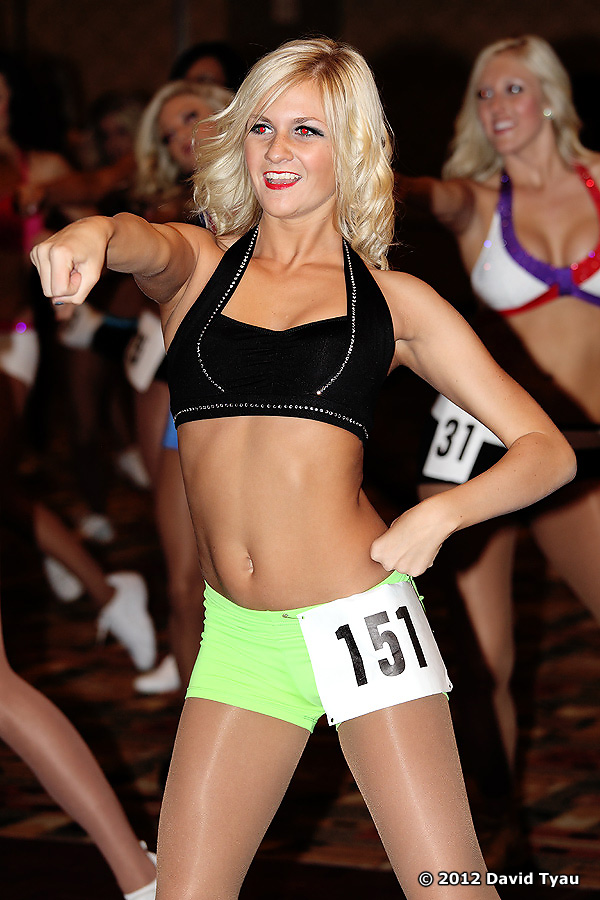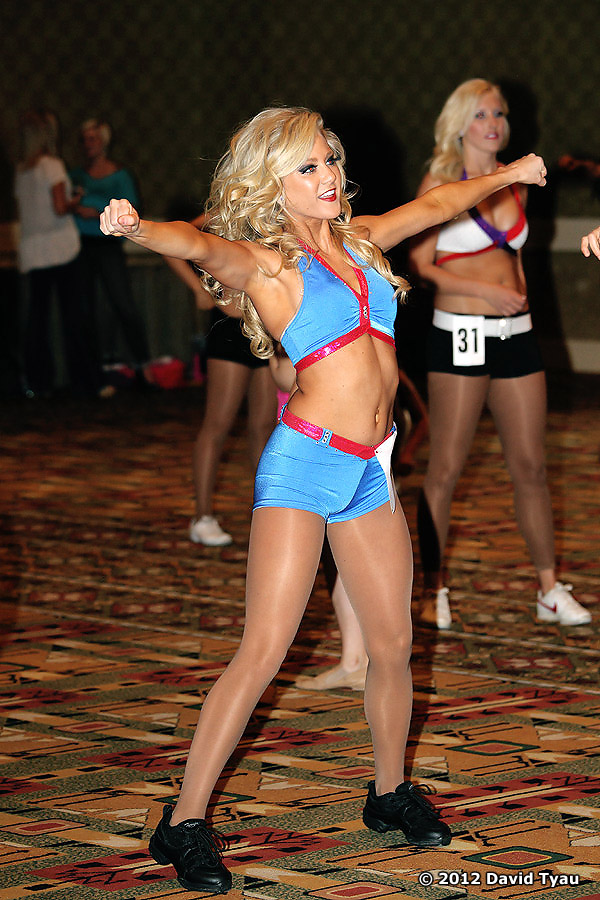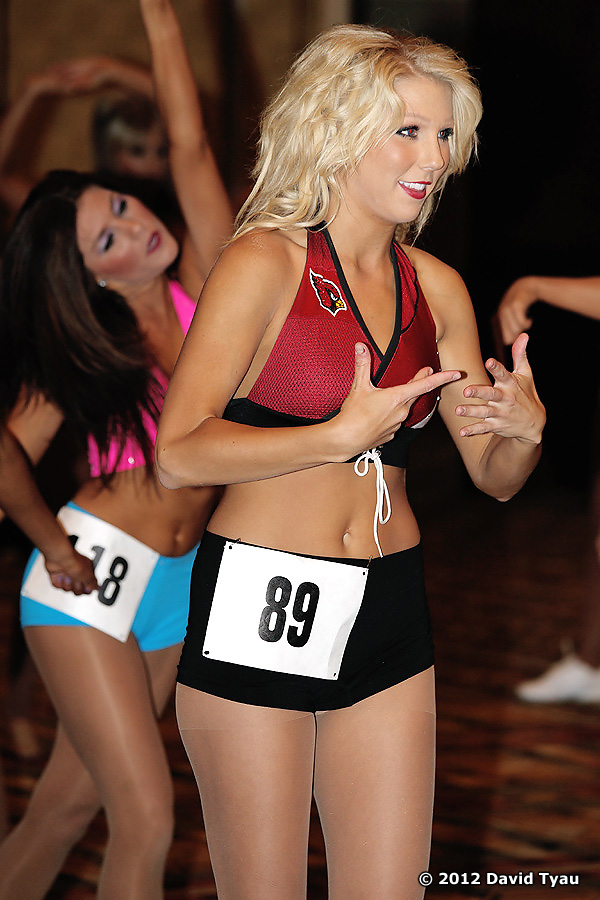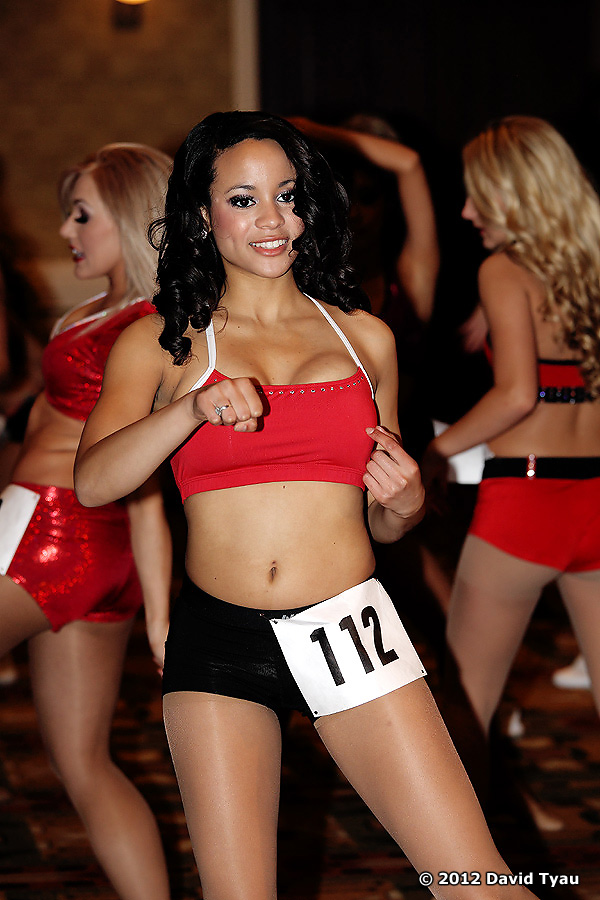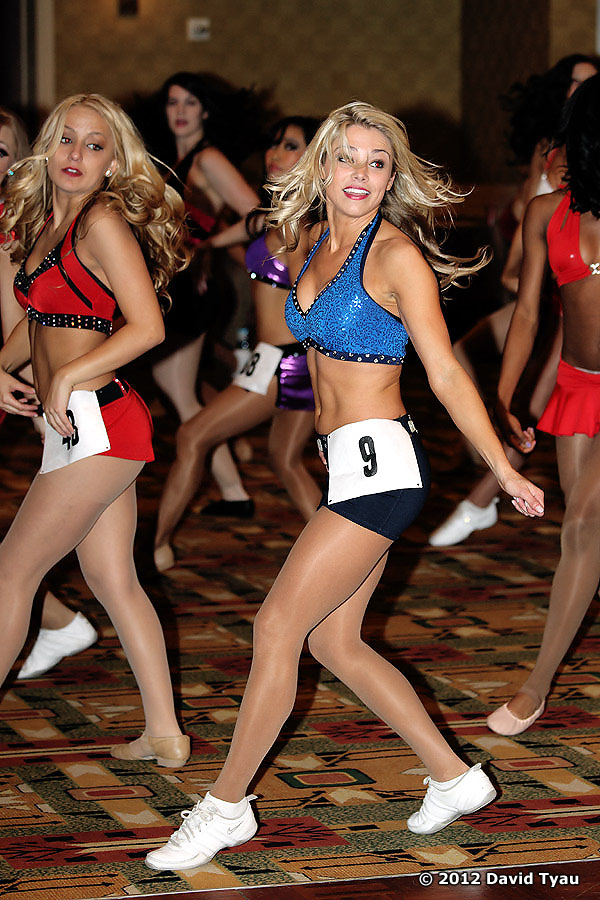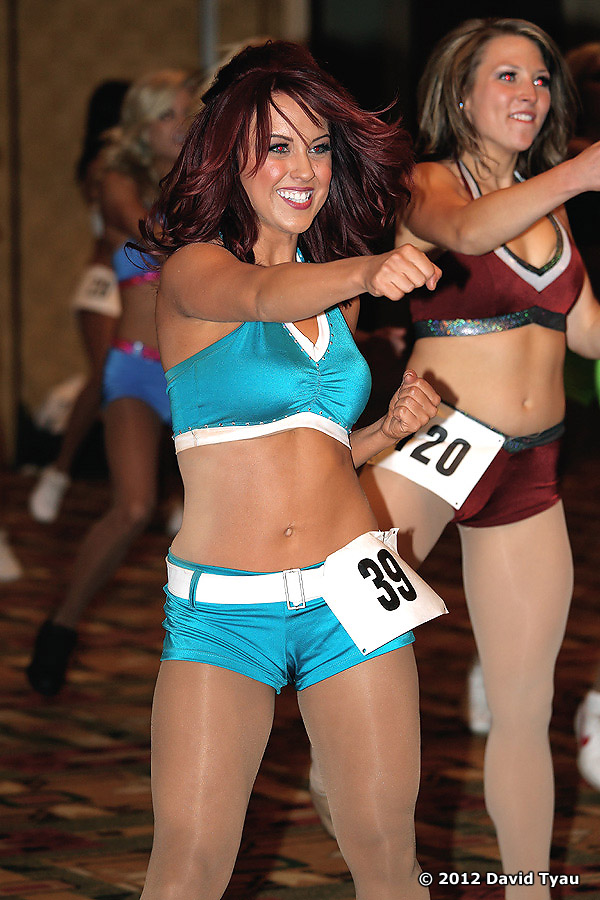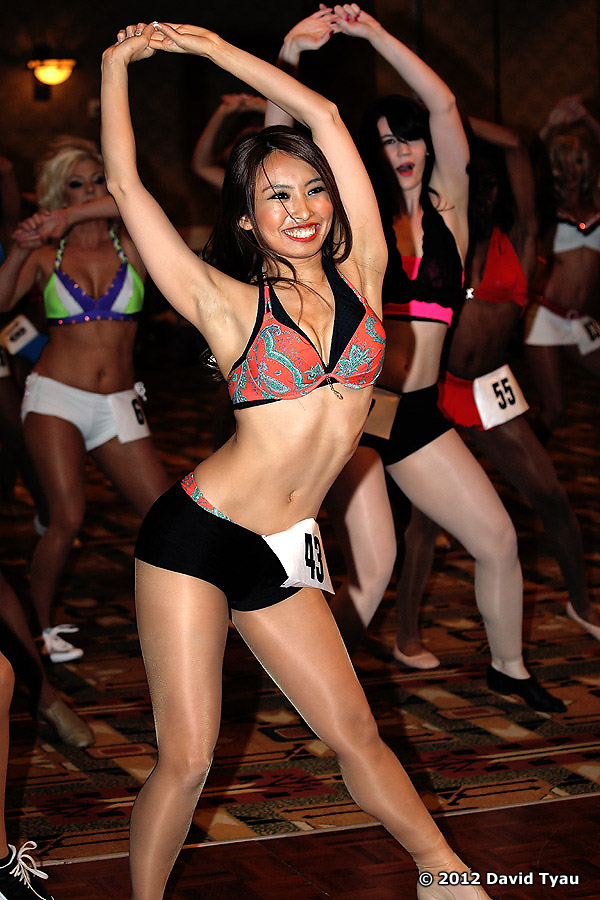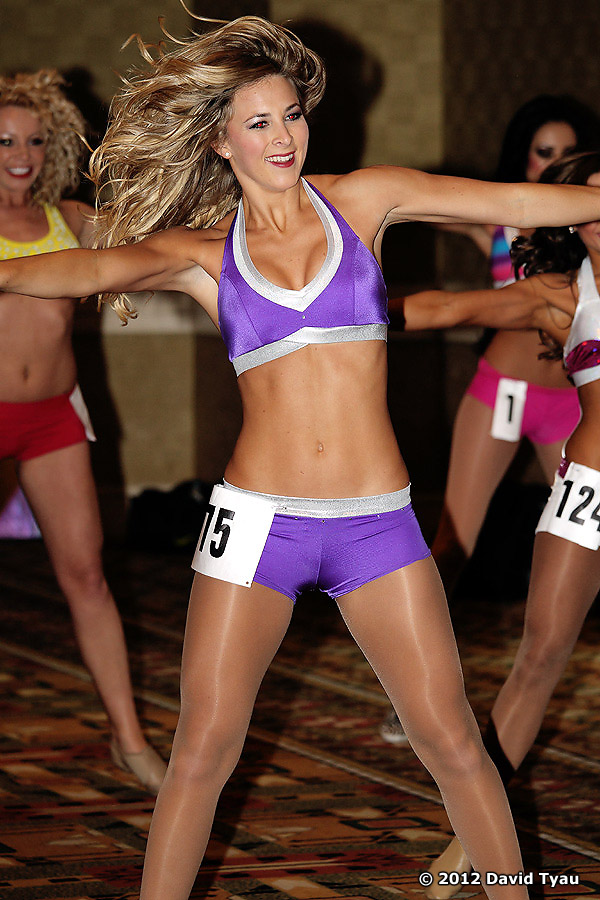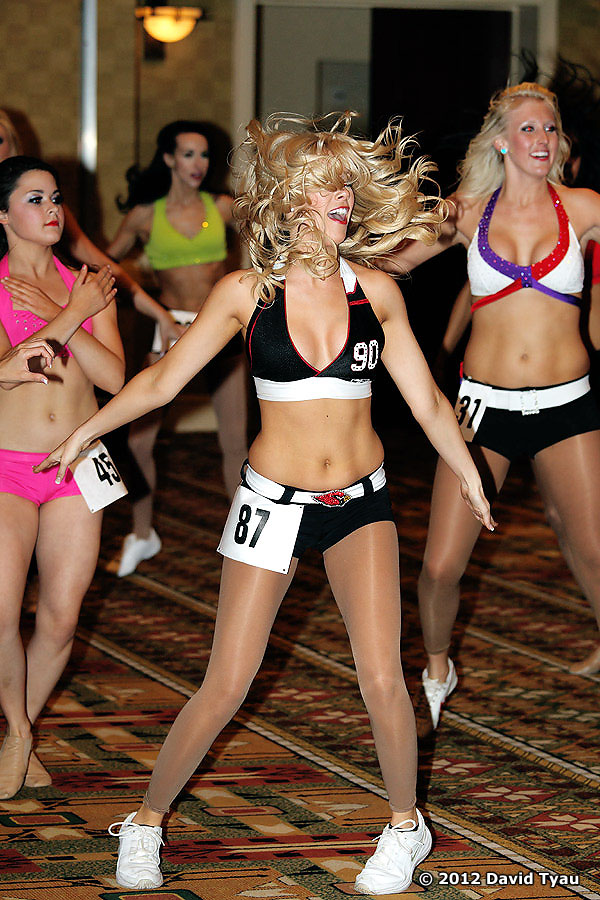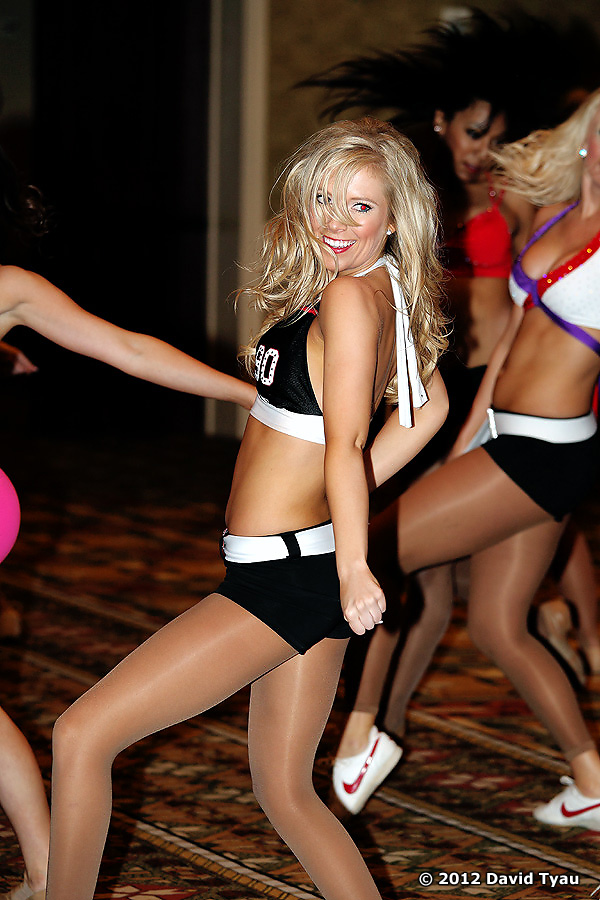 Rehearsal lasted for a little less than one hour and at 2:35 pm, the judges entered the ballroom and the second round began in earnest.  Girls were lined up in ascending order and brought to the performance area in groups of four.  The panel of judges numbered ten and consisted of former cheerleaders and staff.  The judging criteria was simple:  "yes" or "no".  Particular attention was focused on appearance, technique, knowledge, showmanship, weight, glamor, and confidence.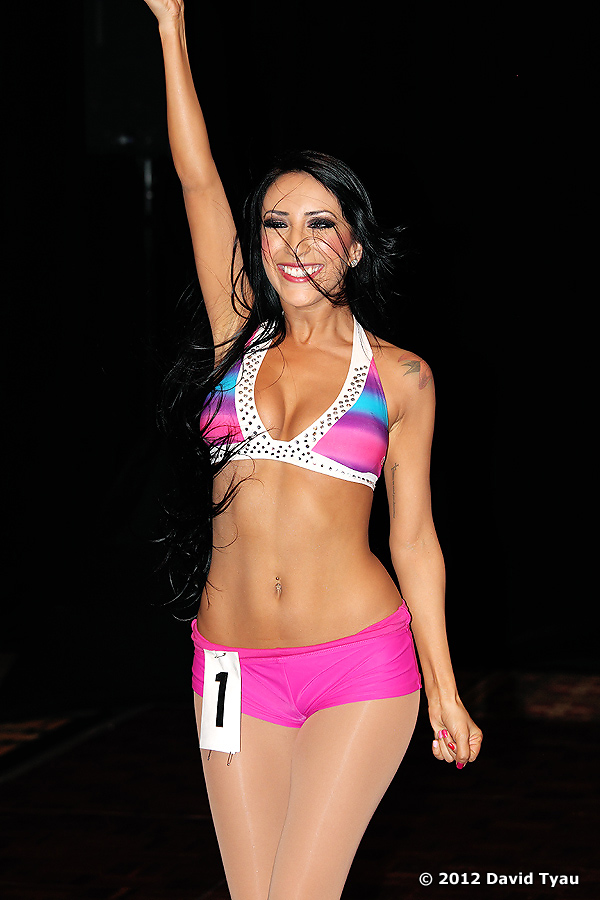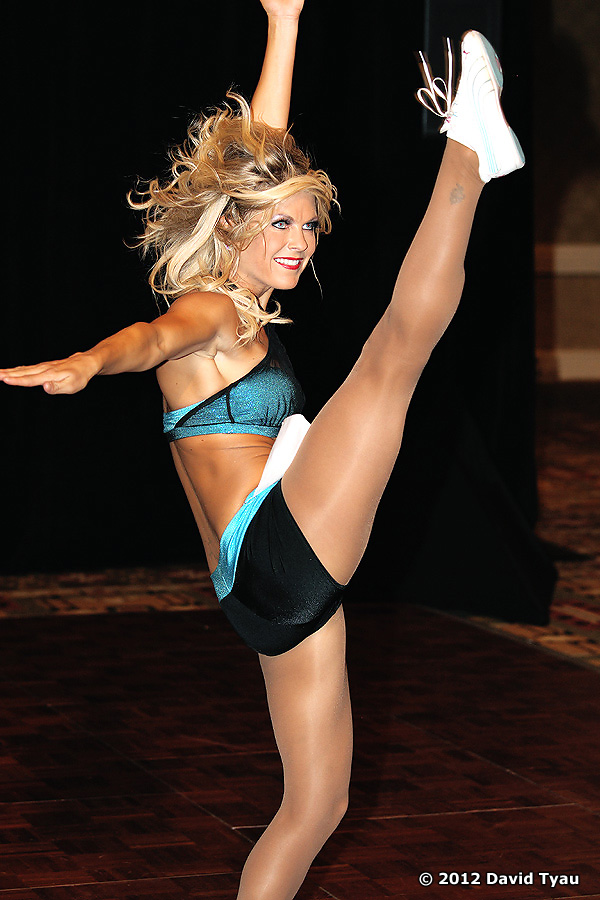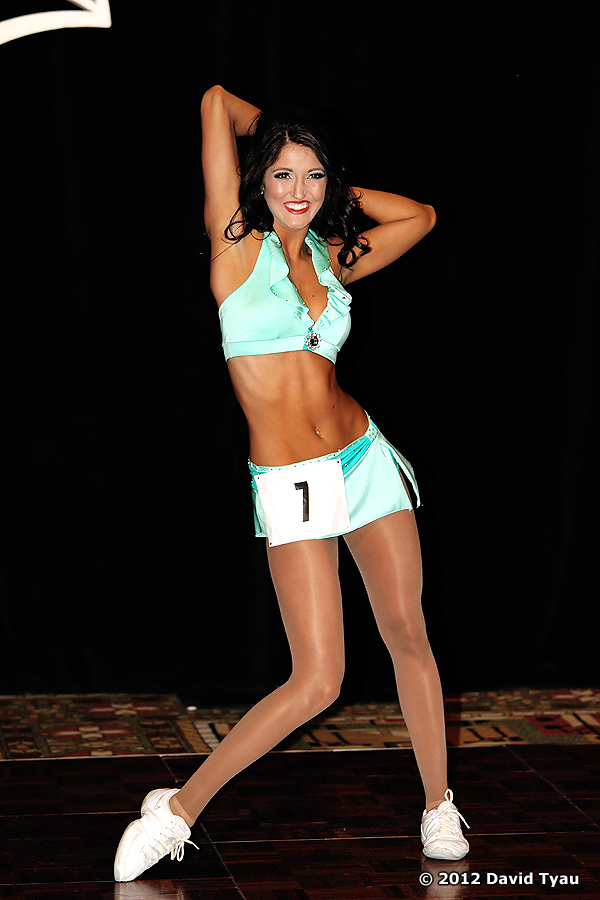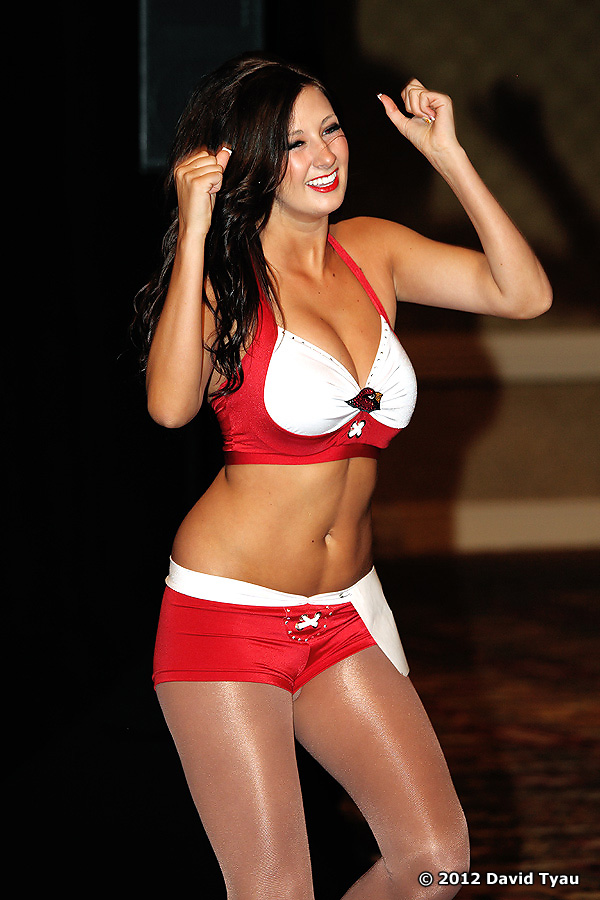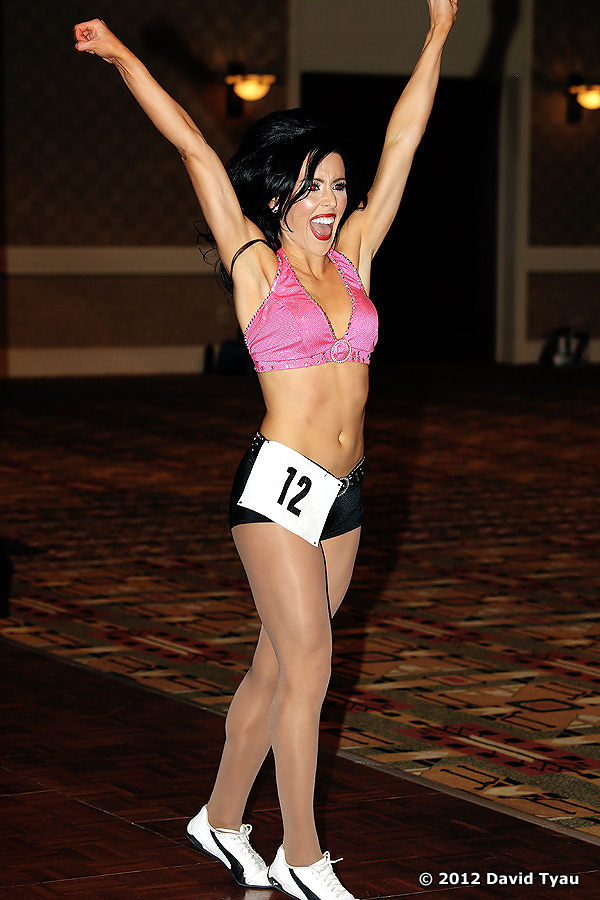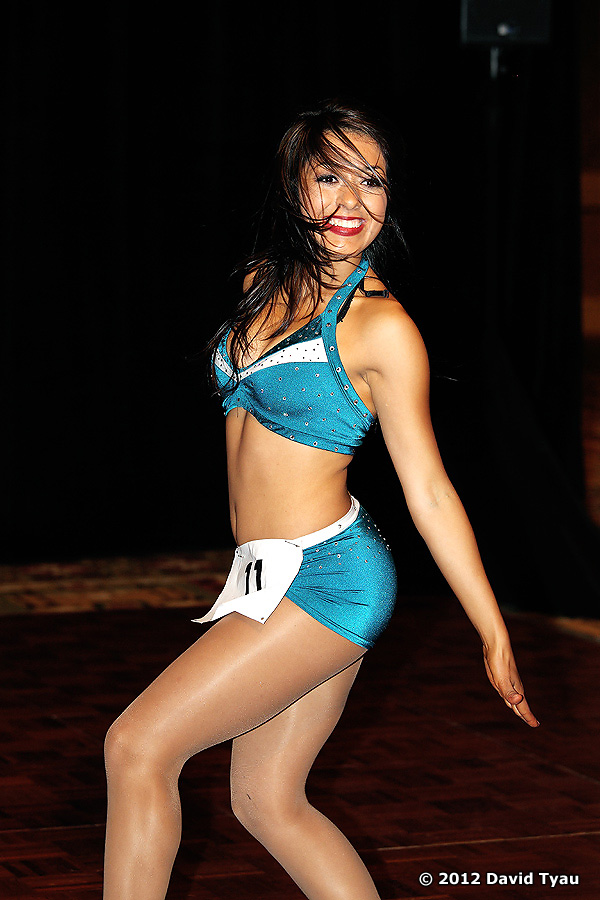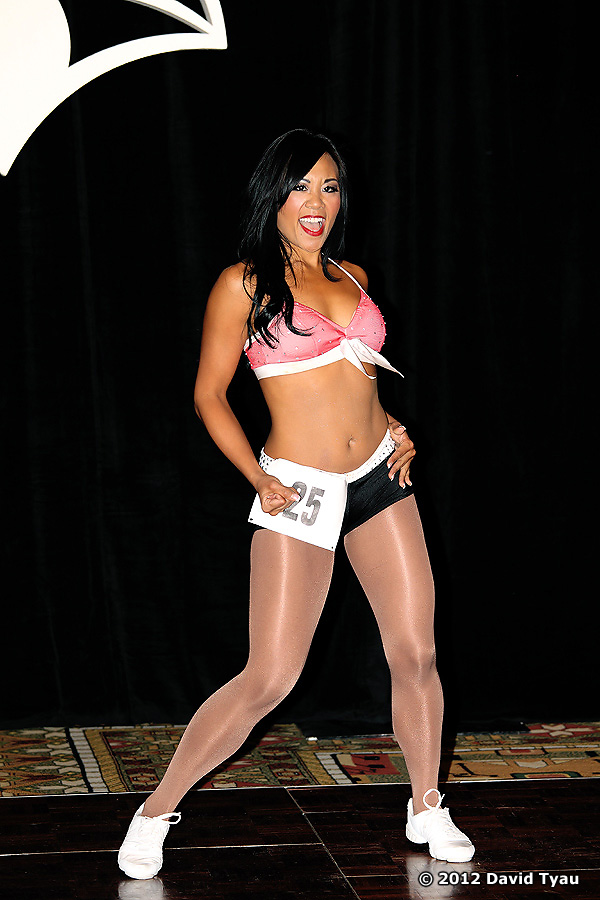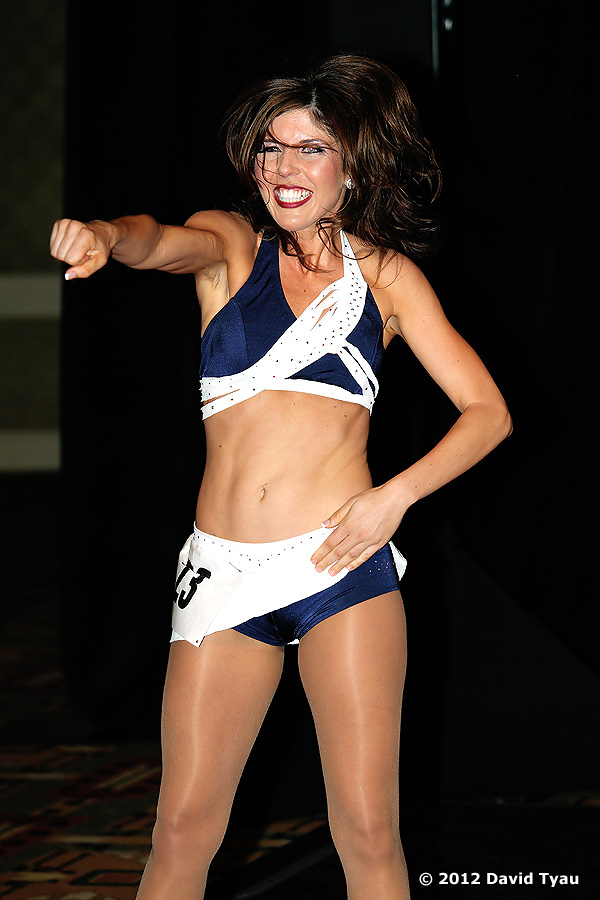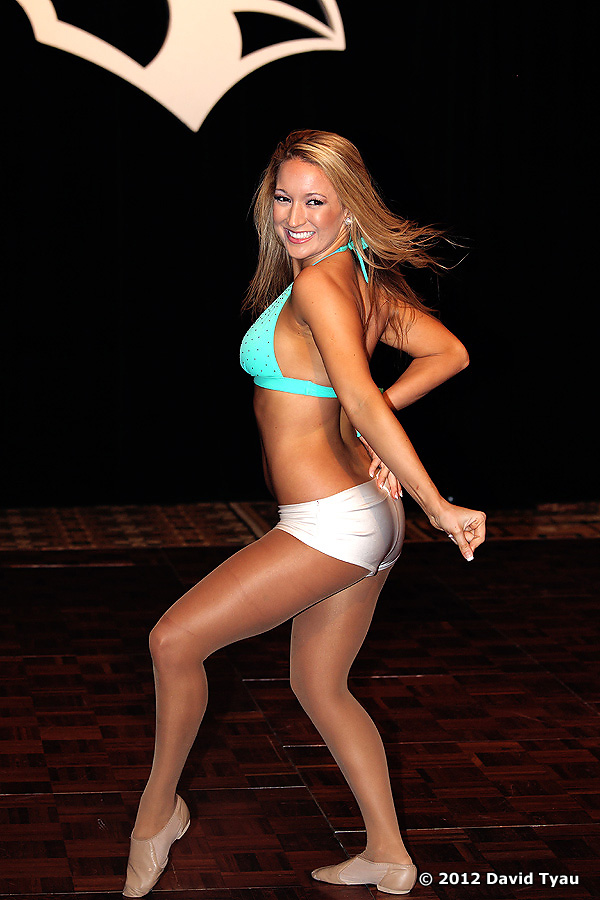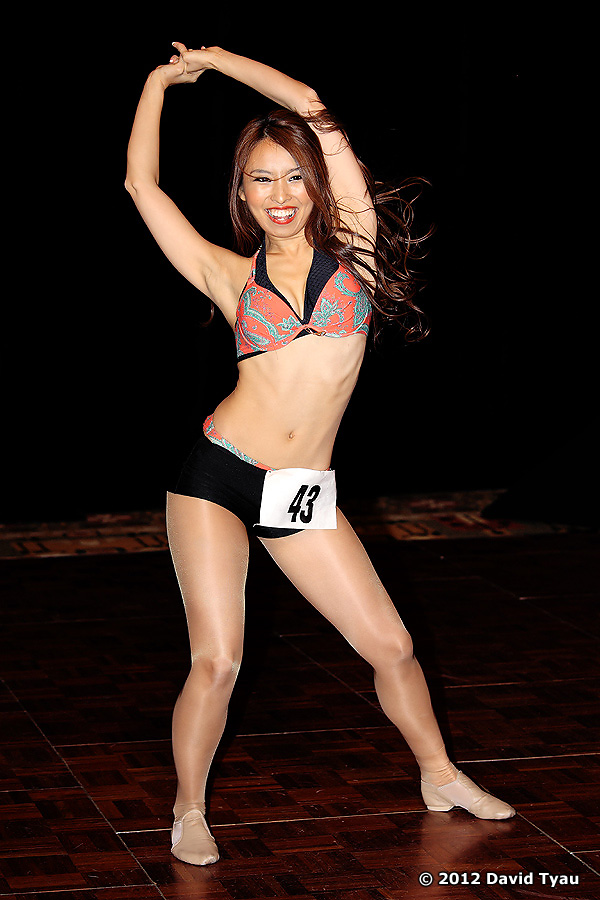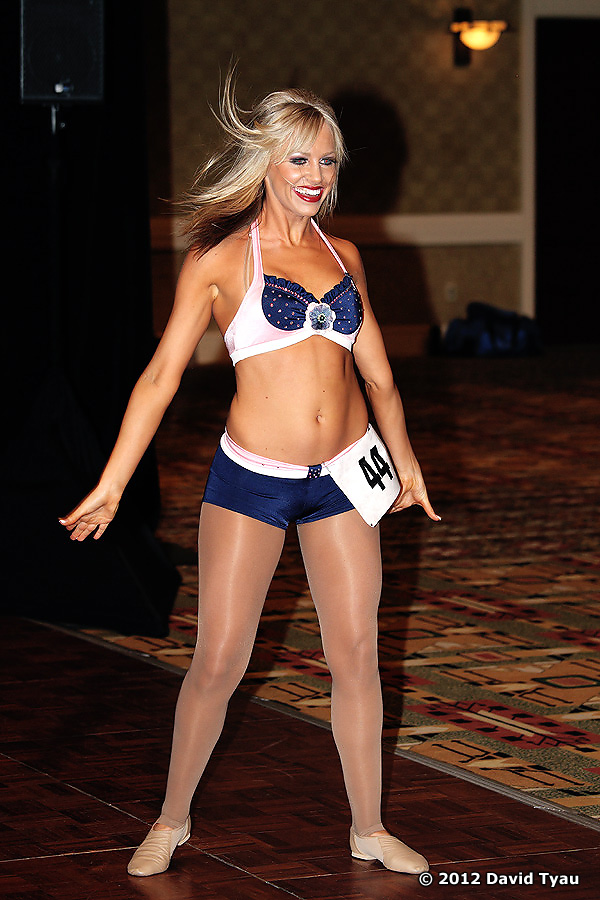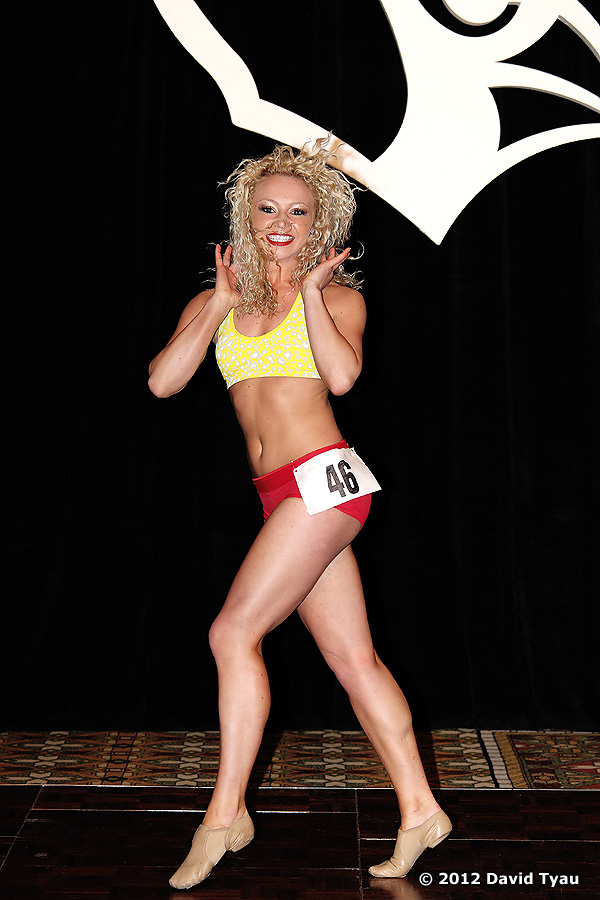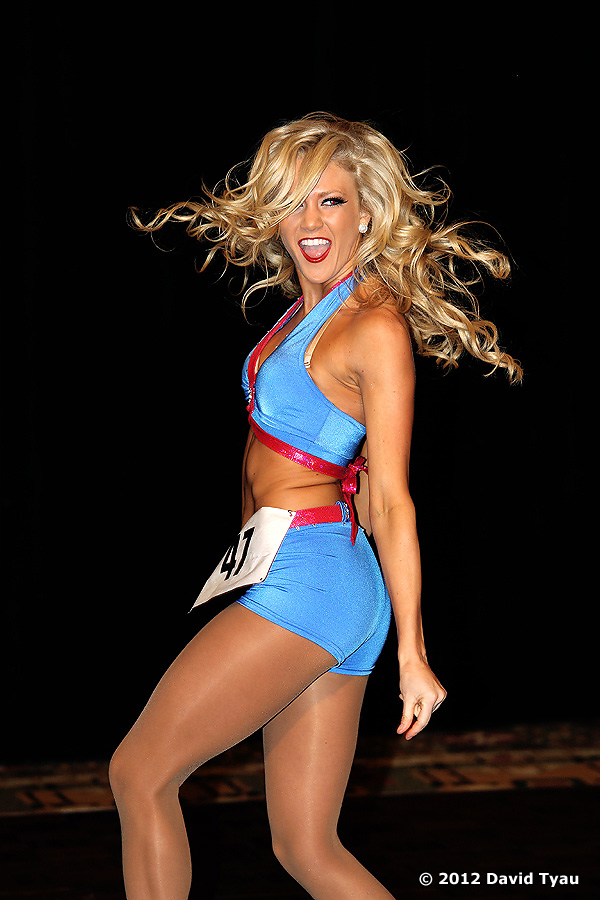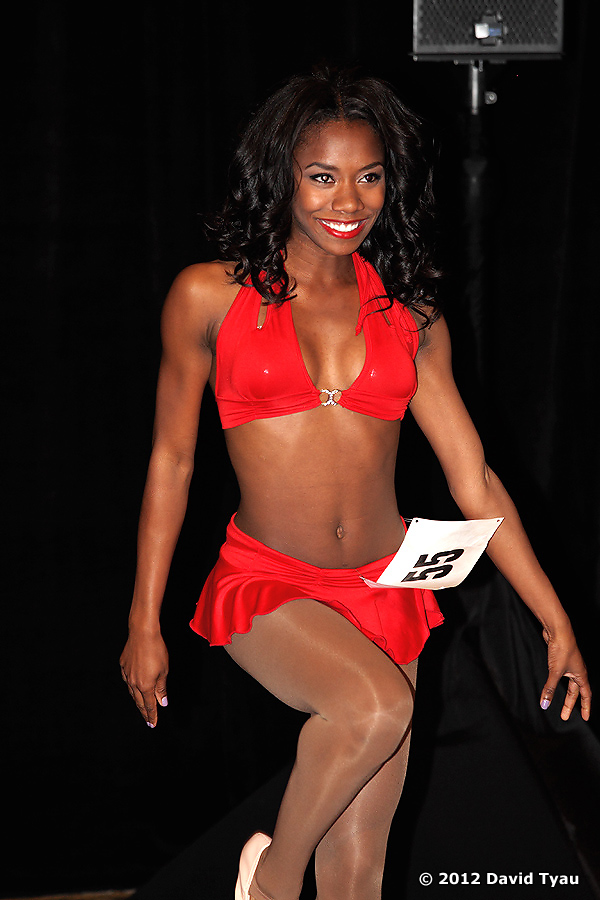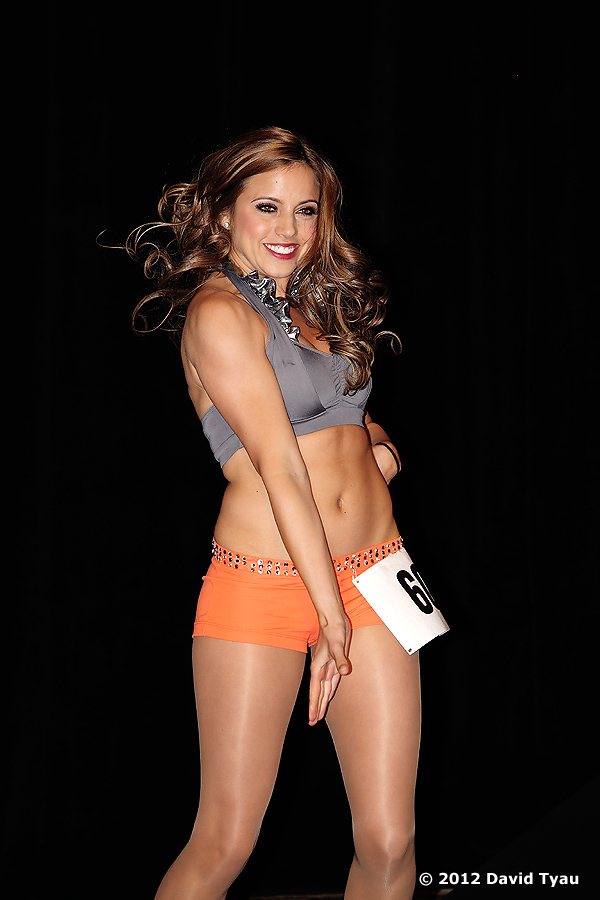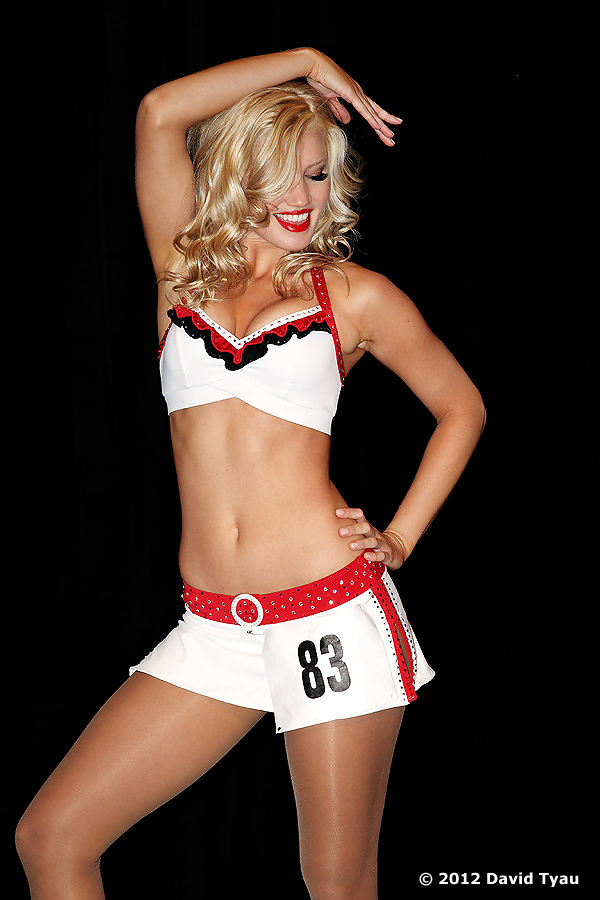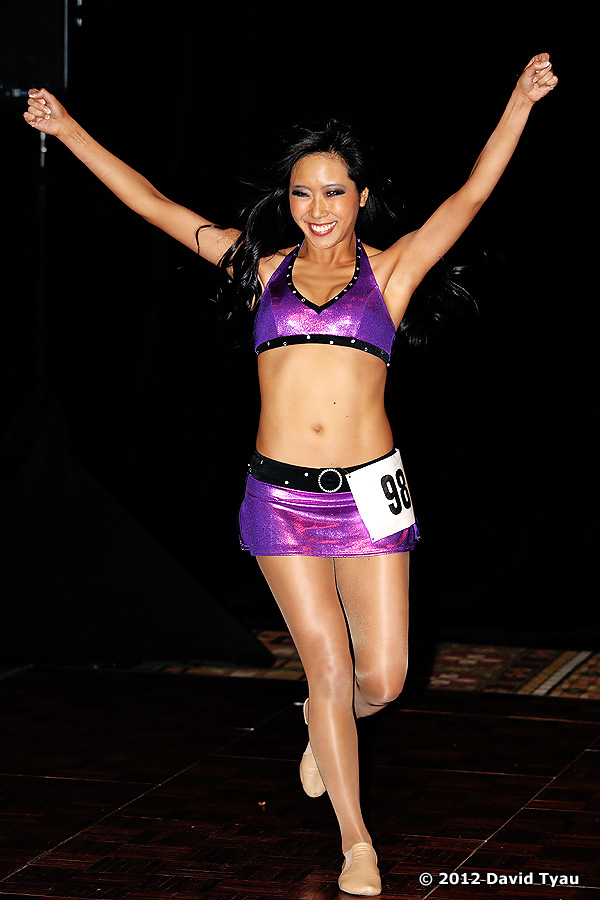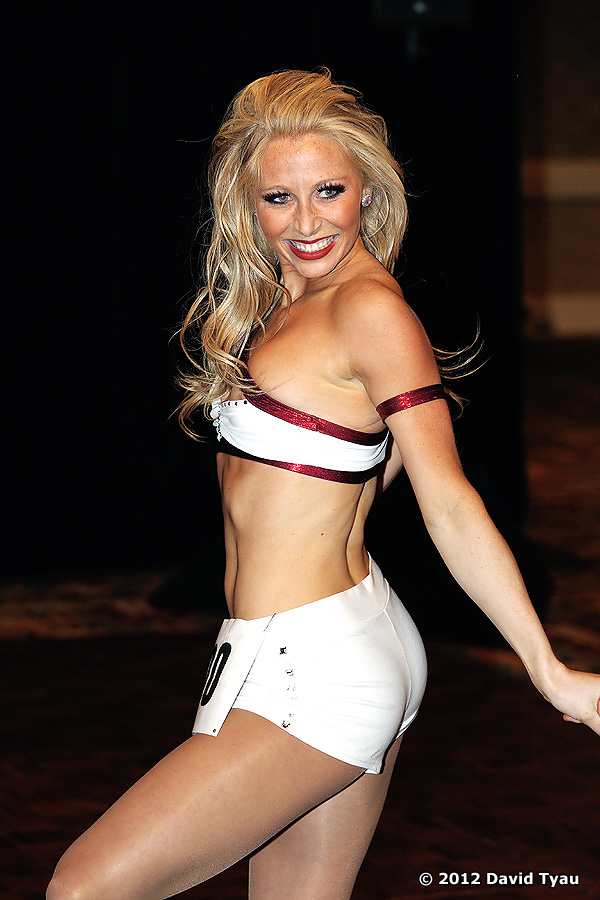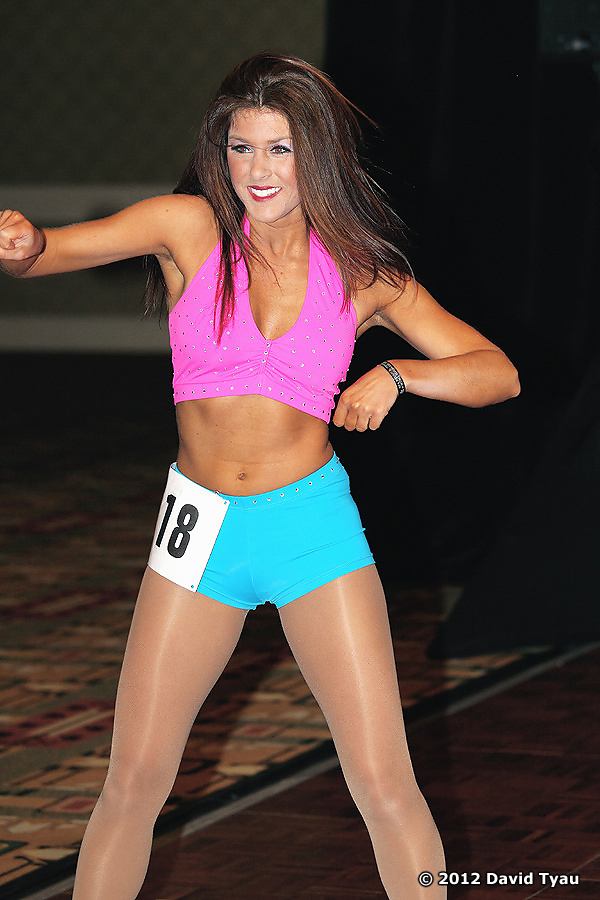 At 3:25 pm, the judges adjourned to deliberate over their choices.  It would be a seemingly endless fifteen minutes before Heather came back with the results.  Of the 100 girls who started the second round, only 70 would be continuing on.  They would be joined by the 15 returning veterans.  For those who didn't make the cut, their audition was over.  They collected their belongings and said their goodbyes.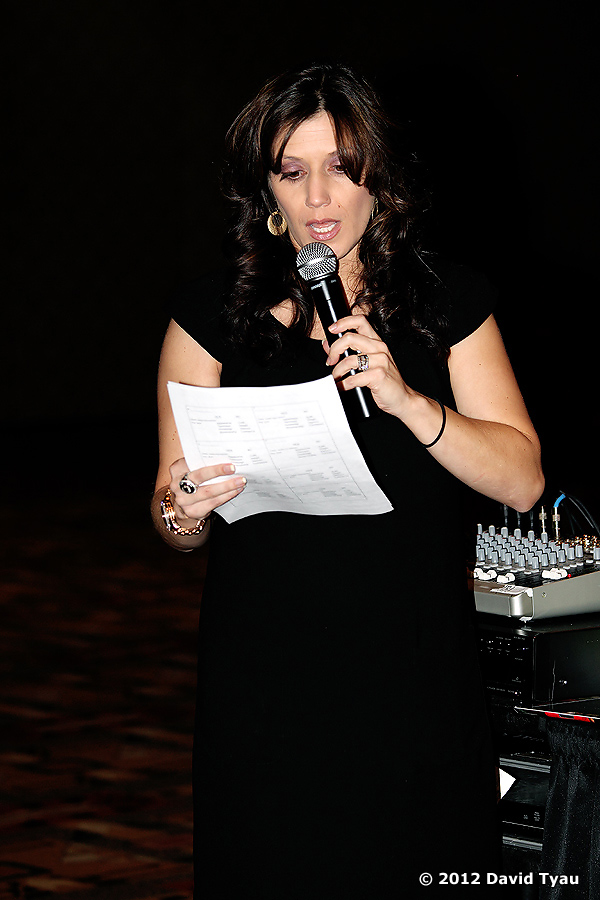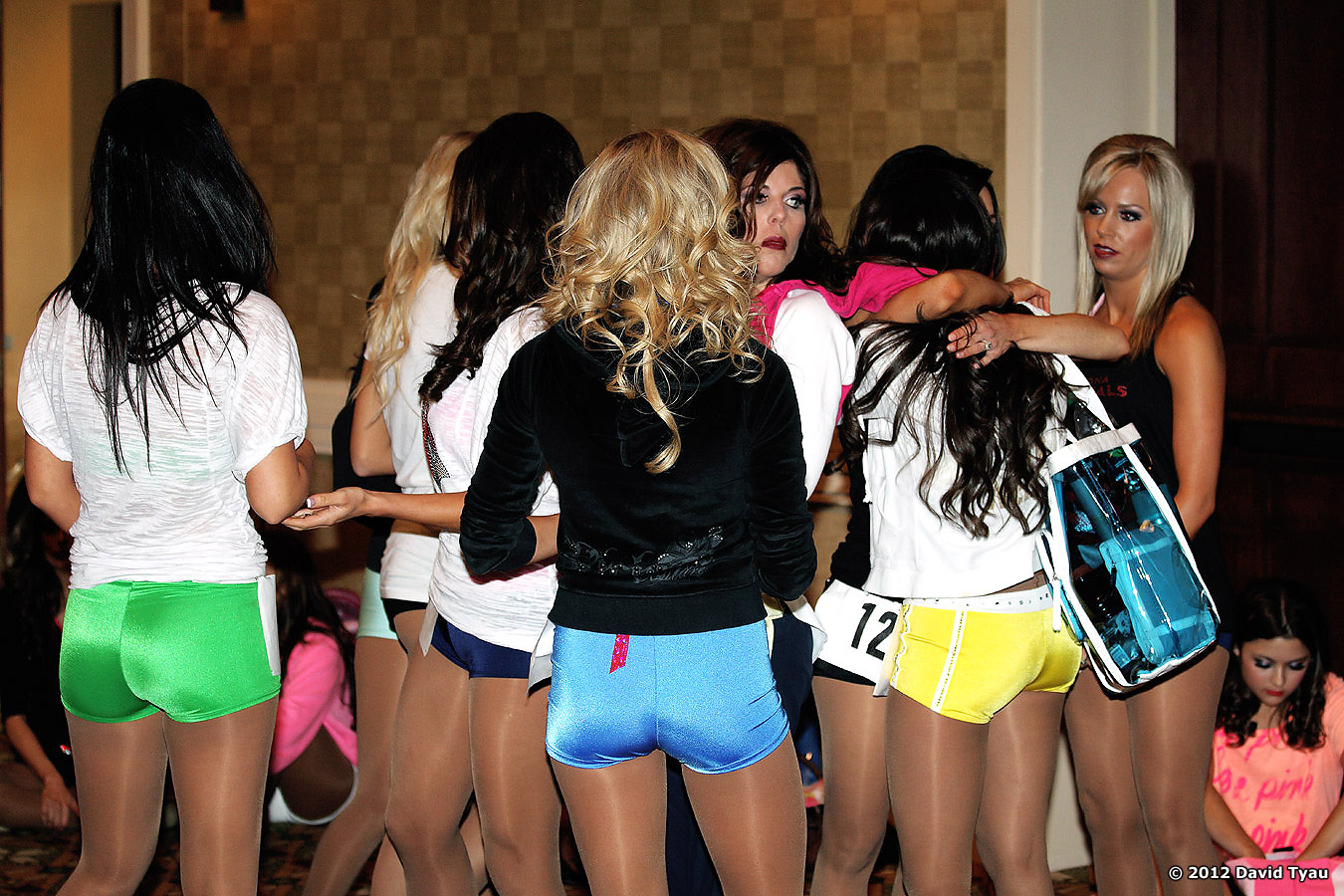 The remaining candidates were given a few minutes to rest and rehydrate.  They would await the appearance of the veterans, who I am told were asked to show up at 5:00 pm but because things had been proceeding quite rapidly, an early call of 4:00 pm was the order of the day.  Most had shown up by then anyways and the third phase of the day's auditions began with Allie demonstrating the finals routine, a dance that she had learned at the 2012 Pro Bowl.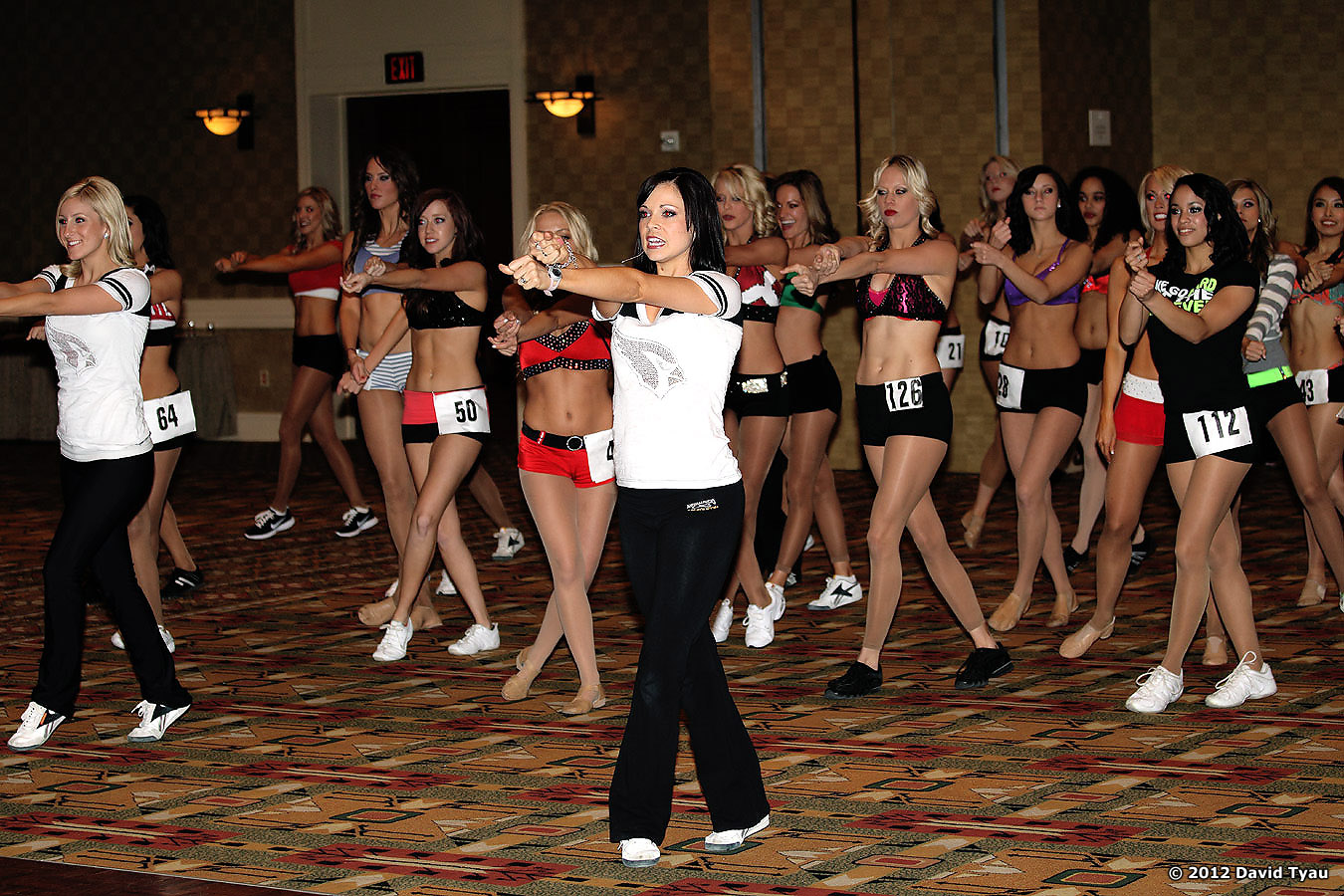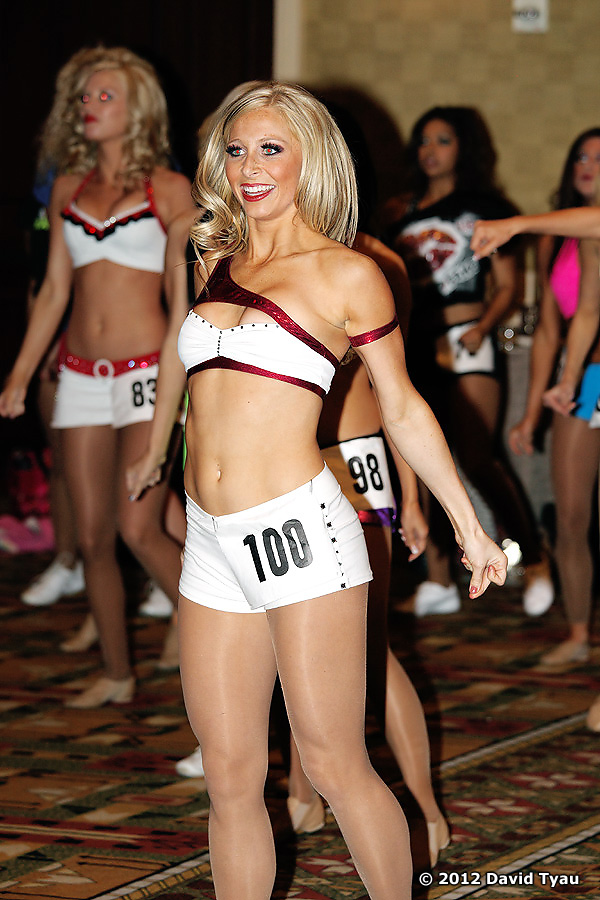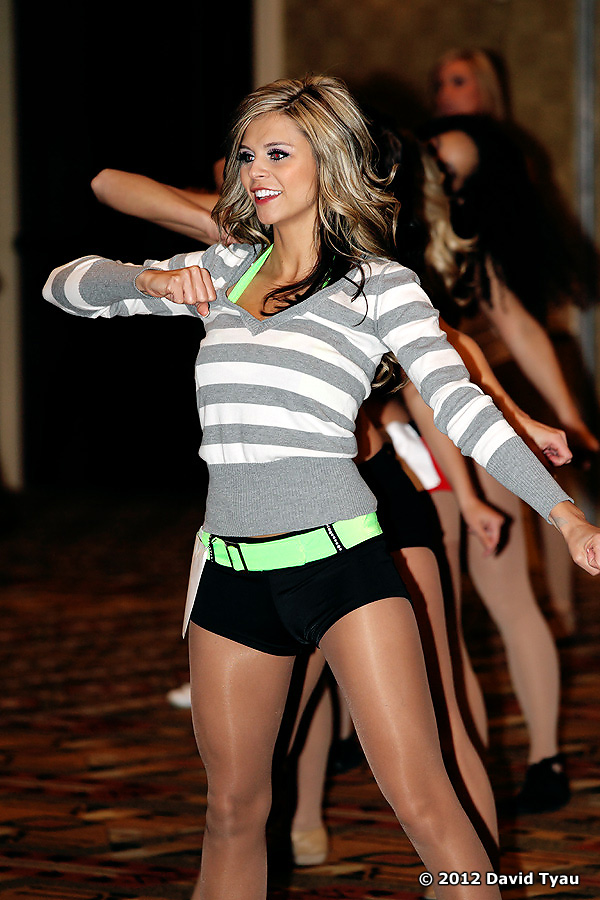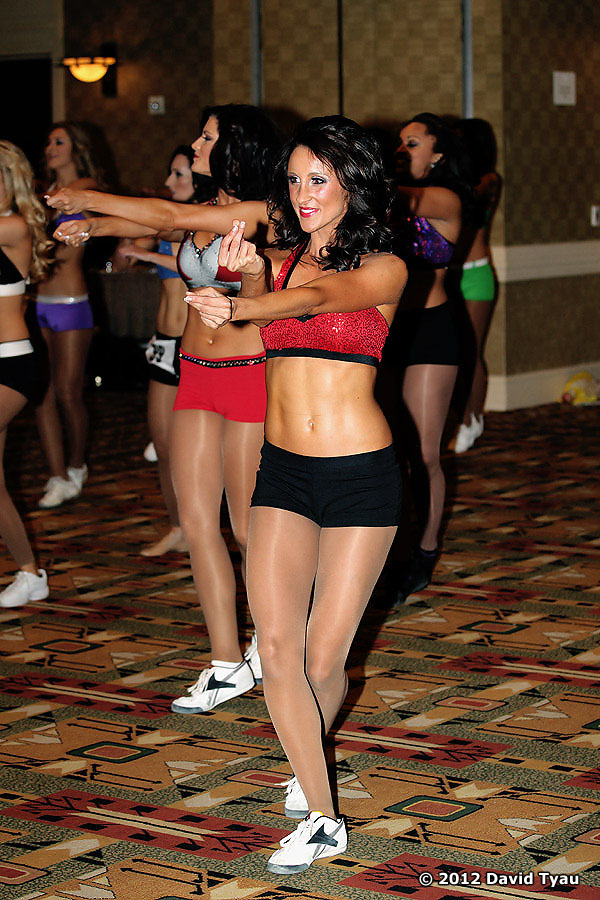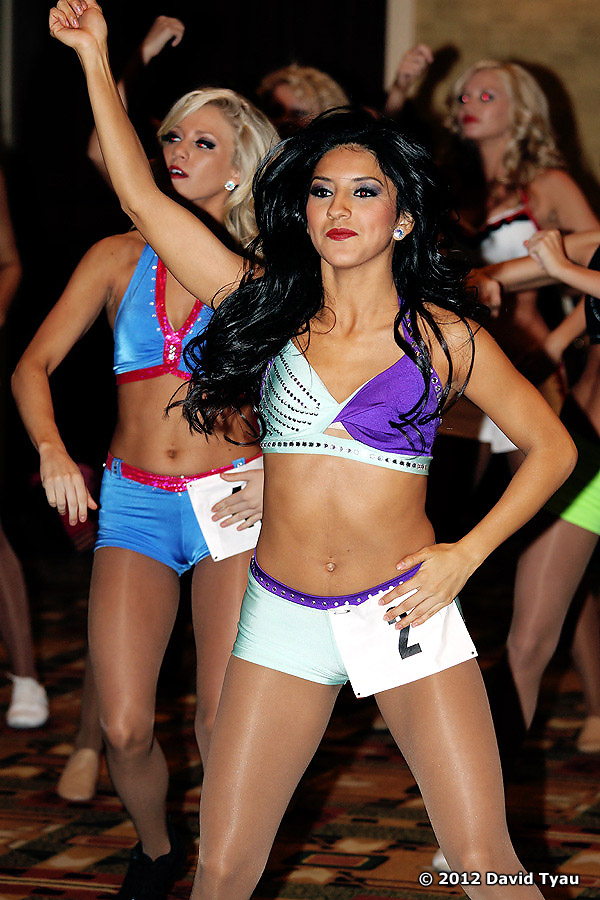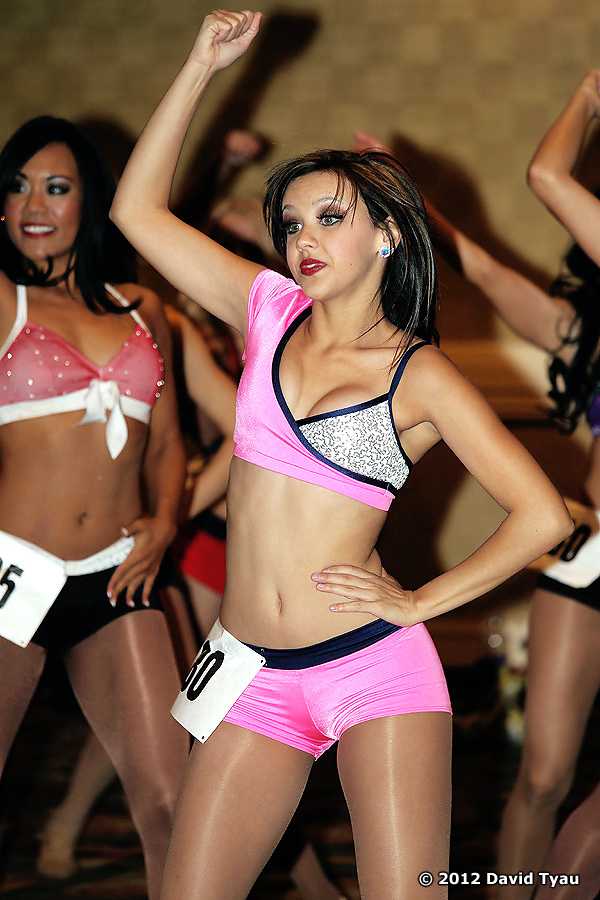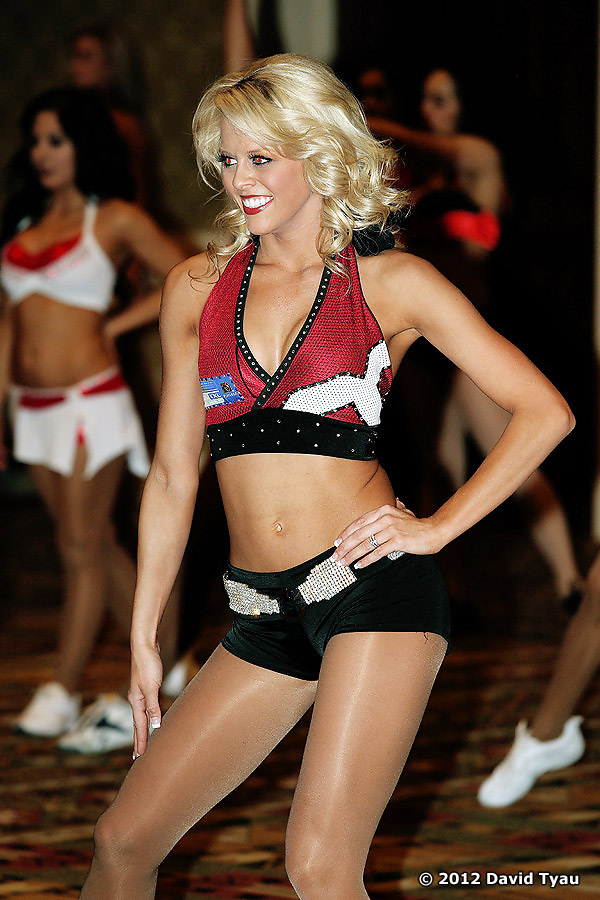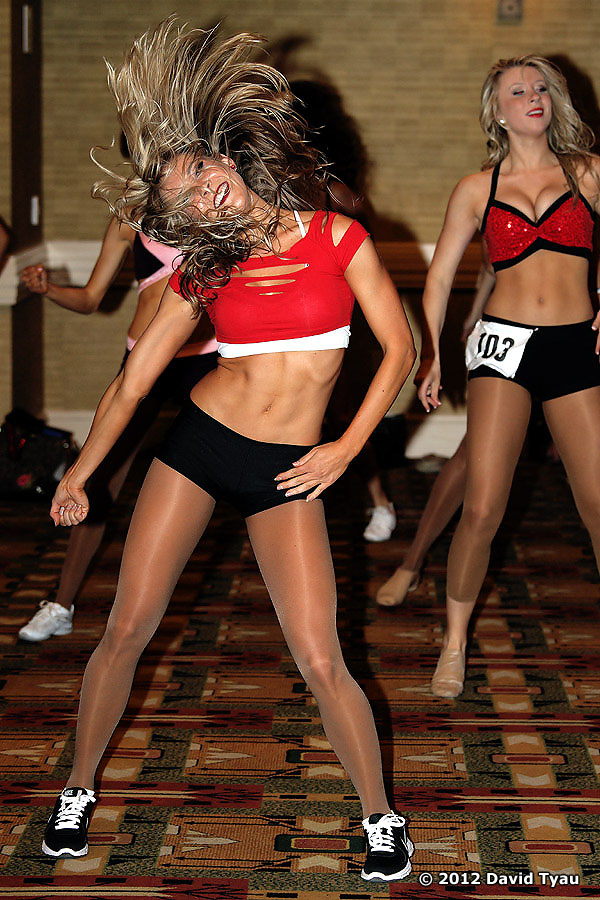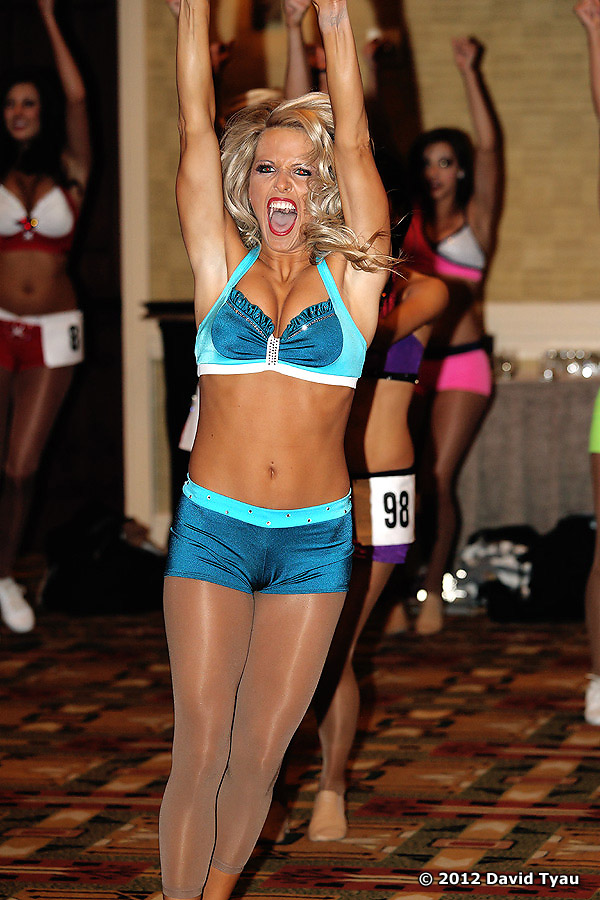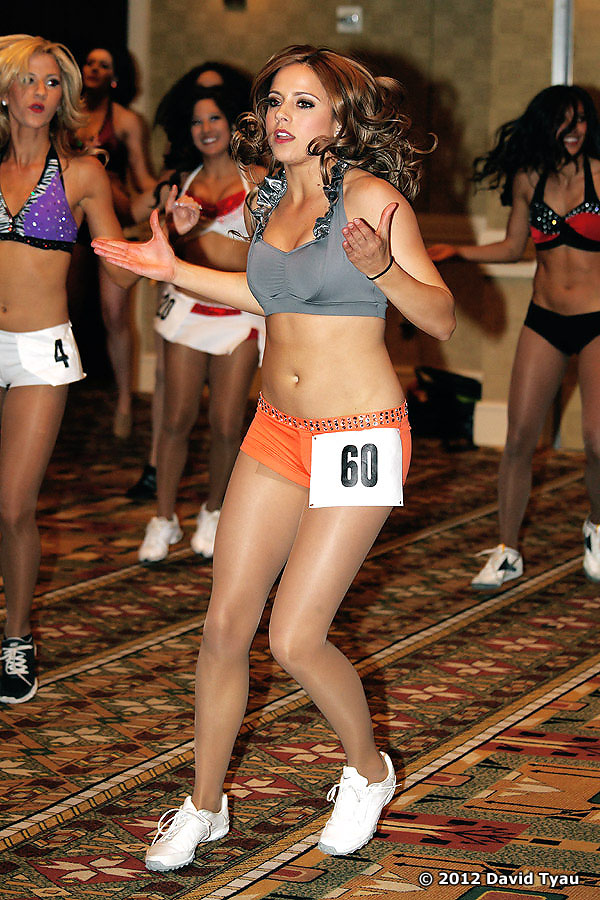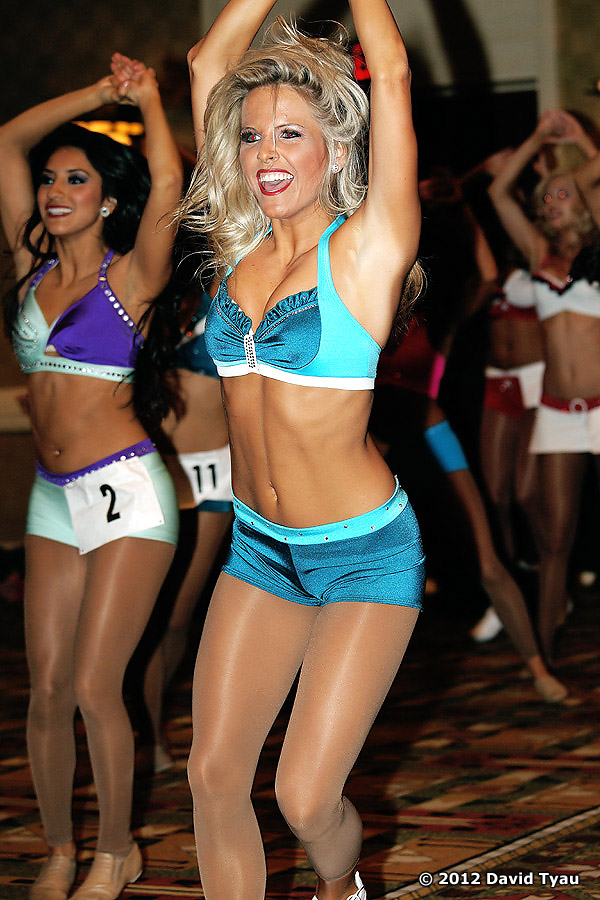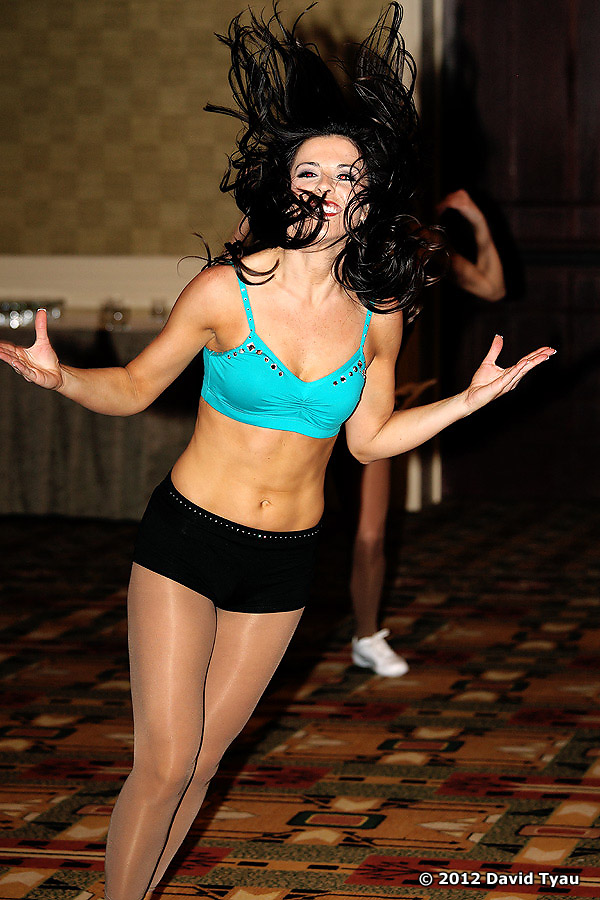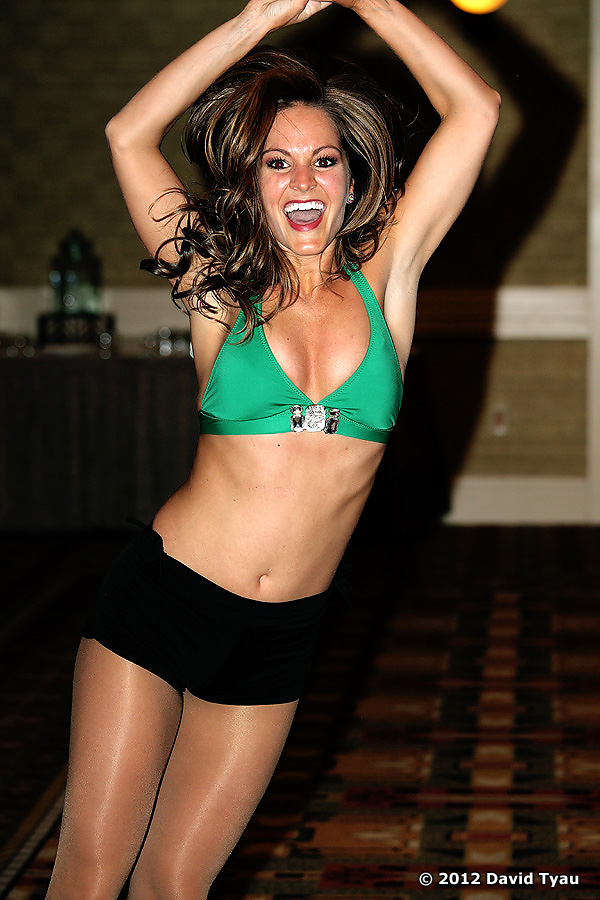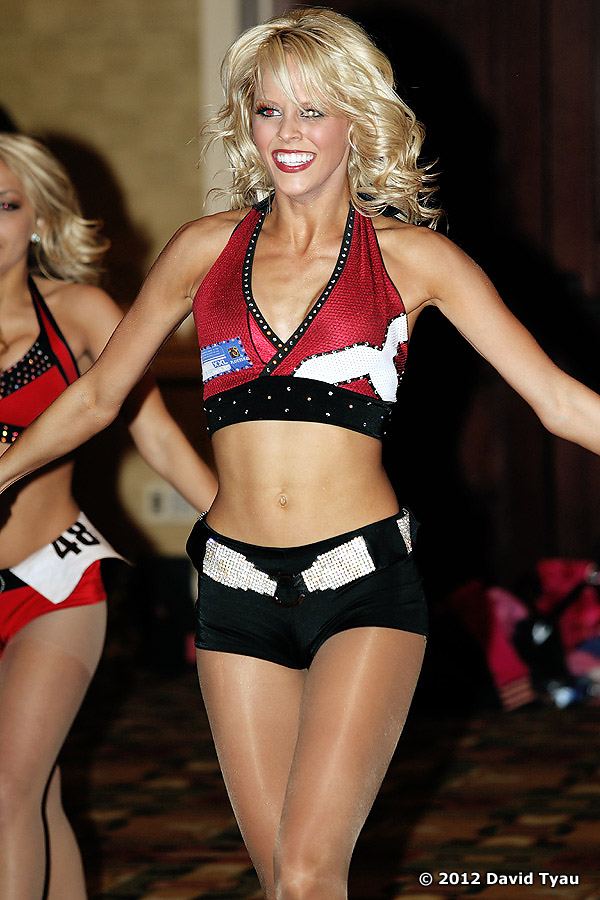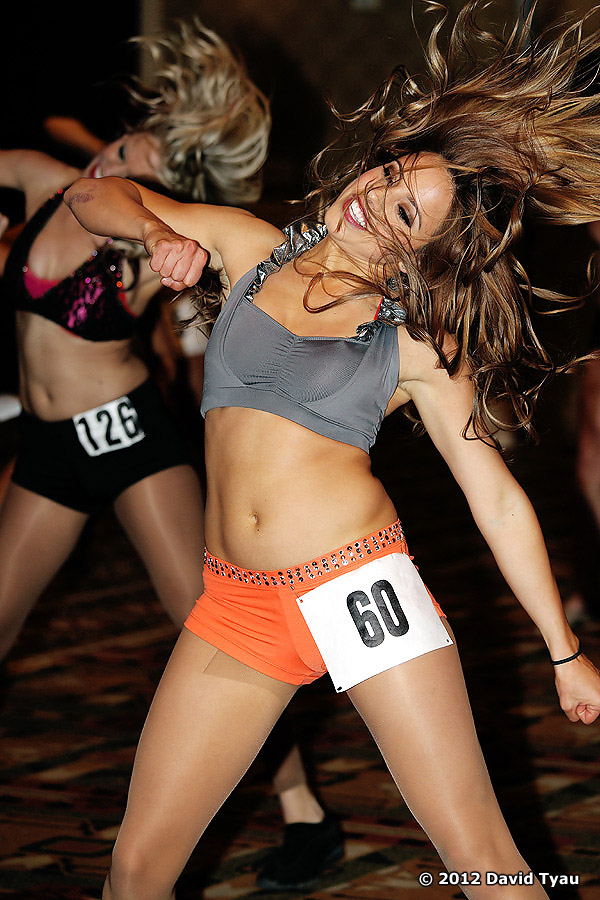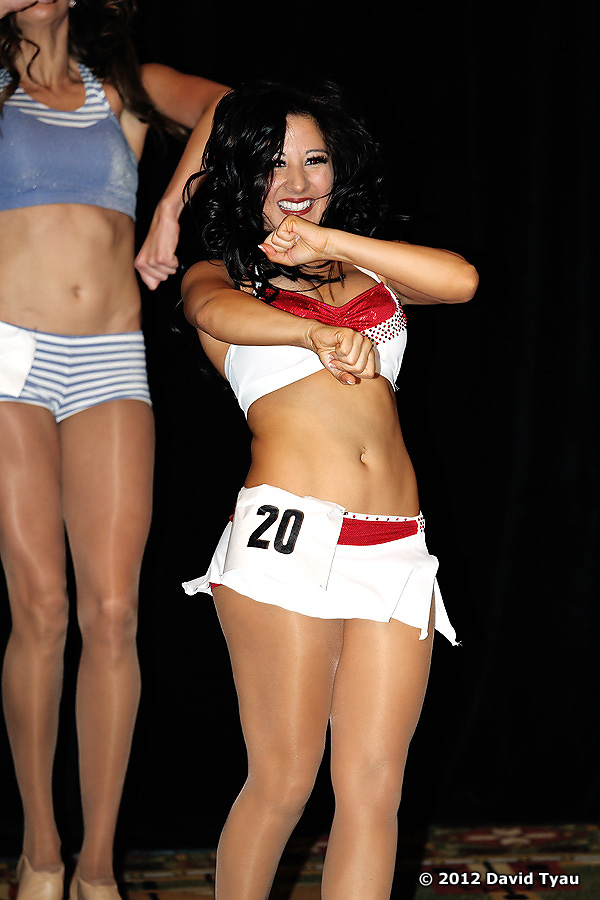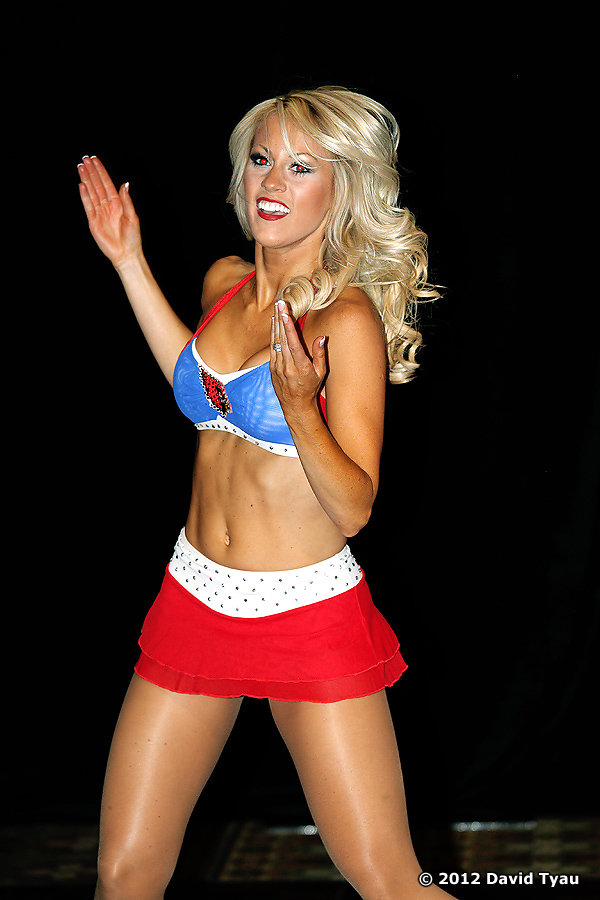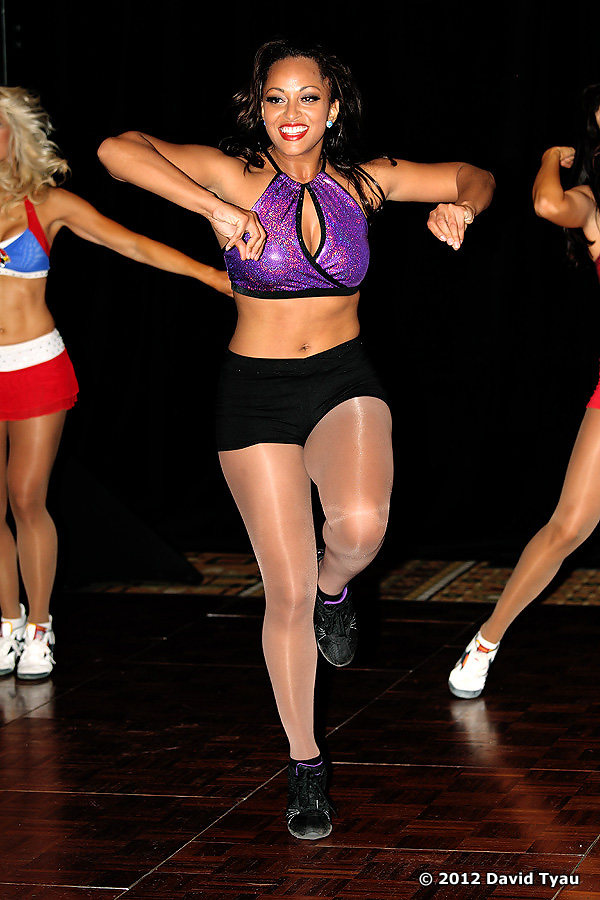 At 5:00 pm, Heather called the group together to let them know what the next phase of the auditions would entail.  The final dance audition would begin at 8:00 am, followed by an interview for those candidates that would be proceeding.  At the conclusion of her discussion, Heather released the candidates for the evening.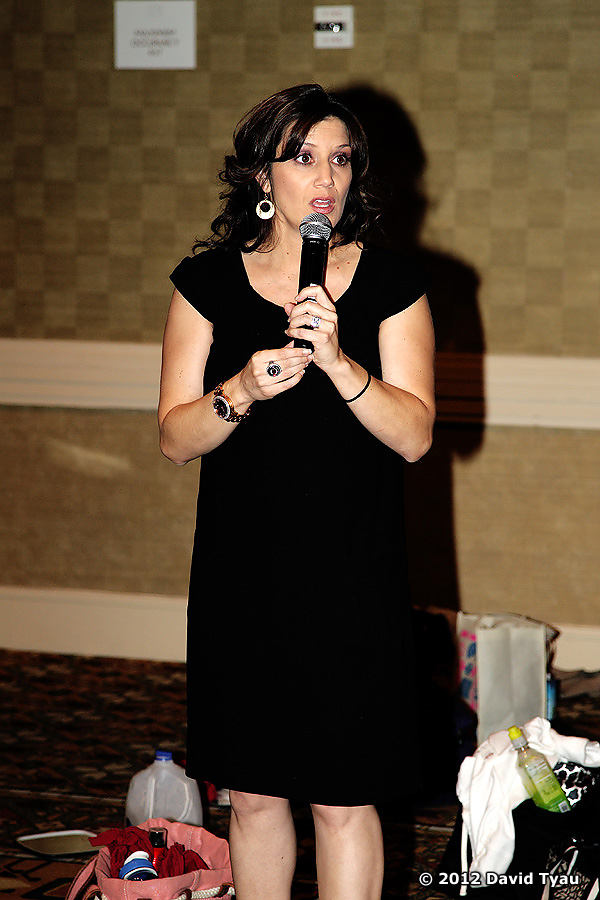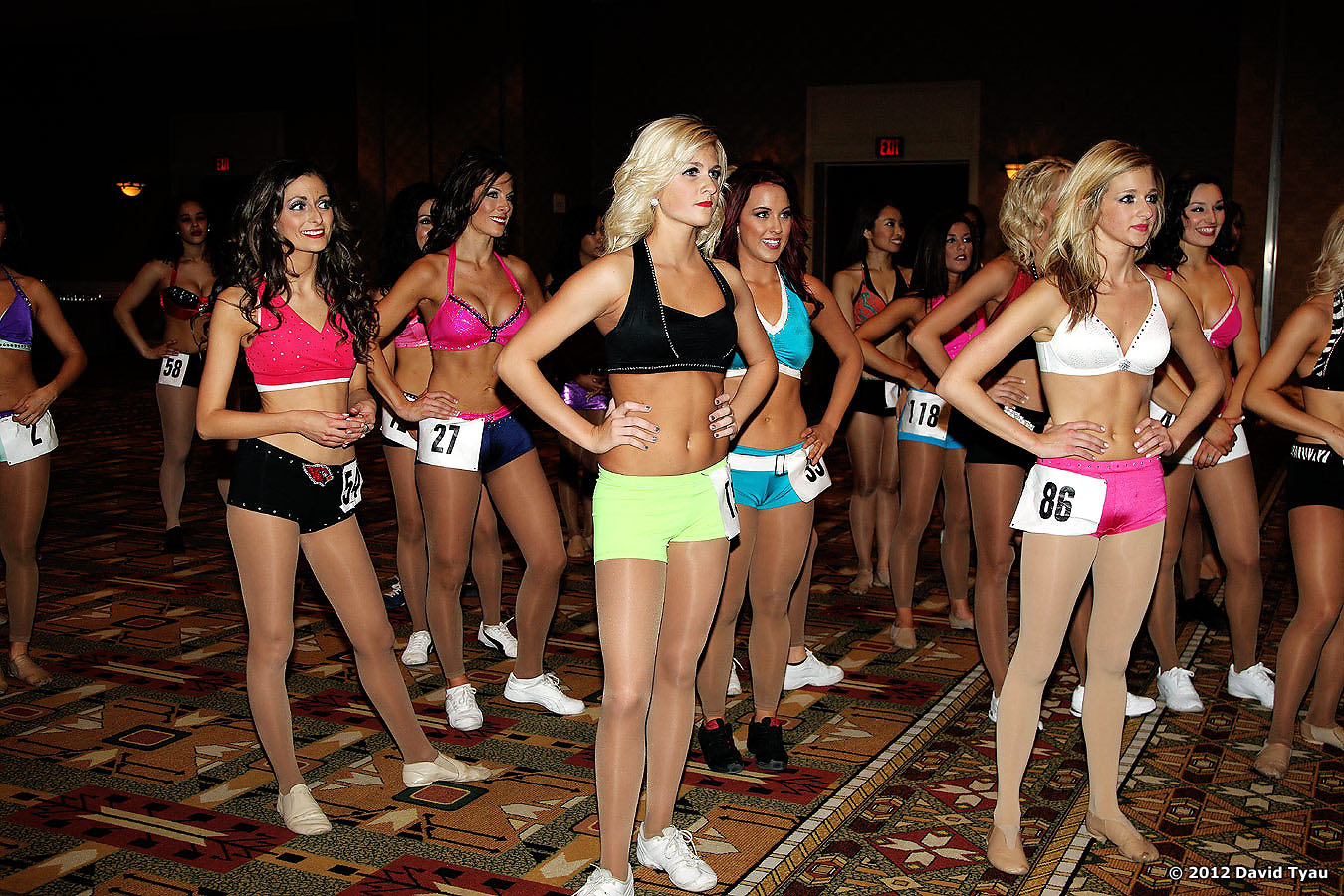 Several girls stayed on to rehearse the finals routine with some of the veterans.  Allie and Erin performed the routine one last time and many of the girls recorded the dance on their cell phones for future reference.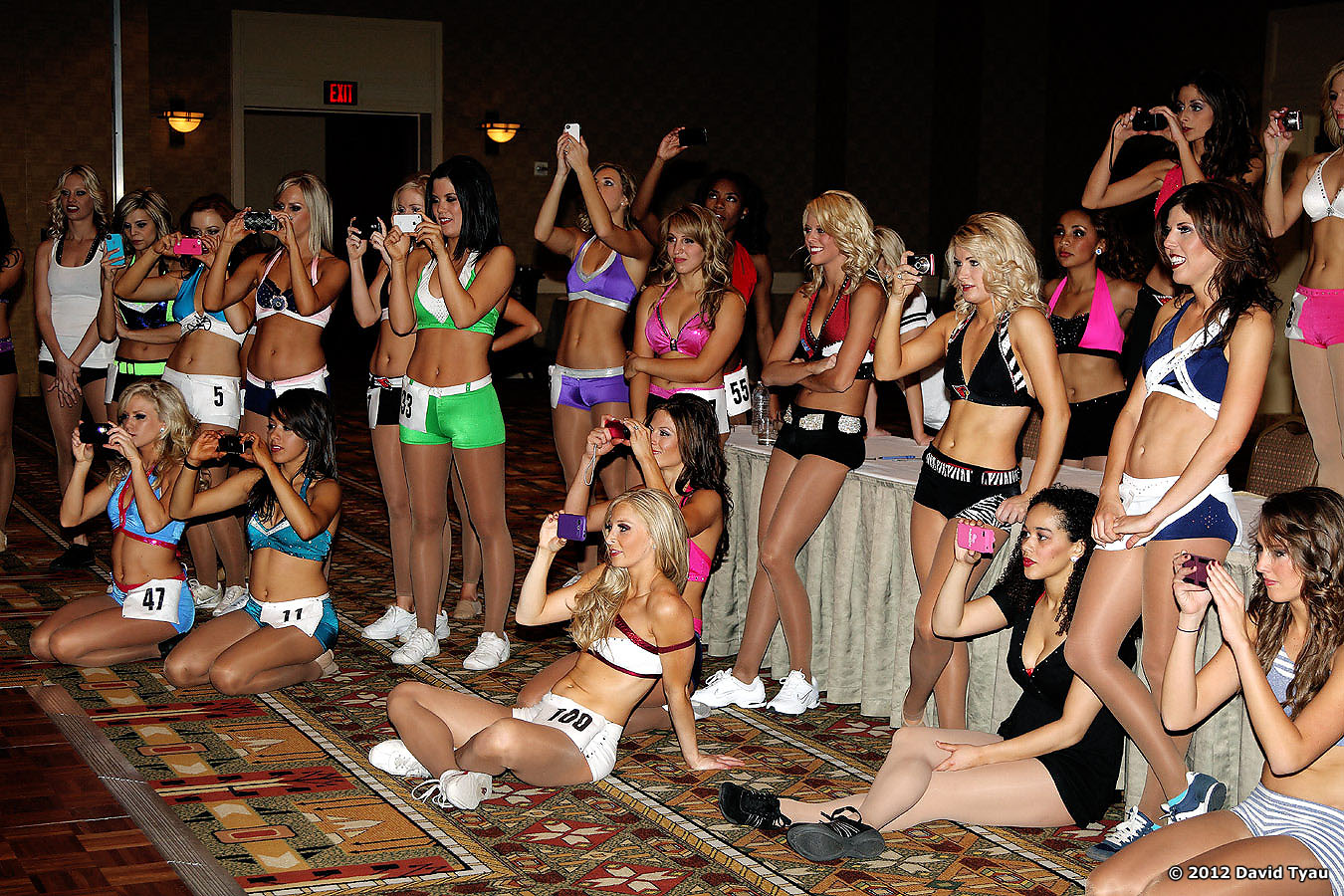 And the returning veterans posed for photos with the instructors, their former teammates.  This would be the last time that they would all be together as a group.  For many of them, it was the first time they had seen each other since the season ended.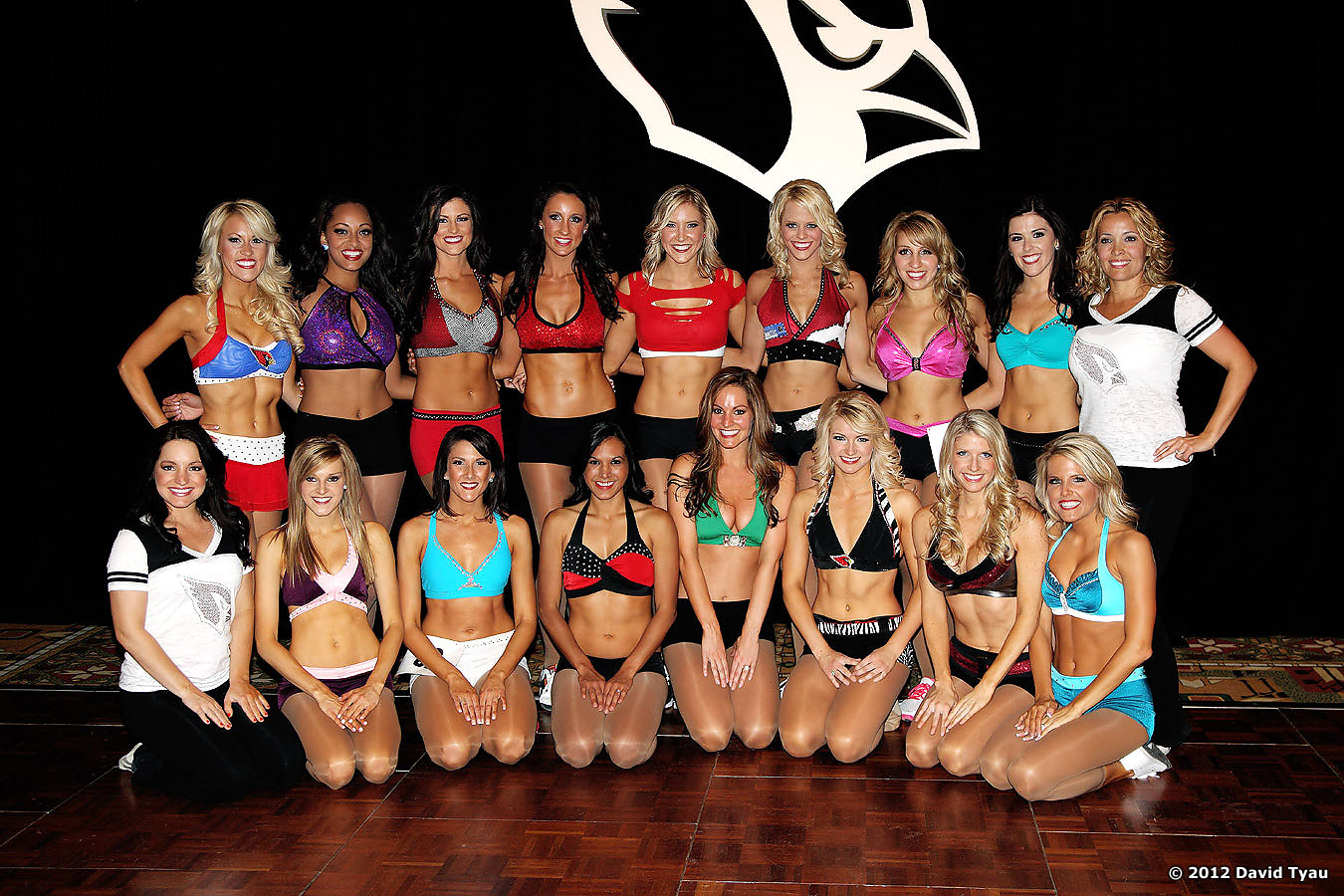 So as things came to a close, I made the 27 mile trek back to my hotel to begin the laborious process of downloading and culling my photos from the first day.
*               *               *               *               *
SUNDAY – March 25th  – "FULL OUT OR GET OUT!"

I arrived early to the Arizona Biltmore Resort once again.  Since the NCAA regionals were in town and MLB spring training was ongoing, the only reasonably priced hotel room I could find was in Peoria, Arizona…many miles away.  So I got up early to ensure I was on time.  As it turned out, I was a little too early.  But that wasn't a problem because a few of the ACC instructors came in early to set up.  It was a chance to catch up with them and talk about such things in common as the PRO Convention in Atlanta (which is an AMAZING event for both dancer and photographer).
These girls are all really nice and get along well with each other.  I am told this in part due to the interview process and the fact that Heather selects girls that will not only blend in together as dancers, but as teammates as well.  So, the interview portion that would follow later that day is extremely important, as important as the dance portion of the auditions.
At 8:00 am, the Sunday audition began with Erin leading the candidates in a particularly lengthy warm up and stretching session.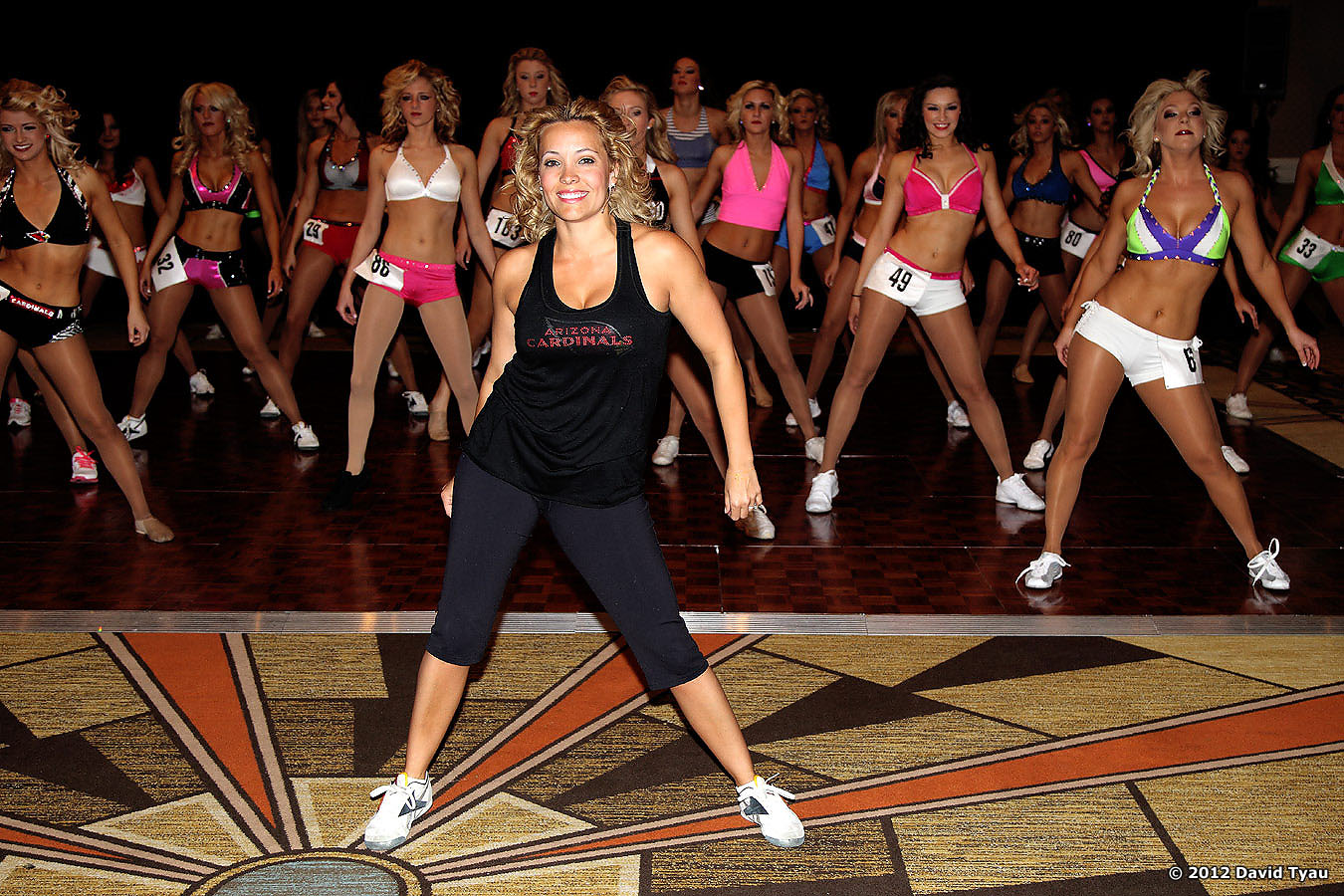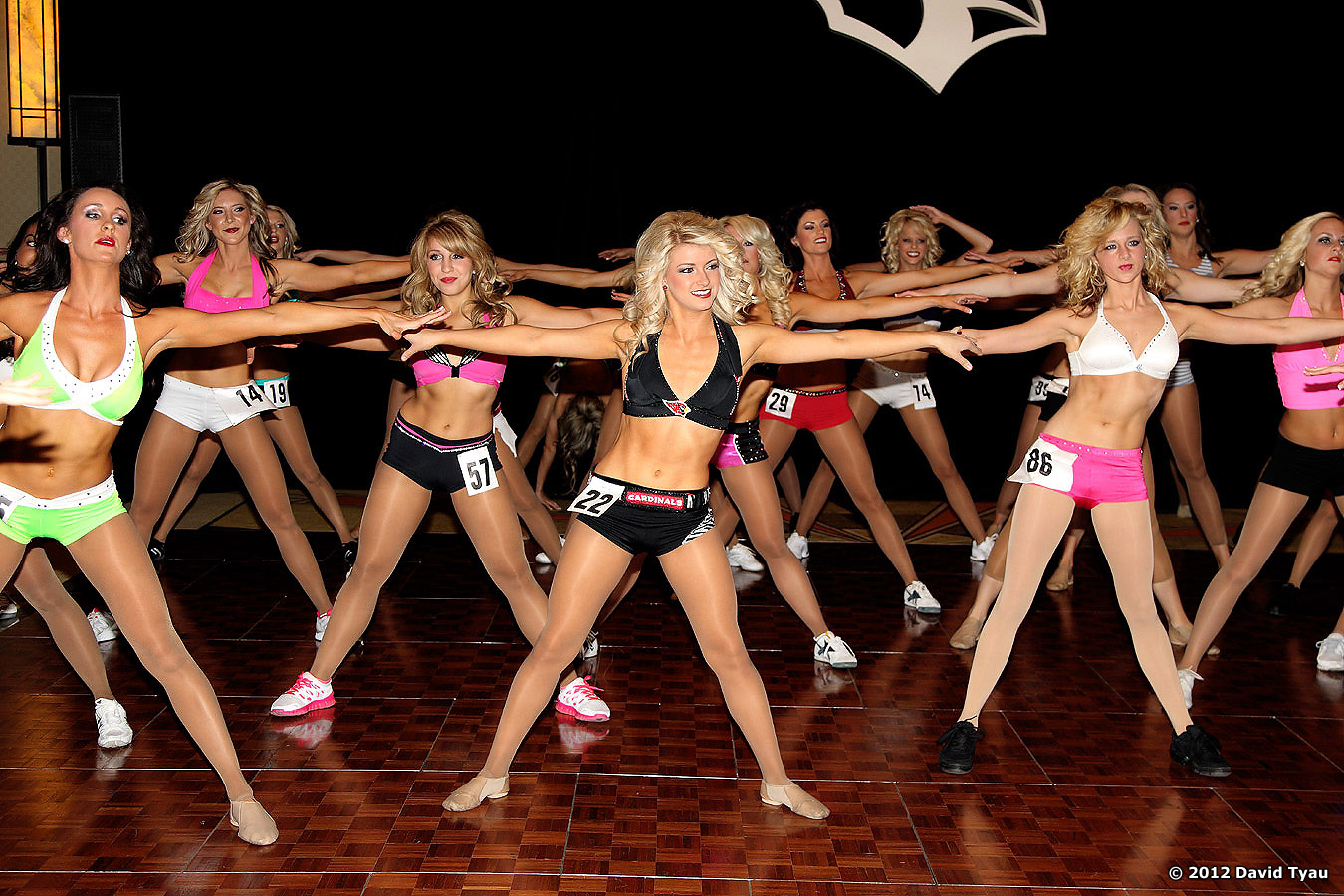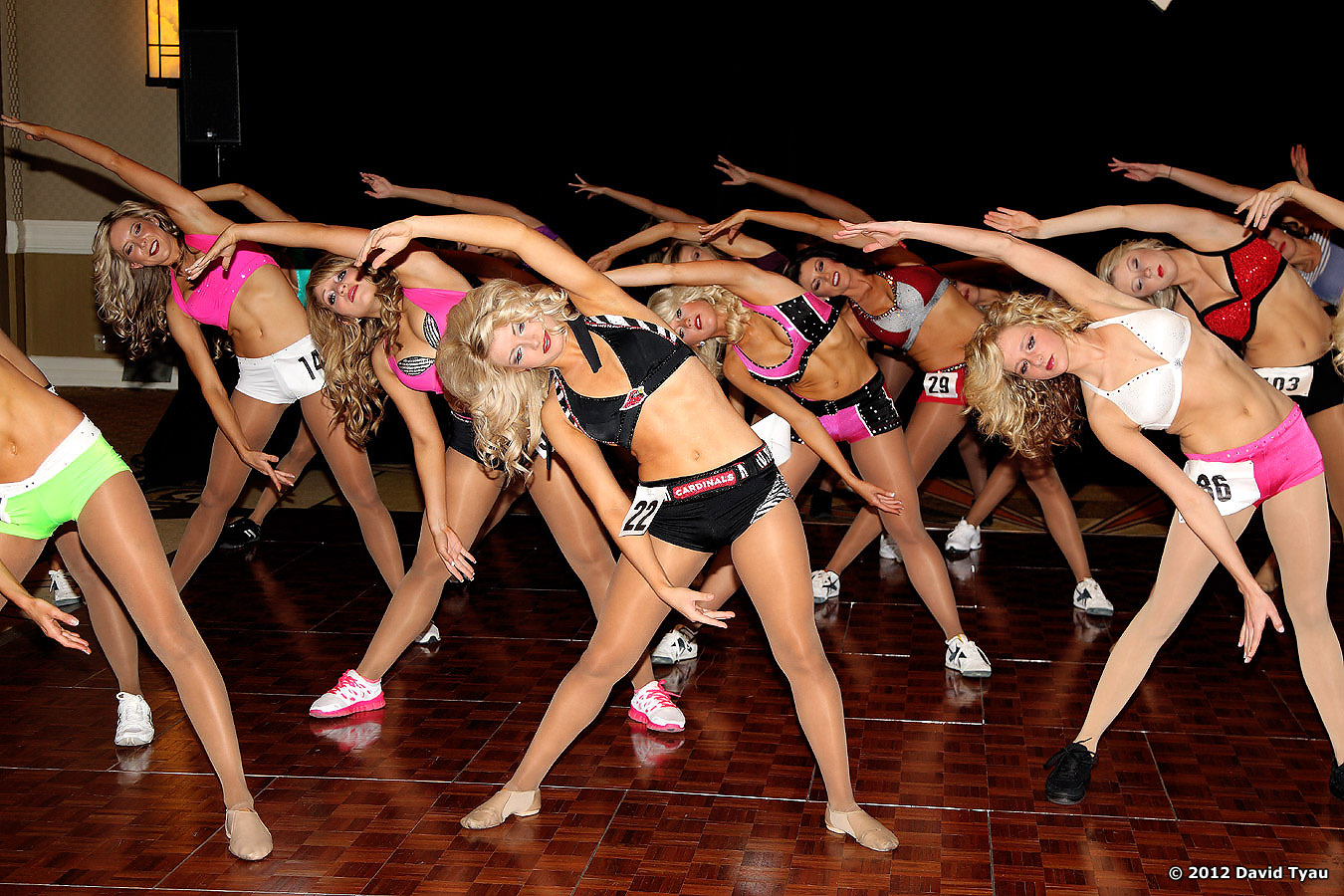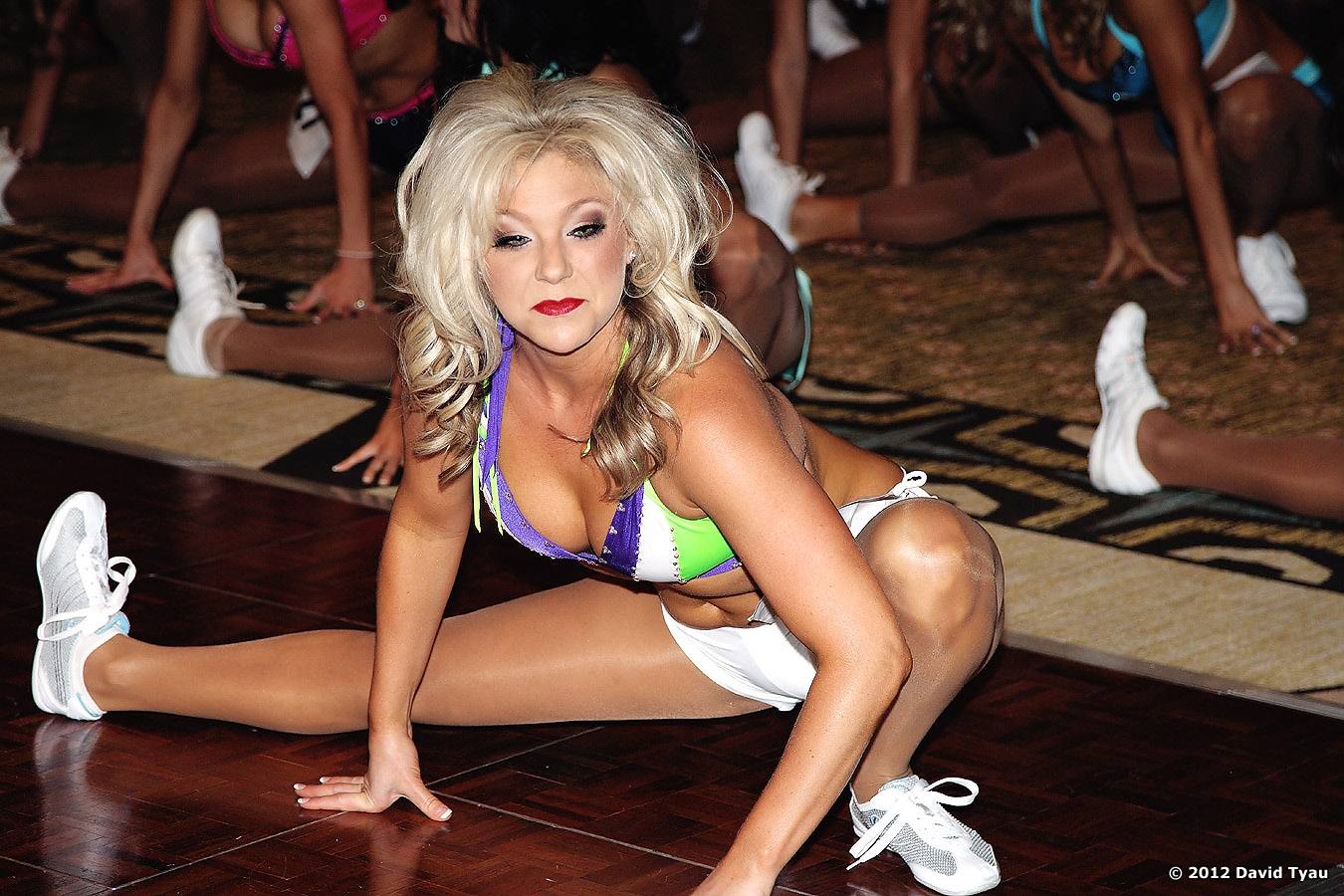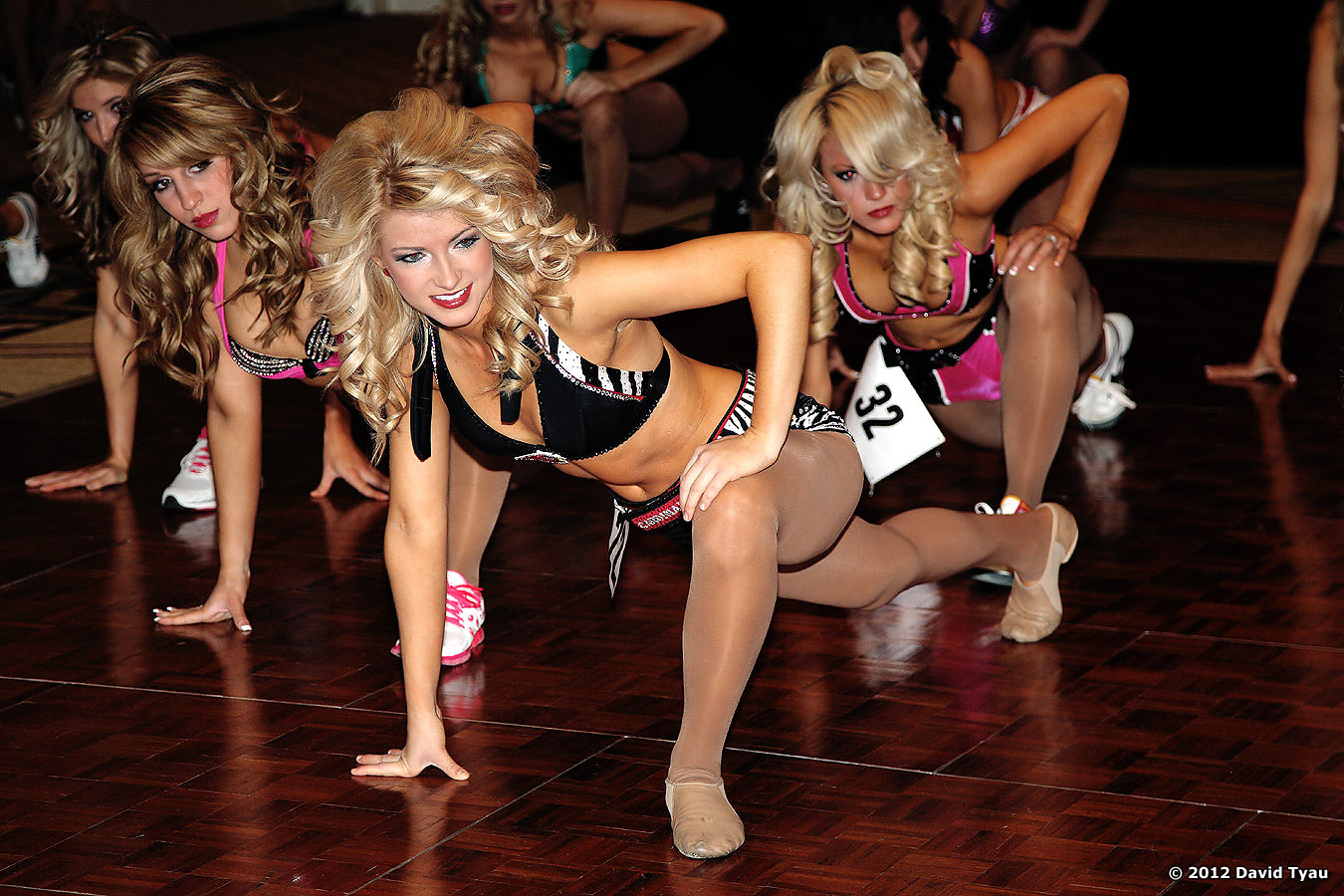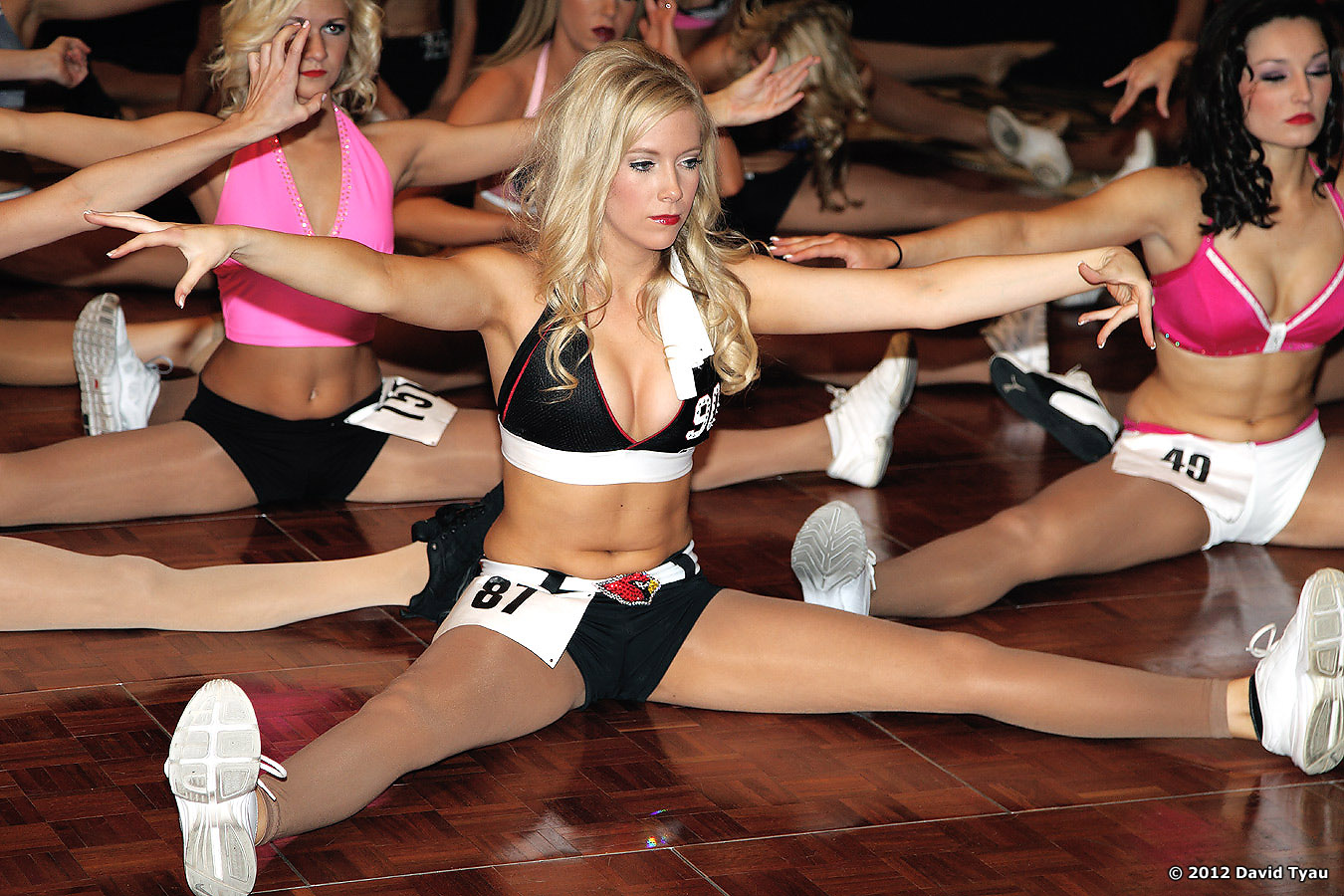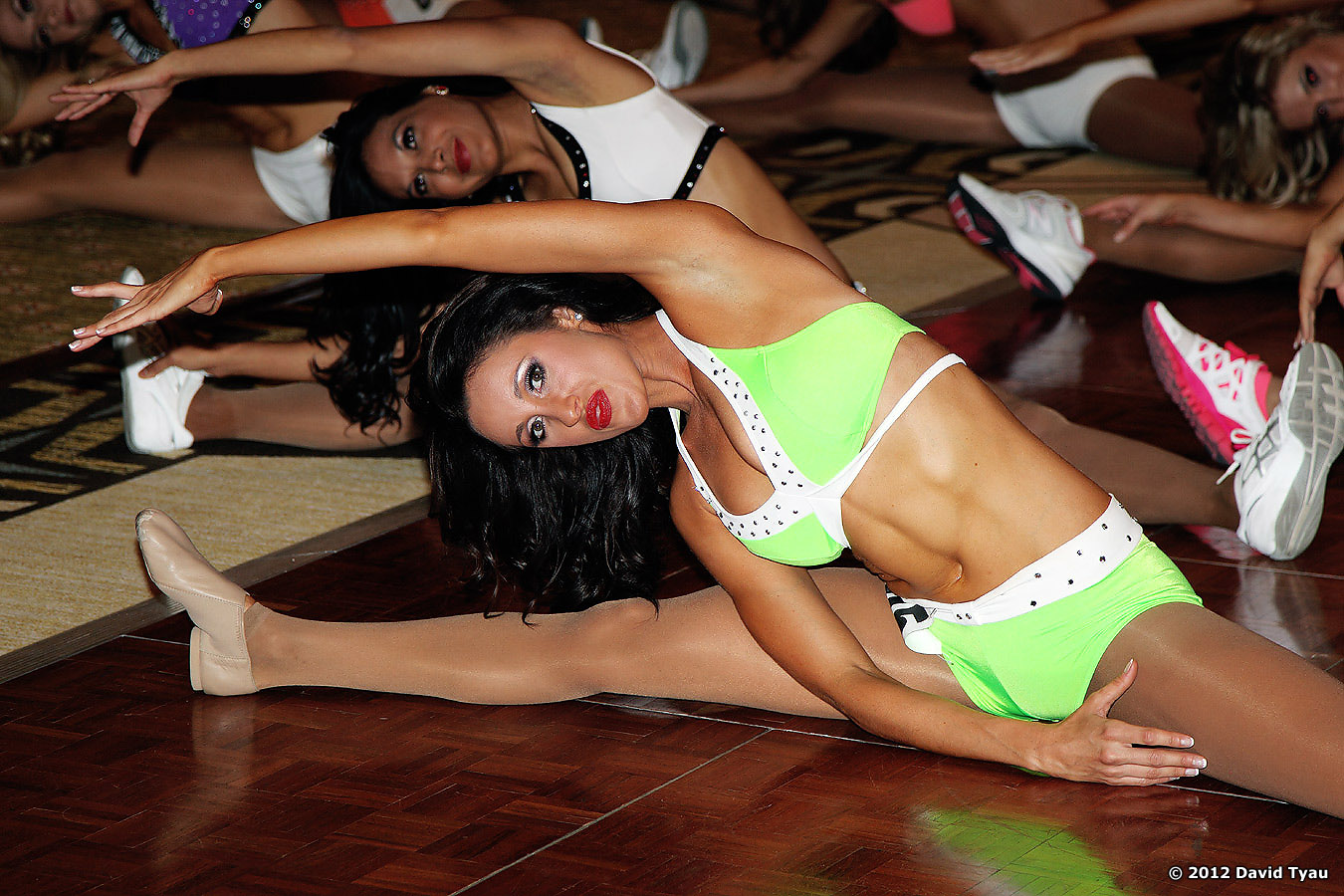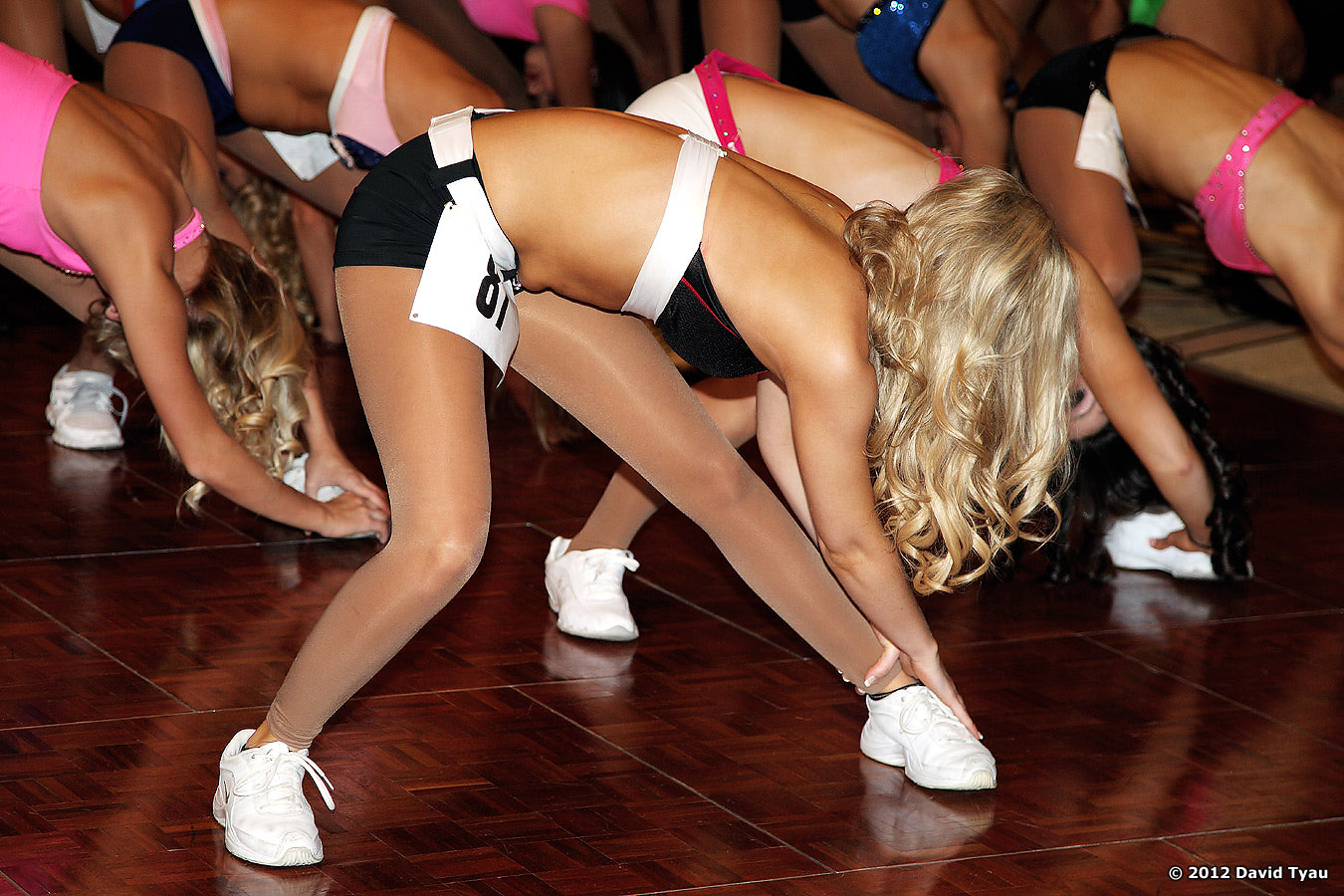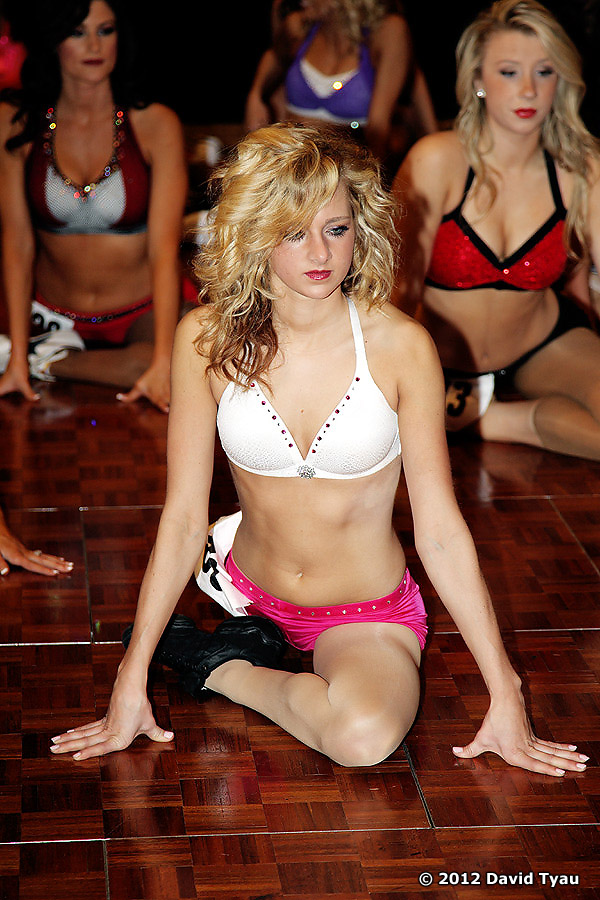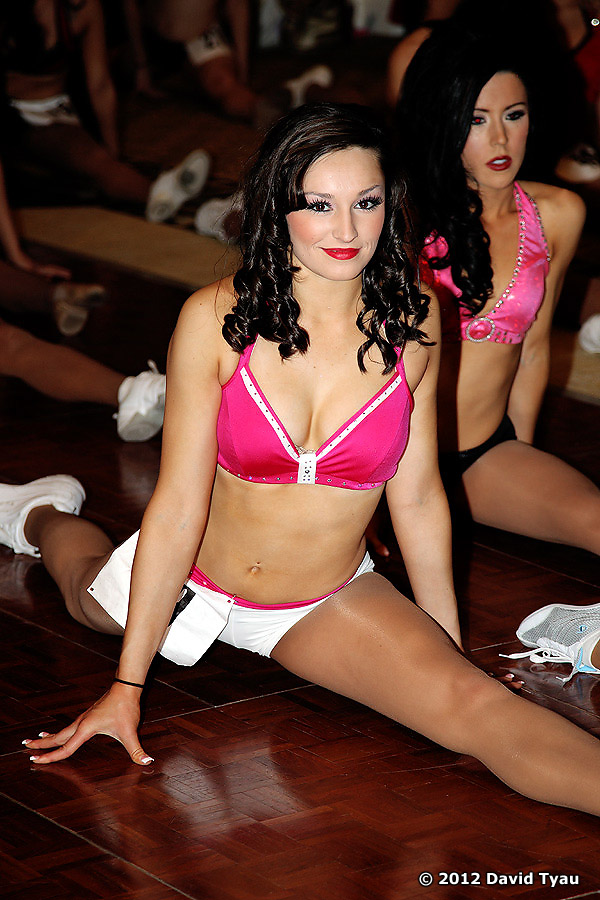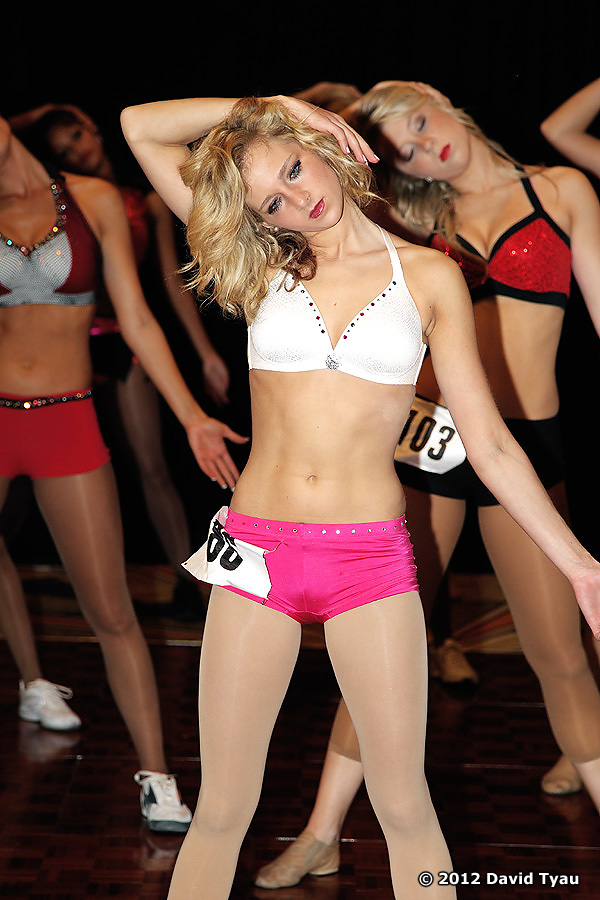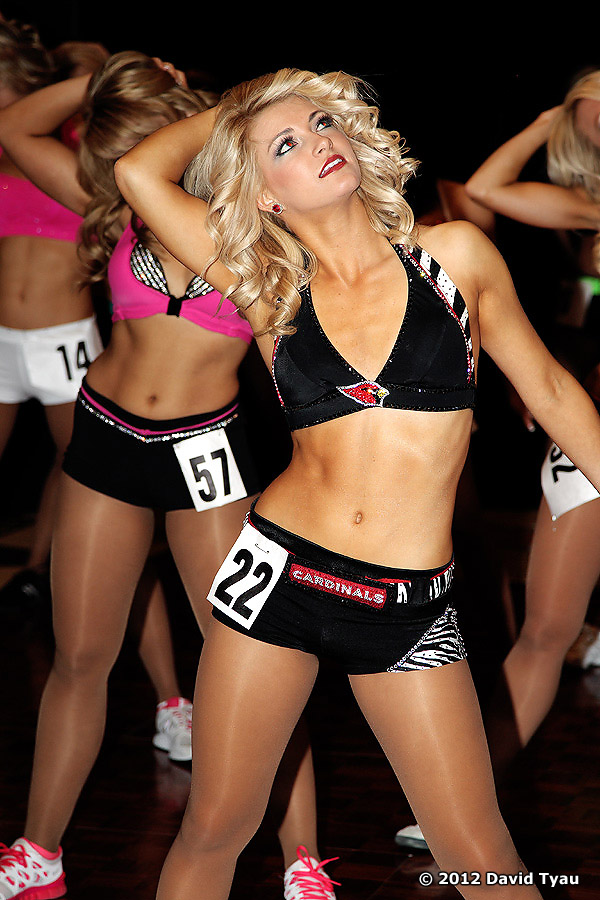 So after a half hour of stretching and warm ups, the girls were allowed to rehearse the finals routine for about a half hour.   I can only describe the routine as a section of Flashdance, a lasso movement followed by a couple of "wha, wha" arm movements with a few kicks and leaps thrown in.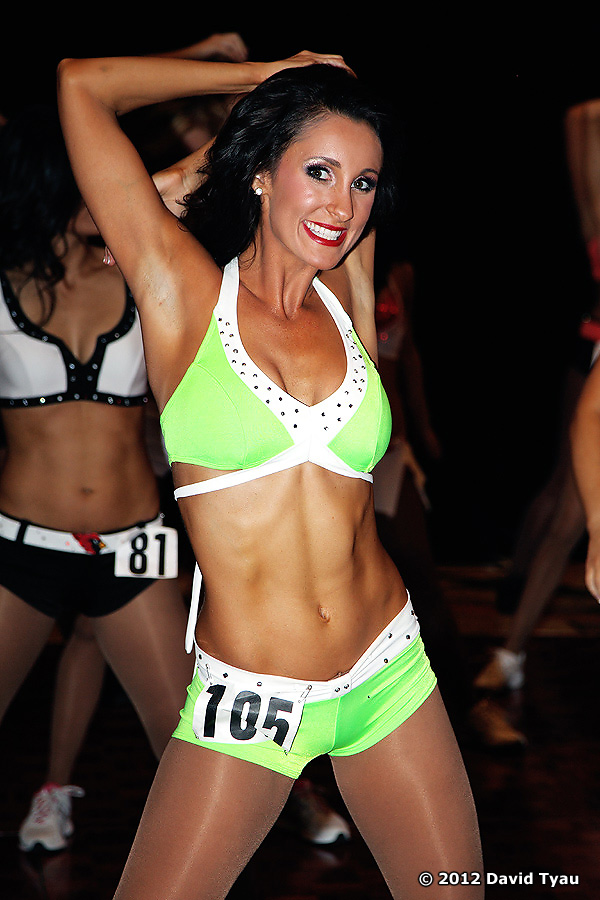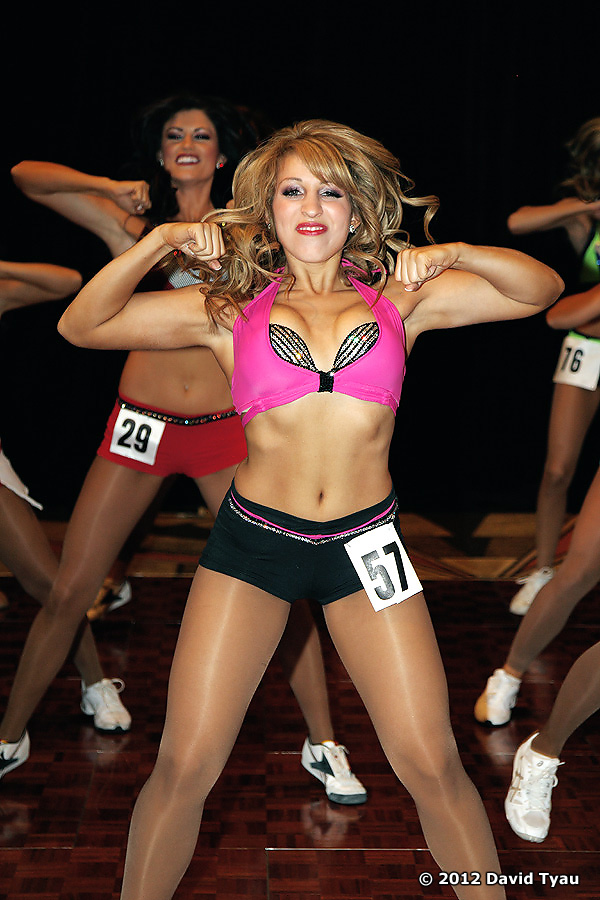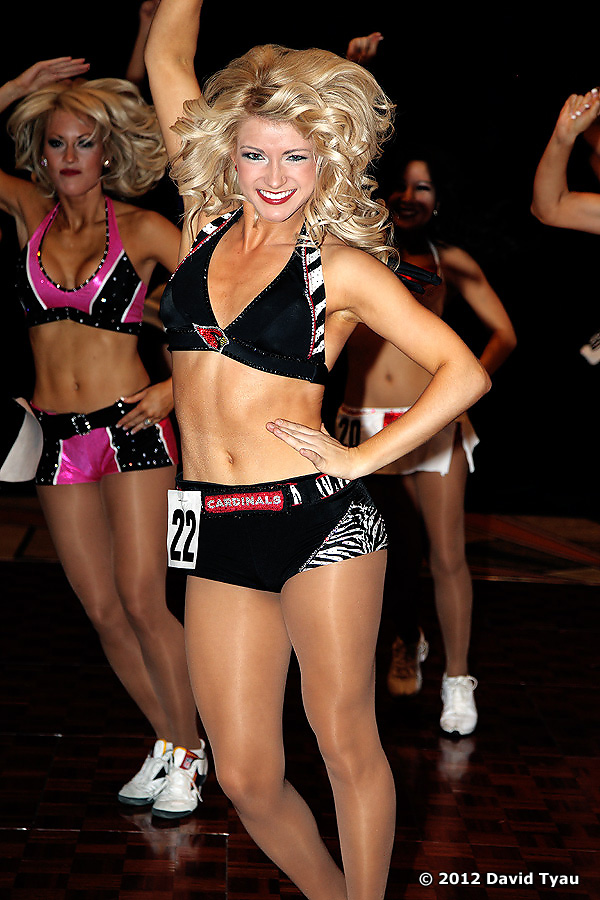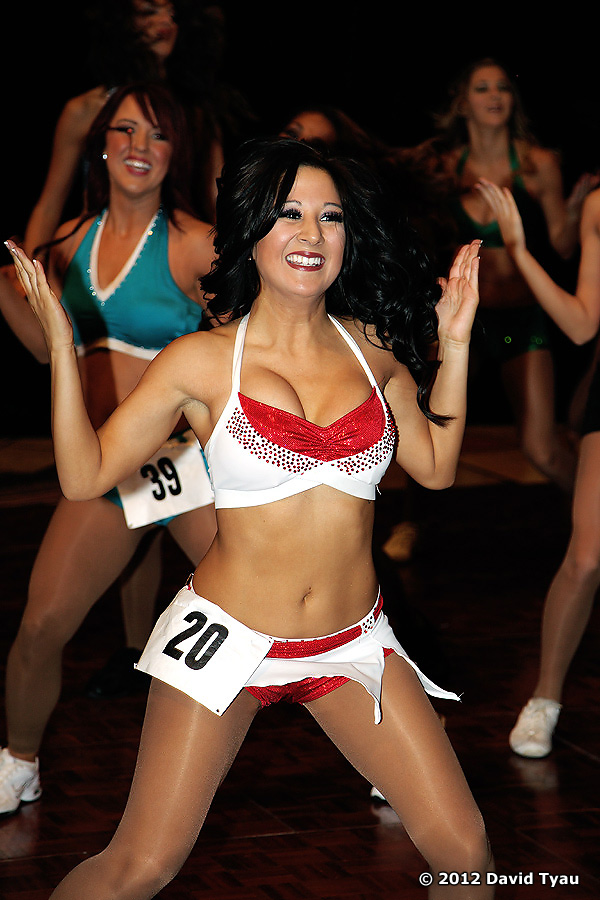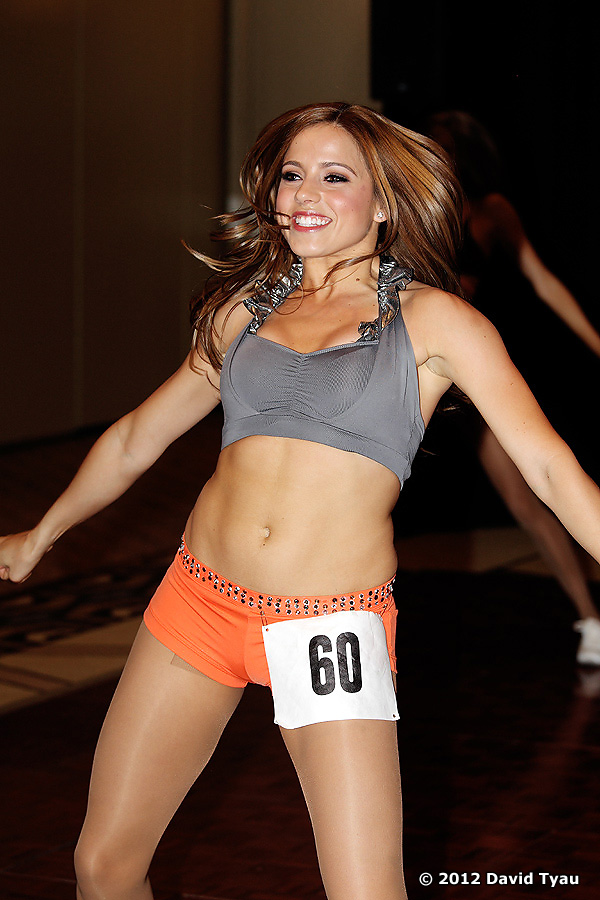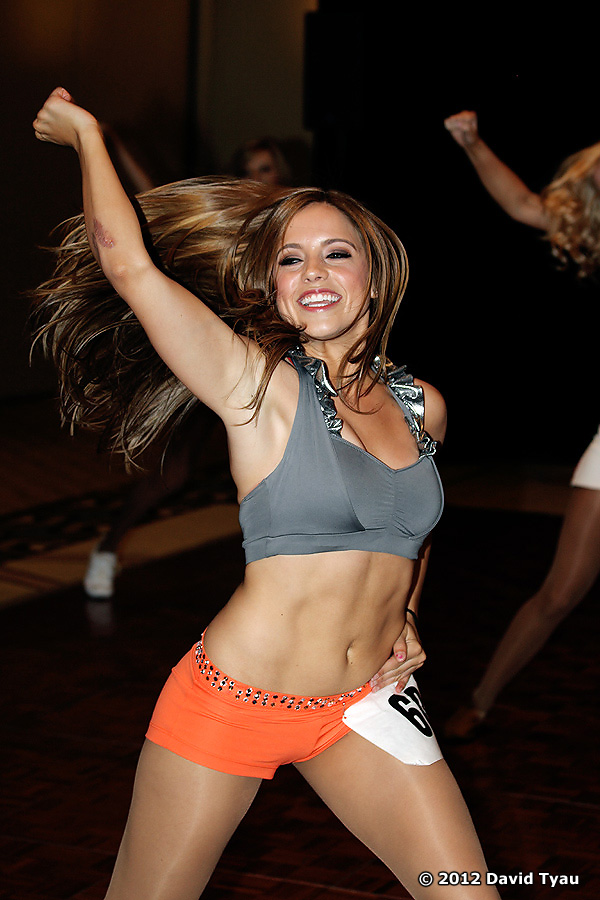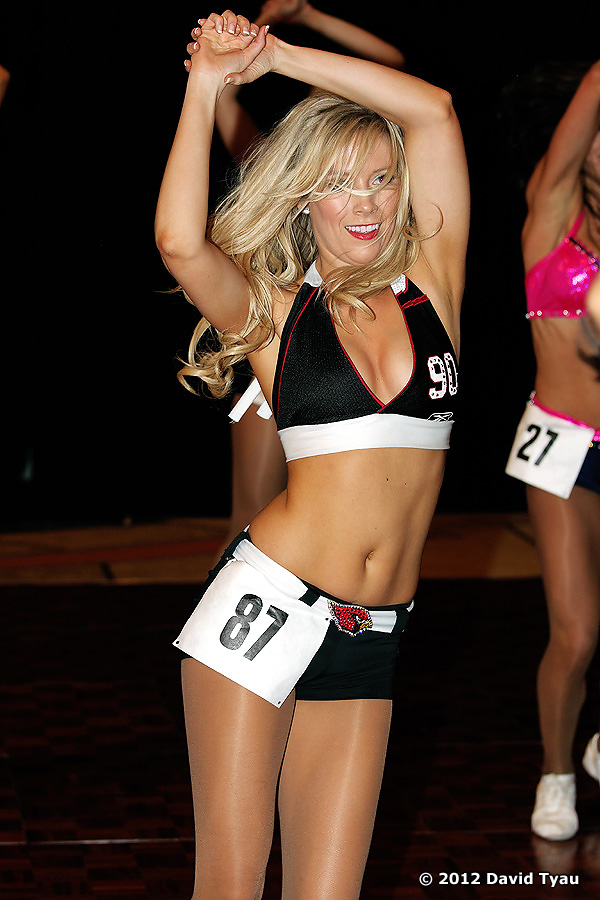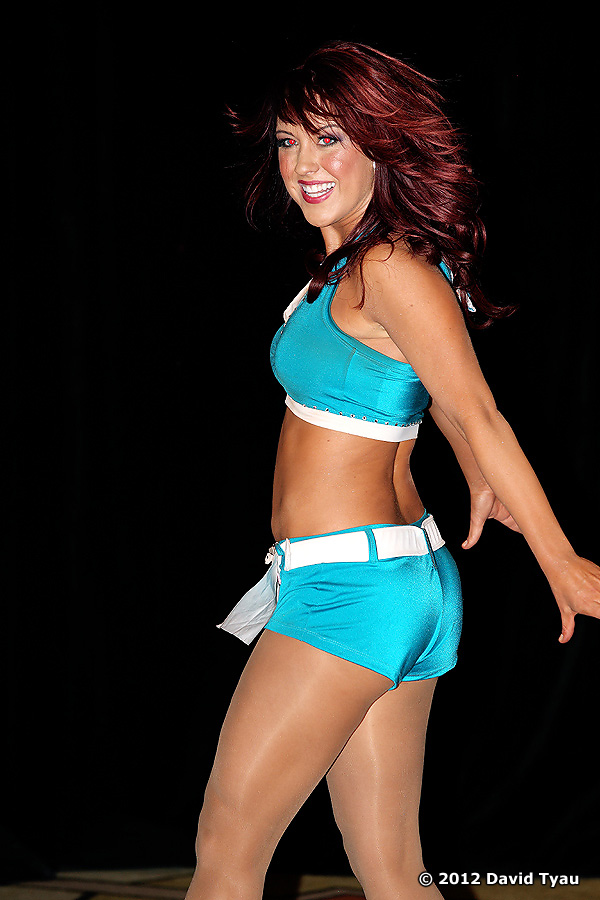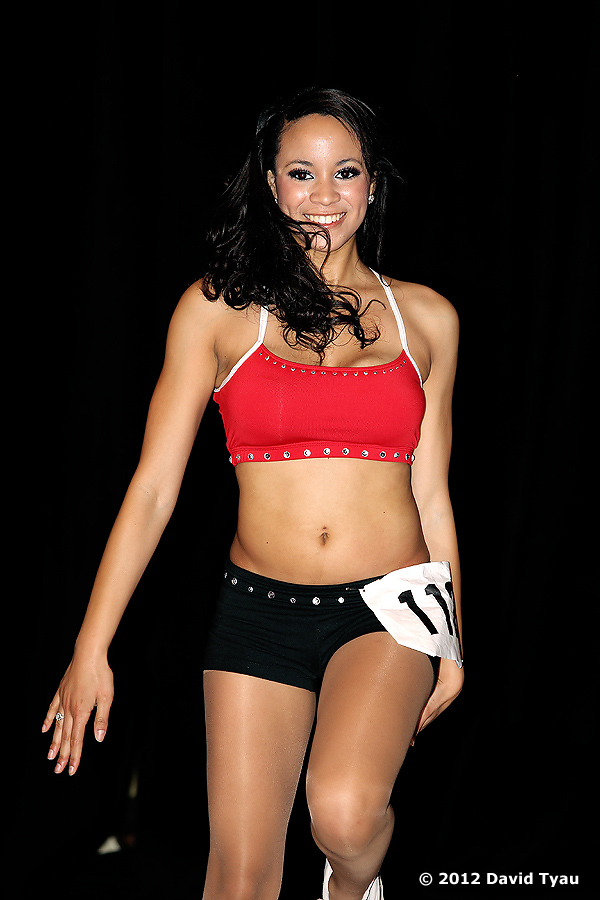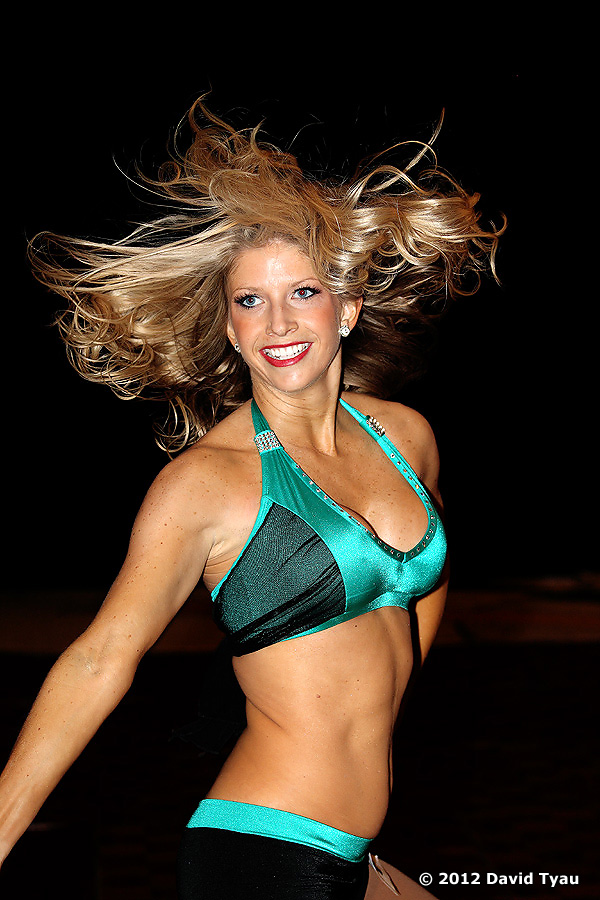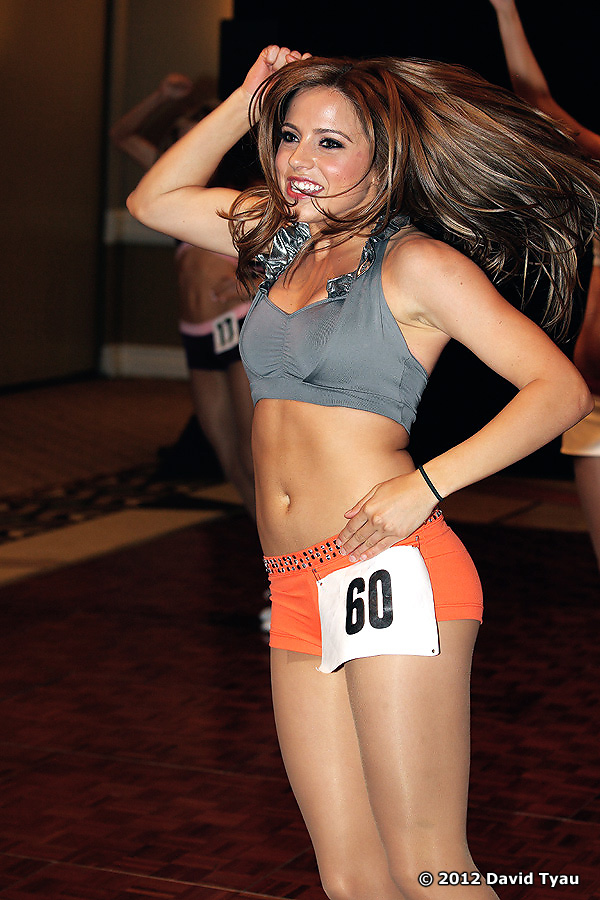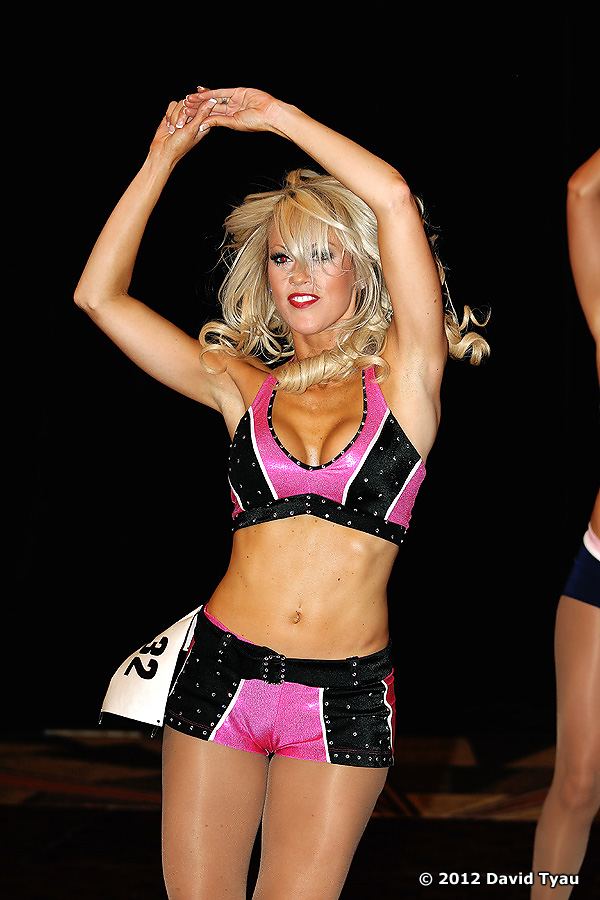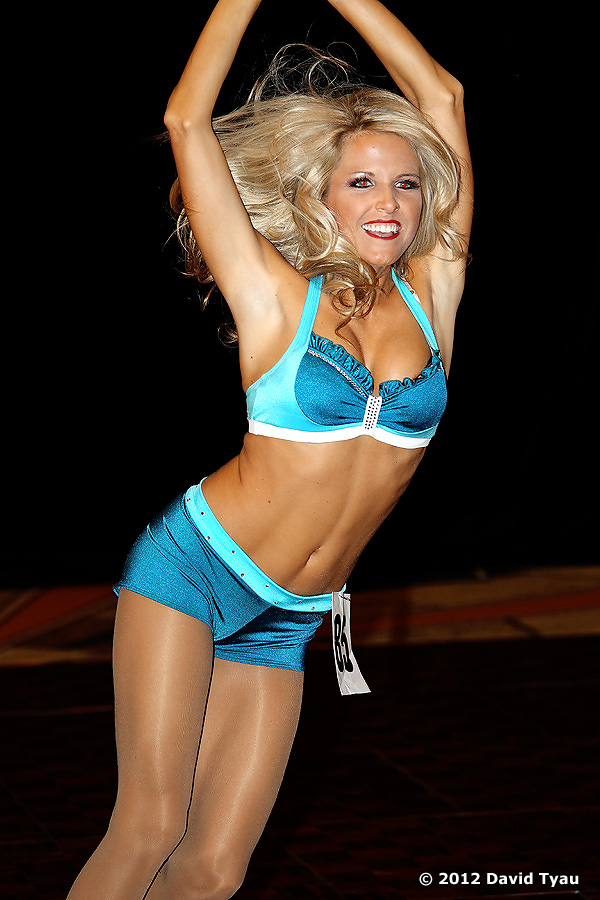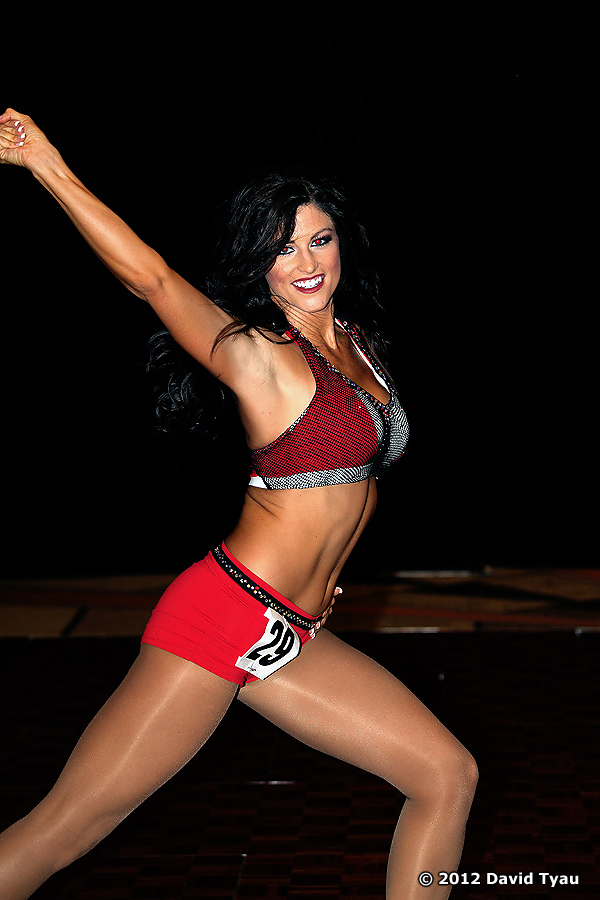 At 9:00 am, the girls once again lined up in ascending order and were sorted into groups of three.  This panel of judges was composed of business partners and sponsors, so perhaps the standard of judging would be a bit different than the previous day.  Regardless, it was time for the girls to showcase their skills and show that they belonged.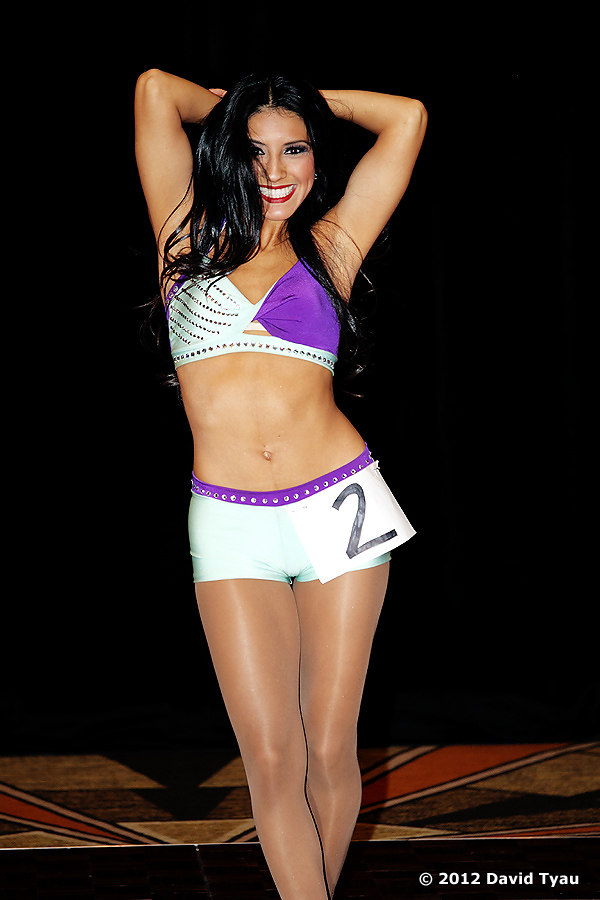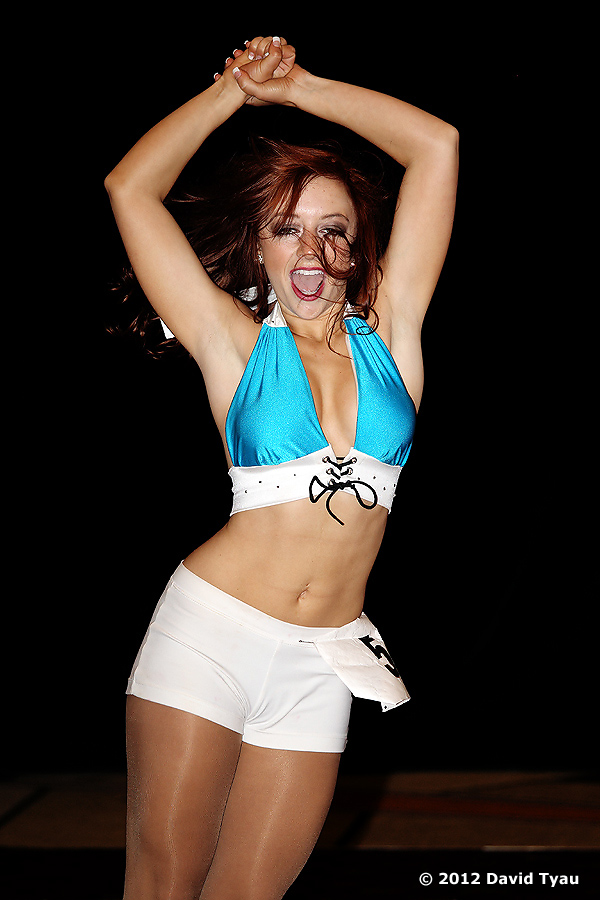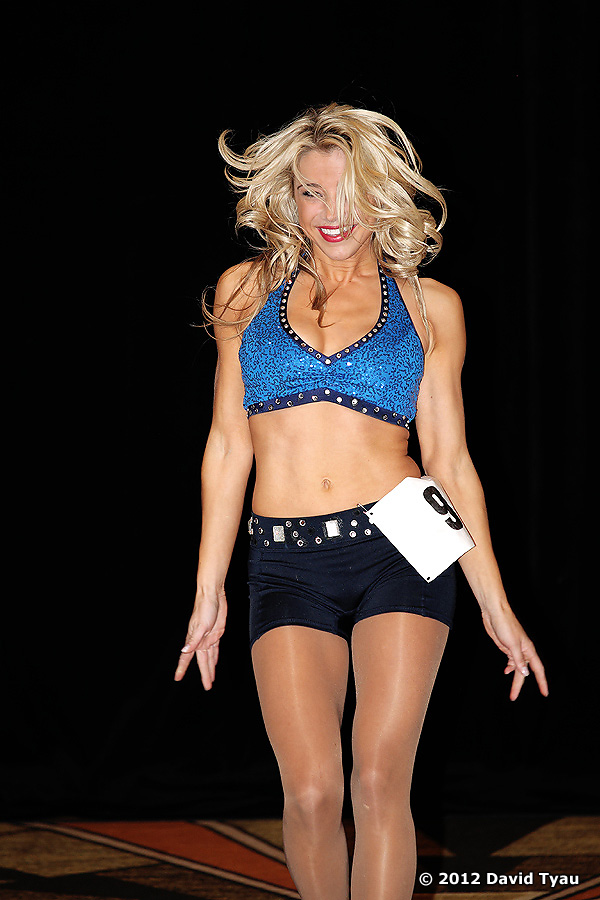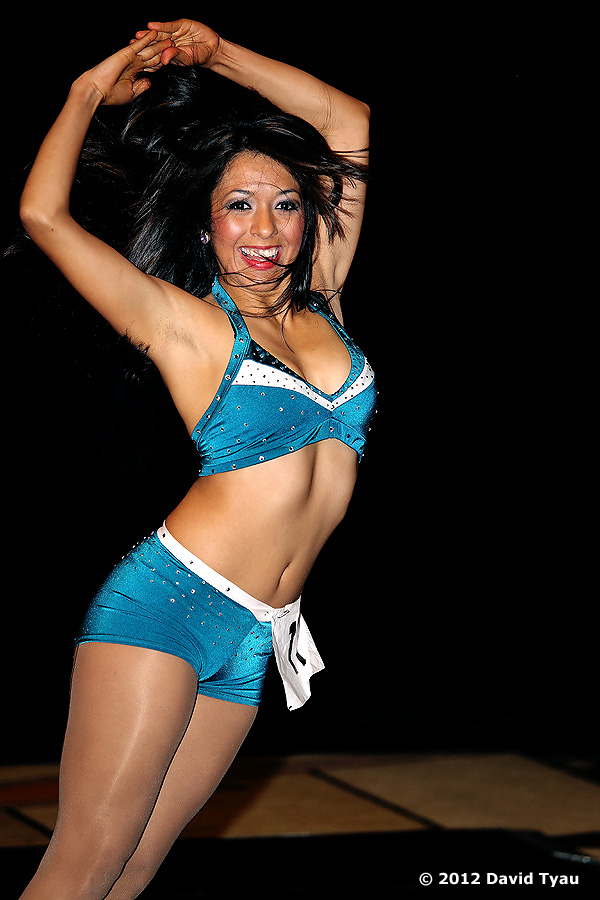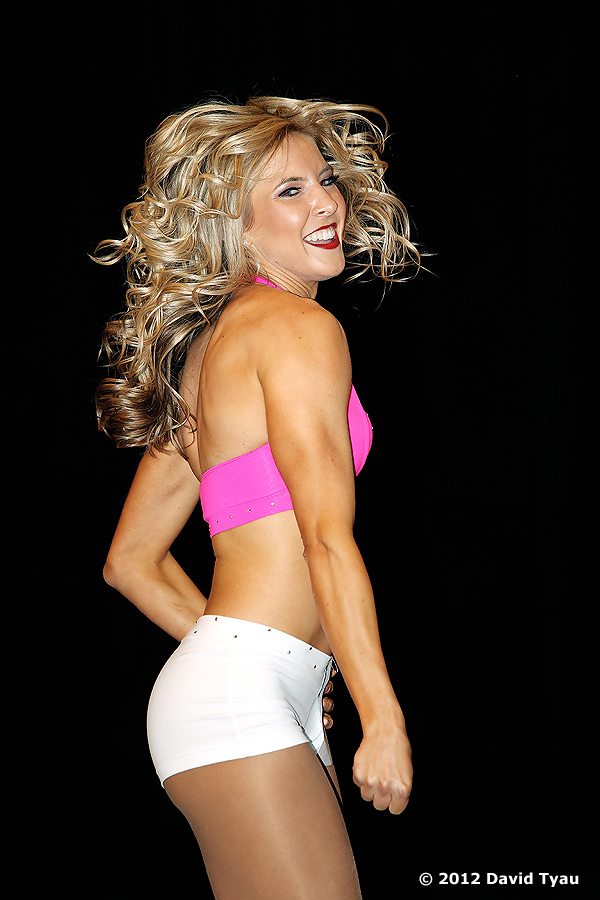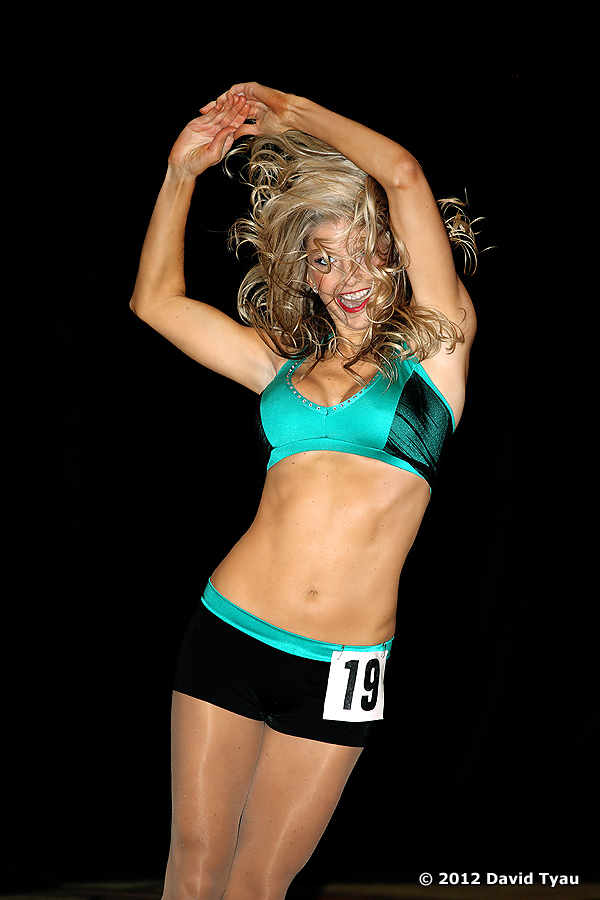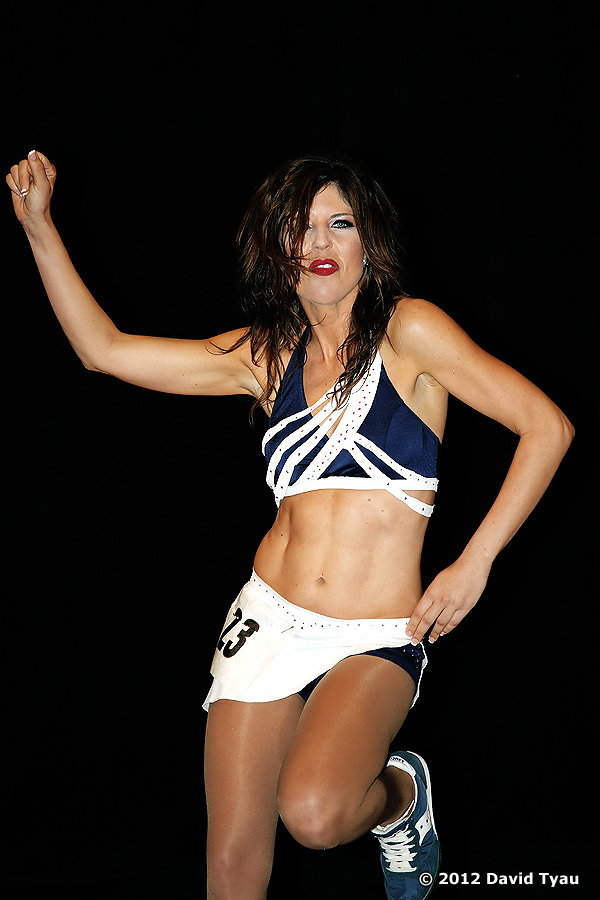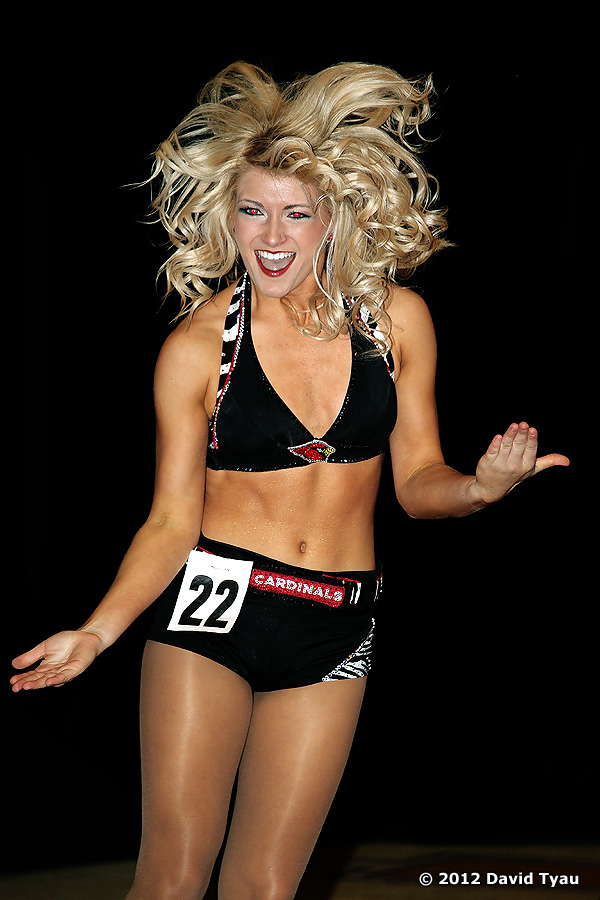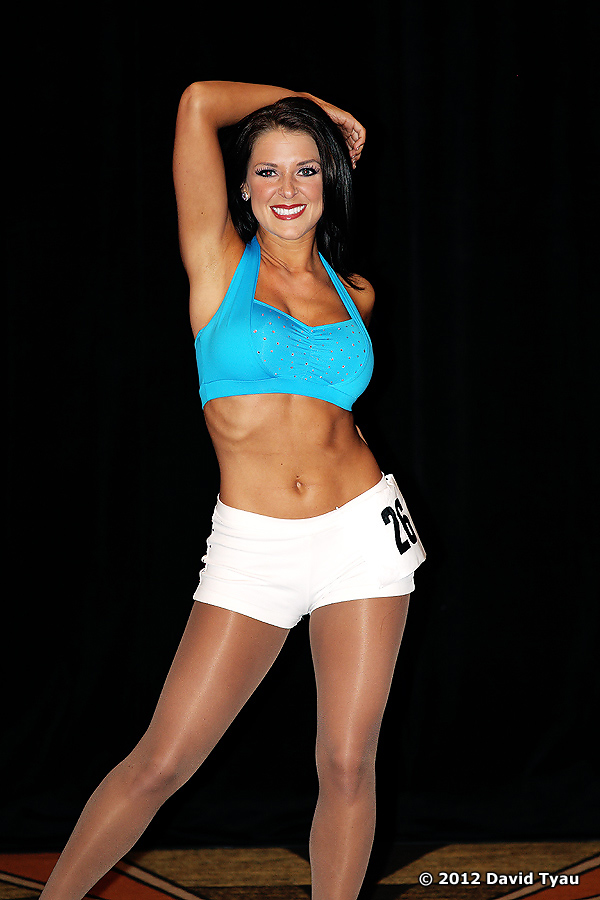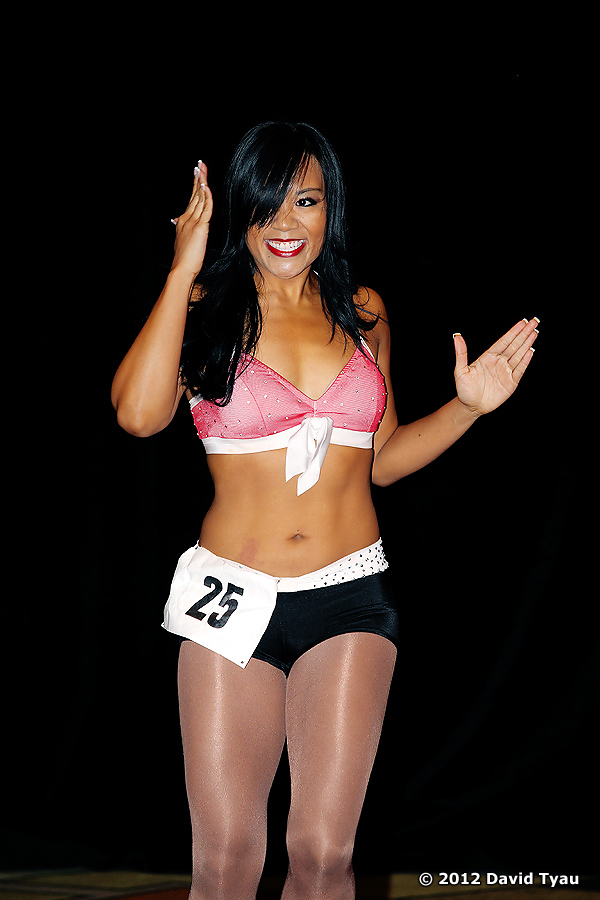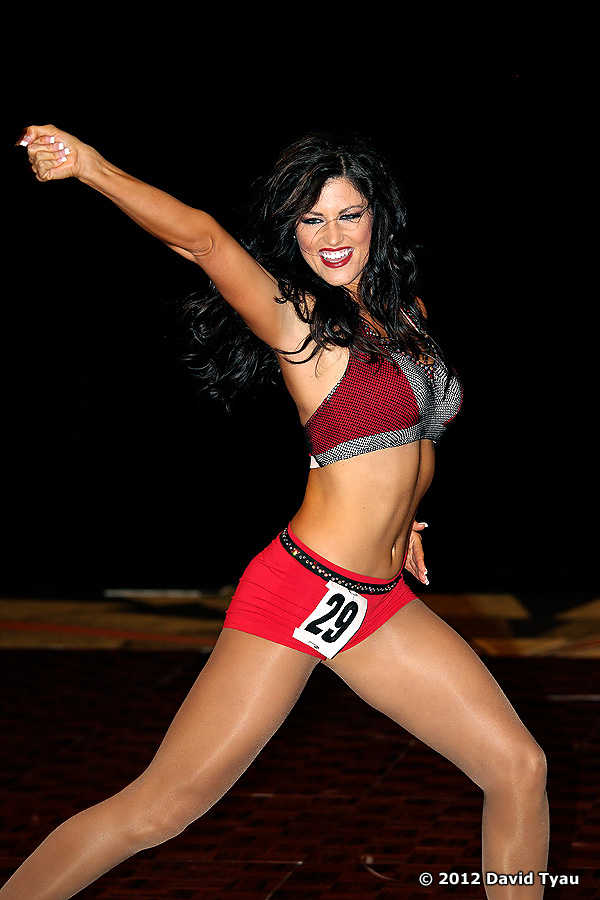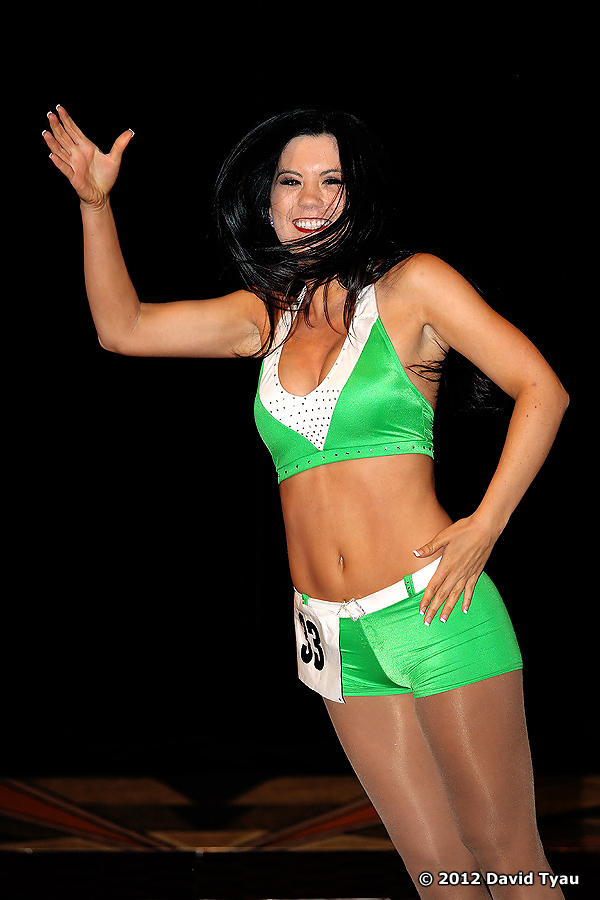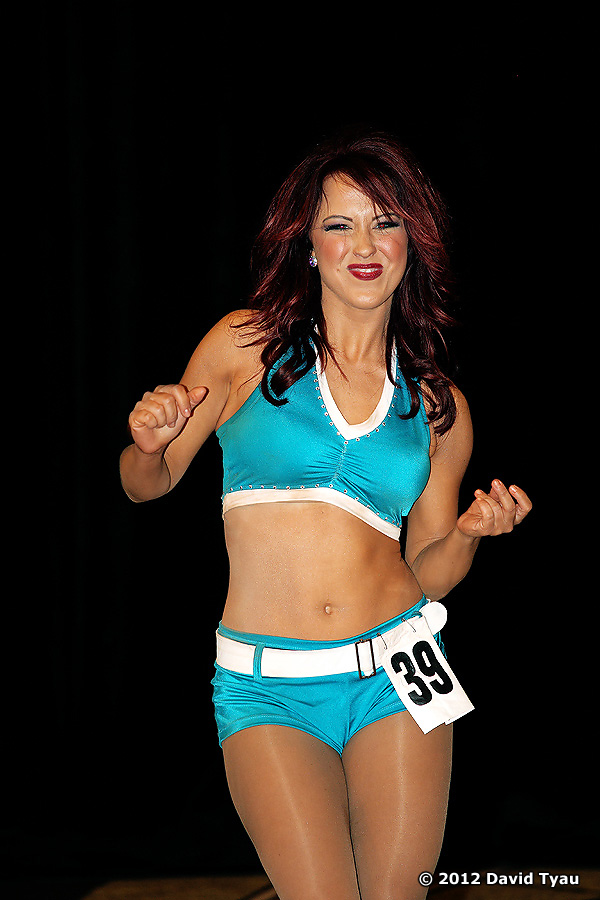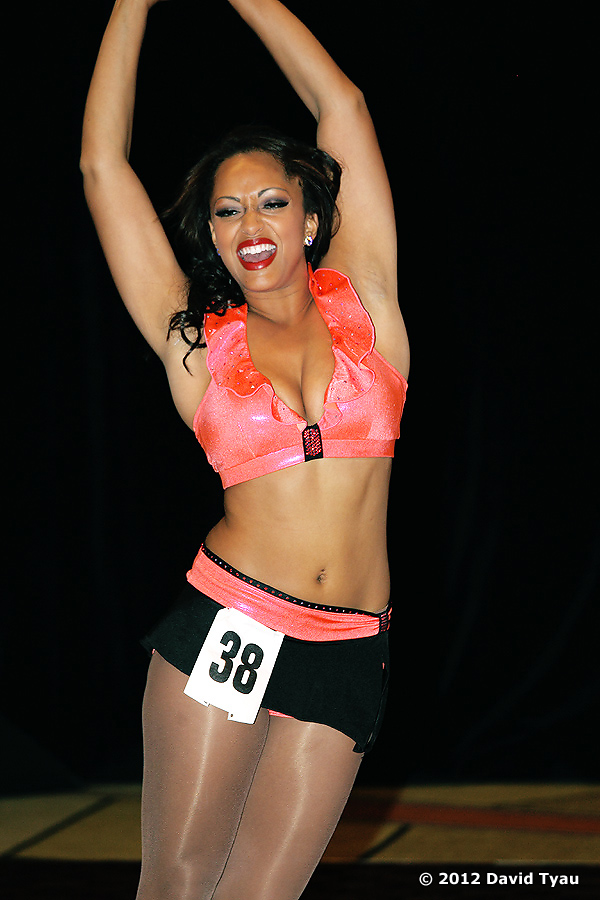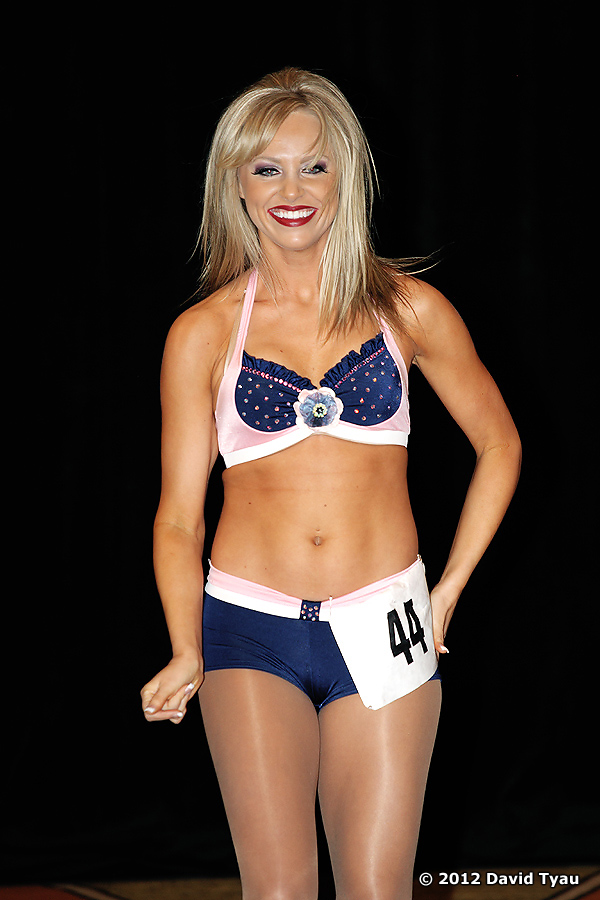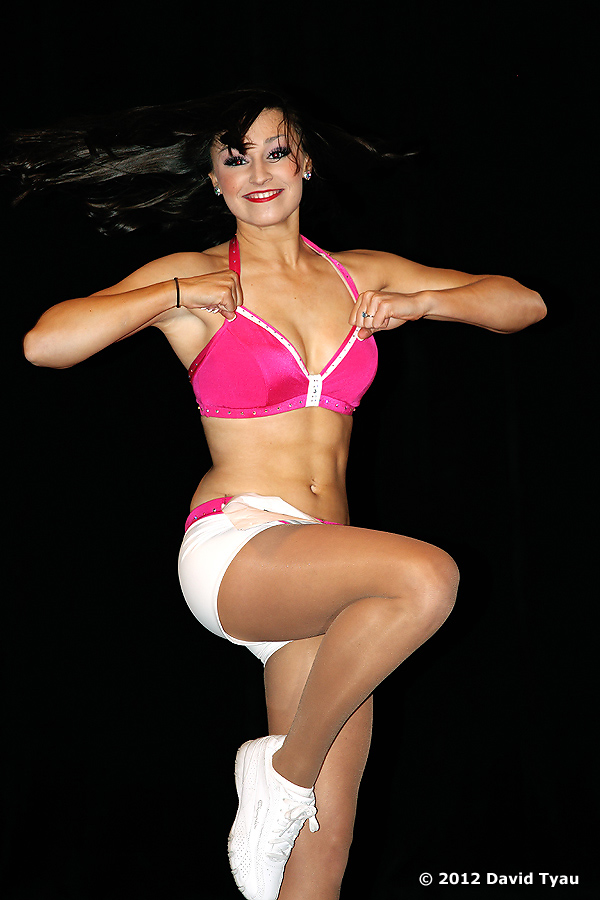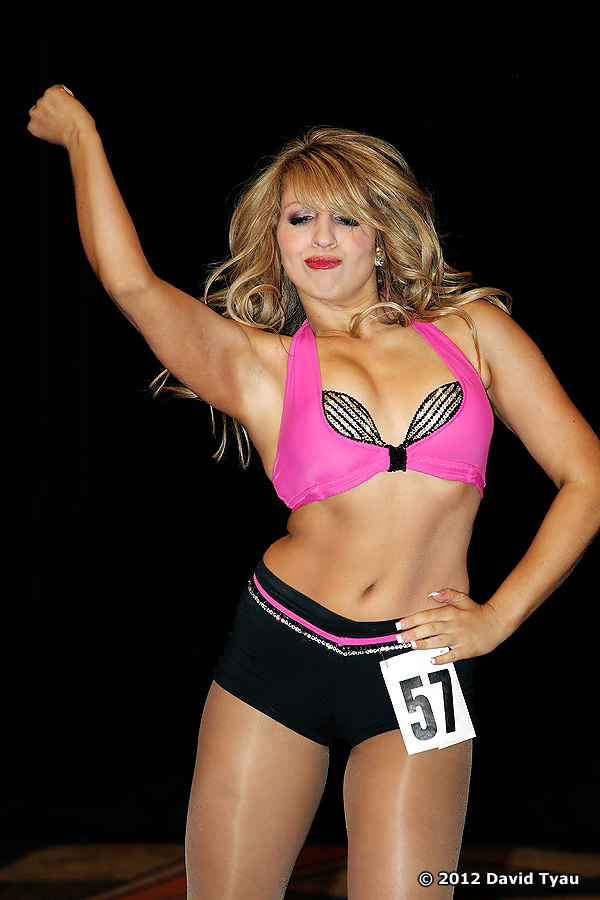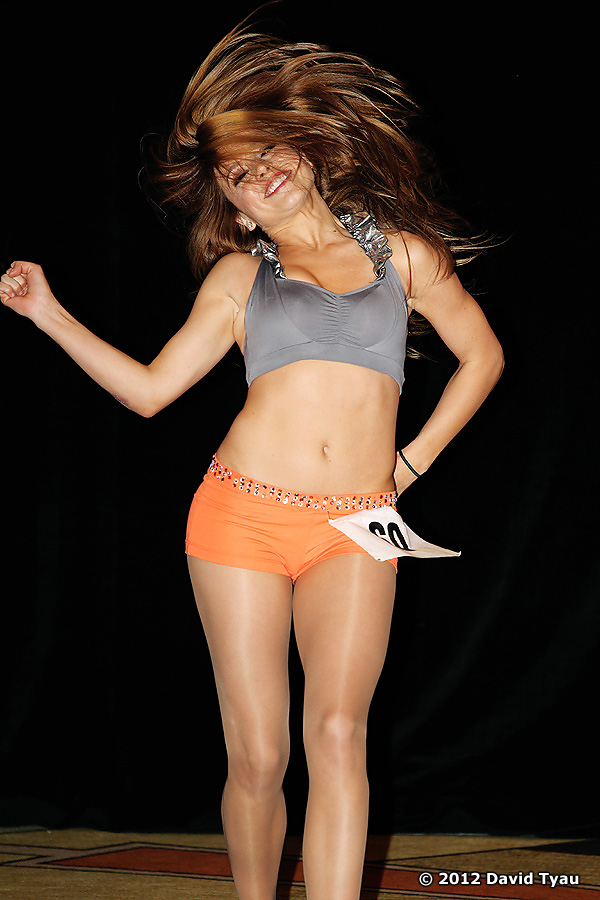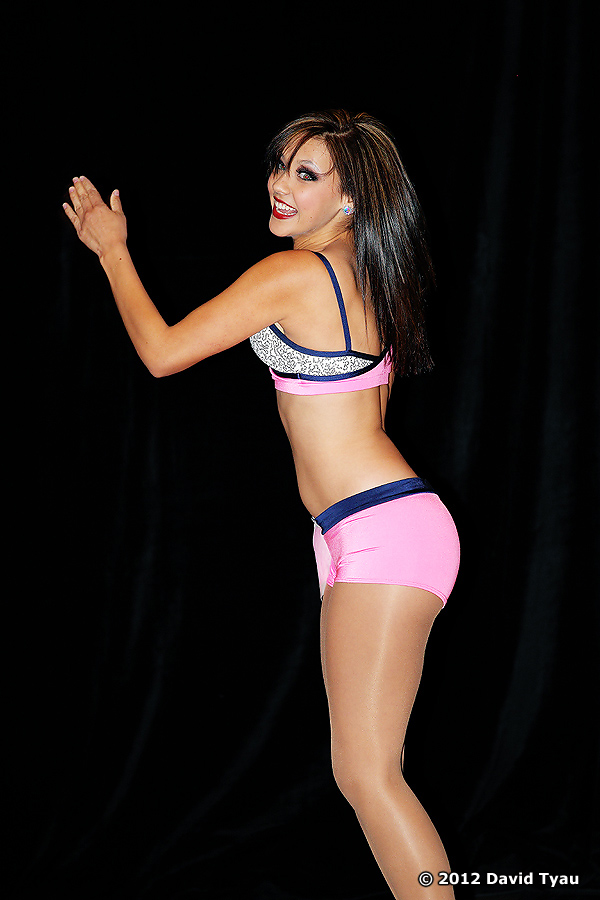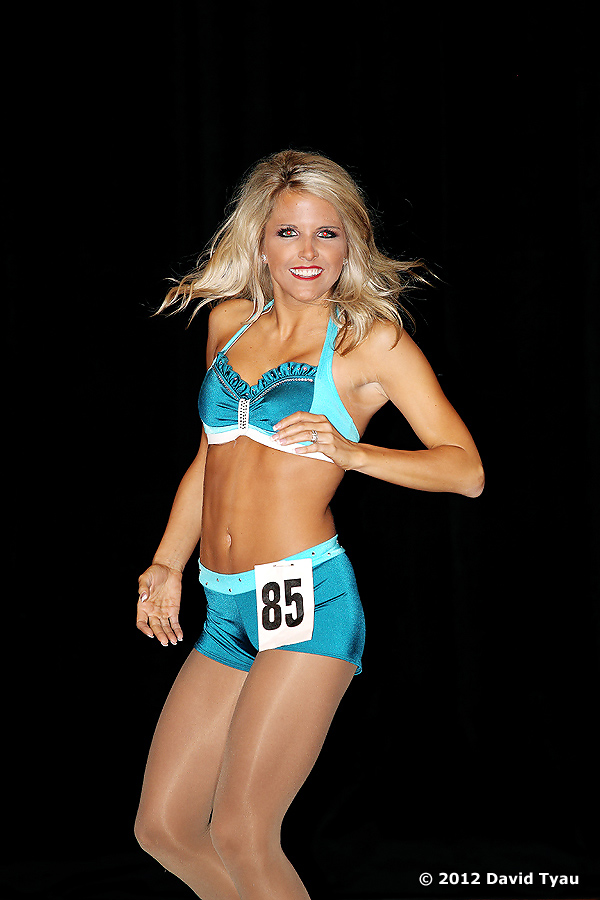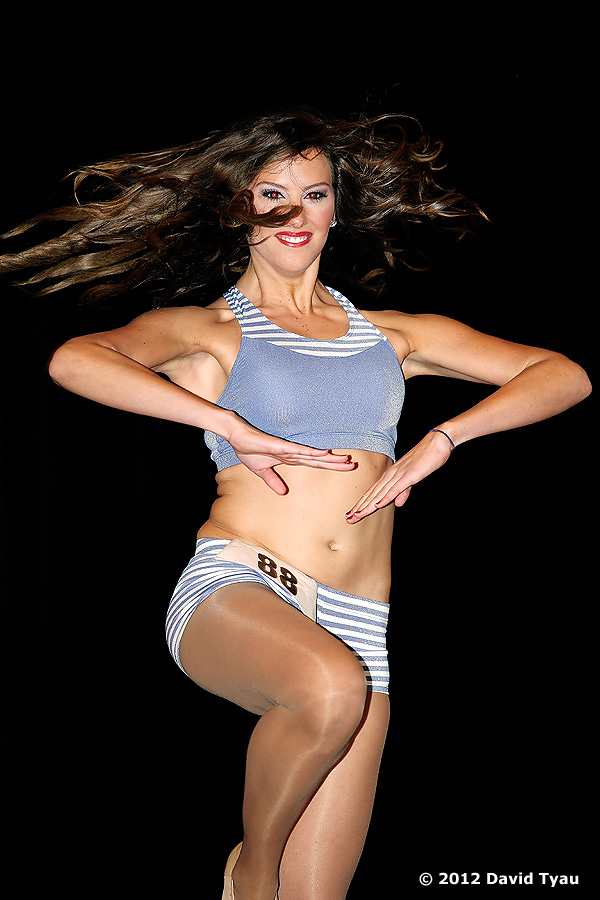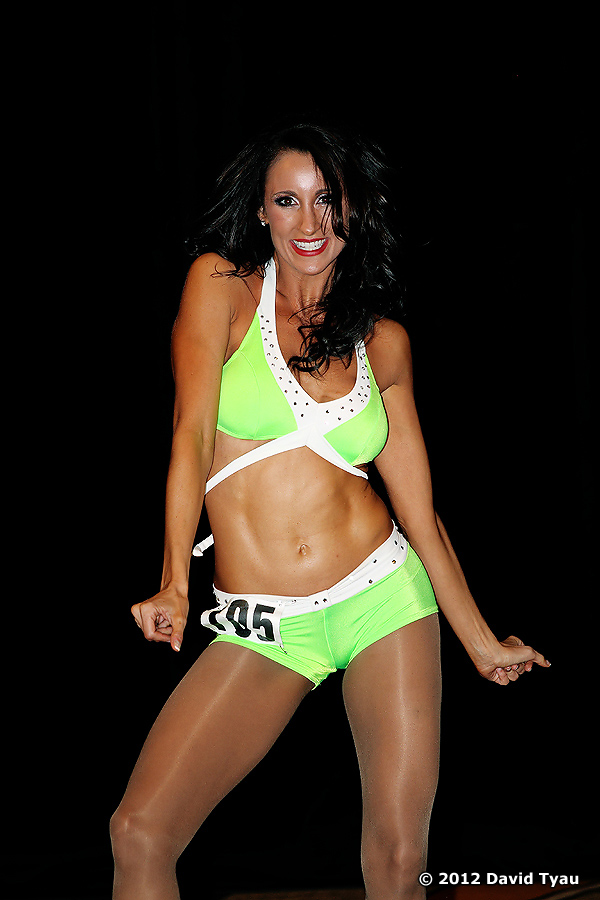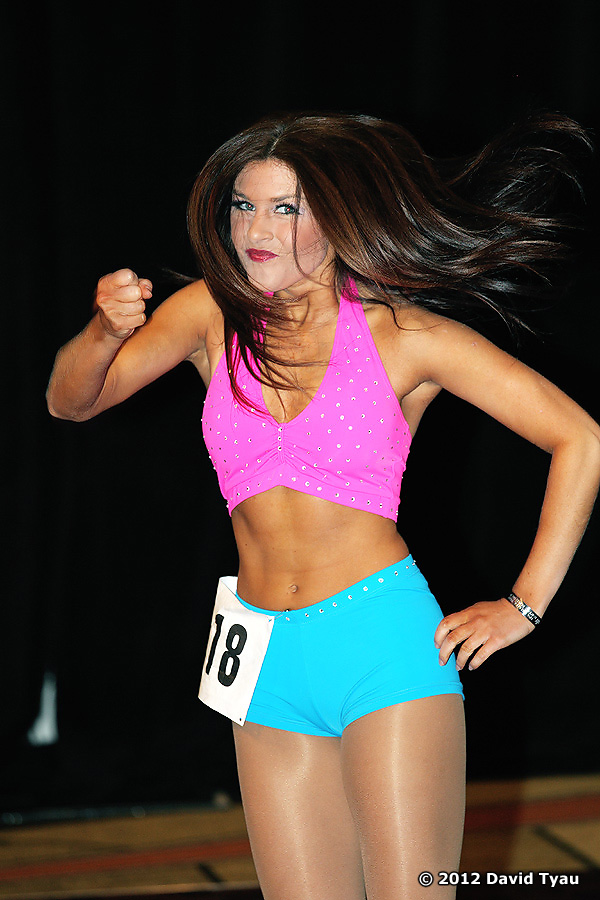 At 10:15 am, the judges retired to deliberate and tabulate the scores.  It would be almost an hour before Heather came back and announced the results.  70 girls started the day as candidates, but by mid morning the field had been whittled down to 33 girls.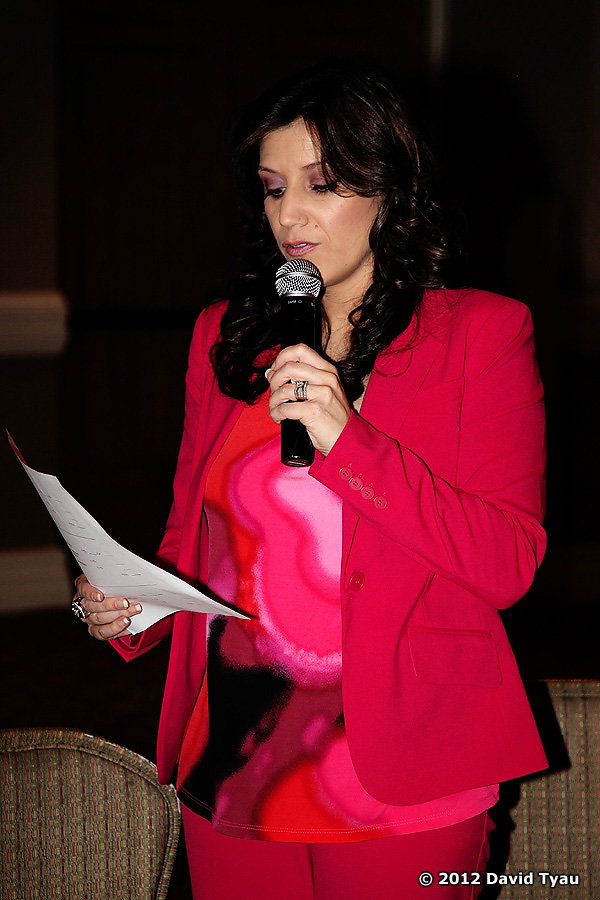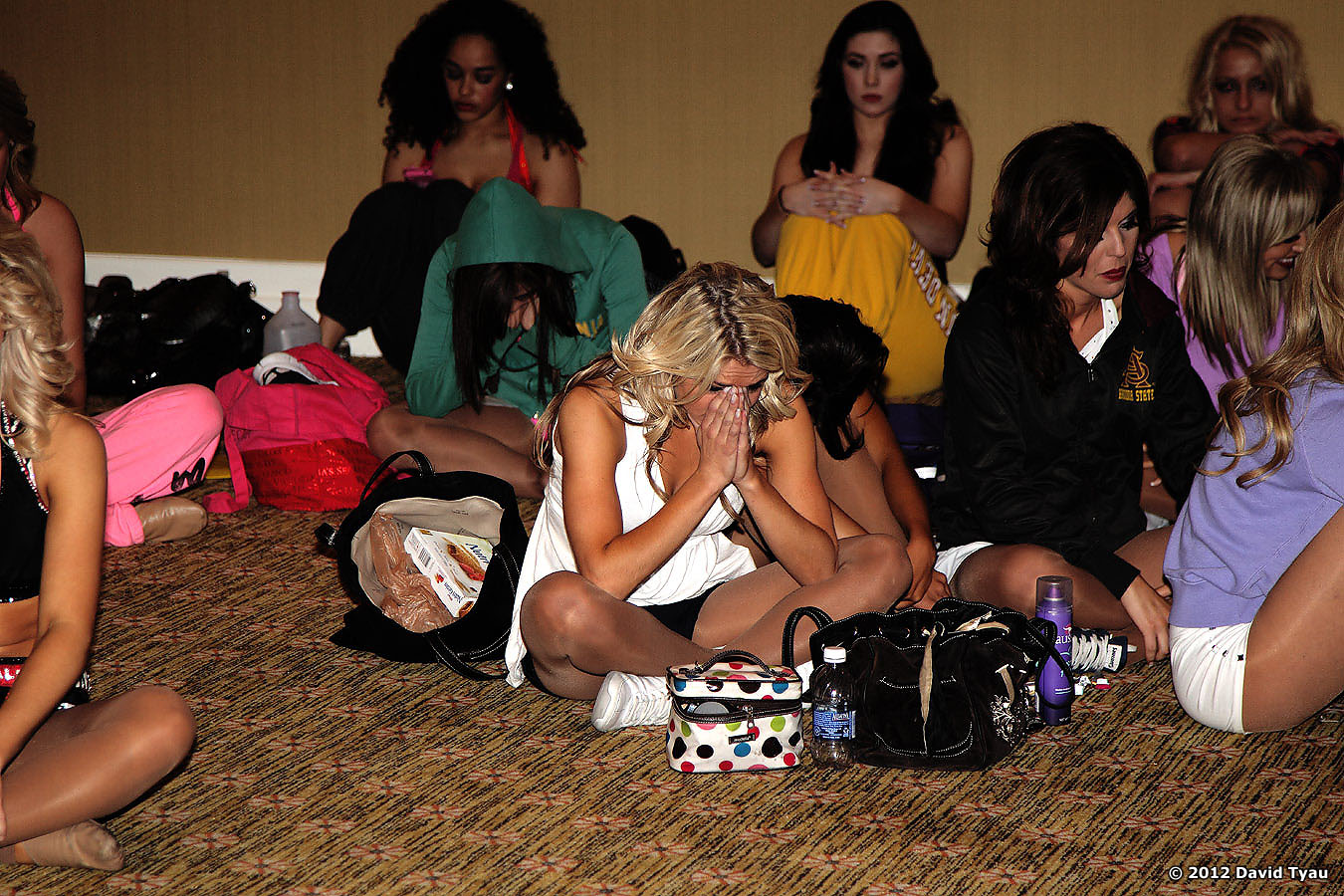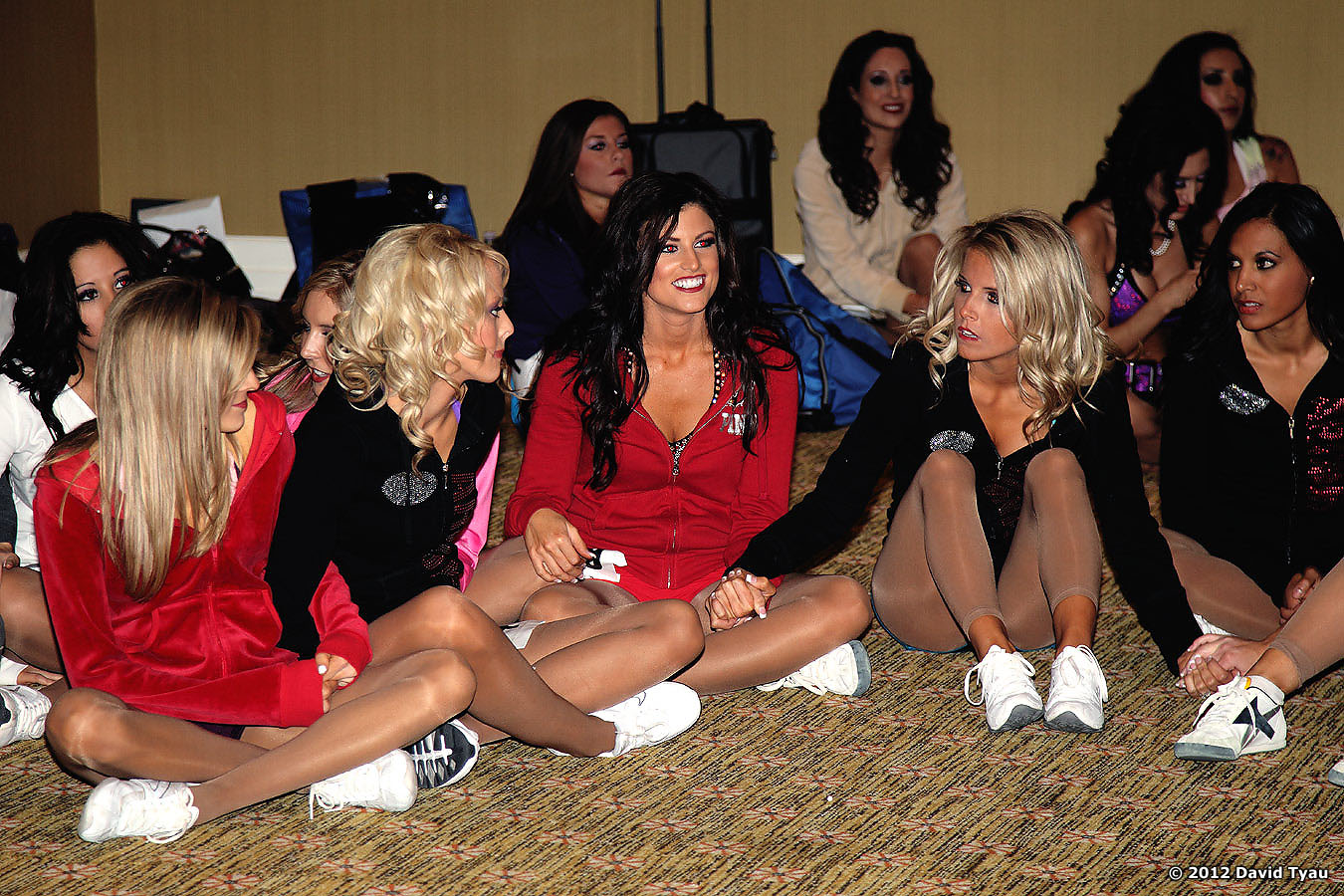 The remaining girls had little time to commiserate with those that failed to make the cut.  They had to schedule an interview time and quickly change into business attire.  The first panel of interviews would begin in 30 minutes.
As the interview portion began for the girls, my audition experience had come to an end.  I had a 400 mile journey back to Los Angeles to begin the arduous task of reviewing and post processing my images.  After more than 5,700 images and over 40 hours of labor, I had finally finished my article on the 2012 Arizona Cardinals Cheerleaders Auditions.
I hope it was worth the wait.
*               *              *               *               *
At this point, I would like to express my sincere gratitude to Heather Karberg and the Arizona Cardinals for allowing me the opportunity to cover their 2012 preliminary auditions.  I had a wonderful time and look forwarding to visiting the Cardinals again in the near future.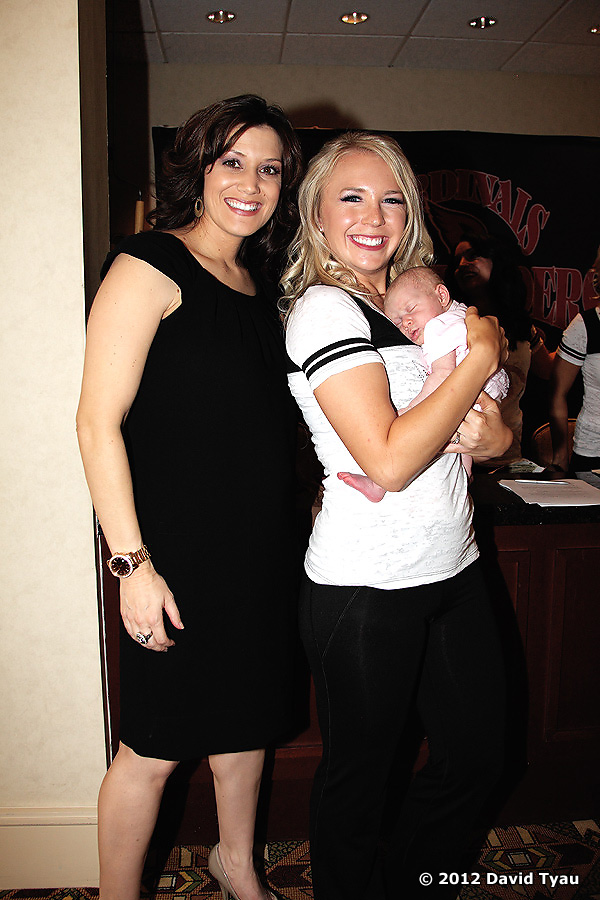 And I would like to thank Allie, Brianna, Emily J., Erin , Kristi, Michelle M., and Taryn for making me feel so welcome.  Good luck in your future endeavors.