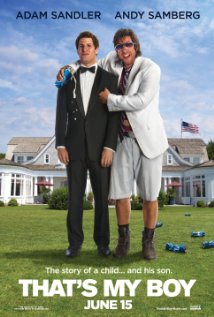 by Kody Keplinger
Poptimal.com
April 4, 2012
Recently, I had the extreme privilege of chatting with Abigail Klein, a former Dallas Cowboys cheerleader turned up-and-coming actress who will be appearing in the comedy That's My Boy this summer. The film stars Adam Sandler, Andy Samberg, and Leighton Meester, and it was Abigail's first film.
[Watch Abigail in the trailer]
"It was my first, so that was super awesome, because the cast is insane," said Abigail, who plays one of Leighton Meester's bridesmaids in the film. "It was a lot of fun to learn from the best and be on set with all of these great people every day." After a few appearances on TV shows like 90210 and The Young and the Restless, Abigail auditioned for smaller role in That's My Boy. She was asked to read again for the part of one of the bridesmaids, and later got offered the part. "It's completely crazy to me still."
The film shot for a month in Cape Cod, where Abigail got to work with the A-list cast, about whom she had nothing but good things to say. "I was really nervous," she admitted. Her nerves came from being a new to the whole acting scene and working with such a high profile cast, but she had nothing to worry about. "It was so relaxed and so fun."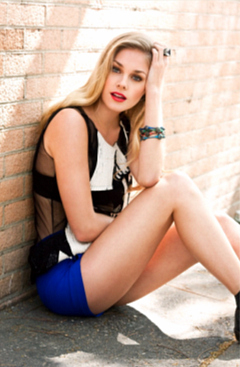 Before heading out to LA, Abigail was a dancer, even being one of the prestigious Dallas Cowboys Cheerleaders for three and a half years. She has a background in jazz, tap, ballet, and lyrical dance. "I never took any acting classes. I never made time to do anything else but dance," Abigail said. But after a while, she needed a change in pace. After visiting a friend on the set of Iron Man, she said that acting and film began to intrigue her. "I loved how everybody was working together. I loved the energy and the vibe."
While Abigail has stopped dancing for the moment, she is open to the idea of starting again, especially if it relates to a role. With dance movies like Step Up and its sequels hitting the box office fairly regularly, that might not be out of the realm of possibility.
Looking to the future, Abigail is keeping an open mind about her career. "My approach has been taking acting day by day," she told me. "I think I'm open to what's meant to be."
But she does have a few dreams. When asked about someone she'd love to work with in the future, Abigail said, "I think it would be so cool if I could work with Tim Burton." She cited The Nightmare Before Christmas as one of her favorite films, saying she and her parents used to watch it every year.
Be sure to catch Abigail in That's My Boy, in theaters this June. You can also keep up with her on twitterand catch her in Easton Corbin's upcoming music video, "Lovin' You Is Fun." Take it from me—she's one to watch.