Weddign Season Replaces Football Season When "Dallas Cowboys Cheerleaders: Brides" Premieres Friday, June 2 on CMT.
New One-Hour Special Follows Three DCC Cheerleaders As They Plan Their Weddings
CMTPress.com
NASHVILLE – May 25, 2012 – It may be off-season for football, but wedding season is in full swing and three Dallas Cowboys Cheerleaders are trading in their pom-poms for veils when DALLAS COWBOYS CHEERLEADERS: BRIDES premieres Friday, June 2 at 8:00 p.m., ET/PT on CMT. The one-hour special features current cheerleaders Cassie Trammell and Sunni Cranfill and former cheerleader Trisha Trevino as they juggle work, school and practice all while planning their dream wedding.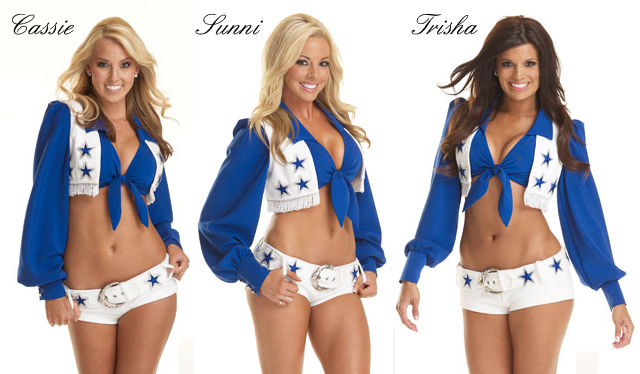 If there's one similarity among Texas brides-to-be, it's the person standing beside them throughout the entire wedding planning process – their mother. This is no exception for DCC cheerleader Cassie Trammell, daughter of DCC choreographer Judy Trammell. In the weeks leading up to Cassie's big day, Judy is right by her side, whether it's for dress fittings, cake tastings or her bachelorette party.
The same goes for third-year cheerleader Sunni Cranfill, also featured in the special, as she plans for her June wedding. Because her mother lives farther away, Cranfill enlists the help of DCC director Kelli McGonagill Finglass in picking out her reception dress and the white cowboy boots that will go with it. Trisha Trevino, who retired from cheerleading in 2010 after six years, also turns to Finglass for guidance as she begins preparations for her 2013 Dallas wedding. Trevino makes a special trip back to Valley Ranch to surprise her former coach and see what motherly wedding advice she can offer. Throughout the one-hour special, each bride demonstrates how the DCC organization has become such an integral part of their lives, providing love and support leading up to their memorable day.
Click on photos to view full size
DALLAS COWBOYS CHEERLEADERS: BRIDES is produced by Triage Entertainment with executive producers Stu Schreiberg, Stephen Kroopnick, Eugene Pack, Jeff Cvengros and Kelli McGonagill Finglass. Melanie Moreau and Jayson Dinsmore are executive producers for CMT.