Terra Saunders' Dallaswear hit the scene with a big bang last year. Her collection of auditionwear is an equal mix of Fun, Fancy, and Functional. (Ha! I didn't even do that on purpose. How about Fantastic, Far out, Futuristic, ….I'm getting off topic. My point is Dallaswear is known for adding glam and lots of sparkle, and offering many options for dialing the sexy up or down to suit your taste. Look no further than the "Super Bling" items: separates that come pre-studded with tons of sparkling crystals.
And it doesn't hurt that the clothing is modeled by past and present Dallas Cowboys Cheerleaders!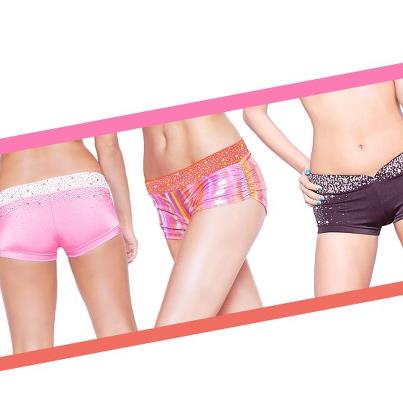 That is the sparkliest sparkle that ever sparkled (excepting the entire city of Las Vegas.) You want to grab the judges' attention? Get these shorts, and they'll be able to see you from the Moon.
You're still looking at them, aren't you?
Especially the ones on the right. That detailing is beautiful.
This is a great option for those who lack the patience-slash-coordination-slash-creativity to sit around gluing Swarovski crystals all over everything. Yeah, it's probably less expensive to DIY the crystals, but let's be honest, ladies. If some of you (and you know who you are) try this at home, you're going to wind up with your fingers glued together, some raggedy home-ec-looking mess, and a last-minute trip to the mall for a replacement outfit. Please. Let Terra handle it for you.
I was wondering what Terra was up to for 2013, so I moseyed over to the Facebook Page and ran right smack into this sneak preview: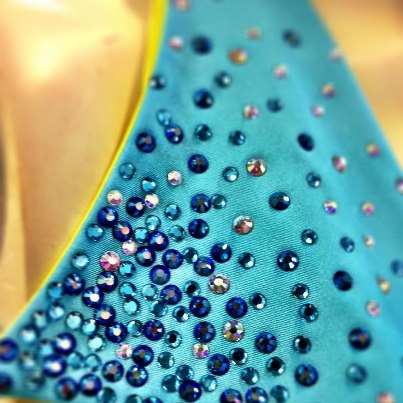 Say it with me "….oooohhh that's purty!"
I don't even care what it is, it's gorgeous. It looks like Dallaswear has some real knockouts in store for us. The new stuff is coming out soon. And I hear there are chaps. CHAPS. Yee-haw!
Side note: the next thing I came across was this: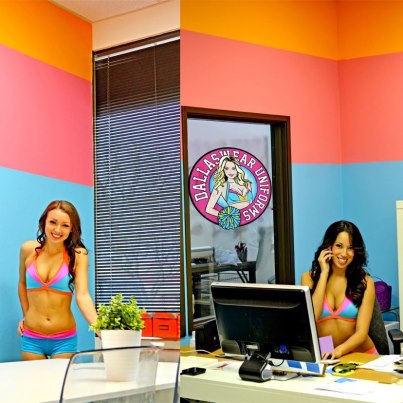 The first thing you notice is the paint job…and then your eye moves down. Whoa! Clearly this is a work environment like no other. I just hope…I really really hope…they don't have any men working there. I really don't want to see that.