By Mikala Kane
Telegram.com
July 5, 2013
AUBURN — Almost two weeks ago, Cartier Hebert's life was turned upside down
The 18-year-old from Auburn was planning to attend the University of Massachusetts at Amherst in the fall for her freshman year, perhaps to major in business. But on June 24 that all changed when she was selected to be a member of the Boston Celtics dance team.
The Celtics dance team performs at all Celtics home basketball games, unless the team makes the playoffs — then the dancers travel with the team. This year, 20 young women were selected for the team, Ms. Hebert among them.
Tryouts were held in three cities: Los Angeles, New York and Boston. Thirty young women advanced to the final audition day, June 24, and the 20 team members were selected.
Ms. Hebert auditioned for the dance team on a whim. "To be honest, I literally found out about the audition (June 19)," she said. "I always wanted to pursue dance, but I never thought I could make it."
Ms. Hebert has been dancing since age 3 at the Cathy Taylor School of Dance in Auburn, and has been on the school's competition team since age 6. Over the years she has won championship titles and scholarships at competitions. "I really love ballet, but at the same time like performing," she said.
Ms. Hebert attended the Boston audition for the Celtics dance team, which was on June 22. She said one of her teachers and the assistant director at Cathy Taylor School of Dance, Javin Hammond, was the one who pushed her to audition. Mrs. Hammond said she had auditioned for the first Celtics dance team back in 2006 and knew what Ms. Hebert would have to prepare for.
"The dance community is a tight-knit group, and I had heard that other teachers and colleagues of mine were auditioning," Mrs. Hammond said. "I will be honest, I first heard about it and discussed the option with Cartier after our rehearsals late on Wednesday evening. She had a lot of questions about the process and wanted my opinion if she should consider attending. I've always approached any kind of audition with the 'go-getter' attitude that it is never too late."
If nothing else, Mrs. Hammond thought the audition would be a good experience for Ms. Hebert. "As her teacher, I am always pushing her to try anything and everything," Mrs. Hammond said. "Experience, good or bad, is necessary in developing a strong dancer. I was so excited when Cartier first showed interest in auditioning because my initial instinct was most definitely she would be a great fit."
Marina Ortega, director of the Celtics dance team since 2006, evidently thought so, too. "I had watched (Ms. Hebert) throughout the preliminaries," Ms. Ortega said. "I thought she approached the preliminaries very maturely. It's been a while since I've seen a dancer approach the preliminaries with such confidence."
Ms. Ortega also said Ms. Hebert was consistent all the way through the final audition as well, where dancers had to perform a jazz routine, a hip-hop routine and a solo. "Cartier was a standout in being able to do all three," Ms. Ortega said.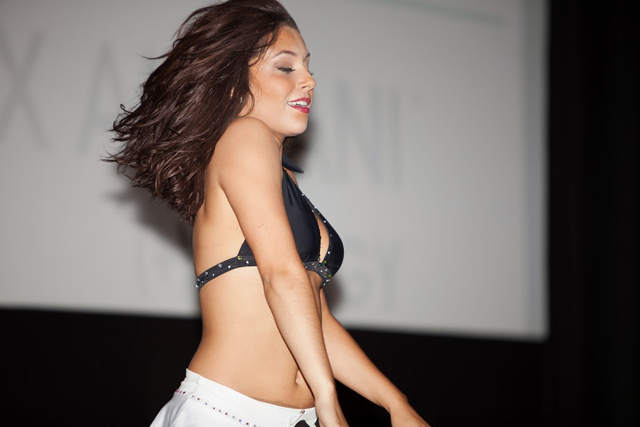 "I didn't think at all I would make it," Ms. Hebert said. "I actually messed up in one of the jazz routines. But they called my name and I made the team."
Because she made the team, Ms. Hebert is required to move to Boston by mid-August, when practices are supposed to start. She said three young women who also made the team have already asked her to live with them. However, relocating to Boston makes it impossible for her to attend classes at UMass Amherst. Ms. Hebert said she hopes to do online courses instead.
"I definitely want to continue with my education," Ms. Hebert said. "It's really important to me. I still want to graduate with the class of 2017."
Ms. Hebert's schedule is going to be packed. Celtics dance team members are not only required to attend rehearsal two to three times a week, but they have to arrive three hours before the start of every game — there are two or three a week during the National Basketball Association season. Celtics dancers also do public relations events for the team, such as photo shoots, meet and greets, and other outside performances.
Ms. Ortega said it is almost a full-time job, requiring 20 to 30 hours each week.
Ms. Hebert said her family supports her fully in joining the team. "I kind of tossed them into a whirlwind," she said. "They want me to do this. They know it's a great experience."
If Ms. Hebert wishes to remain on the team after this season she, like all the other current dance team members, is required to re-audition. Right now she is unsure how long she wants to remain on the team.
"I think it's a good start for me and lets me be a good role model for other girls at my dance studio," Ms. Hebert said.
"Cartier has always been incredibly hard-working, respectful and humble," Mrs. Hammond said. "Though she is so fortunate to have this new opportunity, I feel the Celtics are equally as lucky to have gained her as a member on their team. We could all stand to learn something from her."
"This time last week I had no clue," Ms. Hebert said about how her life has changed. "This is like a dream come true."