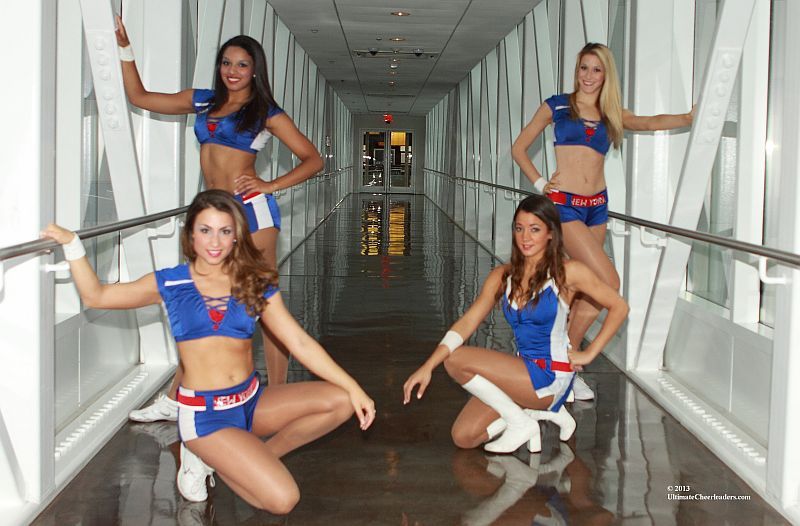 In just their third season, the talent and dedication of the Gotham City Cheerleaders (GCC) has caught the attention of another international sports entertainment company for their second overseas appearance this year. This trip, however, is in search of elite dancers that aspire to perform with the GCC in New York for the GCC's Super Tailgate Football Party during the week leading up to Super Bowl XLVIII.
Japan's mega sports entertainment company, World Sports Community, Inc (WSC) launched their vision of a pro cheerleading team, Loicx Girls, as a means to open performance opportunities for aspiring dancers. The Loicx Girls have performed for various sporting events across the country and are now ready to make their New York City debut with the Gotham City Cheerleaders.
Ana De Villegas, Executive Director and Choreographer of the GCC, will teach an intense 2-day workshop that will run from 8:00 a.m – 5:00 p.m. together with GCC captain, BriAnna and 2nd year GCC veteran, Kaitlyn. What started as a workshop for Japanese dancers has now evolved to an audition process that will culminate with hundreds of dancers competing for ten (10) spots to join the GCC in New York City come January, 2014.
"It's humbling and inspiring to travel abroad and teach dancers who want to join our team. What WSC is doing in Japan is in line with the spirit of the GCC, which is to provide avenues for dancers who work hard to live their dream of performing on numerous platforms," said De Villegas. "We are excited about our new partnership with Loixc Girls and look forward to selecting the best dancers to join us for our blow out tailgate party. It's innovative, it's ambitious; it's a reflection of the GCC's foundation."
Mic Eto, the CEO of WSC, is enthusiastic about the partnership with the GCC as they expand their company for sports fans in Japan. "I'm honored to hold this cheer dance event with the GCC. Japanese top level dancers will participate in this event and they are all looking forward to meeting these NYC dancers that they have been following on social media."
WSC is the only company in Japan to offer a sports support service for Japanese sports fans since 2008. "WSC's mission, like the GCC, is sharing joys and memorable sporting events with fans all over the world. We will continue to produce these opportunities of sports entertainment with overseas teams. I'm looking forward to meeting many American sports fans in NY come January," said Eto.
New York dancers can also audition for the playoff season squad and GCC variety show team. The GCC is hosting a one day audition on Sunday, December 8, 2013 at 3:00 p.m. – 6:00 p.m. at Equinox on Wall Street. For more information and to pre-register, dancers and promo models may visit: GothamAuditions.eventbrite.com.