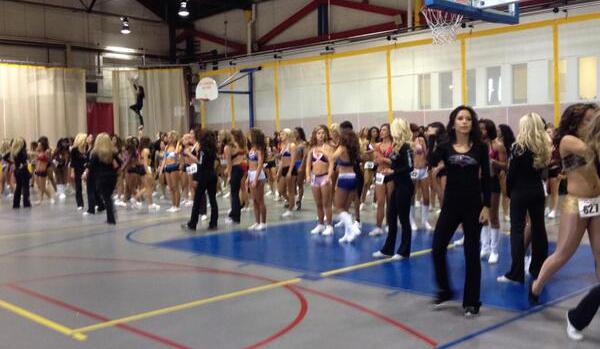 Monique Griego
CBS Baltimore
Marcy 8, 2014
BALTIMORE (WJZ) — It's a coveted spot that requires good moves and a lot of dedication. Saturday, Ravens cheerleader hopefuls converged downtown for auditions.
Monique Griego has more on what it takes to make the 2014 team.
You could say competition is stiff, but everyone here has moves. That ups the pressure for hopefuls vying to grab a spot on the Ravens 2014 cheerleading squad.
"They just come in with something that sets them apart from somebody else," said William Stokes.
Stokes is the Ravens' stunt coach. That's one branch of three that make up the team.
"We have dance females, stunt females and a coed team which involves males," he said.
This weekend, nearly 200 men and women came to the Downtown Athletic Club for auditions. And mixed in with the newbies warming up their dance skills are the veterans.
Dressed in black, they get a bye day Saturday but Sunday, it's a level playing field.
"This will be my sixth year if I make the team again," said veteran dancer Serena B.
Veteran Serena B. says her motivation for making the team is thinking about the excitement of being on the field.
"Once you've cheered on game day, running out of that tunnel, having that taken away from you, not being able to do that again is the scariest thing," she said.
So what does it take to be chosen? Judges are looking for dance skills, dedication and, of course, a million dollar smile—but that's only the beginning.
"This is just the first two rounds of a very long process which includes an interview portion, a physical and also to see how they'll kind of gel with the program," Stokes said.
While the job of cheerleader doesn't pay much, those who make the squad say it's about so much more.
"You get to make memories that you would have never been able to make and those things are so much more valuable to me than a paycheck," Serena B. said.
The entire tryouts process lasts through March. The results are announced April 1.