This is a guest post from out good friend Elizabeth Morgan an alumnae of the CFL Toronto Argonauts, CFL Hamilton Tiger Cats and NFL Buffalo Bills Cheerleaders.
On October 18 at the Rogers Centre in Toronto, fans were treated to an exciting halftime show performed by the CFL Toronto Argos Cheerleader Alumni. The event was part of the Argos' annual PINK game to raise money and awareness for women's cancers. This year's cause specifically was Ovarian cancer. Touches of teal were sported by the ladies, among the PINK and of course, the Argos' traditional double blue colours.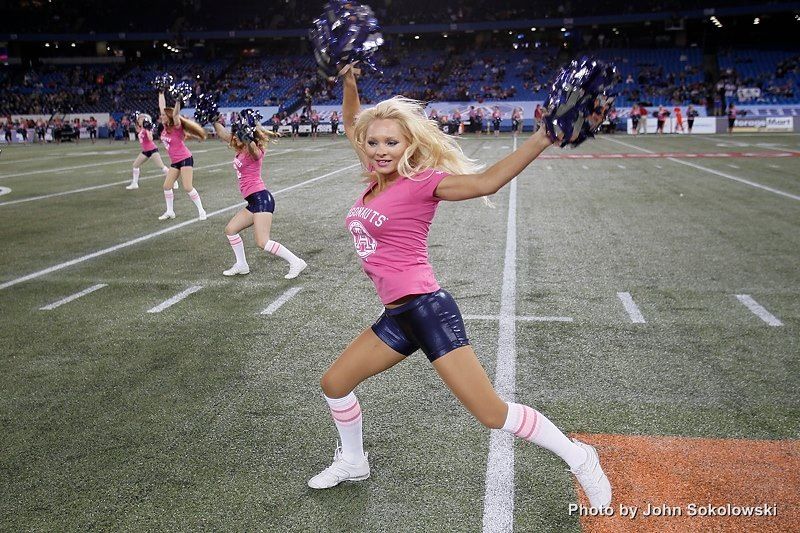 Elizabeth on the field
Close to 100 ladies, who cheered for the Argos from the 1970's up to 2013, performed a five-minute routine that featured retro, rock, hip hop and pop music. After just a few pre-event rehearsals and a quick run-through all together before the game, the talented ladies of the double blue took to the field at half-time to thunderous applause. They danced while video images of the Argos cheerleaders from many decades graced the Jumbotron.
The groups who performed include the 'Double Blue Thunder' Argos Alumni Cheerleaders (1996-2013) and the Argos Sunshine Girls (1970's-1996).
Group shot of our 1996-2013 gang, at our second rehearsal
Women's cancers have touched the lives of each of these alumni, either directly or through family members/friends battling the disease. Thus, this performance was an important demonstration of support and of teamwork to further research, treatment and support.
The Toronto Argos played the Montreal Alouettes at this home game. While the Argos lost this particular game, it was still a resounding victory for the ladies and the PINK cause!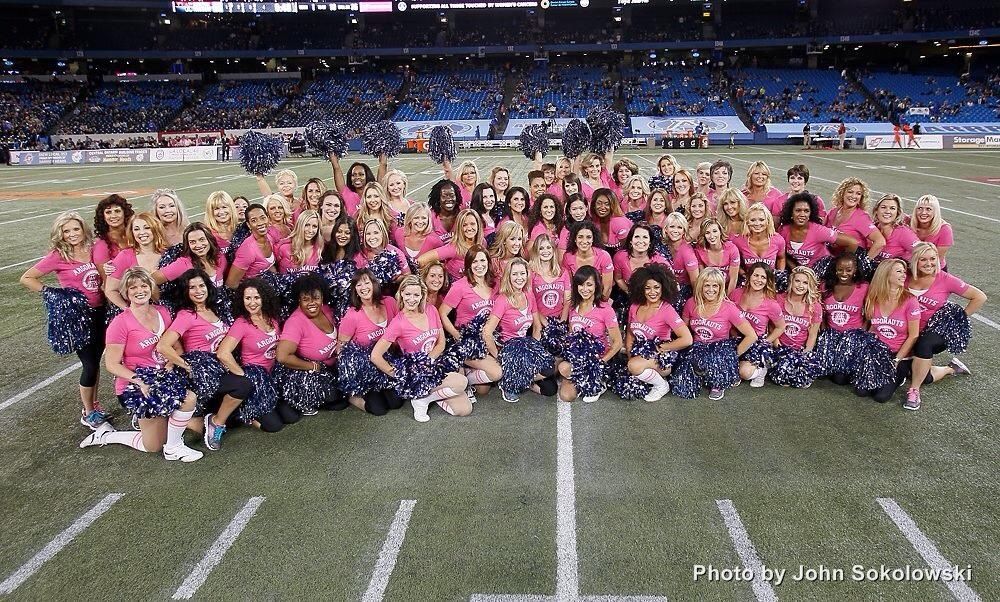 Group shot of all the ladies on the field right after we performed the halftime show.
Besides the game performance itself, this experience represented a special opportunity to reconnect with former teammates, share memories and enjoy time together with our Alumni sisters. Following the game we danced the night away in downtown Toronto! I was honoured to participate in this game with my fellow Alumni for the fourth year in a row and we are already looking forward to next year!