Twin sisters Karmen and Kirsten Nyberg fulfilled a lifelong dream of becoming professional cheer and dance team members in the NFL
Tim Evans
Augustana University
September 29, 2015
Some things never change. The same mantra goes for former Augustana student-athletes and current members of the Minnesota Viking Cheerleading team Karmen and Kirsten Nyberg.
Cheering for the Augustana Vikings as kids, cheer and dance team members, and now alumnae, they still cheer for the Vikings, with the only difference being the level of play and the color of the uniform.
Sioux Falls natives and twin sisters, Karmen and Kirsten Nyberg fulfilled a life-long dream and became members of the Minnesota Vikings Cheerleading team this summer. Growing up in Sioux Falls, Karmen and Kirsten were immersed into Augustana athletic events at a young age but neither really remembers the games. It was the cheerleaders that caught their attention.
"We grew up going to Augustana football games and rather than watch the game, we would watch the cheerleaders on the sideline," Karmen said. "We were always just blown away by them and it was something we knew we always wanted to try."
You would not have been able to find a busier pair of student-athletes on campus during their time at Augustana. Karmen and Kirsten never had a season off. Preparing for cheer and dance in the late parts of summer and into the fall, they also spent numerous hours on the track in the Elmen Center in preparation for the indoor track and field season. As the winter wore on, cheer and dance resumed, now moved indoors to basketball games, but the training never ceased as the two were talented sprinters and relay runners on the Vikings track and field squad.
"We really learned about time management and dedication during our time at Augustana being involved in so many things," Karmen said. "We've definitely benefitted from that now being a Minnesota Vikings Cheerleader."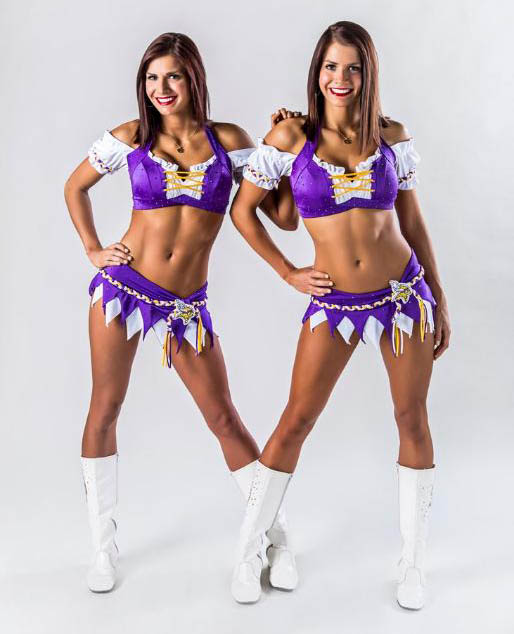 The hectic schedule and lifestyle has helped them adapt to the life in professional sports and being a member of a professional cheer and dance team. Karmen and Kirsten can now be found substitute teaching in the Minneapolis area as well as attending graduate school all while juggling the craziness that ensues with being a member of the Minnesota Vikings Cheerleading team.
When able to make it work with the schedule, Kirsten can be found student teaching while Karmen is attending graduate school at the University of Minnesota.
"One of the great things about being at Augustana is we were fortunate enough to be able to do all the activities we wanted to, cheer, dance and track and field," Kirsten said. "Having that experience and being able to manage all of that plus academics has helped us manage the transition and schedule both personally and professionally."
Not only will you find Karmen and Kirsten on the sideline at TCF Bank Stadium on Sunday's, the two are also required to practice three times a week as well as make community engagement appearances throughout the season.
The two have experienced a whirlwind of changes since making the Minnesota Vikings Cheerleading team in May, but the one thing that has remained constant in their lives is each other.
"Being twins, we have a unique experience," Kirsten said. "We have always done similar activities growing up, including everything at Augustana between cheer, dance and track and field. I don't think we would have gone through this without each other. It has always been a big dream and goal of ours to cheer professionally together and if one of us had done this without the other, we would have felt incomplete."
Since graduating from Augustana in 2014 the two have felt a void in their life and wanted to take on the challenge of making the Minnesota Vikings Cheerleading team.
"We weren't ready to be done with cheerleading and dance," Kirsten said. "Having been involved in it for so long, we knew that the next challenge for us was to try get to that top tier level of cheer and dance and that is the NFL. Growing up in Sioux Falls we have always been Viking fans so it felt like the right fit."
Karmen and Kirsten will be making appearances as Minnesota Vikings Cheerleaders in Sioux Falls this weekend and will also be attending the Augustana football game against Southwest Minnesota State on Saturday. Prior to Saturday's game, Karmen and Kirsten will make an appearance at Nyberg's Ace on 41st and Minnesota from 10-11:30 a.m. where they will meet and greet and sign autographs.
The two will then make their way to Kirkeby-Over Stadium where they will attend the pregame tailgate event from 12-1 p.m. Earlier that day, they will also make an appearance at Augustana's junior cheer and dance camp. To join Karmen and Kirsten at Augustana's junior cheer and dance camp, register HERE.
"I'm excited to get back and be a part of the cheer and dance clinic," Kirsten said. "Sharing my passion for cheer and dance with the participants and letting them know if they work hard and they want to be a professional cheerleader, they can."
Karmen is looking forward to getting back to Augustana to experience a game day as a fan again but is also excited for the opportunity to share her experience in achieving a dream.
"Hopefully we can help give the girls an incentive to continue to chase their dreams," Karmen said. "I never would have thought growing up in Sioux Falls that I would become an NFL cheerleader. Hopefully that if it is something they learn they want to achieve, if they work hard, they can."