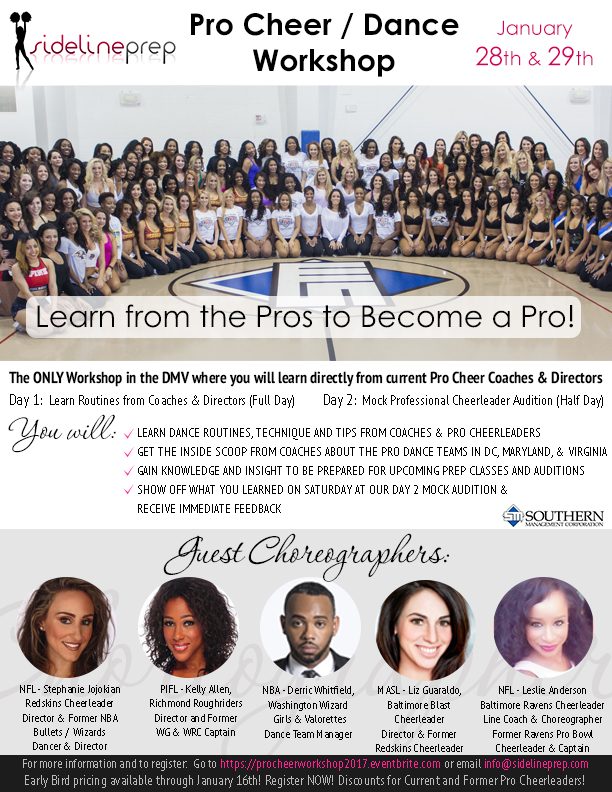 Sideline Prep is holding its Annual Pro & Semi Pro Cheer and Dance Workshop, which promises to be a fun learning opportunity! It is open to ALL dancers and cheerleaders – at any level (at least 18 years of age).
Last year we had over 140 ladies in attendance and received overwhelming positive feedback!
Day 1 is all learning/dance and Day 2 (half day) is an OPTIONAL bonus mock audition.
Pro Cheer/Dance Coaches and Directors will be teaching and/or answering questions at the workshop on Day 1:
Stephanie Jojokian (Washington Redskins Cheerleaders (WRC) Director)
Jamilla Keene (10-yet Vet and Captain for the Washington Redskins Cheerleaders (WRC) and current Assistant Director for the WRC)
Leslie Anderson (11-yet Vet and Captain for the Baltimore Ravens Cheerleaders (BRC) and current BRC Line Coach)
Derric Whitfield (Current Dance Team Manager and Choreographer for the Washington Wizard Girls & the Washington Valorettes)
Liz Guaraldo (Former WRC and Current Director for the Baltimore Blast) and
Kelly Allen (Former Washington Wizards Dancer and WRC Captain and Current Coach for the Richmond Roughriders)
It's a great opportunity to dance with and learn from other professional dance teams and ask questions of the Coaches and current Pro Cheerleaders. In addition, you will walk away with routines and sidelines to use!
Contact Sideline Prep at info@sidelineprep.com for more information.
INFORMATIONAL VIDEOS:
https://youtu.be/h4Xt0xpZsCw
https://youtu.be/xYL_kQEoW_0
REGISTRATION PAGE: