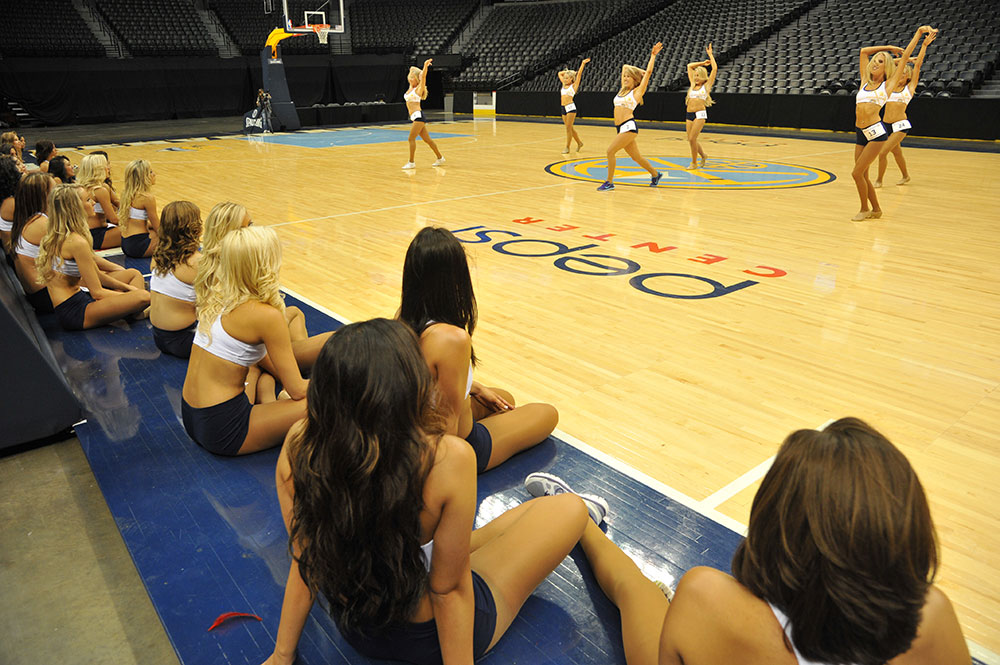 Preliminary Auditions for the 2018-19 Denver Nuggets Dancers begin on Saturday, July 14 at Pepsi Center.
Perform at Denver Nuggets home games in front of 19,000 fans per game.
Travel nationally and internationally for our annual calendar shoot, dance conventions, and NBA appearances.
Choreograph for the best dance team in the NBA.
Participate in community service projects.
Inspire young dancers through the DND Juniors program.
Perform at multiple events throughout the year.
Perform for national television audiences.
Receive benefits from multiple sponsors including hair styling, tanning, waxing services, gym and yoga memberships, and cosmetic dentistry.
Get paid for doing what you love while making lifelong friends!
2018 Audition Schedule*
Preliminary Auditions: Saturday, July 14
Registration: 9:00am – 9:30am
Semi-Finalists Callbacks (including group interviews) 1pm
Finalists Announced by 6pm
Finalists' Training Camp: Sunday, July 15 – Friday, July 20
Sunday, July 15 – Dance Rehearsal: 2-5pm
Monday, July 16 – Dance Rehearsal: 7:30-10pm
Tuesday, July 17 – Individual Interviews: (approx. 20 min each) scheduled between 8:30am and 3:30pm
Wednesday, July 18 – Individual Interviews: (approx. 20 min each) scheduled between 8:30am and 3:30pm; Photo Shoot & Uniform Fitting: 6-10pm
Thursday July 19 – Individual Interviews: (approx. 20 min each) scheduled between 8:30am and 3:30pm
Friday, July 20 – Dance Rehearsal: 6:30-9pm
Choreography Showcase / Final Dance Audition: Saturday, July 21
Check-in: 3pm
2018-19 DND Announced by 7pm
* Audition schedule subject to change.
Audition Requirements:
All dancers must:
be at least 18 years of age (by July 14, 2018) or 17 years of age with a parent or guardian present to sign a waiver on the participant's behalf
hold a high school diploma or equivalent education
wear a cropped top, fitted bottoms, and shoes with non-marking soles
submit non-returnable 8″ x 10″ headshot
submit a dance resume including any previous dance teams, classes or workshops, current employment and training, educational background, and 3 professional references
complete and submit the 2018 DND Audition Registration Form and the 2018 Liability Waiver & Release.
live in the Denver area and have reliable transportation to and from all DND practices and at least 80% of the home games in the Denver Nuggets 2018-19 season (schedule TBD).
---
Prep Classes
Audition Prep Classes are designed to introduce dancers to the style of choreography performed by Nuggets Dancers. Classes are open to all dancers over 16 years of age (Dancers under 18 years of age will need to have a parent or guardian present to sign a waiver on their behalf). Prep Classes are essentially dance classes and include:
Warm-up / Stretch
Brief Technique / Across the Floor
Dance Combo
Q&A session about auditions
A different combo will be taught at each prep class. The pace of each class is like the actual audition setting. Many dancers take ALL prep classes to practice picking up the DND style of choreography in a fast-paced environment. Individual prep classes cost $16 in advance or $20 at the door. Dancers interested in pre-registering for 10 or more classes receive a 10% discount and pay just $14.40/class!
Prep Class Dates/Times/Locations: All Prep Class will be held at Pepsi Center from 6:30-8pm.
Fri Jun 1
Mon Jun 4
Tues Jun 5
Thurs Jun 7
Wed Jun 13
Thurs Jun 14
Mon Jun 18
Thurs Jun 21
Tues Jun 26
Wed Jun 27
Tues Jul 10
Wed Jul 11
Thurs Jul 12
If you would like to receive email updates with the latest DND audition news, please email DND Manager Amy Jo Wagner at AJ.Wagner@TeamKse.com.
For more information, please visit Prep Class Info.