UltimateCheerleaders.com is proud to present longtime sponsor Satin Stitches.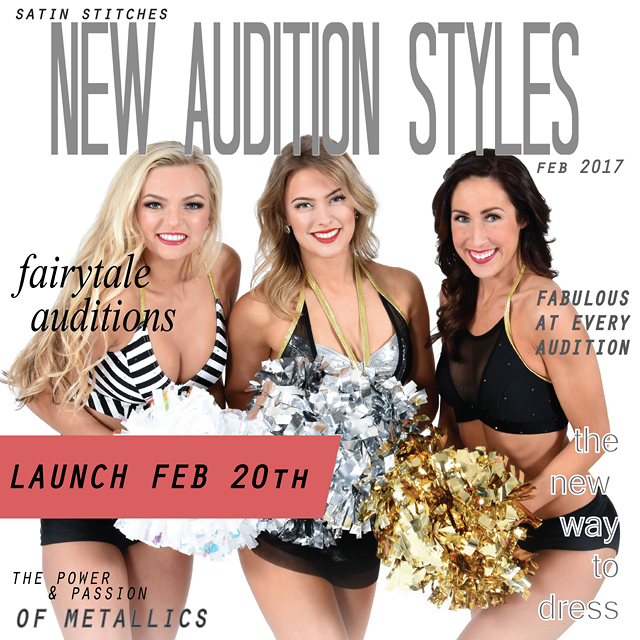 Satin Stitches Launches 2017 Audition Apparel
New Styles!
After providing solely custom costuming services as a design and manufacturing company to the dance community and abroad for the last nearly 40 years, creating very specifically designed looks for individuals and teams, we saw the increasing need for a customizable service to bring more options and convenience to our dance clients. We launched our first-ever line of customizable styles last year on our online-store to an overwhelming response from the pro dance community. Embracing that positive energy and momentum, and now in our second season, we are thrilled to add even more diverse, stunning styles to our collection and we can't wait to see what you think!
Options!
As fashion consumers and creators, we embrace trends and styles that speak to the individual and encourage one's unique personality to shine! Everything in our store can be ordered in your choice of color and fabric combinations, and of course, rhinestones added as you wish for that extra WOW factor! And because we also provide custom services, we can make a completely unique look for you based on something you see in our store, or something totally new! Whatever inspires you and your style, we want to help you to look and feel your absolute BEST SELF on your big day!
Stunning Fit & Quality!
When we sit down to create a new look, we place fit and form above all else, because we know the most important factor in creating a stunning look is to achieve a fabulous fit. Our styles are first and foremost meant to flatter and celebrate your body in all the right places and we pride ourselves on making a truly sensational design that will speak your language, both style and body. If you have questions as you are looking at our styles online, know there is a designer and fit specialist just a phone call away to assist you. Our quality is matched by our service and we want you to get the fit and style you deserve!