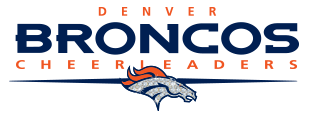 2018 Audition Information
ALL CANDIDATES MUST BE 21 YEARS OF AGE BY JULY 15, 2018 TO AUDITION.
Thanks for your interest in becoming a member of the Denver Broncos Cheerleader
PRELIMINARIES* – SUNDAY, MARCH 18
WHERE & WHEN:
Sports Authority Field at Mile High, East United Club Lounge
11:00 AM – Registration
12:00 Noon – Auditions Begin
WHAT TO BRING:
1) Photograph (any size, b/w or color, head shot or full length)
The photo will not be returned and is strictly for identification.
2) Completed application
WHAT TO WEAR:
Aerobic/dance attire and comfortable dance shoes
No hard-soled shoe
CHOREOGRAPHY:
Everything will be taught on Sunday, March 18.
You do not need to prepare your own choreography.
Approximately 50 finalists will be selected to advance to the finals.
*Preliminaries are closed to the public. Do not bring a guest with you.
FINALS – SUNDAY, MARCH 25
WHERE & WHEN:
3:00 PM – 9:00 PM / Newman Center for the Performing Arts
DETAILS:
More information will be given to finalists on Sunday, March 18.
For more information email Shawna Peters at Shawna.Peters@Broncos.nfl.net