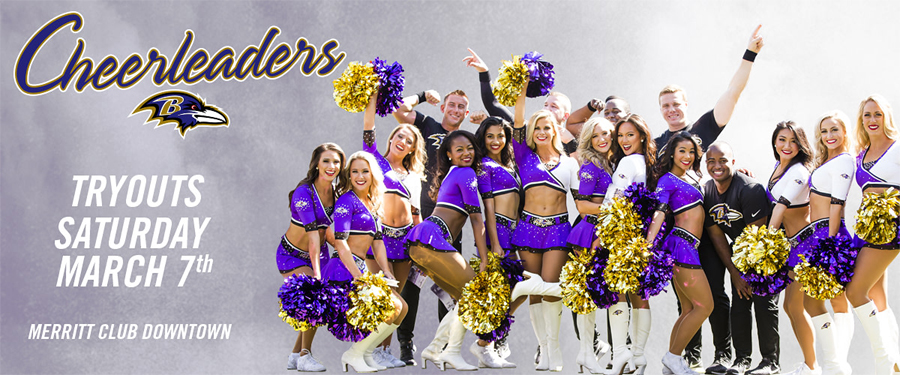 Date & Time:
Registration and packet pick up will be held between 9:30 – 10:20 AM
Materials will be taught from 10:20 – 11:30 AM
Tryouts will begin at 12:45 PM
Callbacks will be held on Sunday, March 8th at 11:00 AM at the Merritt Club Downtown.
You must park in the garage. Parking will not be validated. Auditions and callbacks are closed to the public; no spectators are allowed.
Eligibility:
You must be 18 years or older by April 1, 2020 to be considered for the squad. Proof of age may be requested.
You must be able to attend all 2020 Ravens home games & two practices per week from April – December. Practices are typically on Tuesday & Thursday evenings.
You may not cheer for another professional or collegiate team concurrently.
Judging:
The judges are looking for Cheerleaders who have physical talent and dance ability, and who will represent the Ravens brand well.
To best prepare yourself we recommend attending the 2020 Prep Clinic on Sunday, February 9th. CLICK HERE to register for the Prep Clinic.
Attire:
Feel free to bring comfortable clothes for downtime during tryouts. Make sure you bring a water bottle, and feel free to bring a lunch or a snack.
For females, please attend tryouts in:
Full hair and make-up
A two-piece dance or cheerleader costume, or sports bra and fitted shorts of your choice
White tennis shoes for stunt, boots or dance shoes for dance
For males, please attend tryouts in:
A plain white t-shirt (no tank tops or cut off t-shirts; collared shirt is preferred)
Dark colored shorts
White colored tennis shoes
Clean shaven with a clean haircut
For more information or to register for auditions, please click here.