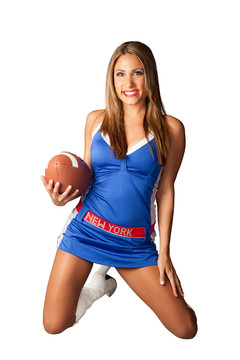 by Danny LoPriore
Port Chester Daily Voice
August 22, 2013
PORT CHESTER, N.Y. – Shana Fogz has found a way to mix business with pleasure, pursuing her professional career in business management while dancing for the New York City-based Gotham City Cheerleaders.
Shana, a native New Yorker and Port Chester resident, is currently a business applications manager for a major beer company based in New York and has been in the field for more than nine years. When out of the office, Shana is a veteran member of the Gotham City Cheer team, the unofficial cheer squad for the New York Giants.
"As a young girl I took many different styles of dance classes, but found that my true passion was cheerleading, which I did for 10 years," she said. "After college, I hung up my pom poms and entered into the business world to focus on my career."
Shana found her professional work stimulating, but missed the excitement of performing for crowds and dancing. That's when she found Gotham City.
The Gotham City Cheerleaders are a team of professional dancers dedicated to sports entertainment and the New York Giants. The team will host its first annual swimsuit calendar release on Sept. 6 at M1-5 Lounge in Manhattan.
"A few years into my career, I realized something was missing in my life, which was my love of performing for a crowd,"Shana said. "I auditioned for an National Football League cheerleading team but needed more dance experience. Cheerleading for the NFL is completely different from high school and college cheerleading because it's dance based instead of stiff movements and stunts."
Challenged to improve her dance ability, Shana decided to take weekly dance lessons to prepare another shot at professional cheerleading. She's been a member of the Gotham City team for several years.
"All of the ladies on our team are intelligent, well spoken, talented, and passionate about dance," Shana said. "It's a great honor to be a part of a team that supports the New York Giants. Each woman works hard to maintain her position on the team by attending practices twice a week, participating in charity events, and performing at various events around the tri-state area."
Shana said the Gotham girls work hard to stay active and healthy by eating clean and working out almost every day.
"We must have strong, healthy bodies in order to keep up with the dance routines we have to perform for our spectators," she said. "With the Super Bowl being held at Metlife Stadium this season, and having our very first calendar released in the next month, this is sure to be our most promising year yet."
Part of the proceeds of the Gotham calendar sales will be donated to Superstorm Sandy victims in the New York City area.
"It's only right that we give that back to the fans and local businesses that have helped us make this calendar a reality," said Ana De Villegas, executive director of the GCC and former Washington Redskins Cheerleader.