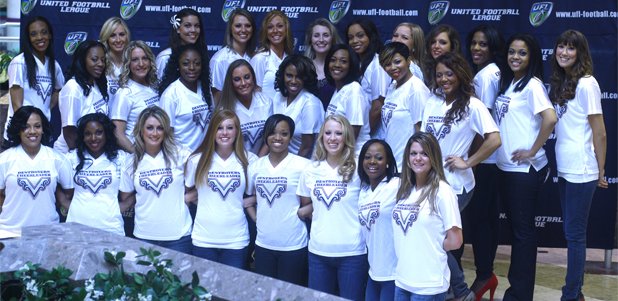 By Denise Watson Batts
The Virginian-Pilot
August 22, 2011
The excitement at this Thursday night practice is reaching the feverish pitch of a score-tied, seconds-left Super Bowl: The cheerleaders of the UFL's Virginia Destroyers are about to get their uniforms.
Only the day before, after a month's delay to the start of the season, the football league had announced the date of the team's first game.
The cheerleaders realize their five months of practicing finally will meet the turf during home games at the Virginia Beach Sportsplex.
Then one of the squad's coaches walks through the tangle of dancers and quiets them with even better news.
"Kim is on her way," she says.
A couple of dancers gasp, and they all break into cheers. Kimberly Vaughn, their director, lost her husband five days earlier when a helicopter carrying Navy SEALs crashed in Afghanistan.
In the time since, the women had respected Vaughn's space and privacy but couldn't resist doing what they do best – offering support. So they rallied electronically, offering email messages and posting prayers on Facebook.
Minutes later, Vaughn walks into the Virginia Beach dance studio with some close friends, toting her 8-week-old daughter and the box of uniforms. The cheerleaders cluster around her.
Vaughn bursts into tears and the squad members try to hold back theirs.
"I really wanted to be here," Vaughn says. "It really makes me feel better to be here."
Whether or not the Destroyers ever line up for their first kickoff, whether or not the first fans get cozy in their seats, whether or not the troubled season has a chance to once again stall, this much is clear:
These cheerleaders have already become – to use a football term – their own special team.
Getting to this point has taken days of dance practice, building stamina for long games, and too many pulled muscles to count.
While much of the attention of the past few months has gone to the United Football League and whether there would even be a third season, the women of the cheerleading-dance squad have kept their booty shorts in place and kept on high-kicking.
Many of them feel they have something to prove. They are moms and wives, educators, businesswomen, college students studying for master's and doctoral degrees. They have the job of spreading the word and stoking enthusiasm about the new team, but they also want people to know they are more than long legs and manicured fingernails.
Tia Godwin, 29, grew up in Detroit and danced throughout elementary, middle and high school. She learned about hard work from her mom, a single woman who worked two jobs to send Godwin to private school.
"I've always gotten my drive from people telling me I could not do something," she said.
Godwin was one of a handful of minority students in her Catholic high school and always thought the wealthier students attracted the eyes of teachers. Then during her junior year, she took an accounting course, studied hard and earned a perfect A. People started paying attention to her brain.
She came to the area and earned two degrees at Hampton University, and she is now a senior consultant with the accounting firm Deloitte, specializing in audit and enterprise risk services. She's finishing her doctorate in business administration. Then she'll apply to law school; Harvard and Yale are at the top of her list.
Godwin was used to staying up late to finish client reports and schoolwork when she heard about the cheerleading tryouts. Once she implanted the idea in her head, she couldn't say no, even if it meant later nights.
"Anything I would regret not doing I have to do," Godwin said.
She was named to the squad in early April, after a rigorous tryout that brought about 40 finalists to a packed food court at MacArthur Center.
Godwin is now part of the squad of 30 women who live in all corners of Hampton Roads.
Mara VanAlstine was involved in gymnastics and cheerleading while growing up in St. Marys, Pa. Since moving to Virginia a few years ago, she has concentrated more on working out and wellness, and she regularly participates in "figure" competitions, a blend of bodybuilding and fitness.
When she heard about the Destroyer auditions, the idea reminded her how much she missed performing, so she tried out and made the team. But she wants the audience to see more than a pretty face when she's onstage.
VanAlstine is an elementary school teacher who soon will begin a master's program to go into counseling. In the classroom, she sees how negative images can damage young girls' self-esteem.
Girls tend to be the ones at the cheerleaders' public appearances who watch their every move, who look up at them – and to them.
"I definitely see myself as a role model," said Van-Alstine, 29. "I want them to see where I am and to see what I'm capable of doing, and being around them lets them know they can be anything they want to be."
Outsiders sometimes look at Van-Alstine, Godwin and their squad mates and wonder why professional women would want to take on the cheerleader stereotype.
The women don't see it that way. Cheering requires fitness – the women are required to attend a gym regularly – and the routines require dance skills.
The role also taps into the women's love of both dance and sports, and it lets them be part of something bigger than themselves.
Because some people don't understand the attraction, the women find they are often their own best cheerleaders.
"We each have cheer buddies, and mine, matter of fact, works for one of my competitors," Godwin said. "But it's great to have someone who understands the struggles you go through."
The cheerleaders take part in two three-hour practices a week, but they discovered early on that wasn't enough. They started meeting in between cooking dinners and finishing laundry.
They've gone out to eat together, planned birthday parties for each other and joined hip-hop classes together to stay fit.
They celebrate their progress. They ask one another how a class or job is going. They clap at practice when the kicks that were waist-high in April now stretch to their shoulders. Head flicks are more natural, hip rolls less stilted.
At the recent Thursday practice where they're getting their uniforms, Van-Alstine and the other women are in deep stretches on the dance floor, warming up to Rihanna's "S&M."
VanAlstine sits with legs spread in a wide V, her forehead almost touching the floor's wooden surface. She peeks under her arm and sees a cheermate trying unsuccessfully to stretch herself forward.
Without a word, Van-Alstine reaches back, grabs her friend's hand and pulls her the rest of the way.
It's now two days later, and about 25 cheerleaders have returned to the site of their tryouts, MacArthur Center, this time wearing white Destroyer jerseys and black dance pants.
It's Aug. 13 – a Saturday that was to have been the date of the first game of the season. The Destroyers had been set to play the Hartford Colonials, but the Connecticut team folded the week before. The league is down to four teams, and the season's launch is now planned for Sept. 15.
Several of the women say the squad will continue to perform if the season is suspended again. They've become the region's unofficial cheerleading group and have various gigs scheduled through the summer and fall. This gathering at the mall's first-floor center court is a back-to-school rally.
About 200 onlookers line the upstairs railings and mill about the T-shaped stage and vendors' booths. League officials introduce some players.
It is a pep rally in serious need of some pep. The players' voices get lost in the vacuum of the mall, and shoppers are busy picking up freebies lining the area.
"We have a football team now?" a woman asks another as they check out the free bottles of vitamin water on a table.
"I guess," the other says, shrugging, as she tugs the hand of a little girl toward stores, away from the rally.
The little girl, though, glances back at the group of eight cheerleaders climbing the stage with blue pompoms that shimmer as they move.
The first notes of Prince's "Kiss" start thumping, and the cheerleaders start swinging their hips and arms, tossing their heads and working up a sweat, trying desperately to pump up the crowd.
A few onlookers tap their flip-flops to the beat.
Then in the back, near the Yankee Candle store, shouts of "Let's go, ladies!" and "Work it, Whitney!" and a string of "Woo-woos!" drown out Prince.
It's a small knot of other Destroyer cheerleaders, shaking their pompoms, doing what they do best: cheering on their friends.