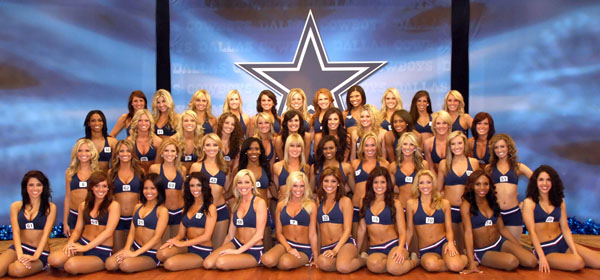 by Orlan H. Ree, Jr.
Cheer Times
Click here for a bigger version of the photo
After two exhausting weekends in which better than 700 hopefuls sweated and toiled through three rounds of auditions, the Dallas Cowboys Cheerleaders selected 44 candidates for training camp.
In professional cheerleading, there is nothing else like the DCC's Training Camp, a two and a half month long process in which candidates experience a myriad of sculpting, from learning table etiquette and public speaking to hair pops and leg kicks.
"We are looking for attractive, poised and talented entertainers who can be molded into elite performers and outstanding role models for our world-class organization," said Kelli Finglass, Dallas Cowboys Cheerleaders Director.
By the end of training camp, the final roster will be trimmed to approximately 36 cheerleaders.
A note from Sasha: You'll recognize a few familiar faces, I'm sure, including the veterans and some ladies you may remember from prior seasons of "Dallas Cowboys Cheerleaders: Making the team." However, you may or may not recognize Malia (back row, second from the left), and Jackie (2nd row, 5th from the left.) Malia was a Houston Texans Cheerleader (2005-2007) and Jackie was a member of the San Francisco 49ers Gold Rush (2005-2009). Work it out, ladies!
There are a couple other faces that look familiar, but I can't quite place them. If you recognize anyone else in the photo drop me a note at sasha@procheerleaderblog.com 🙂