Tracy Kornet
CBS DFW
February 28, 2012
CARROLLTON (CBSDFW.COM) – She's got the drive, the figure, and the discipline of a Dallas Cowboys Cheerleader. But does Sharon Simmons have what it takes to dance alongside some of the most visible women in the world? She'll soon find out when the Carrollton resident auditions to be a Dallas Cowboys Cheerleader.
She's also a grandmother of two.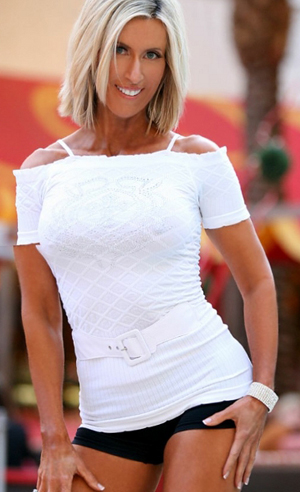 "I'm 55. And in May around the competition, I'll be 56," explained Sharon Simmons. "On stage, I blend right in with women in their 20, 30s and up."
Simmons was asked if she believes there is a physical difference between her body and those of the 19-year-olds trying out? "Absolutely no difference," she declared.
Sharon Simmons is an author and national fitness competitor who embraces what she calls "defining moments." She had one last December, when she used the Cowboys cheerleader uniform as inspiration for a fitness costume.
"I thought that's something I never tried. I always wanted to try out. I got real close in my early 20′s but got busy raising my daughter. And I thought, why not now?"
So she contacted her choreographer, who suggested a dance studio, who recommended seeking Audrea Cowen [née Ulmer] for help–a former Cowboys cheerleader -now- dance instructor at Plano's K.J. Dance Studio.
The two work weekly on routines and fundamentals, both in group and private lessons.
Simmons says her strength is in the competition itself. "I don't get overly nervous. I'll be find talking to the judges. I'm used to being on stage."
But will that be enough to earn a spot among these high-kicking icons? Cowen says dancing is an entirely different ballgame.
"The flexibility required to be a cheerleader is greater than what she needs for fitness competition," Audrea Cowen explained.
Sharon admits at 55, memorizing the fast-paced routines is tough. But she's giving it her best shot, whether she makes it or not.
"I love life. I'm having a blast. I'm having a ball."
Simmons has ten more weeks to rehearse. Auditions to be a 2012 Dallas Cowboys Cheerleader happen May 5 and 6.