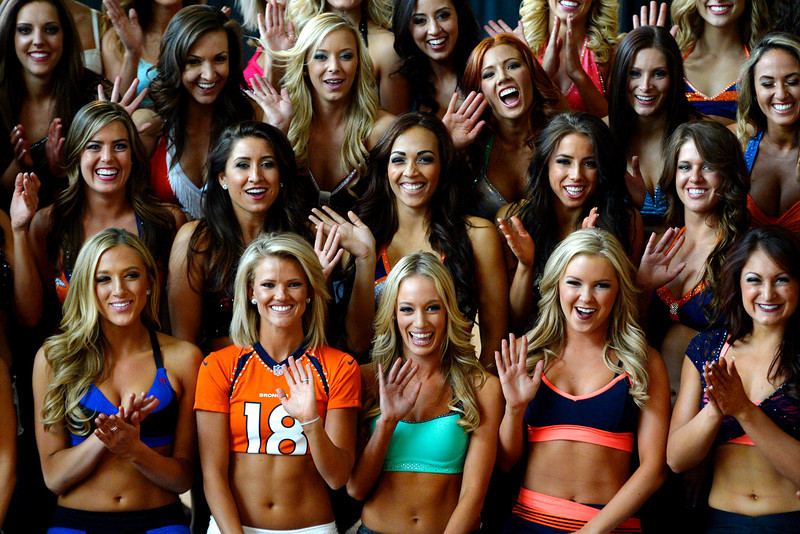 By Joey Bunch
The Denver Post
March 30, 2014
The 154 candidates for the 26-member Denver Broncos cheerleading squad Sunday afternoon needed more than high kicks and a beautiful smile.
They also might need a second job.
"We want beautiful women out there representing the team, but they have to be intelligent," said Teresa Shear, the Broncos' director of cheerleaders and game entertainment, as dozens of women clad in blue and orange practiced dance steps and twirls nearby. "They interact with the fans and represent the team."
Besides cheering at 16 regular-season games and the playoffs, the squad makes more than 100 other appearances and instructs the Broncos' Junior Cheerleaders.
Before the 56 finalists can make the team, they must undergo background checks, interview with team officials and take a test on their football knowledge.
[PHOTOS: Denver Broncos Cheerleader tryouts]
[VIDEO]
NFL teams won't discuss how much cheerleaders earn, but the low pay has become a controversy. Online petitions seek to raise the wages, noting the millions of dollars players and team executives earn.
Stephanie Anderson of Niwot was trying out for the fourth time. Her sister Brittany made it last year.
"I've been dancing since I was 2," said Stephanie, who also teaches dance. "It's in my blood."
Claire von Nieda said her company would relocate her job from Salt Lake City if she makes the squad. Gioia Bartalo came from Florida. Her father, Steve Bartalo, played running back at Colorado State before a stint with the Tampa Bay Buccaneers.
"Being from Tampa, my favorite games were always the Broncos and the Bucs," she said.
Toni Gabrielli moved to Denver from Minneapolis two years ago as she made the squad, and within a week also had a job as a career counselor at the University of Denver.
"Fate kind of worked things out," she said.
The finals are next Sunday at 6 p.m. in the Ellie Caulkins Opera House.