Editor's note: Its audition season and The Line Up, a long time sponsor of UltimateCheerleaders.com, has published a series of no stress audition tips. They have graciously agreed to let us share their information with our readers.
Posted by Meagan on Jan 18, 2018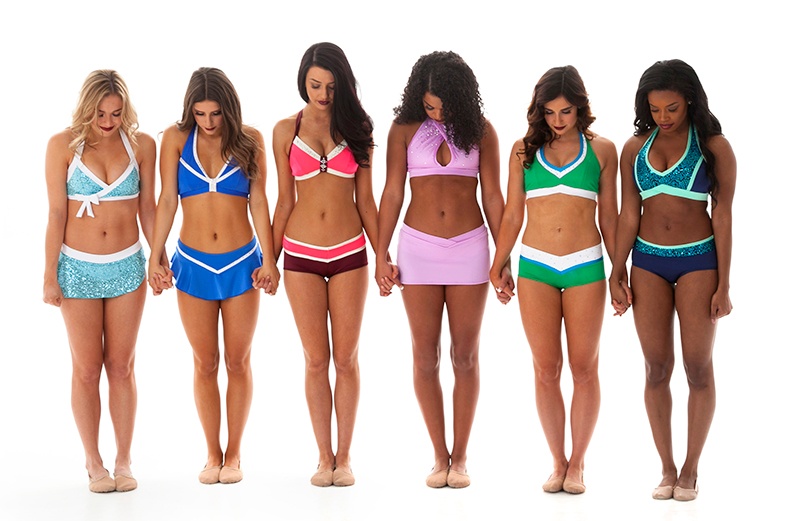 It's officially audition season for pro cheer and dance teams! That means it's time to get prepared – do you have your audition outfit, routine, and important dates organized in one place? We've compiled a a general timeline to follow before your audition, with a few tips and tricks to keep you on track and looking your best! Our biggest tip: plan at least 3-6 months in advance of your tryout date to be prepared! Read on to find out more.
6 Months to 1 Year Out: Plan Your Year
After figuring out your team's official audition times, it's time to sit down and plan out your year. Keep track of important dates, set goals, and get organized so you feel confident and ready going into your audition!
Figure out your "in hand date" for your audition outfit (we recommend one month pre-audition!) – this is when you'll need to receive your outfit in order to get it in time to prepare for the big day. So plan 2-8 weeks backwards from that for your order date!
Research if there are any prep classes, deadlines, clinics, and information sessions that you can attend – and try to make it to all of them! These will help you get to know the expectations of the team and get a feel for the audition process.
Set fitness goals throughout the year to easily manage if you are staying on track. Establish your beauty routine at this time as well – spray tan, skin care, and hair. Try out different hair and makeup combinations to see what looks best on you!
Budget your expenses for travel, time off from work if necessary, and of course, your audition outfit.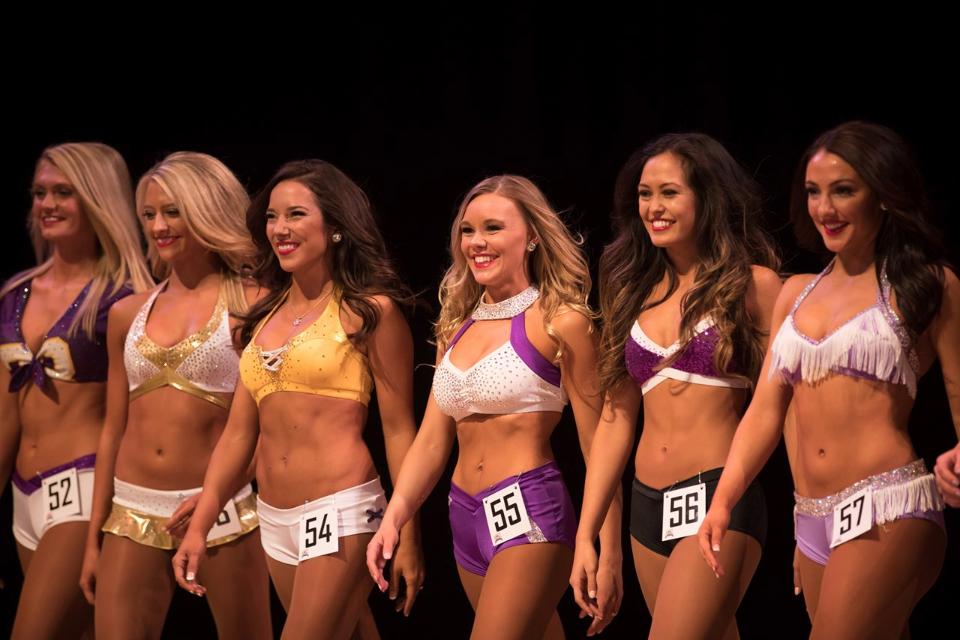 4-6 Months Out: Plan Your Audition Outfit and Schedule a Photoshoot
Its time to start planning your pro cheer audition outfit! Here are a few tips to get started:
Research past pro cheer auditions to get a feel for what people usually wear and know the rules for audition apparel. To look the part, you won't be able copy a team's cheer uniform exactly because of copyright concerns, but you can create a similar look and feel with a different style. Also, many teams require that your outfit be certain colors – usually the team's colors.
Plan ahead for your photoshoot. Most teams will require a headshot or photo composite, (shown below) so make sure to order your audition outfit early if you want it for these photos.
Find out if you need more than one audition outfit. For NBA and NFL dance teams, there are multiple rounds of auditions and many dancers like to wear different looks for each. Swap outfits with friends, or if your budget allows, buy multiple try out outfits for a variety of looks. Save your special outfit for semi-finals and finals, though!
Request fabric swatches before you order. If your audition outfit will be made-to-order and non-returnable, ordering a fabric swatch is the perfect way to make sure you're choosing the right fabrics and colors before making a bigger investment.
Keep your body type in mind to ensure the best fit possible, and also choose a style that represents your personality. For example, if you need to wear an bra underneath your top for extra support, make sure the top you order has a bra band wide enough to hide your undergarments. For more outfit tips, check out our blog "15 Things to Consider for Your Pro Cheer Try Out Outfit"
Think about the outfit's balance. "You want to think about the WHOLE outfit. Plan your outfit so that the top matches the bottom," explained veteran Minnesota Vikings Cheerleader Taylor. Plain black shorts are always an easy option, but if you go the extra mile to match the colors of your top to your bottom, you'll have a more polished and put-together look!
Think about what accessories you'll need with your outfit– tights, earrings, undergarments, shoes, etc.! Some dance apparel companies may offer a try out package– decide beforehand what you need and what you don't.
2-4 Months Out: Order Your Audition Apparel
In addition to nailing down your routine, working on your fitness, and attending any prep classes, find time to order your audition outfit! Here are some of our recommendations for ordering:
Research options for apparel companies and their lead times. If you're swapping out colors and fabrics, that means your audition outfit is being made for you and you won't be able to try it on first. This also means it will take longer for you to receive it as it's being specially created for you! Shipping times may vary depending on the company and the time of year, but made-to-order styles can take anywhere from 2-8 weeks. Some great companies for try out apparel are:
Order early to save money. Ordering your pro cheer audition outfit is more expensive the longer you wait, because you'll have to pay for expedited shipping and rush fees. 2 day expedited shipping can add $40-$60, and overnight shipping and rush fees can cost you an extra $60-$150.
Give yourself extra order time for embellishments like rhinestones, because this may add to the lead time of your audition outfit. If you choose to rhinestone your audition outfit yourself, plan extra time for that, too, so you aren't stoning at the last minute!
1 Month Out: Practice & Rehearsal in Your NEW Audition Outfit!
It's almost audition time! It's time to perfect your routine, make any last minute beauty routine adjustments, and of course – practice!
Check in on the fitness goals you set at the beginning of the year and get your final beauty routine down!
Find a nutrition routine that works best for you – "You need to make sure you're fueling your body appropriately to make it through a long day of auditions!" Kayla from the Minnesota Vikings Cheerleaders explained. For some examples on the best ways to fuel your body, check out our blog The Best Pre and Post Competition Nutrition for Dancers.
Practice in your audition outfit! The first time wearing your outfit should not be on audition day! Make sure to move in it to ensure you feel confident and comfortable, and check that there is no unsightly pulling or bunching.
Do a dress rehearsal! Check that your accessories and make up look right with your outfit and ensure that your whole outfit works for a put together, cohesive look. Perform in front of friends and family in your outfit and get any feedback!
Have FUN! Remember, you're auditioning for a once-in-a-lifetime experience, and for your love of dance! So enjoy the experience and try not to stress over the small stuff.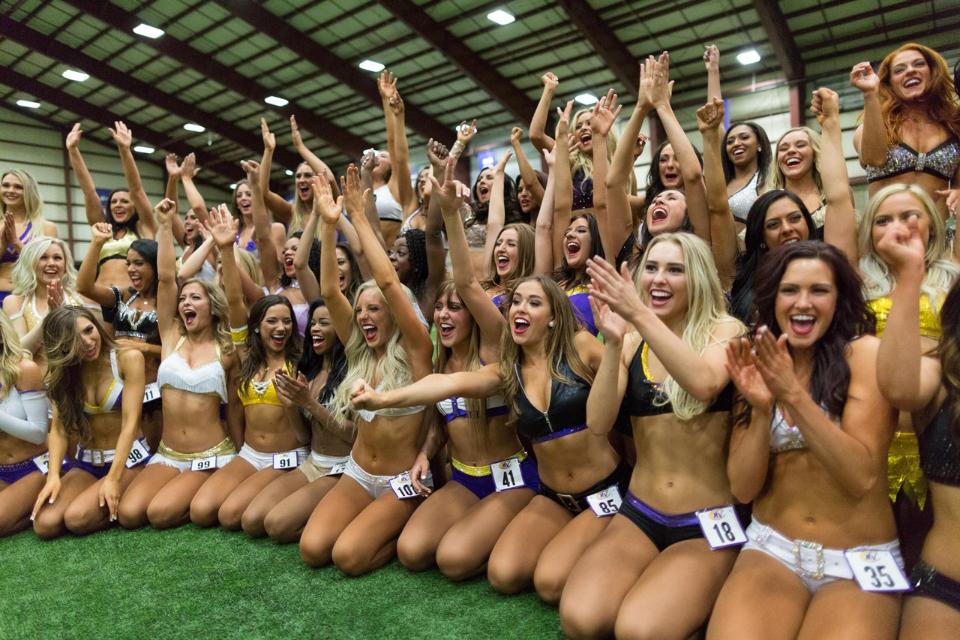 Pro cheer and dance team auditions vary from one team to another, so it's important to do your research beforehand! Staying on top of important dates and sticking to your audition check list will save you time, stress, and money. Most importantly, getting organized and feeling prepared will make you feel CONFIDENT going into your audition! And who couldn't use a little extra confidence?
---
Recommended Blogs: