Editor's note: Audition season is here and Sideline Prep, a sponsor of UltimateCheerleaders.com, is here to help you get ready for the audition of your life!

Who is Sideline Prep? Sideline Prep is a PRO dance/cheer consulting company that helps young woman reach their dreams of becoming a professional or semi-professional cheerleader/dancer for the NFL, NBA, NHL, MISL, and other sports leagues. All of our Sideline Prep Coaches are current and former professional cheerleaders who have all been through the preparation and audition process… and want to pass our lessons learned to you!
We provide coaching and mentoring in ALL areas of the audition process to help "Our Lovelies" get "sideline ready" for prep classes and auditions. We assist with preparation in all areas: dancing/technique, makeup application, outfit selection, nutrition, fitness, interview skills, modeling, confidence building… and more!
Bottom line… Our Mission is to give aspiring professional cheerleaders the knowledge, style, and glamour to walk into professional cheerleading prep classes and auditions with confidence!!
Experienced Leadership
Sideline Prep is made up of a network of current and former professional and semi-professional cheerleaders that have danced on the sidelines for years. Our goal is to fully prepare young women for their cheerleading and dance prep classes and auditions, enabling them to walk in with more knowledge, style, glamour, and confidence. Ultimately, we aim to make Our Lovelies "sideline-ready".
Sideline Prep is there every step of the way!

Learn from the Pros to Dance Like a Pro
So you can WOW the judges at your next audition or just get a good ol' workout! Space is limited for these small group sessions…. 1st Come, 1st Served! Next session is February 22, 2018. Click here to register.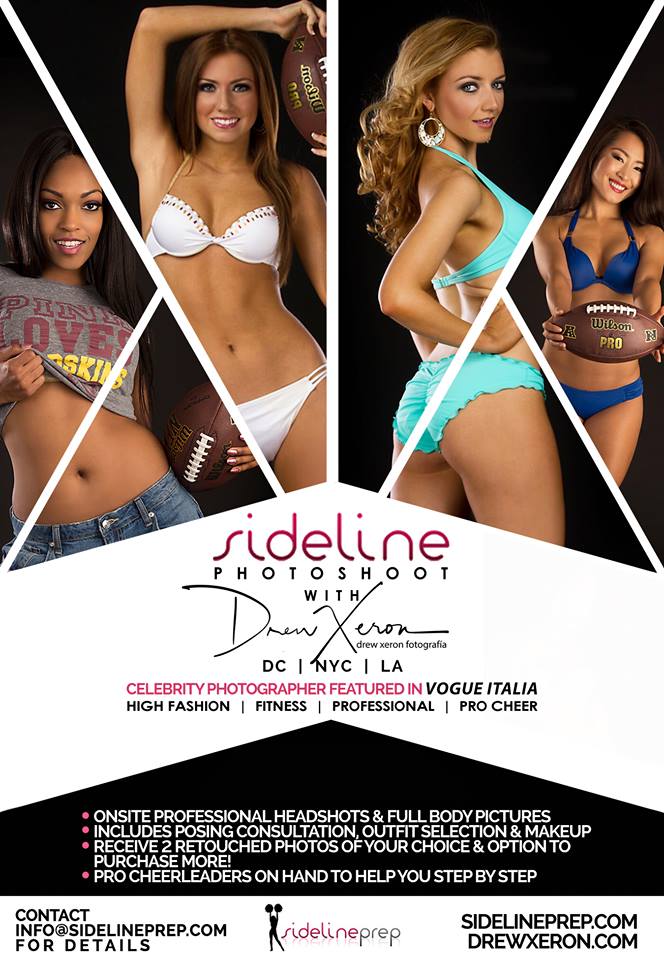 Need pictures for your upcoming auditions?? Or do you need head shots for a professional resume? You know Sideline Prep has you covered!
If you want quality photos taken by the ONLY Photographer in the area that works with both of our local NFL and NBA teams… PLUS a team of Sideline Prep Coaches – all current and former professional cheerleaders, on your side helping you every step of the way at your auditions — Then join us for Sideline Photo Shoot!
Our next session is March 25, 2018. Click here for more information.