Editor's note: Its audition season and Satin Stitches, a long time sponsor of UltimateCheerleaders.com, has published an article regarding selecting the perfect audition outfit for your body shape. They have graciously agreed to let us share their information with our readers.
With audition and pro apparel, as with any type of clothing, you want to consider what your best features are. No matter if you have a 'perfect figure' in someone else's eyes, you may feel like you could look better 'only if….' you could slim down your hips, or had a skinnier waist or had longer legs or a bigger bust line etc. etc.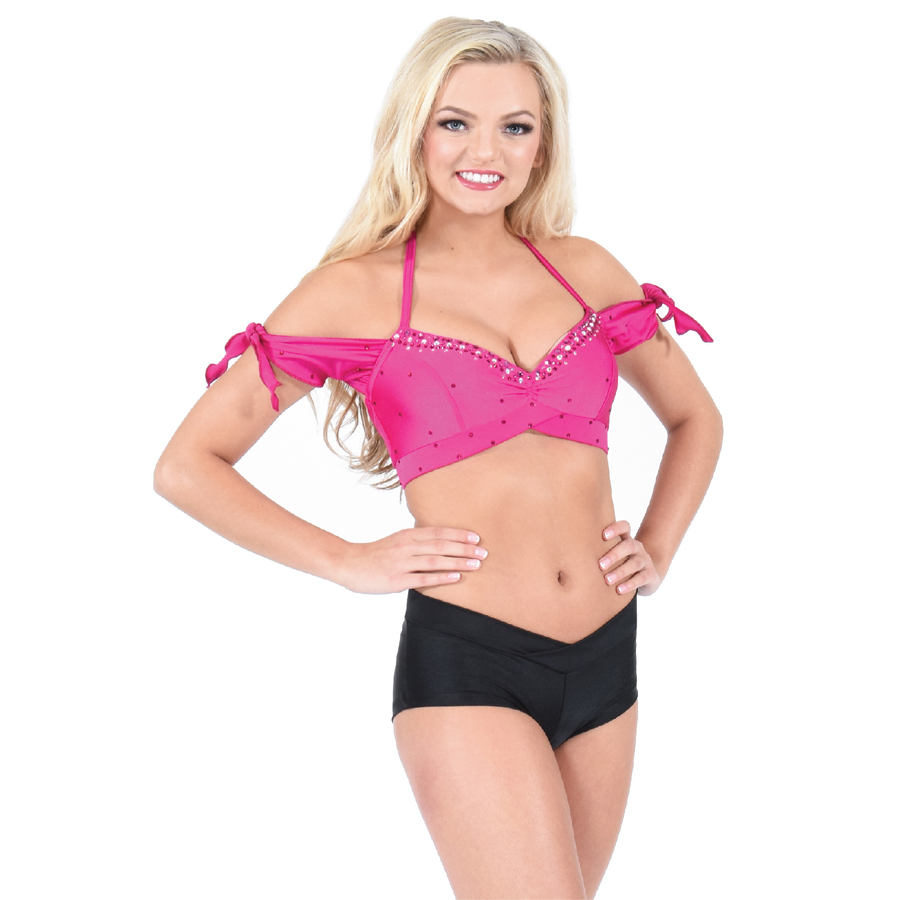 In preparing for your upcoming audition, you have been following an intense exercise workout regiment, you have been eating right, you have been getting plenty of sleep, you have been trying to stay stress free, you have been taking good care of your skin, hair, and nails and so on and so forth.
Your body is as ready as it will ever be. But still, you may look in the mirror and still see your body 'flaws'. What you now need is the perfect audition outfit to maximize your best features. What should you look for?
As a fashion/costume designer, I have spent decades creating flattering costumes by creating focal points on costumes, to draw you audience's eye to your best features. Your best feature SHOULD be your excited and happy face. The most flattering costumes will have upper bodice features to draw attention to your face.
Beyond this all-important focal point, secondary focal points can be employed. If you have a fabulous bust line, by all means emphasize your bust line with a bust line flattering bra-top. But don't wear a too-low cut top that will make your audience uncomfortable. Stay tasteful. Yes, you want to look sexy. But you don't want to cross the line into the risqué realm.
If you have a smaller bust line, then interesting bust line details such as multi-color banding, ruching and rhinestoning can add appeal.
Fit is always the most important aspect of any garment. A plain, well-fitting garment will look better than an ill-fitting designer garment.
The current trend of boy-cut legs on shorts and leotards does not flatter a short leg. The higher cut the leg line of a brief or short – the longer your leg will appear. Diagonal lines anywhere on your outfit is generally more flattering than horizontal lines. Only very slim hips can look great in shorts or skirts with all horizontal lines. That's why the 'V'-waistband is always a good choice.
Also, watch where the leg line hits across your derriere. Again, keep it modest, yet sexy. Different cuts of shorts and briefs can enhance or distract from your look.
Know what your measurements are – your current measurements…not what you would like to be or what they used to be. All companies provide suggested measurements for the best fit for their outfits. At Satin Stitches we have measurement charts and also a chart to show how to take your measurements. We even have a downloadable video to give you even more information on correctly taking your measurements. You want to order your correct size: you don't want a baggy, loose short or a skirt that is too tight across your hips.
You should be able to order your audition tops and bottoms in different sizes, if needed. If you are pear-shaped, you can order a smaller top and a larger bottom and apple-shaped dancers can order a larger top and a smaller bottom.
At Satin Stitches, we also offer 3 options for bra-cup sizes. Our standard cup size will accommodate a B/C cup. Our Full cup size will accommodate a D/DD cup and our Fuller cup size will accommodate larger than a DD cup size.
Our slim-fitting skirts will work best on hips that are the measurement listed on our charts or slightly smaller. Our skirts with more hemline fullness will accommodate larger hips. Our shorts will stretch at the leg line to accommodate larger hips and/or thighs because there is no restrictive elastic. Our basic V-short and Low V-waist briefs fit a slim to regular hip line the best.
Do you have fabulous shoulders? – Then emphasize your shoulders with a halter cut bra-top or our off-the-shoulder sleeved tops – these focal points will draw your attention to your shoulders.