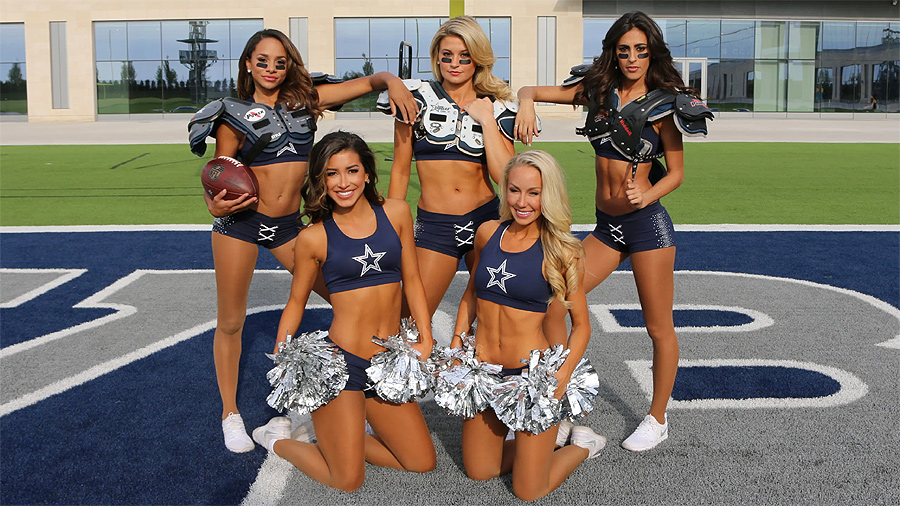 Dallas Cowboys Cheerleaders Prep Classes
All classes are $40.00 (early bird price); unless purchased the day of class ($45.00).
Walk-up participants are welcome based on space availability. Walk-up registration is $45 per class session. Class size will be limited.
Online pre-registration is encouraged.
ALL SESSIONS ARE NON-REFUNDABLE.
Wear comfortable attire that you can DANCE in.
Skin colored Dance Tights.
Any type of dance shoes.
DCC Audition Training Classes
Master Instructors and DCC Group Leaders will introduce you to the choreography and techniques taught to the Dallas Cowboys Cheerleaders Squad.
Learn DCC Dance Combinations, High Kicks, Performance Power and more from the ones who teach and train the members of the Squad.
Classes are held on Friday nights and Saturday mornings at the DCC Dance Studio at the Star.
Winter/Spring Prep Class Schedule
| Season | Session | Location | Date | Registration |
| --- | --- | --- | --- | --- |
| 2019 DCC Audition Prep Classes | Prep Class Instructor – Shelly Bramhall | DCC Studio at The Star, Frisco, TX | 1/11/19 | Click Here |
| 2019 DCC Audition Prep Classes | Prep Class Instructor – Mia Greenhouse Pruitt | DCC Studio at The Star, Frisco, TX | 1/18/19 | Click Here |
| 2019 DCC Audition Prep Classes | Prep Class Instructor – Mia Greenhouse Pruitt | DCC Studio at The Star, Frisco, TX | 1/19/19 | Click Here |
| 2019 DCC Audition Prep Classes | Prep Class Instructor – Jennifer Amburn | DCC Studio at The Star, Frisco, TX | 1/25/19 | Click Here |
| 2019 DCC Audition Prep Classes | Prep Class Instructor – Sarah Idziak | DCC Studio at The Star, Frisco, TX | 2/01/19 | Click Here |
| 2019 DCC Audition Prep Classes | Prep Class Instructor – Shelly Bramhall | DCC Studio at The Star, Frisco, TX | 2/08/19 | Click Here |
| 2019 DCC Audition Prep Classes | Prep Class Instructor – Jennifer Colvin | DCC Studio at The Star, Frisco, TX | 2/15/19 | Click Here |
| 2019 DCC Audition Prep Classes | Prep Class Instructor – Jennifer Colvin | DCC Studio at The Star, Frisco, TX | 2/16/19 | Click Here |
| 2019 DCC Audition Prep Classes | Prep Class Instructor – Brittany Evans | DCC Studio at The Star, Frisco, TX | 2/22/19 | Click Here |
| 2019 DCC Audition Prep Classes | Football 101 with Kristi Scales | DCC Studio at The Star, Frisco, TX | 3/01/19 | Click Here |
| 2019 DCC Audition Prep Classes | Prep Class Instructor – Sarah Idziak | DCC Studio at The Star, Frisco, TX | 3/08/19 | Click Here |
| 2019 DCC Audition Prep Classes | Prep Class Instructor – Denise Dicharry | DCC Studio at The Star, Frisco, TX | 3/15/19 | Click Here |
| 2019 DCC Audition Prep Classes | Prep Class Instructor – Jennifer Amburn | DCC Studio at The Star, Frisco, TX | 3/22/19 | Click Here |
| 2019 DCC Audition Prep Classes | Prep Class Instructor – Jennifer Amburn | DCC Studio at The Star, Frisco, TX | 3/23/19 | Click Here |
| 2019 DCC Audition Prep Classes | Prep Class Instructor – Stephanie DiBiase | DCC Studio at The Star, Frisco, TX | 3/29/19 | Click Here |
| 2019 DCC Audition Prep Classes | Prep Class Instructor – Mia Greenhouse Pruitt | DCC Studio at The Star, Frisco, TX | 4/05/19 | Click Here |
| 2019 DCC Audition Prep Classes | Prep Class Instructor – Shelly Bramhall | DCC Studio at The Star, Frisco, TX | 4/12/2019 | Click Here |
| 2019 DCC Audition Prep Classes | Prep Class Instructor – Shelly Bramhall | DCC Studio at The Star, Frisco, TX | 4/13/19 | Click Here |
| 2019 DCC Audition Prep Classes | Prep Class Instructor – Stephanie DiBiase | DCC Studio at The Star, Frisco, TX | 4/19/19 | Click Here |
| 2019 DCC Audition Prep Classes | Director's Chair Q & A with Kelli Finglass | DCC Studio at The Star, Frisco, TX | 4/26/19 | Click Here |
| 2019 DCC Audition Prep Classes | Prep Class Instructor – Brittany Evans | DCC Studio at The Star, Frisco, TX | 5/03/19 | Click Here |
| 2019 DCC Audition Prep Classes | Prep Class Instructor – Jennifer Amburn | DCC Studio at The Star, Frisco, TX | 5/10/19 | Click Here |
| 2019 DCC Audition Prep Classes | Prep Class Instructors – Shelly Bramhall & Shelly Roper-McCaslin | DCC Studio at The Star, Frisco, TX | 5/17/19 | Click Here |