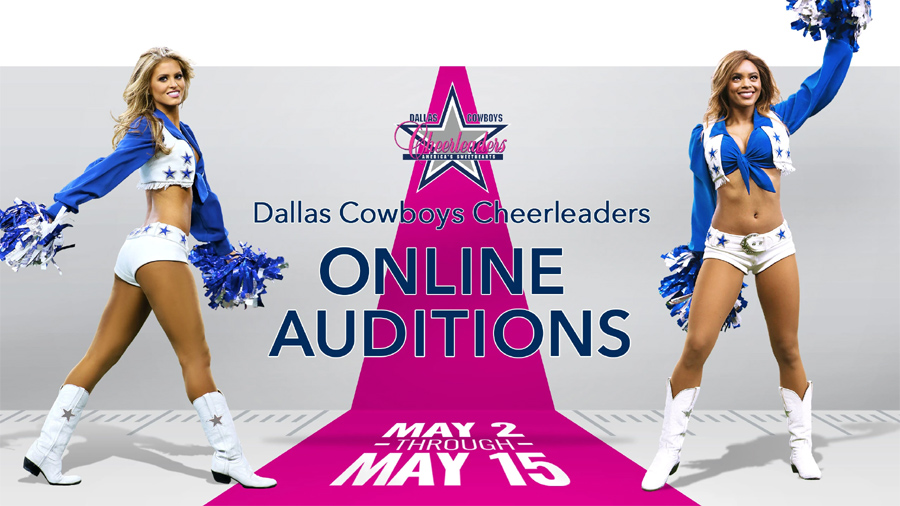 MAY 2-15: Accepting Online Submissions for Virtual Preliminary Auditions
Application and Upload of:
Headshot
Full length photo
Brief Introduction
One minute dance performance
MAY 18: Notification to Candidates to the Second Round
Choreography sent out – dance and kickline
MAY 25: Deadline to Submit Dance and Kickline Performances
JUNE 1: Announcement of those Advancing to the Final Round
TBD: Candidates Report to Dallas to Begin Final Round
Finals merging with Training Camp period
Additional choreography will be sent in proportion to number of weeks start is delayed
Perform at AT&T Stadium
Travel to exotic locations on Annual Calendar Shoot
Entertain U.S. military troops throughout the world on USO Tours
Perform for National Television audiences
Lend time and talent at community service events
Share your knowledge and experience with kids at Camp DCC
Bring smiles to residents of nursing homes and hospitals
Perform at other professional sporting and corporate events
Receive extensive training in dance technique
MAKE LIFETIME FRIENDS!
BECOME ONE OF THE BEST!
Must be at least 18 years of age at the time of preliminary auditions
Must be a high school graduate (or graduating Spring 2020) or have a G.E.D.
You must be able to attend all rehearsals and other related activities
International Applicants: When applying for any type of visa, please keep in mind that the Dallas Cowboys do not "sponsor" international candidates. Please work through the US consulate/embassy in your home country to obtain the proper visa for audition travel, and be mindful of extended timeline should you be selected as a Dallas Cowboy's Cheerleader
YOU SHOULD BE EXPECTED TO PROVIDE PROOF OF LAWFUL ELIGIBILITY TO WORK IN THE UNITED STATES OF AMERICA.