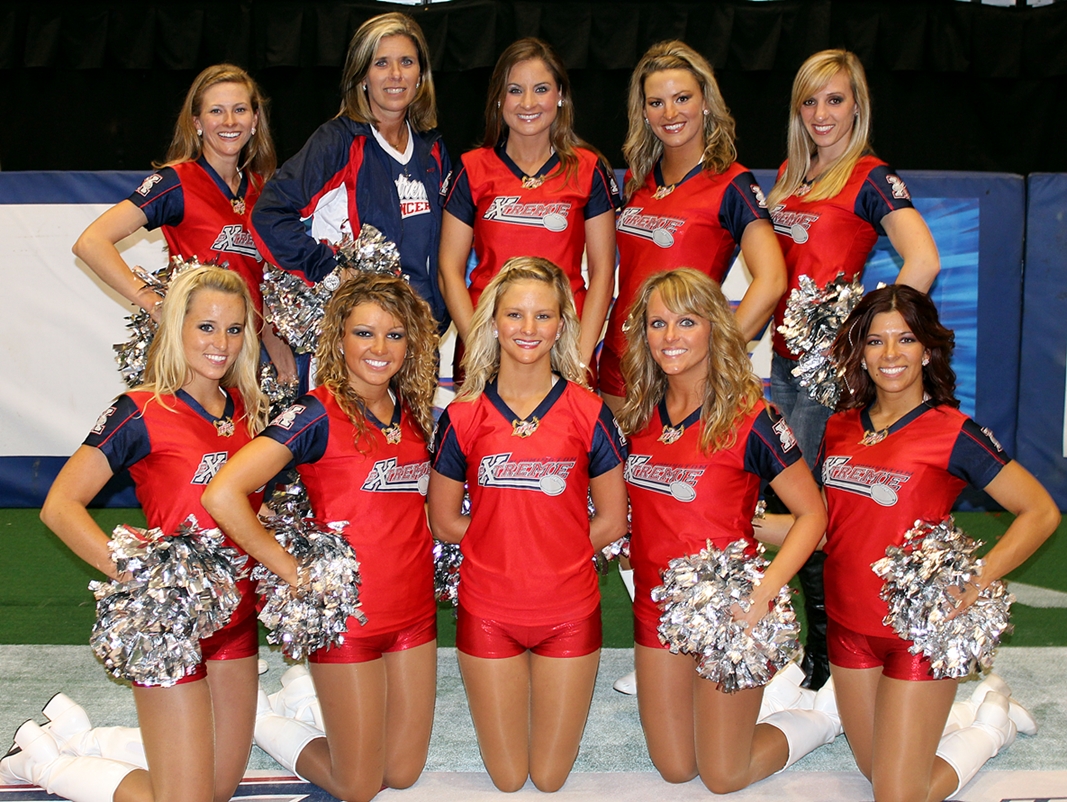 Extreme-ly talented, Extreme-ly dedicated, Extreme-ly supportive of their team, an Extreme-ly important part of the game day entertainment, an Extreme-ly visible role in the community, Extreme-ly gracious and hospitable, and Extreme-ly lovely. No wonder they are known as the Extreme Dance Team, in their sixth season supporting the IFL's Bloomington Extreme indoor football franchise. The Extreme's June 3rd game against LaCrosse provided an opportunity to meet Bloomington dance legend Stacy Terry, the Dance Team Coordinator, and her marvelous squad, plus Cassie, a former member of the Extreme Dance Team, who ventured to NFL territory and cheered for a Super Bowl team, and now is back with a new role during the Extreme home games.
The dedication of the squad starts at the top with Stacy, who has been running the Extreme Dance Team since the inception of the franchise. Stacy has run a dance studio in Bloomington for decades, and all of the members of her current squad spent time taking classes at Stacy's Dance Factory during their dance training. So dance expertise is one aspect, but it does not take long to see that Stacy is more than that; she is a true and devoted fan of the Extreme football team.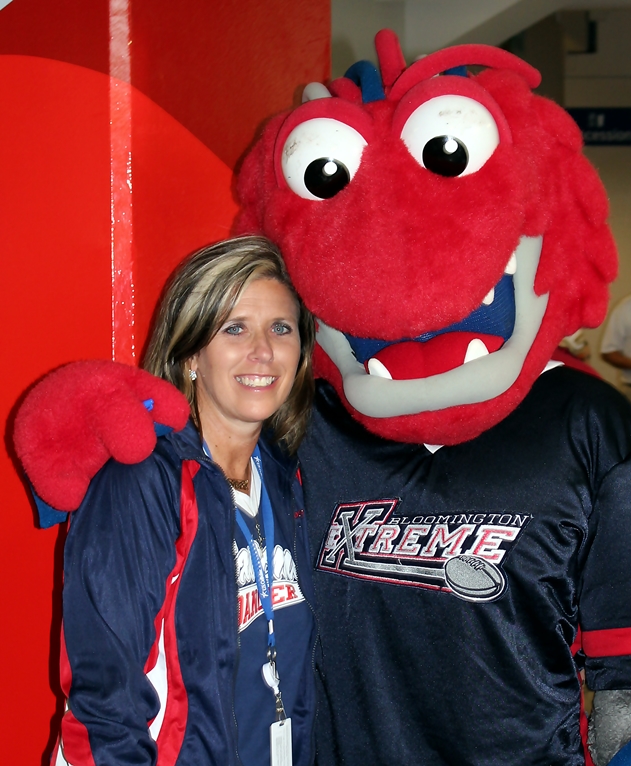 Stacy is from the central Illinois area, as she recalls, "I was born in Peoria, Illinois. I grew up dancing, started classes in Peoria when I was four. By the time I was fourteen, I was teaching my own classes. I knew I always wanted to open a studio, but my parents insisted I go to college. After high-school, I came to Bloomington to attend Illinois State. I graduated with a BS in Criminal Justice." But it would be a crime if Stacy did not pursue her love of dance, as Stacy says, "I graduated from ISU and then opened my own studio the following fall in 1983. My favorite type of dance is jazz or tap but I do them all." Stacy is married, with a son and step-son, and in her non-dance time, Stacy says, "I enjoy being a mom, teaching Sunday school, and spending time with friends on my off time. I am usually really busy at work so my free time is limited."
And one of the things keeping things busy for Stacy is working with the Extreme. After years in the Bloomington community, it was natural that Stacy would lead the Extreme's dance team when arena football came to town. Stacy remembers, "I was acquainted with some people that were involved with the team its first season. I contacted them and offered my services. I have been doing it ever since. I enjoy working with the girls each season. Some have been with the squad all six years (note: see the recent interview with these six year vets Alice and Alicia)." A great aspect of this role, Stacy says, is, "At my studio, I work with mainly children, so it is refreshing to work with dancers a little older and in a more professional setting."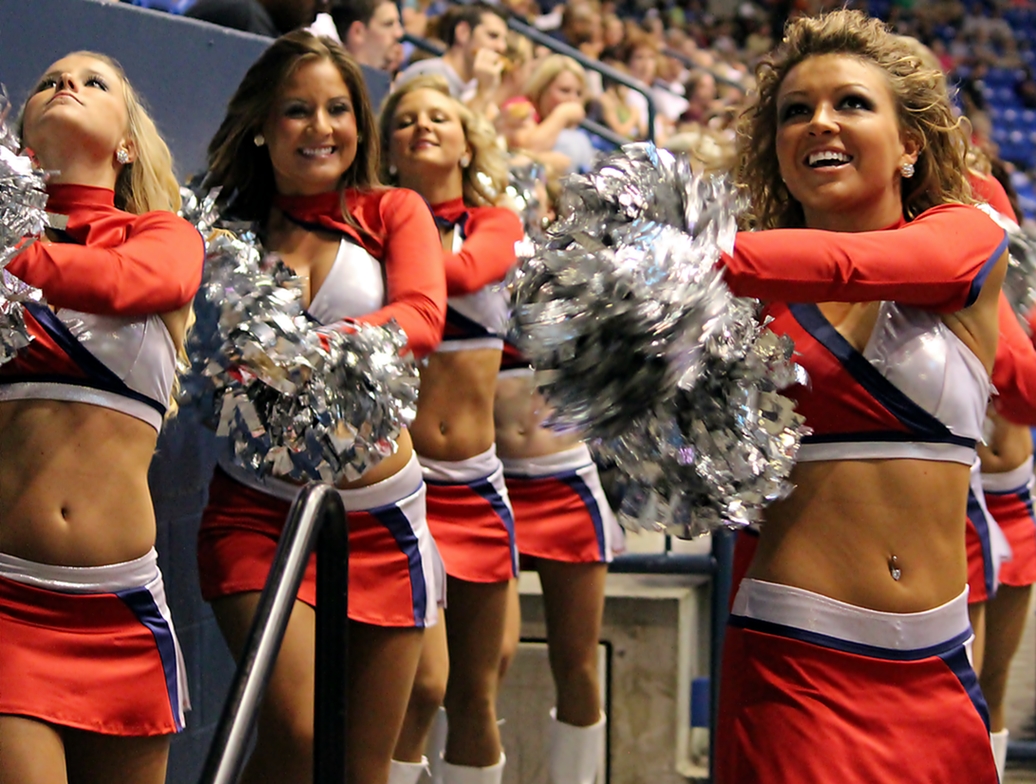 Stacy is involved with a lot of the inner workings of the franchise, including selecting uniforms for her squad, as Stacy says, "The general manager and I pick out the uniforms each season. We look for a design that compliments the squad as a whole." For the future of the Extreme Dance Team, Stacy states, "My goal is to continue to get the team involved in as many community activities as possible to help promote the team. I feel they dance team is important to the reputation of the team as much as the players."
While other teams and cities have struggled with the strain of tough economic times, the Extreme has survived and is growing in local support, as Stacy says, "It has been incredible to see the increase in support each year from the fans in Bloomington. The Extreme is the closest thing we have to a pro football team in our area. Other cities close by have had teams but they no longer exist. We are fortunate to have had the fan base to allow us to continue to succeed in Bloomington."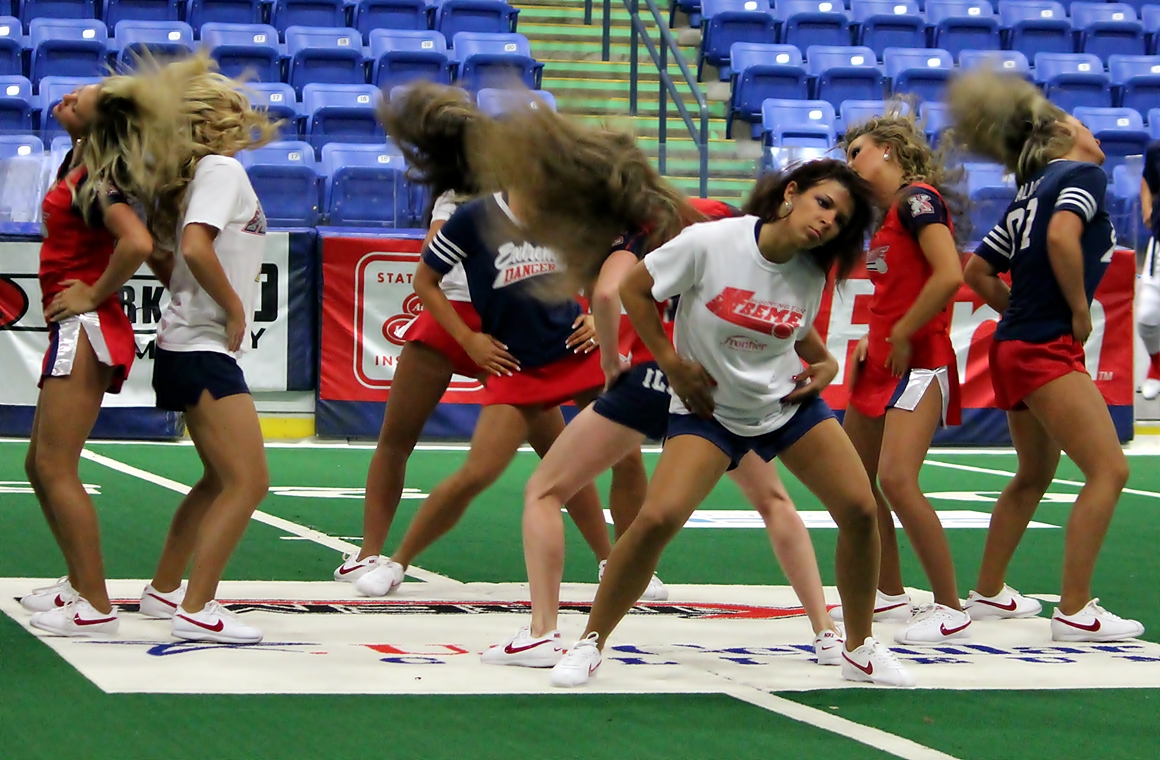 Two hours prior to kickoff and before the crowds converged on Bloomington's US Cellular Coliseum, Stacy, with the boom box of music in tow, and the Extreme Dance Team hit the field in their warm-ups to practice their two between quarter routines. The routine between the first and second quarter required more repetition, as Stacy knew the squad had their second routine, to be performed between quarters in the second half, well under control. Then the squad headed to the locker room to get prepped for greeting the fans as they entered the arena. On this night, mascot Spike's bobble heads were free for the first 2,000 fans, and the Extreme Dance Team not only handed them out, but Stacy and the squad were right on it, affixing the labels to the boxes to prepare the memorabilia for distribution.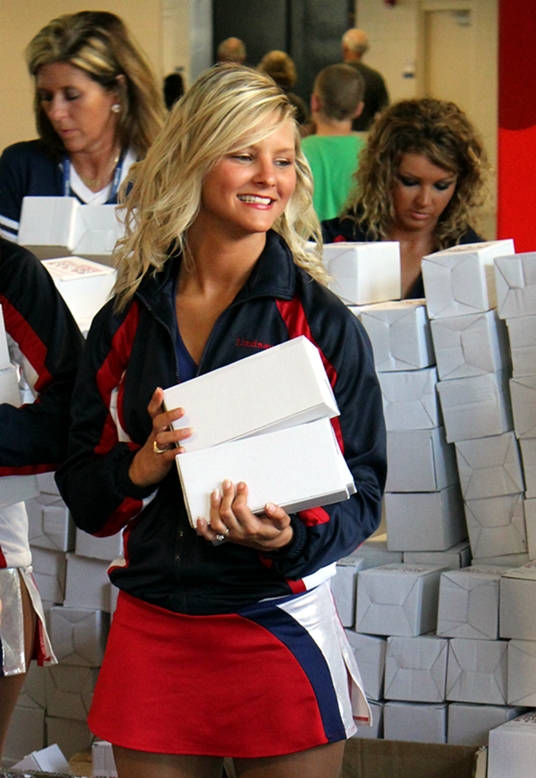 Rookie Lindsey handed out the boxes o' bobbling fun as fans entered the arena, with a smile of someone happy to give gifts to fans, and as someone who lives out her gift of life. Lindsey is a full-time student studying physical therapy, with the ambition of being a physical therapist at Memphis' St. Jude's Children's Research Hospital. Her connection is personal; she is a cancer-free survivor who was treated at St. Jude's when she was very young. Lindsay's fondest childhood memory is her "Make A Wish" trip to to Disney World to meet all of the Disney characters. Lindsay was five at the time, and she says, "From what I remember it was really fun!"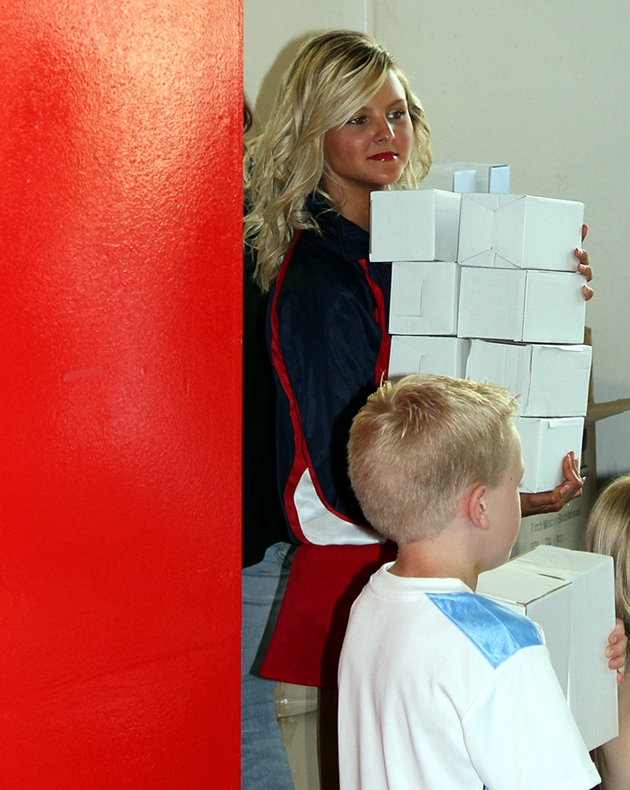 Stacy and the Extreme dancers continued passing out little versions of Spike and interacting with fans until it was time to move down to get ready for their on the field responsibilities. The squad huddled up behind the big inflatable entrance to the field for one opportunity to unite prior to the last regular season game, and perhaps the final home game, although the Extreme had clinched a post-season slot. The lights went down, the spotlight hit the squad for their first performance and then they lined up for player introductions.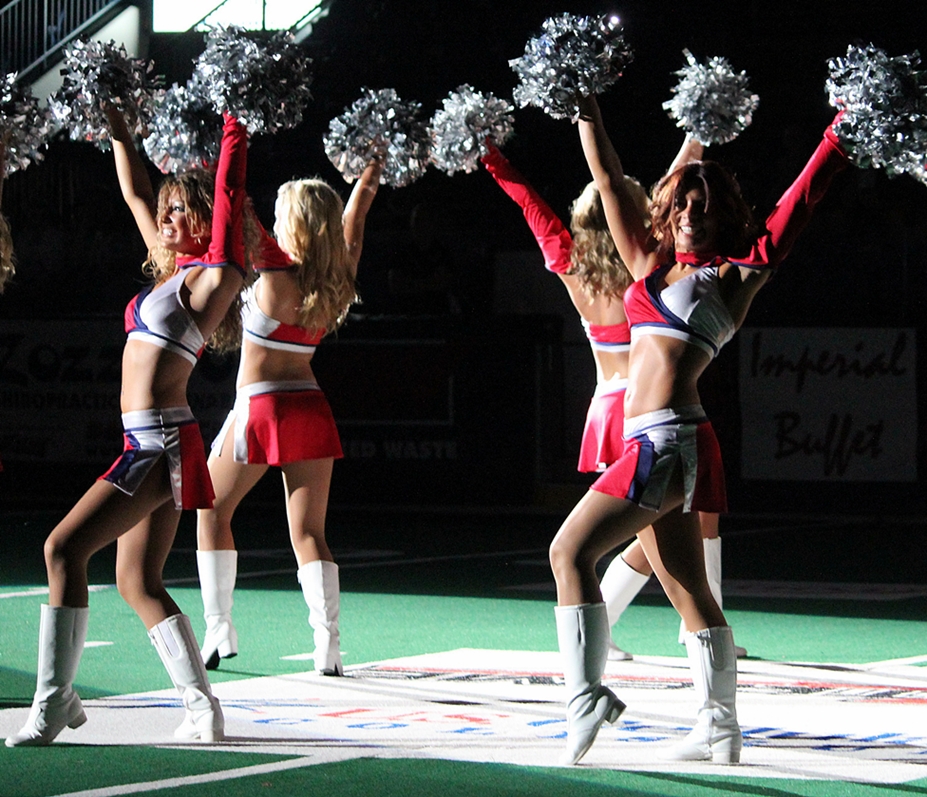 As the Extreme Dance Team left the field after pre-game, they made their way to a stage at the corner of the field, just outside the corner of the end zone, where they would perform throughout the game. Being on stage at the corner of the field may appear to be a safe respite from the hard hitting activities on the field, but the Extreme dancers have to keep attentive, as during the game two bullet passes headed right into the vicinity of the dancers, where they seemed to be much more the intended receivers than the actual players. Of course, with their moves and agility, the dancers easily avoided the pigskin missiles like they were skilled matadors.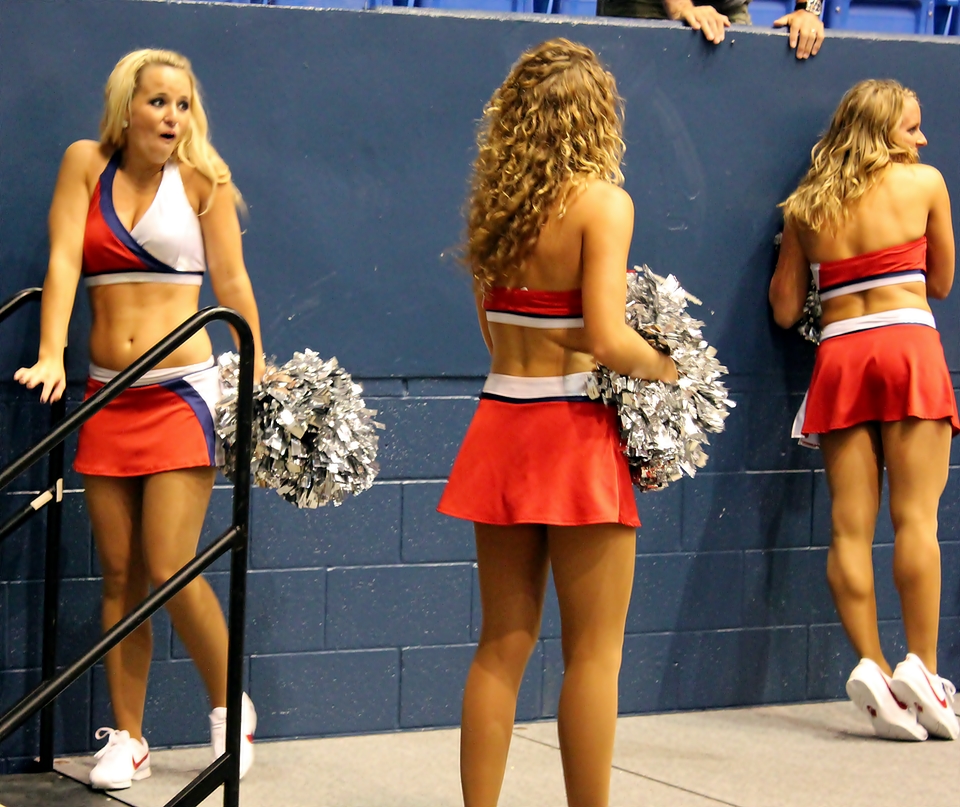 Besides two between-quarter routines, the squad danced along the sidelines, participated in all game break entertainment, and most unique of all, the Extreme dancers hit the stage to do push-ups following every Extreme touchdown. That's the cool thing about the whole Bloomington Extreme experience, it takes a dash of pro atmosphere with a sprinkling of college spirit, and this combination allows the Extreme Dance team to have active and diverse roles, from intense dance routines, to cheering on their team, to helping in fan promotions, and to being part of touchdown celebrations. And during this game against the Spartans of LaCrosse, the Extreme Dance Team was busy celebrating touchdowns with their push-ups, as the Extreme jumped to a 21-0 first quarter lead on their way to a 45-29 victory.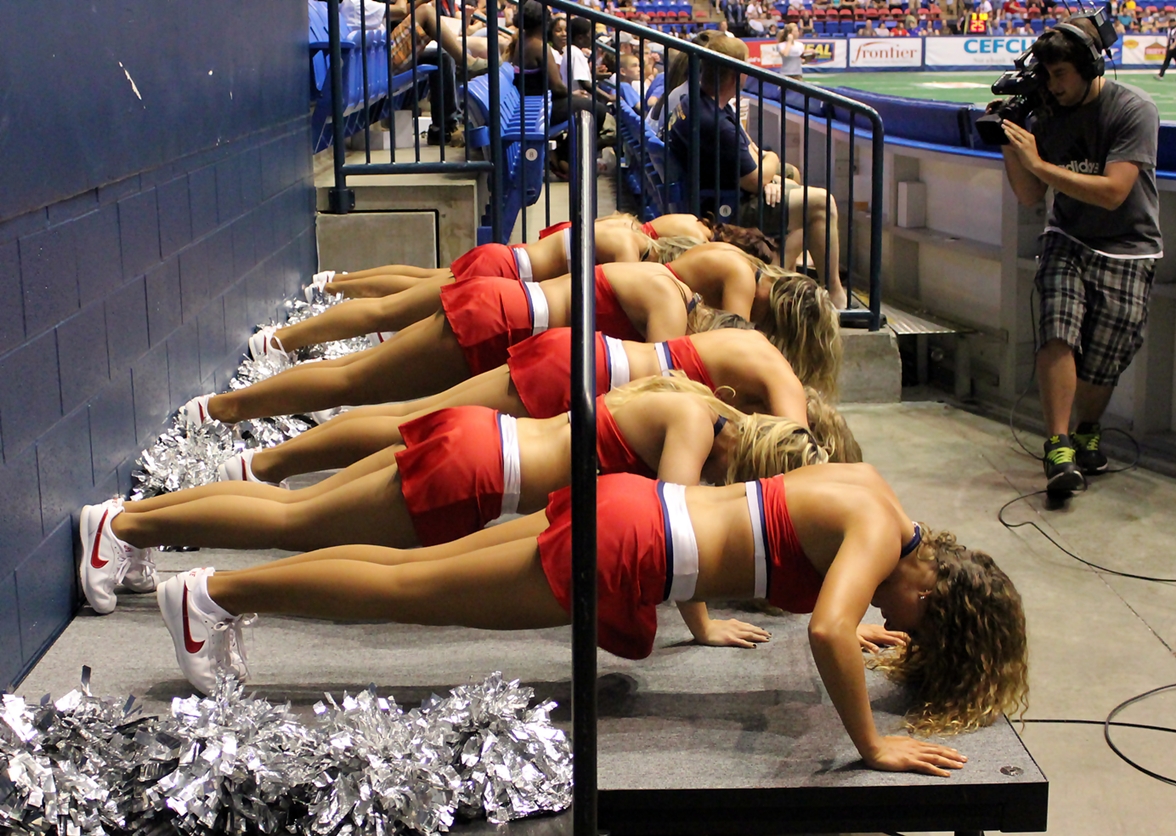 In addition to Lindsey and six-year veteran Alice, who is studying radiography, Amber also is preparing for a career in health care, studying to be a surgical tech while currently working as a bartender (maybe she can combine these vocations to develop a new liquid form of anesthesia). In her second season with the Extreme dancers, Amber loves HGTV, and her dream would be to have her own HGTV show. Her favorite sports team is an extremely wise choice, the Illini, from the nearby University of Illinois (note: the writer has three degrees from Illinois, notice how he always finds a way to mention that place).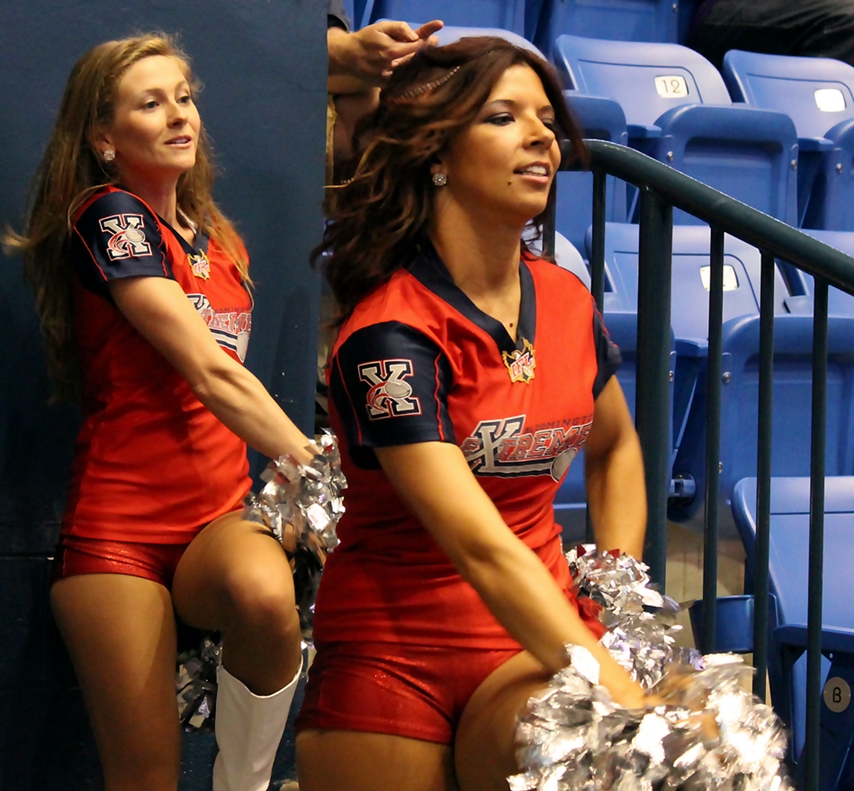 Educators are also a prominent part of the squad. In addition to six year veteran and second grade teacher Alicia, rookie Juliette is a high school physical education teacher, and rookie Rachel is a music educator. Juliette attended The Ohio State University for her BFA and the University of Illinois for graduate school (note: there he goes again). In fact, Juliette's proudest moment is crossing the stage to receive her master's degree in educational administration and leadership at the University of Illinois.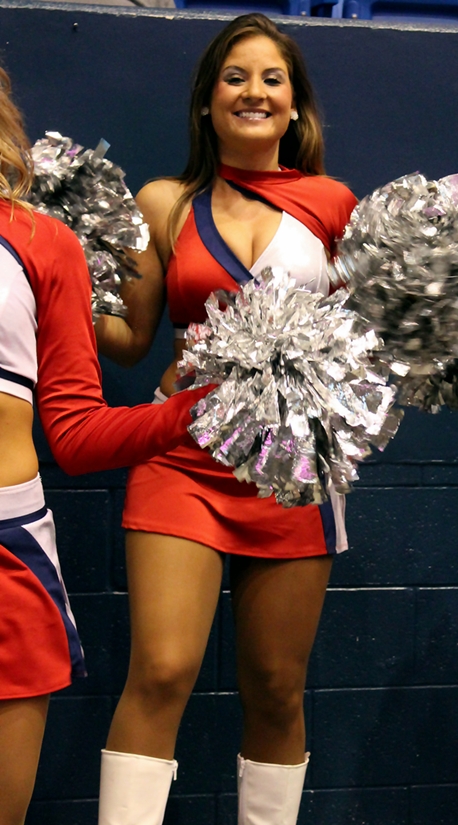 Rachel attended Illinois as an undergrad, and Illinois State for her graduate degree. This multi-talented performer is very proud that two of her students were selected for an All-State Honors Chorus. Probably every school day for Rachel is just like an episode of "Glee!"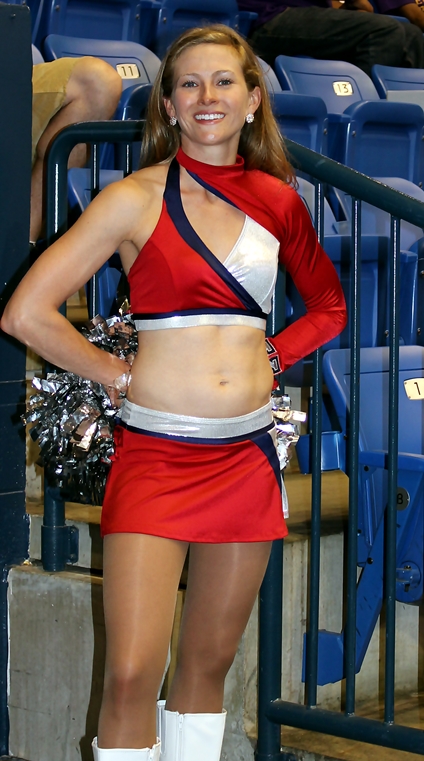 The remaining two members of the squad are studying marketing. Third year veteran Jessica is a student and marketing intern, majoring in Business Administration with a Marketing concentration at Illinois Wesleyan. Jessica seems very comfortable in any "Extreme" atmosphere, with a dream job of a race car driver, and her favorite thing to do is ride motorcycles and four-wheelers with her family. Watch out Danica, Jessica could be closing in on you!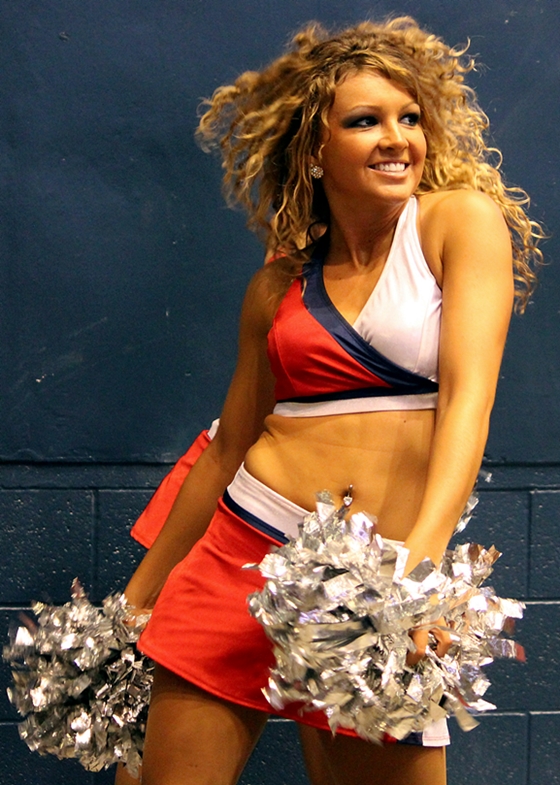 Rookie Kaitlyn is a Marketing/Communications major, and her dream job is working for the Walt Disney Corporation, and her favorite cartoon character is Mickey Mouse. Kaitlyn's favorite team is the Dallas Cowboys, and Coordinator Stacy is also a huge Dallas fan.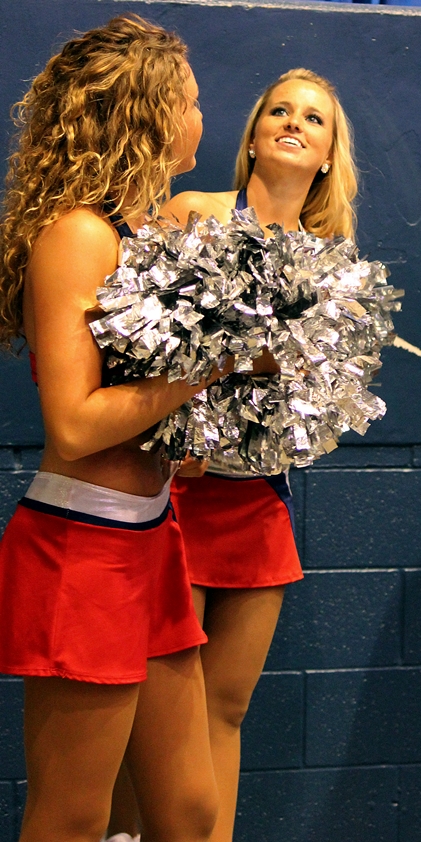 All of these talented young dancers earned a chance to be part of an elite group to support a local team, a wonderful opportunity to keep dancing, as Stacy says, "Many of the dancers were dancers through high school and college. There are very few opportunities in our area for dance outside of the college level. It gives the team members a chance to continue doing what they love into their late 20's. We have even had one former member go on to dance with a pro team."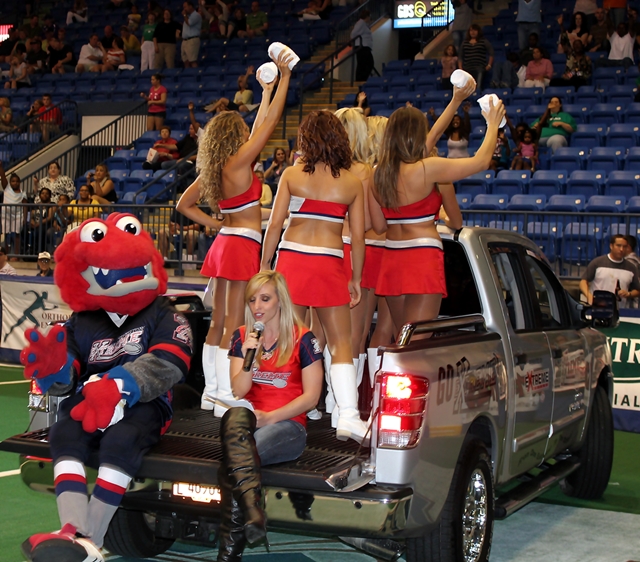 That former dance team member is Cassie, who is now the game emcee for the Extreme's home games. Cassie earned her Communications degree (minoring in Marketing and Pre-Law) at Eastern Illinois University, and is now in graduate school at Illinois State, majoring in Organizational Communications with an emphasis in Leadership. For three years at EIU, Cassie danced for the Pink Panthers dance squad, which has been producing NFL cheerleaders since back in the days of the Chicago Honey Bears.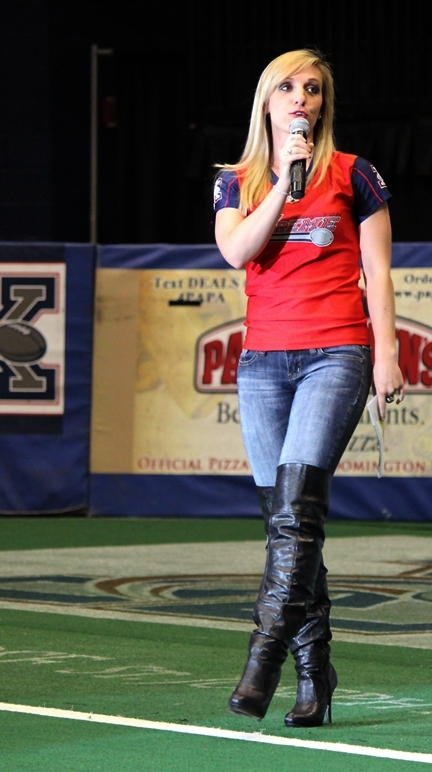 After college, Cassie was in her third year on the Extreme Dance Team when she tried out for the Colts Cheerleaders, when, as Cassie says, "A friend of mine was on my case for not doing it, and we danced together since we were three, actually at Stacy's, our entire lives. She is dancing on cruise ships and she was on me for not doing anything bigger, and I said, 'Fine, I'll try out! I'll see what happens.' And a month and a half later I was on the team." Cassie continued to live in Bloomington, meaning three hour drives both directions at least three times a week. Cassie was a Colts Cheerleader in 2009, and cheered on the team during their Miami Super Bowl against the Saints in 2010. For Cassie, she says the experience was, "Best ten months ever! Ever!" Cassie continues, "You think you have all these great experiences, and nothing is going to top it. Nothing is going to top graduating college, or nothing is going to top getting into a master's program, or buying your first house or first dog, and then, I spent a week in Miami at the Super Bowl. And I get to dance on the field and be on TV. Nothing is going to top THIS now."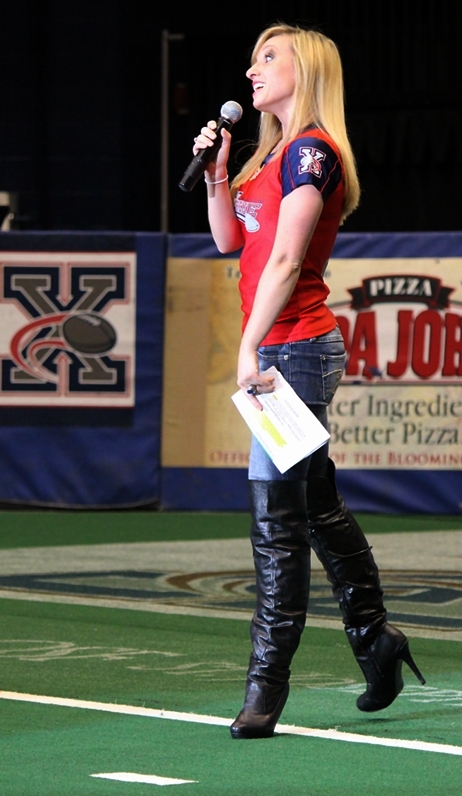 Since Cassie remained in Bloomington, this precluded her from continuing with the Colts for subsequent years. But Cassie knows, "I have the experience, I can say I did it, met a ton of great people, had fun while doing it, had a great time. It was a blast!" Cassie is in her second season as game emcee, but sometimes the desire to dance pulls at the ex-Extreme dancer, saying, "It's really fun, but it is really hard to watch (the Extreme Dance Team) out there, and know I can't be out there. But the girls do a great job, they make it look good, and it is still fun that I still get to be involved."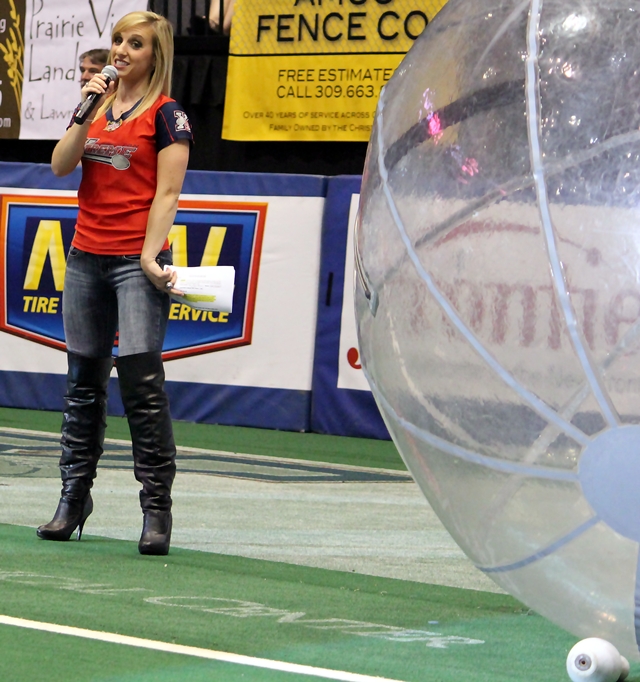 On this night, the Extreme Dance Team not only had to keep clear of off-the-mark passes, they had to avoid a human bowling ball. Cassie was on the field announcing a fan competition with two people that would go down the field, each within their own large, clear plastic ball, knocking down bowling pins. Whereas the female participant diligently went down field to complete the task, on his way back down the field, the male bowling ball began to head directly at the Extreme Dance Team who were lined up to cheer them on. As always, the nimbly agile dancers avoided being toppled by the wayward bowling fan. Ahh, men; who knows, perhaps it was another attempted "pass" that went off the mark.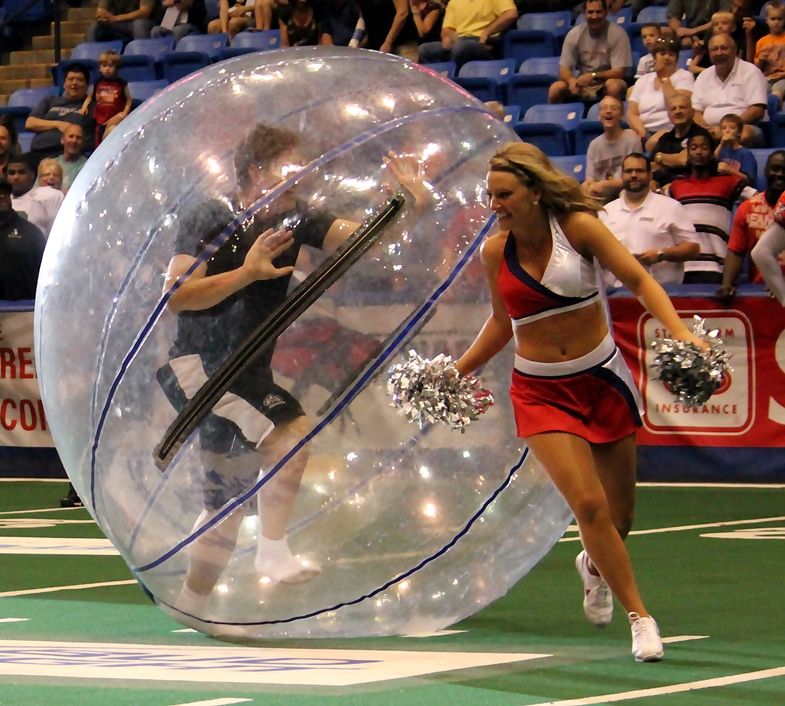 The Extreme Dance Team lit up the arena throughout the game, and then returned to the field post-game to join fans and players for an autograph session, during which many bobblehead boxes were signed by the squad. The Extreme dancers have fans of all ages, and graciously signed all kinds of memorabilia.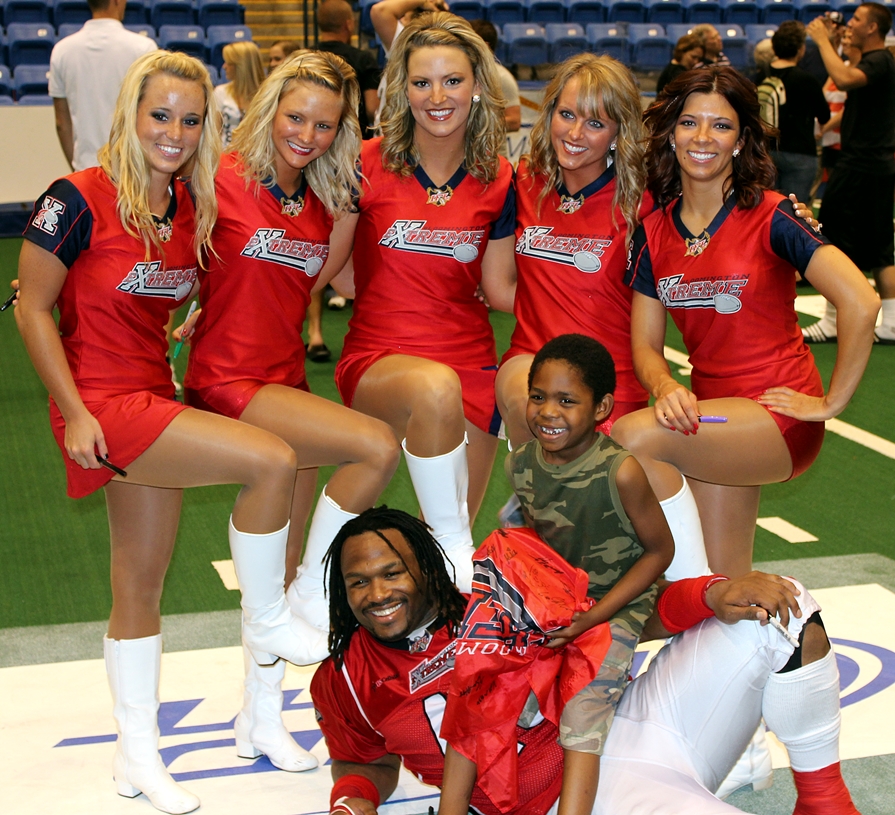 Since the LaCrosse game, last Saturday, the Extreme hit the road for the playoffs, and lost a tough one in Omaha to the Beef 39-34. The Extreme showed that they are among the league's elite, and Stacy and the Extreme Dance Team also can take pride in being an elite dance squad, at any level. As Cassie demonstrated, all of these dancers have Super Bowl potential. Here is one last group photo before the Extreme Dance Team left the turf the last time in 2011.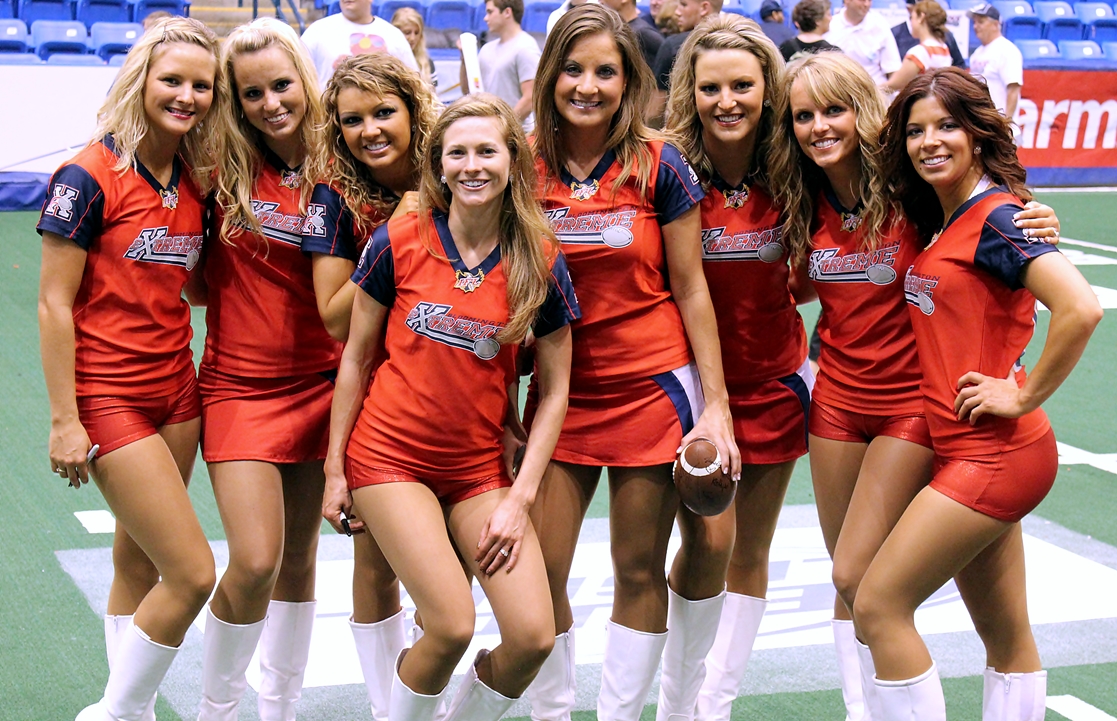 Many many thanks to Stacy, the Extreme Dance Team, Cassie, and the Extreme organization for allowing UltimateCheerleaders.com to be able to highlight this "Extreme-ly" wonderful squad. Here are more photos of game night for the Extreme Dance Team's last game of 2011, from handing out bobbleheads before the game, to signing them after, and all the dancing and cheering in between.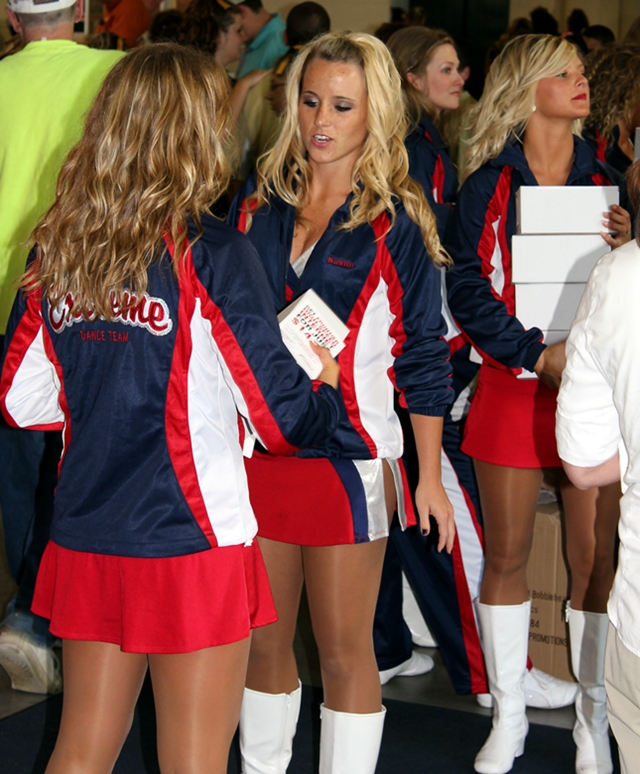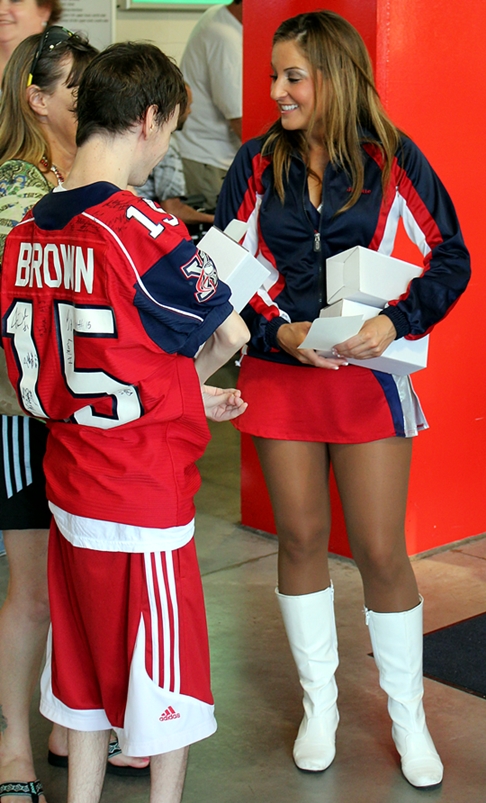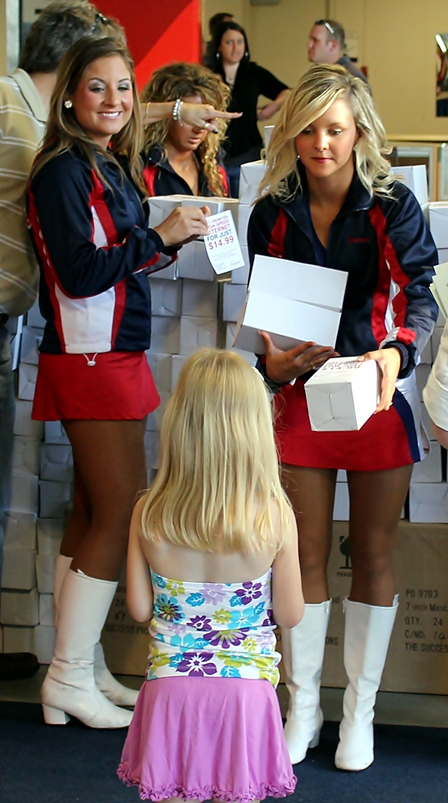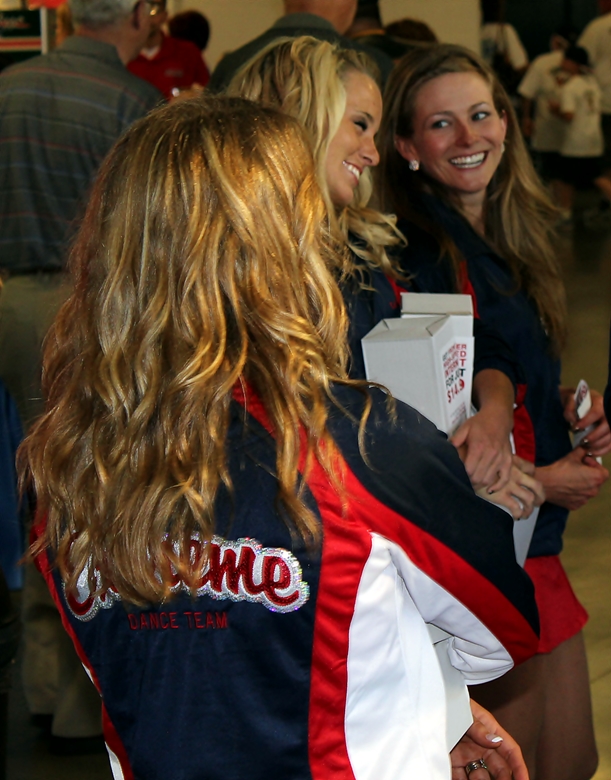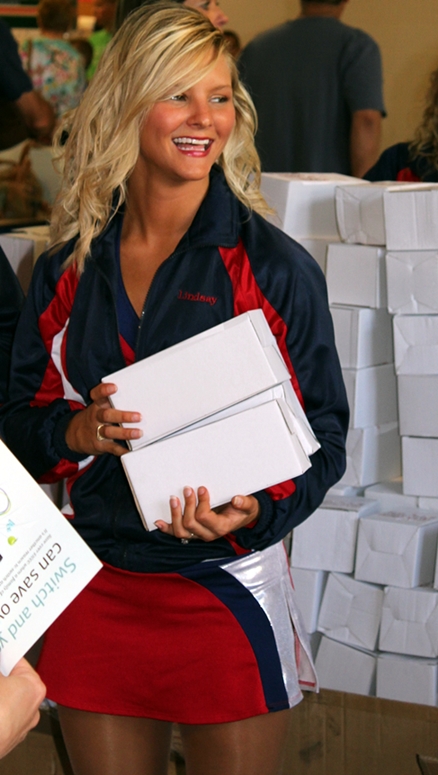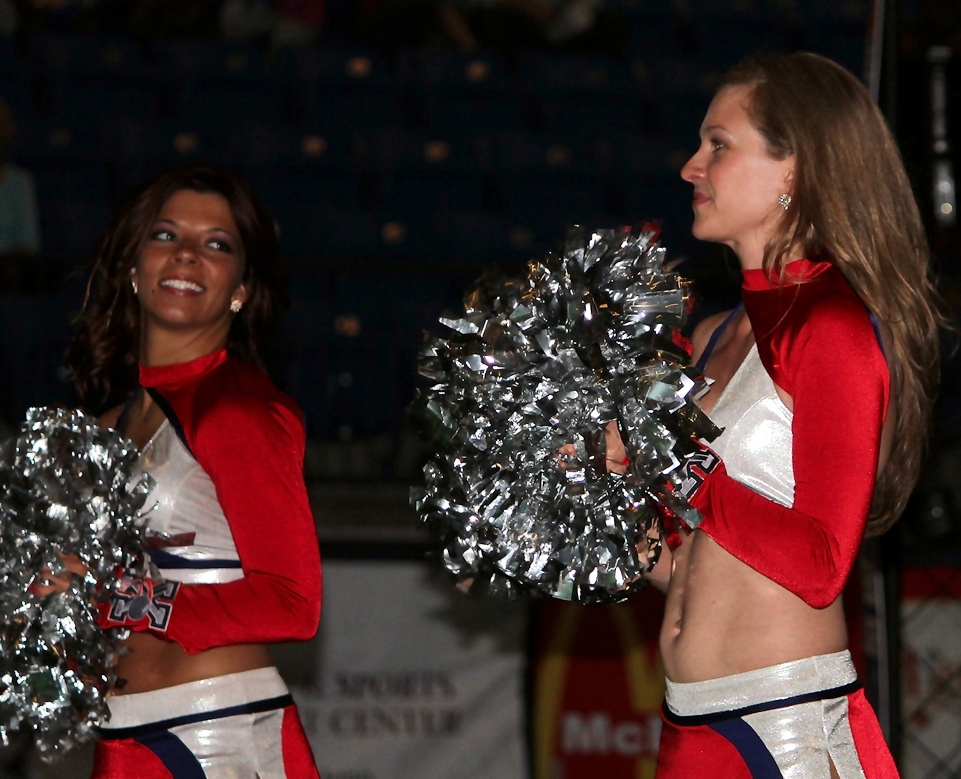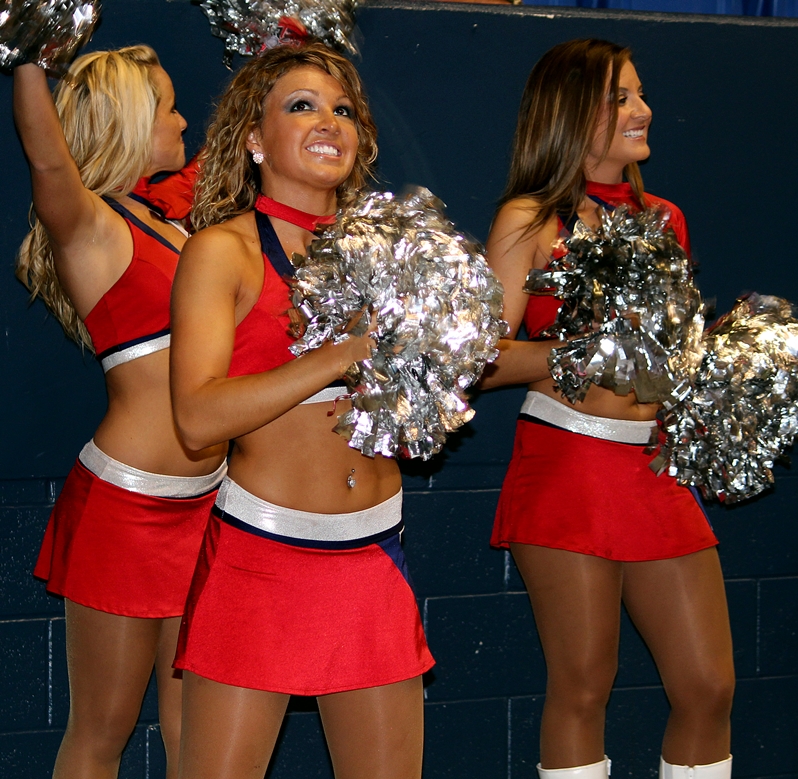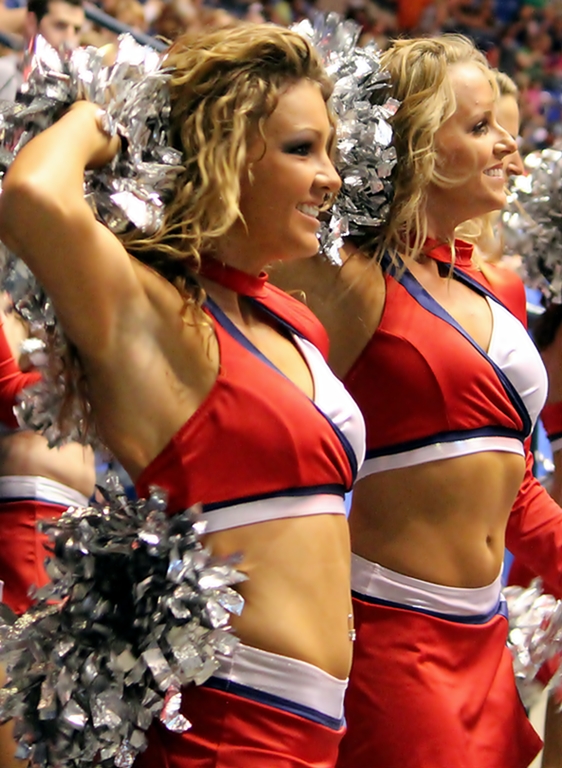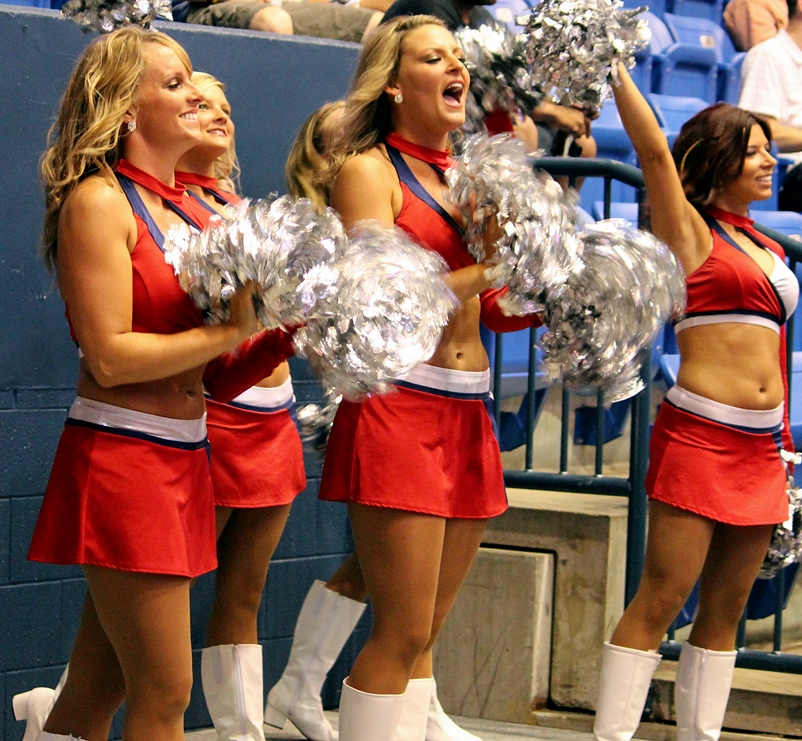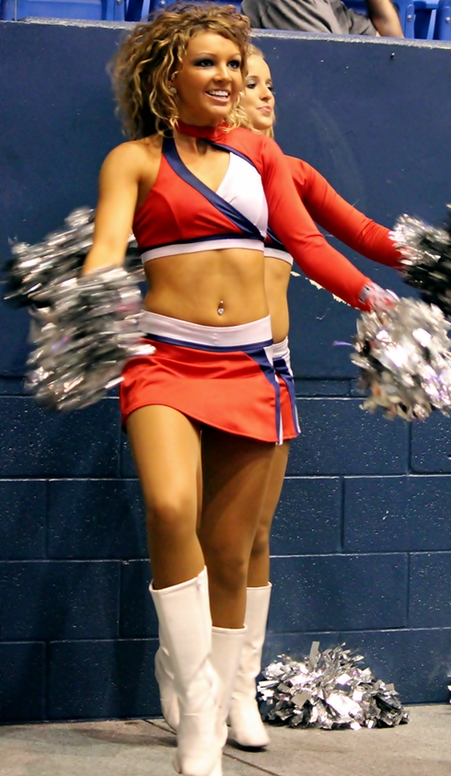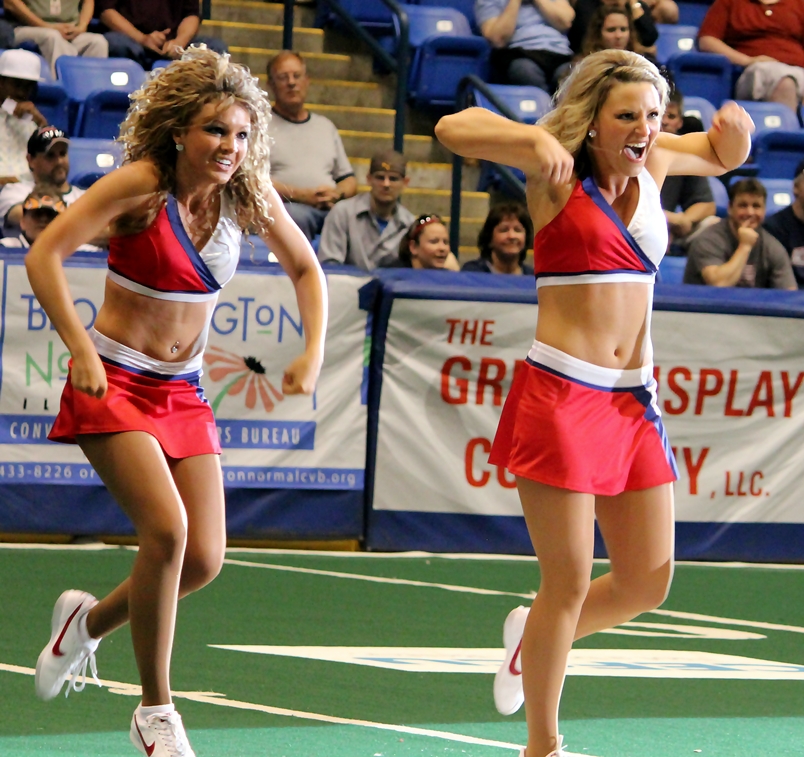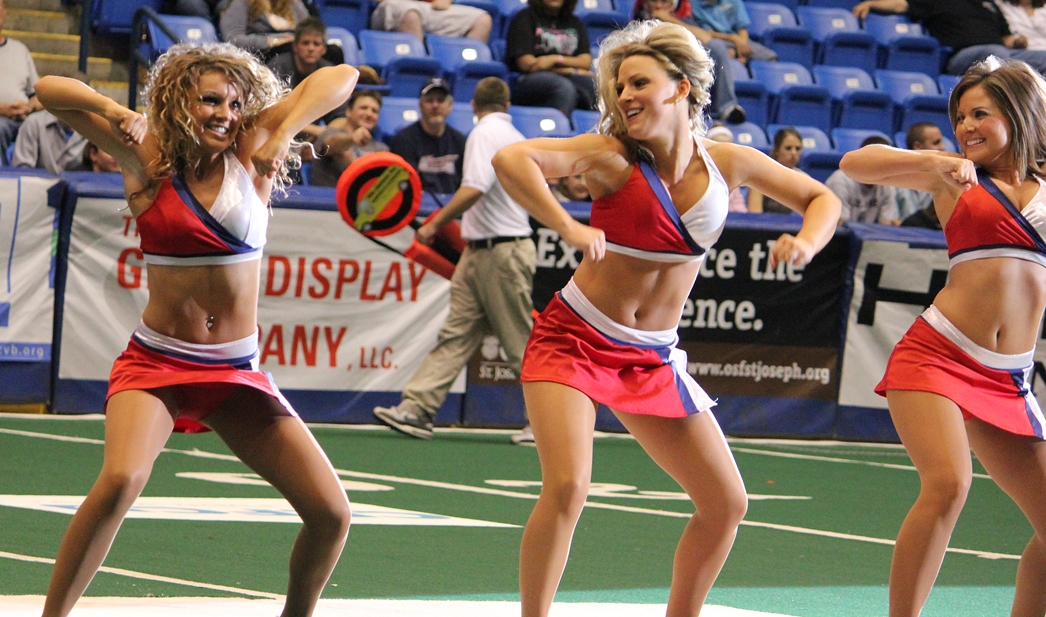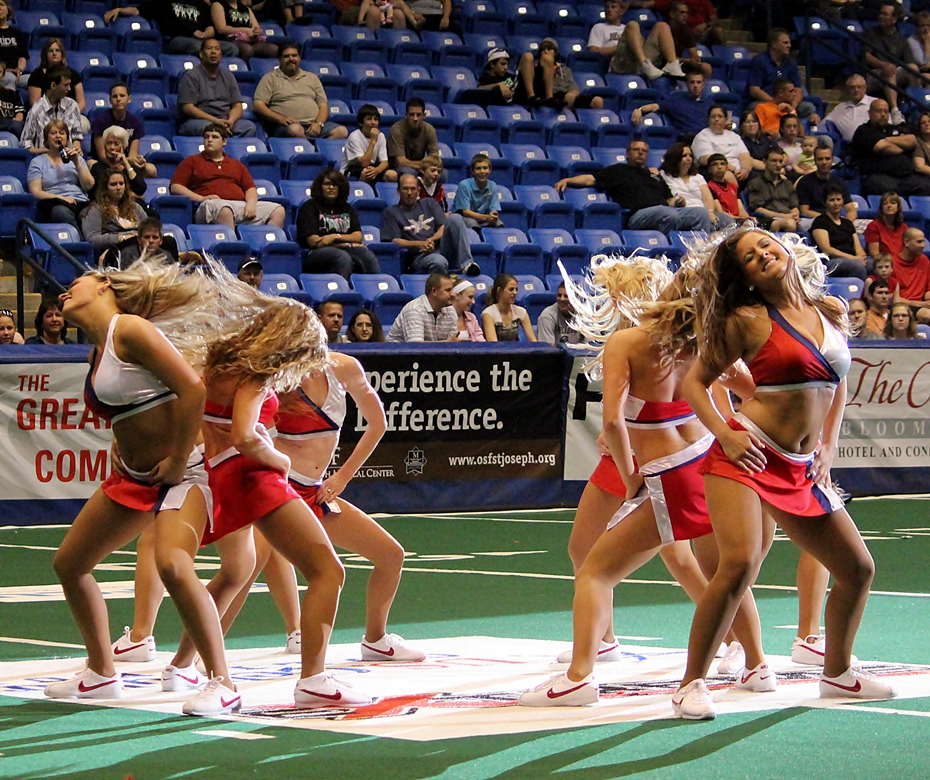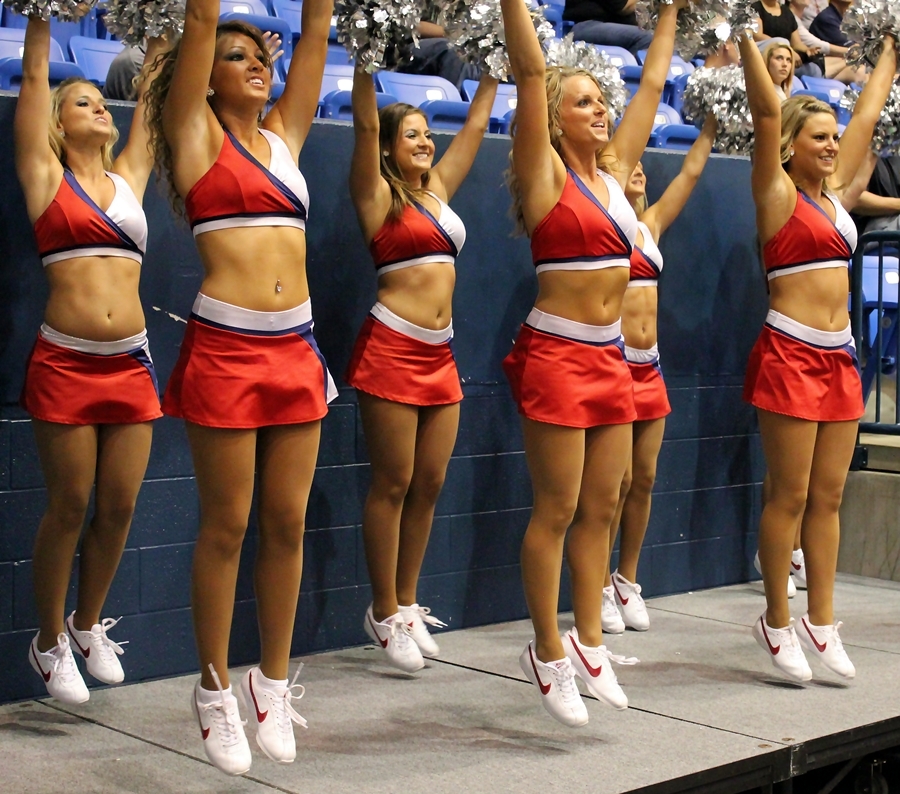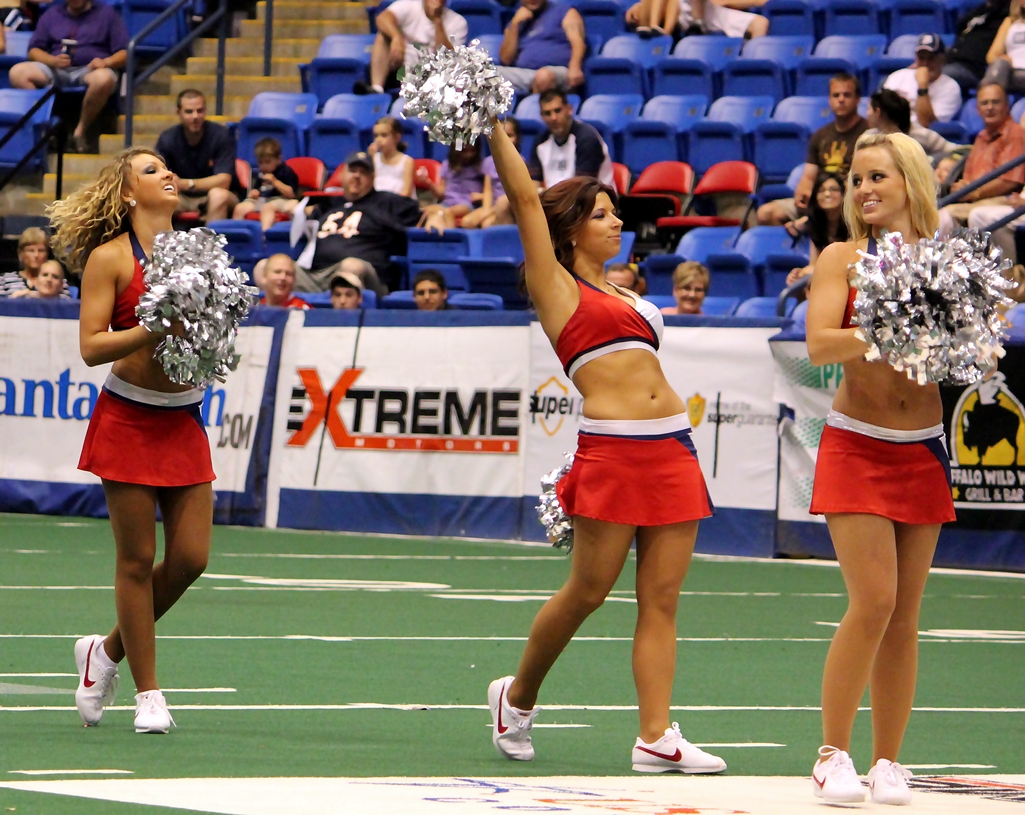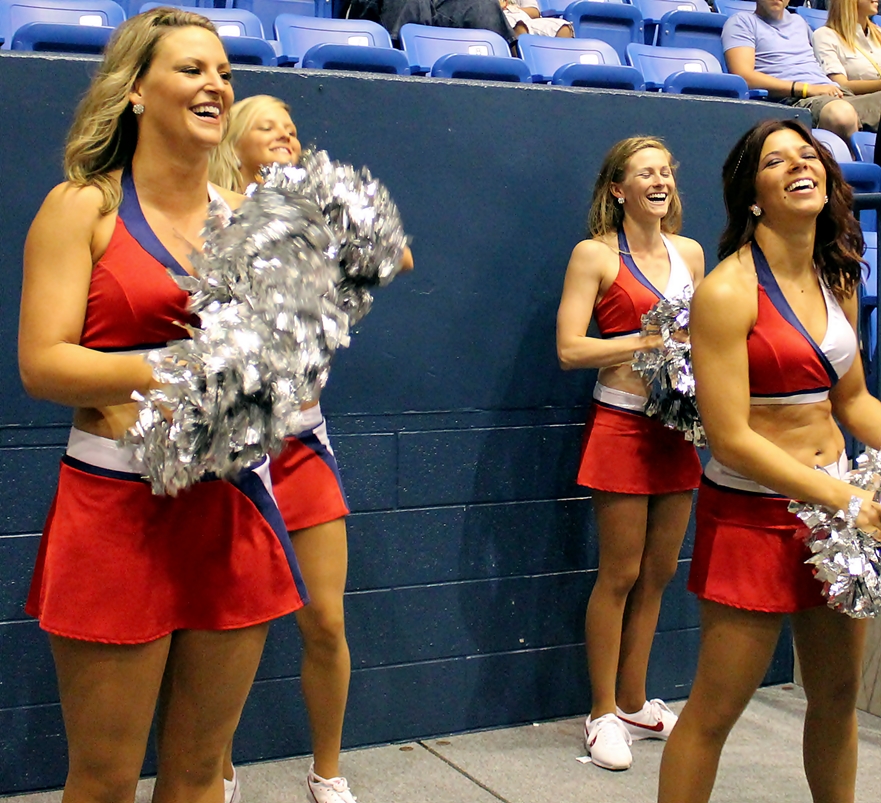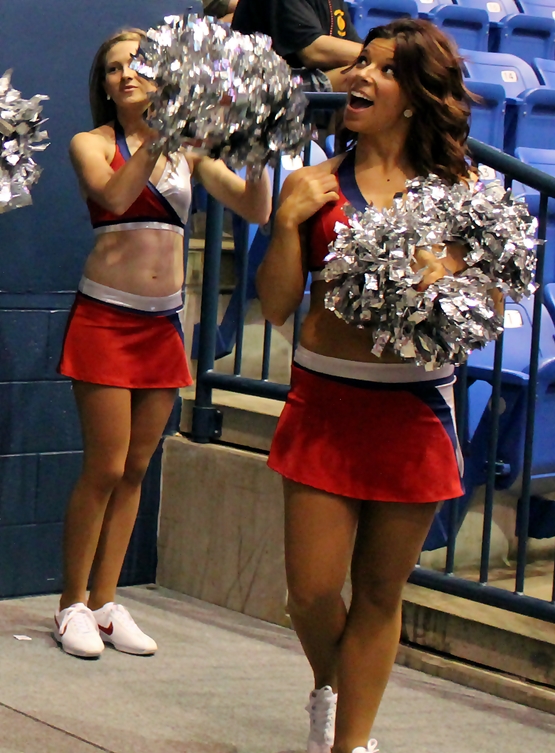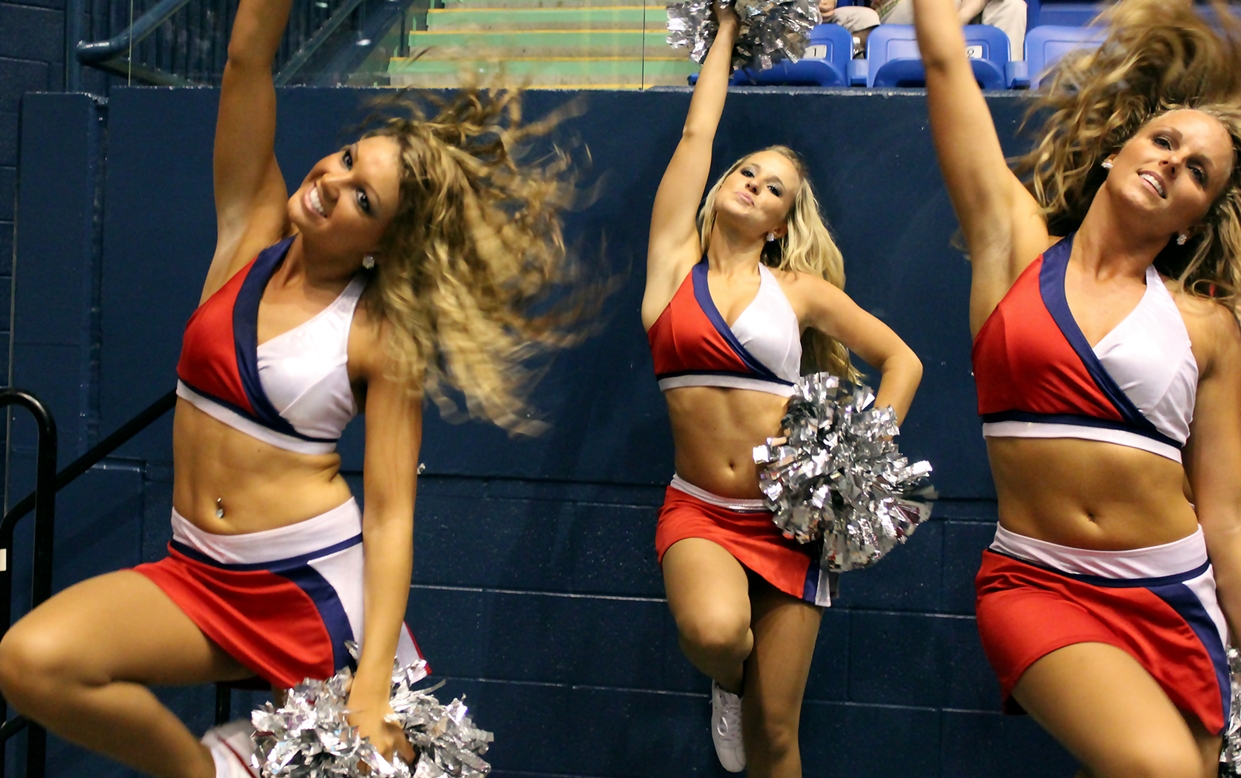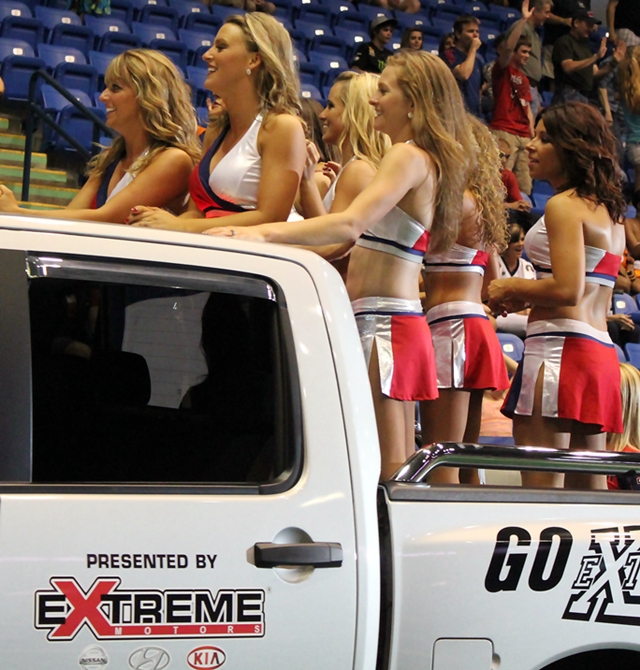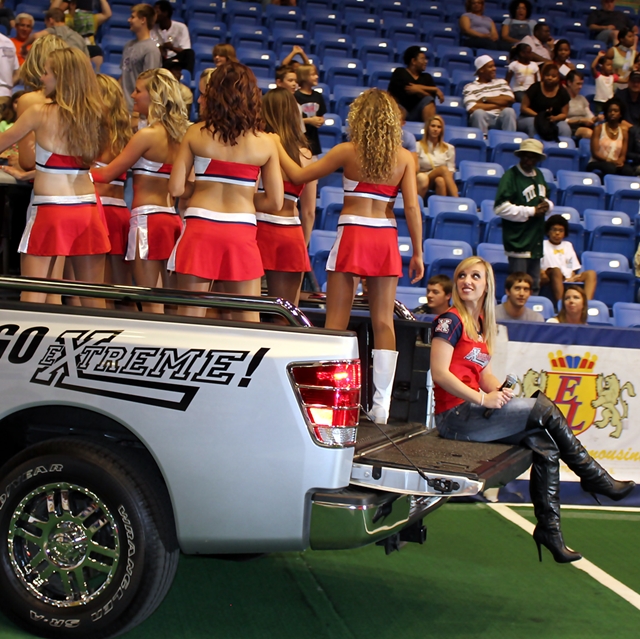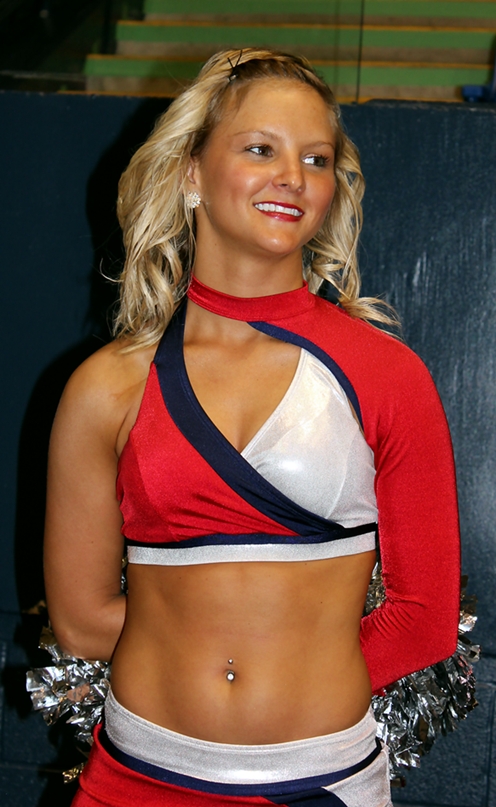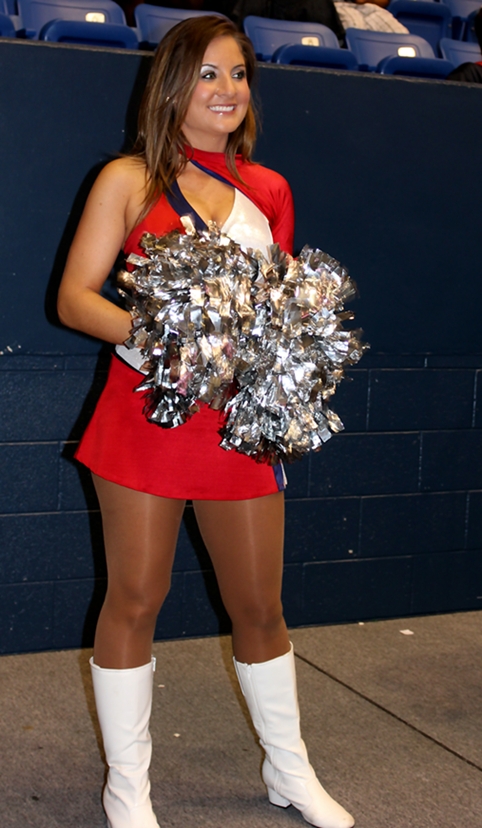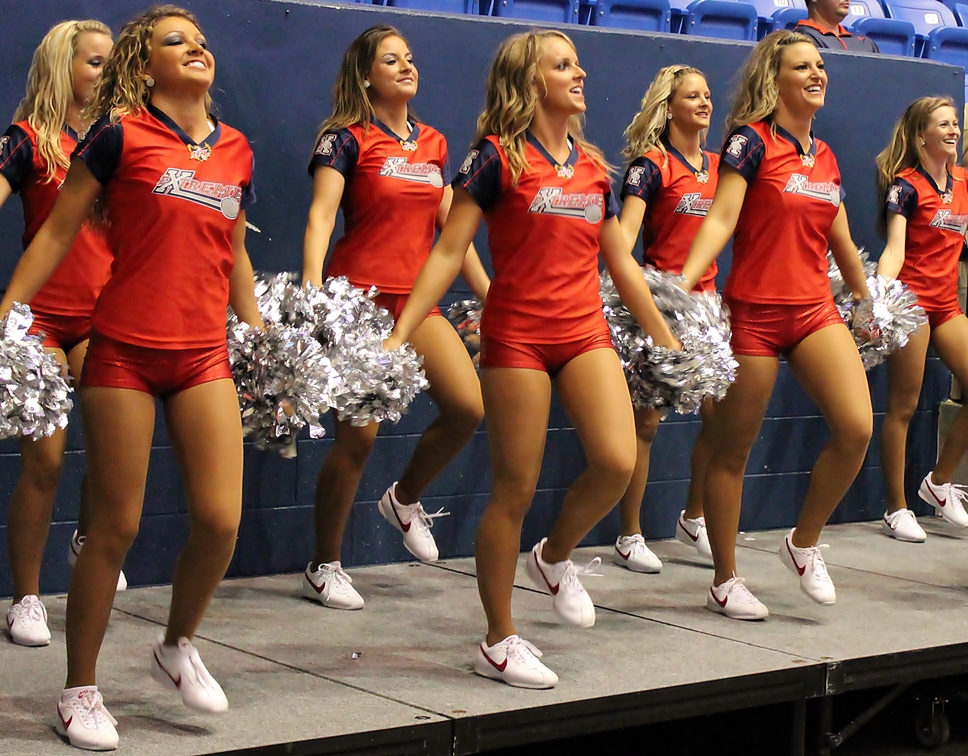 \